F650 Aftermarket Shocks
Original FAQs by Kristian #562, BradG #1002, Scott ID #1244
Please read the Disclaimer before attempting any work in this FAQ.
Last Updated: 21 Feb 2007, by Winter #1935
For FAQs related to forks, shocks, maintenance and aftermarket options:
---
Introduction
Many people find the rear shock on their F650 is just not up to it - especially after thousands of kms/miles. This page covers a wide range of aftermarket shocks. Many people will often combine the rear shock upgrade with aftermarket fork upgrades as well. This page is divided into the aftermarket options, and the opinions. It also contains the shock protectors - why invest in a new shock and not protected it? Reports of shocks needing replacement at around the 20,000miles mark onwards are reasonable.
Particular Shock Not Listed?
The shocks listed here are what we could find at the time of last editing this FAQ. So if a particular brand of shock is not listed for your bike, then it probably does not exist. Your best option is to email the manufacturer and get the details yourself. Then let us know so we can update this page for others!
Ohlins, WP Suspension, Technoflex and Works Performance appear to have the most extensive range of shock options. Some people have noted that they get better customer service dealing with the "smaller" dealers - with shocks often tailored to their requirements.
Special Deal for Chain Gang Inmates
Wilbers offers a special deal for Chain Gang Inmates. You can find out more information from the Wilbers Website, or check the main Chain Gang Webpage for more information on the deal.
---
Aftermarket Shock Options
Ohlins Shocks
Websites:
(Refer this FAQ for Installation Details)
Expensive but good. The table below shows the relevant shocks, and relevant installation manuals (please check the Ohlins website for the most recent information). The GS has NO remote, just the Preload. The Dakar has a remote AND remote. Iceman #975 DID manage to fit an Ohlins Shock to the GS. GS/Ohlins Shocks Compared. He put the remote reservoir on the GS Frame, because it wouldn't fit/there is no bracket for it in the STOCK DAKAR position.
| Ohlins 46 DRS/ERS | Ohlins 46 HRCS |
| --- | --- |
| | |
Different springs are also available for Ohlins Shocks as per the following table (see also the Spring Rate FAQ):
| Part No | Weight (lbs) | Weight (kgs) |
| --- | --- | --- |
| 01093-64/160 L036 (Stock/#16 Spring) | ? | 75-95 |
| 01093-69/170 L480 (#17 Spring) | 220 | 100 |
| 01093-74/180 (#18 Spring) | ? | 105-115 |
The Ohlins nomenclature means this: (thanks to David#476)

46=diameter of piston in mm
H= Hosed reservoir (as in remote) rather than attached
R= Rebound adjustable
C= Compression adjustable
L= Length adjustable (or height, as it works out)
S= Spring pre-load adjustable.

So a 46 HRCS is not adjustable for length.
Can an Ohlins be serviced / rebuilt?
Typical cost for a service on an Ohlins is about $110.00 plus needed parts. This depends on the condition of the shock and general overall health. We have a customers shock in to Ohlins now and his bill will be just over $300. This is because he ran the shock for almost 70,000 miles without service. The lack of care resulted in a scored inner body and damaged shaft. The body was honed and the shaft, seals and preload hose were replaced to make the shock almost new again. Cost for a replacement shock was $935.00.
Ohlins recommends about every 20,000 miles send in for an oil change and service. This depends on your riding style but is a good guide. Don #301
Wilbers
Websites:
Wilbers provide a special deal for Chain Gang members... so if you are not a member yet, and you are considering a Wilbers shock, if you join the club you will save money when you purchase your shock! There is far more detail on the various shocks and options on the Wilbers website.
The following was provided by patobravo in an email received from Wilbers:

The WILBERS shocks come with a five year warranty.

The service intervals during this time are approx 2=3 years or 20-30,000 miles.

Service is done here in the US at my place at a cost of approx. $ 75 - 110 per shock.

The WILBERS shocks are custom built to your specifications by the factory
and not converted over here. Shocks from other manufacturers are not usually
done this way and you have to send them to a service location for that brand
to get them customized at additional cost.

The shocks can be built to lower your riding height - some bikes up to 3",
as well as to raise the riding height at no additional cost.

Other manufacturers will not do that at all, because it does not agree
with their mass production, or way of manufacturing.

The WILBERS shocks are offered with adjustable HIGH and LOW speed
compression damping as well as rebound damping and spring pre-load.

There is a choice between the SPORTSLINE ( BLUE spring ) or CLASSIC
(Black spring), at no cost. Other colors can be done according to the
RAL color chart at extra cost.

Delivery is between 2 - 3 weeks.

The WILBERS shocks are high quality items, exclusively built to your
specifications, at a price level of a mass-production item.

Model 640
Model 641

(shown with option 625)
Adjustable rebound damping (22 clicks)
Mechanical pre-load adjuster
External Reservoir
High and low speed compression adjustment (22 clicks)
Adjustable rebound damping (22 clicks)
Option 625
Option 629
Hydraulic Pre-load Adjuster
Fits either model 640 or 641
Completely replaces pre-load adjusting nuts
Ride-Height Adjuster
provides +/- half at the seat
+/- 5mm at shock
WP Suspension
Websites:
Notes and other information on selection:
WPSuspension recommends servicing your shock every 2 years or 20,000kms (12,000miles) - for regular users, and every 12 hours for "race track" users.
WP Suspension has previously been known as "White Power"... however according to their history page they have not been using this name since 1991. Also, WP is now owned by KTM.
Select EITHER the Emulsion type shock or the Fusion (the Fusion contains remote res). The shock type is the 4014.
WP Suspension is apparently a certified BMW Supplier
There are old part numbers around (prefixed 01.06.xx.xx/0x). These are for the 4681 series shocks (BACC having an external res and BAEM is an emulsion type).
4014 Emulsion
4014 Fusion
Preload Adjusters
499 Euro
769 Euro
229 Euro
preload adjustment
adjustable rebound, 16 positions
Adjustable length is standard
remote reserviour
High/Low speed compression, each adjustable 16 times
adjustable rebound, 16 positions
preload adjuster
Adjustable length is standard
+/- 10mm
| &nbsp | F650 | F650 Strada | F650 GS | F650 GS Dakar | F650 CS |
| --- | --- | --- | --- | --- | --- |
| Product Code | 169 | 163 | R13 | R13 | 174 |
| Model Year | 94 on | 97-01 | 00 on | 00 on | 02 on |
| 4014 Fusion Model | 17.06.O8.02 | ? | 17.06.U8.02 | 17.06.U8.08 | 17.06.W8.04 |
| 4014 Emulsion Model | 17.06.O9.02 | ? | 17.06.U9.02 | 17.06.U9.08 | 17.06.W9.04 |
| Hydrolic Preload Adjustment | /02 | ? | /02 | /02 | ? |
| Length | 315-325 | ? | 316-326 | 326-336 | 300-310 |
| Air Chamber | 140 | 140 | 140 | 140 | 180 |
Penske Shocks
Website(s):
Not much information available, however they do have extensive maintenance manuals for their shocks available online.
Progressive Suspension
Website(s):
It has been reported that these shocks do not feature a remote preload adjustment and have to be removed from the bike to be adjusted.
F650 Funduro, 1997-1998
F650 CS, 2003
Shock Model
420-1032
420-1053
Image
Hagon Shocks
Website(s):
The subject of rear shocks comes up often, and I don't think I've heard Hagon mentioned here before. They list a shock for the F650, less than $350, adjustable, re-buildable, 2 year warranty. Seems quite competitive. Lowered shocks and fork springs too.
F650
F650 CS
Part No
60007
60059
Image
Technoflex
Website(s):
There's also the Technoflex, but at $900 I'd go for the Ohlins.
F650
F650 ST
F650 low ./.45
F650 GS
F650 GS-Dakar
F650 CS
Frame
BMW 169
WB101-R13
WB101-R13
Year
95-00
00 on
02 on
Standard Emulsion
55302-213-571
55302-213-572
55302-213-573
55302-213-574
55302-213-575
55302-213-576
Remote Reservoir
55202-213-571
55202-213-572
55202-213-573
55202-213-574
55202-213-575
nil
Works Performance
Website(s):

F650 Funduro
F650 Funduro low
F650 GS Dakar
F650 GS
F650 GSL
F650 CS
F650 CSL
Length (inches)
12.38
12.00
13.00
12.63
12.25
11.88
11.25
Spring
Single Rate Spring
Hydrolic Preload Option
Yes
Yes
Yes
HyperPro Suspension
Website(s):
The international site contains a helpfull page on selecting shock options, including length adjustment, additional shock length, rider weight, and progressive spring.
Type 40 (Emulsion)
Type 41 (Remote Reservoir)

Lightweight 7075 aircraft alloy CNC machined Body
Integrated heat compensation
Infinite spring preload adjuster
Exclusive rising rate spring standard,
linear option available
50 clicks on rebound adjustment

Nitrogen reservoir
High and low speed adjustable compression damping
each with 30 clicks
50 clicks on rebound adjustment
| | Classic | ST | GS | Dakar | CS |
| --- | --- | --- | --- | --- | --- |
| Type 40 (Emulsion) | BM06-002R | BM06-004R | BM06-006R | BM06-007R | BM06-008R |
| Type 41 (Remote Reservoir) | BM06-102R | BM06-104R | BM06-106R | BM06-107R | BM06-108R |
| Fork Springs | SP-BM06-SSA002 | | | | SP-BM06-SSA001 |
| Shock Springs | SP-BM06-SSB002 | | | | SP-BM06-SSB001 |
| Fork+Shock Springs | SP-BM06-SSC002 | | | | SP-BM06-SSC001 |
---
Upgrades, Conversions and Rebuilding
Touratech Upgrades
Website(s):
Touratech offers several upgrade options for the F650 GS models. The most extensive upgrade is to WP forks and shocks with a huge 280mm and 250mm of travel (respectively). This upgrade includes all parts to perform the upgrade. However the kit is expensive - but includes everything you need including the bracket for the ABS sensor (if you have ABS). Touratech also sells fork springs for the Funduro and GS. Check the Aftermarket Forks FAQ.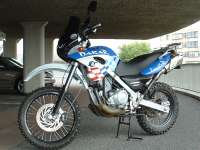 Figure: Touratech upgrade (taken from Max Kool on advrider)
How much higher is the Touratech WP setup?
The upgrade takes to front and rear suspension travel to 280mm and 250mm (respectively). This is compared to about 170mm on the GS and 210mm on the Dakar. In other words an extra 40mm (nearly 2in) of travel on the Dakar and a huge 80mm (just over 3in) on the GS. What this results in height-wise depends on your suspension settings.
Max BMW 'Upgrade'
Rear Suspension: New reservoir that includes a compression adjuster. Also has a larger oil capacity than stock. Revalve for increased bottoming resistance while maintaining adjustability for more technical conditions. Lengthen shock approximately 5/8" for increased ground clearance.
Front Suspension: Revalve damper rods to increase offroad ride quality Lengthen through use of taller fork caps with an integrated air bleed.
Turn around time is 1-2 weeks.
(Thanks to SScratch #1082 and Sadlsor #1444)
Rebuilt / Serviced Shocks
Here are some options for rebuilt / services / second hand shocks:
Lindemann Engineering, CAN rebuild the BMW Showa Shock. http://www.le-suspension.com. Tel# is 408/371-6151. Leaves you without personal transport 'till it gets back, though. Lindemann Engineering, 520 McGlincey Lane #3, Campbell, CA 95008, Front fork and rear shock rebuilds/re-valving, excellent reputation.
If you're in NZ: There's a place in NZ that Overhauls those shocks. http://www.motorcyclemarketplace.co.nz/b.htm BMW, Parts & Services F650 rear shocks rebuilt and re-gassed, From $350. Stack and Weston Motorcycles, 10 Kina Street, Tangimoana, phone & fax 06-324-8051, Email stackwes@hotmail.com.
Pro Cycle Sports. 863 E. St. George Blvd. St. George, UT 84770, USA +1 (435) 673-2444, +1 (435) 673-2487 Fax. Web site: http://www.procyclesports.com/. Selling KTM and Husaberg Motorcycles, Suspension rebuilds and service for all brands. E-mail: zrally@infowest.com.
Another option to having your stocker repaired (if its knackered) is to advertise here for a low mileage stock shock which you'd be buying from someone (and there are many of us) who replaced it with an Ohlins, for instance, and stuck the oem unit on the shelf. My opinion, and I'm fussy about ride quality, is that the stock item is pretty poor and that the Ohlins is a fantastic improvement. That's with the stocker in fine fettle. I also think that you might be perfectly happy with the less expensive Ohlins. I've bought two fully adjustable Ohlins for different bikes, fiddled with the adjustments for a time and realized in the end that I was more or less where the factory set it at first. So you'd be buying that setting with the cheaper Ohlins. You do get rebound damping adjustment with the cheaper one and that's the adjustment you're most likely to change with different weights on the bike. Compression damping is the fixed setting. Johnny #862
Lindemann Engineering
I recently had my flogged OEM rear shock (97 F650 Funduro - 31K miles) rebuilt by Lindemann Engineering (520 E. McGlincy Lane, Campbell, CA 95008-4934). For US$387 (2004 price), the shock was rebuilt, spring was replaced/upgraded, and the damping changed to match the heavier duty spring. I mailed the shock to Lindemann on February 9, 2004, and it was received on February 13, 2004. I received it back on May 3, 2004 - after a promised 2-week turnaround - so caveat emptor.
Observation of the rebuilt shock showed a new (IIRC) "inflation nozzle" sprouting from the upper shock mounting assembly. The new spring had a label on it that says Elbach Springs - 82382 - 0700.225.1100. IIRC (when I spoke to Jim), the stock OEM spring was a claimed 800 or 900 pound spring, while this new one is 1100 pounds - he said that's pretty high, but also noted that the BMW linkage had "high leverage". Marty Graves #436
Rebuilding Ohlins
Has anyone here had their fully farkled Ohlins shock rebuilt? If so, where did you get it done and were you satisfied with the service? Shank in Colorado #974
Call Don at Mr Eds NameBrand #1629
Shank I have had my shock rebuilt 3 times. This last winter I had mine rebuilt a cycle Shed in Indiana. The do good work and it cost 166 bucks. I would check with Don first since he is a fellow gang member. I will do that next time. I went 42k on the last rebuild. Steve#417(in,us)
How long does it take to get a shock rebuilt...or for that matter order a new one??? Thumper
I had mine serviced here. Good service and it was quick. I think it was 125 bucks and that included a stiffer spring he had on the shelf. http://www.ppsracing.com/ Will in CA
Shank, TK Motorsports in Denver has just been certified as a complete Ohlins certified shop. Give Bart or Brian a call. They're at 720-904-9040. They're on Wynadot just off 8th and I-25. Markf #1456
Heavy Duty Spring (for OEM Shock)
There's a company here in South africa (Cytec) that replaces the stock shock spring with a "heavy duty" one that makes a HUGE difference, they use this for their cape to cairo tours. Cost about $270... chrisB
GS to Dakar Conversion
Q. I want to install an Ohlins 46HRCS (Dakar) rear shock on my 2001 F650GS + Dakar 21'' front wheel and Dakar upper fork part with Ohlins spring kit. Because I have a normal GS, I would like to know if there are any differences between the frame, tension struts, angle lever or swingarm on the GS/GSD? Do I need to replace other parts prior to installing the rear shock? I made chain roller which can be connected to the frame. I noticed the space between the lower left side of the frame and the swingarm in limited. Could this give any trouble when the swingarm is lowered even more? I know DHP has the 250mm WP shock on this bike and Iceman installed an Ohlins shock on a GS. Could you guys or anyone else give me some advice on this? Do the RaceTech emulators compensate the fork suspension length enough with the longer Ohlins shock at the rear? The Dakar fork is (about 2" ?) longer compared to the GS fork. Maarten.
I just finished my conversion. Ohlins Dakar shock and Dakar forks with Touratech springs. I did not have any problem with the shock, other than working around the abs box. I have got around 200 miles on the setup so far (mostly dirt) and it seems to be working fine. I still have the 19" front wheel. I bought the complete legs. I wanted to keep the standard GS parts intact in case I wanted to switch back. Got the shock through Mr. Eds at a good price, 750 versus 1100 list. Forks were around 800 versus 2K for the Touratech w/p forks. So far I love the change. Much more confidence inspiring on rough roads. I have only bottomed out once in a few hundred miles instead of the previous 2 to 3 times every ride. A small price to pay for my lack of foresight in not getting the Dakar in the first place. Mike819 in Reno 01 GS
I added the Ohlins to the rear and LOVE IT! I also did a RACE TECH cartridge emulator install to the GS fork tubes and added a bit of preload to the front suspension. I still have the 19" front wheel but am considering moving up to a 21" front wheel. The front has only bottomed out once or twice. I did not add a chain roller but you will have to modify the center stand. I have 6000 miles on this set up and it works great. Race tech added 20 mm of preload to the fork and so the forks are now 15mm shorter than the Dakar forks. That's about a 5/8 inch difference. The forks may not have as much travel, but they work a lot better and are less bouncy. I would like to eventually get the whole Dakar set up for the front end - but so far I can't decide whether to go with the Touratech setup or not. chrislindau
Dakar to GS Conversion
Q. I'm still thinking about trading up for a Dakar. But somehow I don't like the 21'' front wheel, I do mostly street riding. I'd want the Dakar mainly for comfort reasons, ground clearance and, ok, for looks too. Looking at the cost of raising my bike, and the Dakar seat, I think I might be better off trading for a Dakar and maybe getting a 19" wheel for it. Yeah, as I said, I'd want it for comfort reasons and more ground clearance. My feet touch the ground too often, when I don't remember to shift them back so the balls of my feet are on the pegs. The comfort problem would be solved with the Dakar seat or some aftermarket seat, I agree. Anyone with similar thoughts / ideas?
Trading for a Dakar only works if the Dakar is used of course (unless you don't mind spending a few thousand to trade). The used Dakar needs to be a 2002 before you can get ABS on it if that matters. So I'm wondering why you want a Dakar if you're mostly on the street? The extra suspension travel will not do you much good there will it? As for comfort the cockpit dimensions are exactly the same except the seat height. The Dakar seat just has more foam and is thus a bit too soft. Better to just get another seat that is taller or have yours rebuilt. Cornering clearance would be nice. You could raise the pegs but then your knees get jammed into the tank. People claim the Dakar handles just as well on the road as the GS but I have no first hand experience. Seems like the higher center of gravity would be detrimental. The skinny front tire can't be better that's for sure. A good reason to keep the wider 19" front wheel. I'd like to make some new pegs that are wider (front to rear) but shorter and tapered more to gain a few degrees of lean angle. I think that would about fix things for me. I have also learned to get my a$ off the seat and over to the inside to help keep the bike more upright. Maybe more work but it does reduce the lean and that should result in better corner speed without dragging the pegs. I ain't no road racer so I could be full of it on this topic. Brad, N. CA., 2001 F650GS - Inmate #1002
I'm not a racer either, but I know that a bike's suspension is designed to work vertically, opposed to gravity. The more you get "out of line" with that design the stranger things will get get when you hit bumps in a corner. Moving your a$$ allows the bike to stay more upright and handle bumps in the corner better. Additional cornering clearance is an added benefit. The guys that have all the fancy suspensions may not need to worry about this as much (until they start dragging parts). Marty #436
GS Shock on Funduro
My wife's 2000 Funduro's Mono-Shock Showa B011 sprung a leak and needed replacing. At $650-$1100 for a stock replacement or after market, well, I decided to look for a cheaper alternative. What I found was a 2001 F650-GS 7 650 206 SHOWA B019 Mono-Shock with 2050 Miles.
I measured the mountings center-to-center and found they were the same.
The spring diameter and coils were the same as well.
The Pre-Load Adjustment/Knob is the same and mount lines up correctly after removing the additional bracket the GS uses.
The Pre Load Adjusters hose is longer on the GS than the Funduro. I routed it in front of the mounting bracket and it works fine. Clearing excess from touching the exhaust pipes.
The Rebound Damping ( Little screw at bottom of shock) is now on the right side of the bike and not the left as original. This allows for easier access when on the side stand.
All bolts that came with the GS shock were an exact match with the Funduro's bolts
The new shock was slightly firmer at the same settings of the Funduro shock, but can be adjusted softer if needed.
The ride heights are the same, but, sags less over all.
The ride was better with the GS than the Funduro Shock. The high speed wobble (90+) that use to have for the past 14,000 miles (Bike only has 18,873 total) went away. It was a slight sway in the rear-end that could be seen by a bike following, but, they had to look hard for it. Full BMW Baggage.... Clikel
'Zerk' Linkage for the F650?
This photo is from multisurfacemotorcycling dr650 page. This seems like a really good idea for the F650's linkage, and other pieces with roller bearings. Would it work on the much higher classed precision BMW products? (scoff) Care to comment? damalden #1598
You see the zerk on the "apex" of the link? That one is the only GOOD one. It is between the TWO bearings. But when you think about it... if you don't disassemble the thing to grease it, the same needle bearing surfaces are always in contact with the inner race. Part of disassemble and lubing is wiggling it all around so that NEW surfaces come in contact. Sorta like rotating your tires, this imcreases bearing life.

The ones with the holes in the middle? See the hole in the middle of the race of the bearing at the bottom of the picture? That hole doesn't look very clean. See those rollers in the upper left? Imagine the entire load of your bike is being carried by one of those rollers over that hole. Somehow that doesn't make me feel all warm and fuzzy about the longevity of the roller. But, hey, I could be wrong. Maybe it works just fine. I'd sure like to hear some 30k miles or more reports on how well it works. Flash 412 (CO)
Questions
Which bike should I buy if I plan on upgrading the suspension?
It depends on how extensive the upgrade will be. The GS and Dakar are very similar bikes, with the difference that matters being the Dakar having longer front forks and 21" front wheel. So if you plan on upgrading the wheels and forks when you upgrade your suspension, you might as well purchase the GS. If you are not upgrading the forks and front wheel, you may be better off buying the Dakar. There are heaps of options, but this might help:
Most Expensive: Buy a GS, and get a full upgrade including rear shock, front forks, and larger wheels. This will give you about 250mm suspension travel if you go for something like the Touratech WP upgrade.
Most Common?: Buy a GS or Dakar, replace the shock with an aftermarket option, upgrade the fork springs and use heavier fork oil.
Least Expensive: Replace or service your shock, and use heavier fork oil. Oh, and loose some weight.
The F650 in its original form is an Enduro - and so you must find a balance between long distance riding / carrying capacity, and offroad capability. If you want to make the F650GS/Dakar more dirt worthy buy the Oryx Enduro kit from Touratech - but don't put too much trust in the load you can carry on the back of the bike. If you want to make the bike more comfortable for longer trips, it will add more weight. You must find the balance between what you use YOUR bike for.
Can I upgrade to a Shock with longer travel?
Most likely yes. Probably the more common example would be upgrading a GS shock to a Dakar equiv. There are some things you should consider though:
Different bikes have different chain rollers. These rollers are designed to prevent the chain rubbing against other parts of the bike. With increase suspension travel, the angles the chain between the front and rear sprockets will be wider. Solutions? Maybe rig up another chain roller.
Increased suspension travel will result in different tensions on your chain. This may result in a large increase in chain slack or the chain becoming too tight. The only think you can do is ensure the chain has enough slack. If there is a chance it will slip off the rear sprocket you will need a chain guide.
Do you need the increased travel? Would you be better off loosing some weight?
Do you have any pictures of suspension upgrades?
Yes, see the Touratech upgrade
My sidestand is too short after upgrading my suspension
The solutions for this problem are yet to be added to the FAQs... check Bill's hockey puck solution for now...
How can I increase the ride height / travel?
Aside from the $3200-plus WP shock and fork set-up from TT, what (if any) would be my options for increasing the suspension travel or just even the ride height with a stock suspension? When sitting on my Dakar, I can flat foot the ground with my knees bent...feel like I'm sitting on a cruiser sometimes. I've considered an aftermarket higher seat, but figured maybe a new suspension set-up instead of a phone book disguised as a $500 seat. Does the Ohlins add some height? If it does, then I'm left with the task of increasing the fork height as well...hmmm. beem_dubya #1328
General consensus seems to be buy a taller seat Winter #1935
Are you sure it came with the Dakar (high) seat and not the F650GS (low) seat ? Did you buy it new ? Quite a few guys buying Dakars 2nd-hand in the UK are discovering they come with the lower of the two options of seats, where the previous owners has swapped seats, and that just replacing it with the "Dakar" seat fitted cured their problems Smile Trevor, #999
The Wunderlich "High" seat is up to $700...that's just plain robbery. I suppose I could get a stock seat and have it rebuilt with more foam, but I'm still thinkin' that ain't the answer. I want to increase the ride height via higher suspension settings/travel. There is nothing wrong or defective with the suspension now. Touratech springs and 10wt up front...stock rear. Just turned over 20k on the odo and I'm looking at at least a new rear shock purely as an improvement over the stock unit. So if it's time to invest more $$$ in the bike, might as well upgrade. beem_dubya #1328
---
Aftermarket Shock Opinions
Rebuilt OEM (Showa)
Get the shock serviced. Even "non-rebuildable" shocks can be rebuilt. In my case it cost $55AU for a regas/reoil which was apparently all it needed. That's been worth about 20kph in corner speed, possibly saved my life once, and made dirt roads more comfortable. Apparently the US prices are higher, but even so if that's all the shock needs it'll run in much less than a replacement shock. Even a full rebuild was only about $200AU here. If you are into really serious dirt riding, an Ohlins is probably a good choice. If you just want the handling back, servicing the existing shock is better value. Pete.
It depends on how brittle the aluminum fork is. I fully admit that I'm not really sure, I haven't looked at mine as carefully as you probably have, but we have heard of this failure a few times before. (But maybe only with the OEM Showa?) I think clearances might vary from bike to bike, but the torque spec on that part (30Nm) is not very high for the bolt diameter - I suspect it's an easy bolt to overtighten. Maybe not? In contrast, the top bolt spec is 50Nm. Todd #389
Ohlins
(Refer this FAQ for Installation Details on a Classic)
I've also replaced the Stock Shock with an Ohlins - Beautiful Shock, although think whether you really want to buy the more expensive one with both rebound damper and compression damper. Like David, you can DEFINITELY replace it without removing the swingarm, although having the tank off at the same time certainly helped with the upper connection and taking the Swingarm off certainly allows you to check the bearings in the idler lever and Swingarm at the same time. One of the best additions to the bike you will make and one of the most expensive single items. Mine didn't really FAIL, just got a bit tired. I used a different routing than David, the one specified by Ohlins.

Here's where my lines are routed: Forward View, Rear View, Overall View
Here's my Preload Adjustor: Preload Adjustor Knob
Here's my Remote Reservoir: Remote Reservoir Kristian #562

Note: One of the reasons the lower shock-mount on the OEM shock can break is due to over-tightening. Over-torqueing can crush the clevis (bottom yoke of the shock), so if you are tightening your swingarm and shock bolts at the same time, take care! Hombre Sin Nombre
I as you know are aware of the problem that Chris & Erin had with their F650's and yes it is sh*te to say the least the way they were treated. I have an Ohlins on my bike and love it. I purchased this second hand and contacted the NZ Ohlins agent Robert Taylor and he sent me set up details etc. As Chris has written in his travels Robert Taylor of Hawera Motorcycles bends over backwards and will go to great lengths to assist with customer satisfaction. haweramotorcycles@infogen.net.nz or www.ohlinsdownunder.com. Steve In NOO ZEELUND.

First off, watch out for Steve in Noo Zeelund -- he's actually a cop who pulled over Benka many years ago, then offered us hospitality on 2 occasions on the North Island 2 years later (did I mention he rides a purple '93 R100PD?). So, now that all the social stuff is done -- if we were to do it over again, we would go for the Techno-Flex shocks. The guy who created White Power sold to a larger company, than got fed up, left, and started Techno-flex. Liam has one on his Africa Twin that he loves, and 2 Germans had them on 2x R1100GSs and later a 97 F650 for RTW travel and they swear by the shock.

To be clear on the Ohlins, the aluminum bracket snapped first on Erin's bike, then a week later on mine, and both shocks were fitted last August -- Erin got a brand new shock, while I got a second-hand (higher end) shock. Robert in Hawera was great, but the product for the F650 is not! The factory instructed the reps in Cordoba to make the shocks as stiff as possible (The springs were already pretty stiff), and now Erin's bike is soo hard it is uncomfortable on bumpy roads.

Her pre-load leaked one week after Ohlins did the service in Argentina, we sent it back for repair, and 1 month later the pre-load was gone again! While in La Paz, we pulled it out and moved the rings down 2 turns and no longer use the pre-load. My shock is still ok, but we both cringe when we hit an aggressive piece of track -- which you know is so uncommon in this part of the world.

To contact Techno-Flex (I don't have address), write to either Liam at liamrd@yahoo.com or Jan at ankejan@gmx.de, Erin & Chris Ratay, www.UltimateJourney.com

I've got a '99 Funduro. I bought the shock from Wim Kroon. for my weight, then about 230lbs, they installed a 17 spring (std on the Funduro is 16). I rode it for a couple months at max preload and almost max compression and rebound damping. even at max preload, I BARELY got the right free sag. then I shipped it to Petterson pro suspension (www.ppsracing.com) to have it rebuilt. I had the 19 spring installed and the rebound re-valved. it's basically perfect now and can be adjusted from very plush to too firm, works equally well solo or with a pillion or gear. when you say the "std" spring is a 14, for what? a bb1? do they have specific specs for that bike? either way, it's nothing money cant fix. I was disappointed with the shock the way it came with the 17. $300 later, I had a new spring/revalve, and I was happy, albeit poorer. Mark #403 - 30-Jul-02
I bought a used Ohlins, too. Got pretty good deals on both of them. Today my Aprilia shock cover FINALLY arrived and I figgered that tonight I'd install all three at once. Things were going very smoothly right up until they weren't anymore. The shock and shock protector went right on with not problems. I discovered that you can change the shock by removing the rear wheel, both shock bolts, the damper adjuster mounting screw and ONE linkage bolt. You remove the lower linkage bolt that goes through the two dogbones and then just LIFT the rear axle and the shock will drop right out. I'm not overly impressed with the Ohlins, either. (But I have knobbies on the bike at the moment.) I think Jesse bags are crap, too. (You'd be MUCH better off buying a $500 welder and some sheet metal.) I think people buy these things like some kinda "juju," thinking it will make their bike "better." They spend so much dough on them that they HAVE TO believe these "improvements" work. I get stuff to try for half-price and then get rid of it without losing any money, so I'll be honest. Flash #412
I have no riding experience on anything but the Ohlins, but I LOVE 'em. My experience with the others is less than happy customer service. I tried both Penske and Fox for a shock for my Triumph and could never get more than a run-around from the folks I spoke with. Penske tried to tell me I had to remove my shock and send it to them to avoid what they said were "problems we've had in the past with correct sizing". I think what they meant was they had a hard time differentiating between STs, Daytonas, RSs, and STs. And apparently they keep crap notes, beacuse according to the Triumph lists, they've built several shocks for each. David, #476
Penske
You asked me to let you know my impression of the Penske shock, when I had the bike set up. I followed Iceman's lead and went with a supermoto format: Race Tech components in the fork, 17x3.5 front rim and 17x4.25 rear ( Excel rims and Metzeler M1 Sportec tires ) and the Penske shock in the rear. I selected the Penske over the Ohlins, because it was easier to have it customized. The bike was set up by Eric Gray at G.M.D. Computrack in Ft. Lauderdale, and he wanted to build some flexibility into the shock for height adjustments. His feels that both shocks are excellent units. The cost was virtually the same. The bike handles great -- I'm extremely happy with the result. The bike is rock solid in a crosswind -- no floating feeling -- and an absolute blast in the corners. When I move to the Southwest, I'll trade the Sportecs for the Pirelli MT60s for use on the dirt roads. Obviously, I cannot isolate the effect of the shock, because I did everything at once. Good luck, Jim #1042

'99 classic, 36k miles, tons of touring, commuting, off-road, you name it. my ever widening 34 y.o. (as of today) butt proceeded to knacker both the fork springs and the feckless rear shock. going 13k with 60lbs of stuff in your touratechs will do that. basically, it ran like crap, with the nose and the ass-end wagging around like a fish in anything resembling a curve. off-road, the fork would bottom out and then pogo up, the rear would just wallow around like a drunken hog in an electified mud bog. the shock was so sagged out that it rode more like a low-ridin' croozer than a 'dual sport' soooooooo, i ...

replaced my fork springs with progressive springs, along with all wear parts in the forks (i hear that good after-market bushings are better milled and thus are more 'slick' working ... anyone confirm/refute?). also had a pair of generic fork boots put on. i should have done this wrenching myself, but had a pal do it instead ... replaced my knackered rear shock with the swankest shock of all, a Penske 8900 series. man, it is a work of art. it installed exactly as the faq showed for the ohlins (thanks faq'sters, penske did not include instructions).

holy cow, it is now a new bike. both the fork springs and the shock, when installed as directed, came from the factory set at perfect preload levels for good sag for me. i took it out on some familiar roads with twisties and sweepers, and no poop i was a good 50% faster in corners, and on a completely different planet in terms of stability. i had a few near pants-crappings as i was way too hot in a few corners, but the new suspension handled everything i could throw at it with aplomb.

off-road, improvement was even more dramatic ... i was going way, way too fast down dirt roads that used to scare the piss out of me a whole lot slower. washboard/currogations are not even felt -- no exaggeration, i believe the penske is designed for high-speed damping like this; serious washboard felt about as coarse as riding over smooth gravel! going through deep, soft, loose gravel was like cutting through lard with a hot exacto knife. nothing offroad upset the bike. it rode as i imagine a dirt bike should (i have no real experience, but it seems like it, since it now steers well with hard throttling, sliding the rear, etc.) normj473
Wilbers
I just had my suspension reworked - Wilbers shock (with high and low speed compression damping adjustment and remote preload adjuster) in the back and a pair of their progressive springs up front.

All I can say is "Holy smokes!" I never realized how much of the sliding and wheel spin I used to experience on gravel roads was due to the crummy stock suspension. I always just thought that gravel was slippery and that the rear wheel is going to spin on dirt. That is true, but as I have learned a decent suspension system can get you a whole lot more traction for acceleration, turning, and braking on gravel roads. And I can now actually maintain control of the bike while on the gas over washboard uphill sections. The difference is unbelievable.

I'd read it here, and can now vouch for the opinion that there is no better money spent on these bikes than a suspension upgrade. My Dakar is now the bike I thought I was buying from BMW and the bike they should sell. Now I've just got to dial everything in just right. ksuibom
Technoflex
Have spoken to Offline Racing Products in Adelaide about this. They have done it for several South Oz Dakar riders. Cost is about 1 grand for the Technoflex shock. Parts numbers and price details are on their website. I have just order replacement front springs for my Dakar from them. These guys are the Oz importer for Technoflex and do a lot of race setups. Could be a good point of contact for your questions. Gnarly Adventurer, Adelaide, South Australia. http://www.wpsuspension.com.au/ (Agents for Technoflex, Hagon, Wilbers, WPSuspension).
HyperPro Opinions
Kind of pricy but they have lots of different shocks for all BMW's including the F650 Richard #230
I may be wrong but it looks like the preload is a ring/screw type and not remotely adjustable for both the type 40 and 41 (F650 applications). At least on the newer models doesn't that make it hard (or maybe impossible) to adjust without removing parts to get at it? Still good to have another choice and they certainly look nice. Anyone using them? Can preload be adjusted on the road? Maybe I'll send them a note tomorrow and ask. bg #1002
Touratech Kit / WP Opinions
Really, I'm not sure it would be worthwhile unless you were losing weight on the rest of the bike. I mean unless you're a tremendously skilled rider, I don't think the suspension upgrade will overshadow the bikes portly belly weight to the point of seeing a significant improvement in the bike's ability in difficult terrain. Would it be a bit softer over mildly rocky terrain at high speeds like around 60-75 mph? Sure. But how many people ride like that on a frequent enough basis? Not many IME.

If I had that kind of coin to drop on bike parts, I'd just upgrade to the TT springs (Wirth actually) and jack your oil to 20wt. Then I'd spend the rest of the coin on freight costs to some place cool. You'd have plenty left over for some phat times. NothingClever #1441

IMHO...that's too much $$$ to spend on suspension unless you're a pro-level rider. I have the TT springs and 15wt fork oil, with the addition of an Ohlins rear very soon it should perform better than I'll ever need it to...and all for less than a grand. But it's your coin...I have purchased several items for my Dakar that many find to be unnecessary, but another man's junk is blah, blah, blah... beem_dubya #1328
As mentioned, this sort of upgrade is really only for the pros and those with money to spare. Someone mentioned the bike is not really a dirt bike. No, it isn't: it is a dual sport. I need to keep the rear sub-frame in place to support my gear, so I can not do a full mod to make the bike more dirt worthy. So a trade-off must be reached between offroad performance and carrying capacity. Winter #1935
I went to the TT suspension 30,000 miles ago on my 02 Dakar after a car ran a stop sign and I t-boned him and totalled my front end. It is the best add on I've done. I can really go fast over the bumps on the trails, it handles the weight of the bike nice. There is a huge difference. The kit came with Magura EX bars, the front USD forks, and the rear shock. A few of my buddies have added the rear shock and it makes a big difference. If you have the coin you should get them and if you plan on doing some off-roading more than street then it's a must. marktlee #1531
I installed the suspension kit from TT a few years ago on my 02 Dakar. I also have ABS. I have used the stock hub with excel wheels added. With the Magura EX bars I couldn't use the ABS switch in the stock setup. I just added a switch elsewhere. There are some mods I had to make to the placement of the ABS sensor also. If you want some close up photos of the set up, let me know. By the way, I have put over 27,000 miles on the suspension and it is the best mod I have made. Good Luck marktlee #1531
The best mod I made was the TT suspension kit. The front WP forks are xlnt with the Magura bars, and the rear WP shock is nice. I got it over 30,000 miles ago. The price was about 1800 bucks back then. marktlee #1531
I wonder of folks whop have purchased aforemention expensiveness are happy with their decisions. I mean, when they are riding, do they say, "DAMN I am glad I spent $$3240.70 on that suspension! WHAT A DIFFERENCE!!!" billmallin #1629

It's the moon phase, guarenteed to keep you up! See my problem is that I might be Stupid in the TT suspension set-up, I have a cousin in Germany with the whole Orynx Enchilada and Mark a CGer also has the WP suspension, no complaints from either of them. Westest US Dakar #1432
$3240.70 is about 1/3 (or more) towards a nicely used 950... which already has WP suspension. K7LRO, Phx AZ
Ohlins 46HRCS vs. WP250mm
Q. I'm planning to add some new suspension to my bike over the winter (if it ever comes, worst start since '76 in Whistler) and I'm trying to clarify something. I've narrowed it down to the Ohlins 46HRCS-BM048 ($852.00 from MR. Eds) and the WP250mm ($695.00 from Touratech). I've seen a few instances of a GS (I haven't got the Dakar) with the Ohlins installed but I haven't heard anything about installing the WP250mm on a GS. Does anyone know if this shock is limited to the F650RR (with the new swingarm) or can it be installed on a stock GS? Andre Whistler, BC #1119
The WP 250 mm shock does fit the stock GS - I have one on mine. I have no experience with the Ohlins, so can't make any comparisons. The WP is a great improvement over the stock shock for dirt riding. It measures one inch longer than the stock shock, so it will raise the rear of the bike three inches unless you have the shock internally shortened or use different shock links such as Kouba Links. Obviously, If you raise the rear that much without modifying the front, the handling will be affected (I wasn't sure from your post if you intend to also modify the front suspension). If you are intending to do a lot of dirt riding, be sure to compare the suspension travel of the two shocks - at 250 mm the WPs is almost 10 inches; I don't know how the Ohlins compares. It's my impression that the Ohlins is more of a street performance shock (I may be totally wrong about that), whereas the WP is a dirt bike shock. I installed the entire Touratech WP suspension kit - the fork measures 3 inches longer than stock, so it does even out. The new suspension does make the bike far more dirt worthy, although with all that weight is still isn't a dirt bike by any means. It also improved it's on pavement handling, significantly quickening the steering, which I like. Naturally, the seat height is significantly increased. My goal was to create a bike which could be ridden on pavement in reasonable comfort for anywhere from a few miles to a few thousand miles, and then explore dirt back country roads and trails with as much competence as possible in such a bike. I believe the project succeeded quite well and that there isn't anything else with that much road comfort in a bike with as much dirt capability. Certainly there are more dirt worthy dual sport bikes available, but I wouldn't want to ride two or three thousand miles over a few days on pavement on any of them. This last fall I road from coastal central California to Tennessee entirely on pavement, then road the Mississippi, Arkansas, and about half of the Oklahoma, sections of the Transamerica Trial (www.transamtrail.com), which is largely dirt, and I can't imagine there is a better bike out there for such a ride at the current time. Perhaps the new KTM Adventure R twin will be better, but it's not available yet. Mike #926
Works Performance
Well I am trying to narrow this down and I have come across the Works Perfomance shocks in the faqs, but not any real reviews. Has anyone used these yet. The guy at the company said he could customize them for me and make them more dirt orientated, but I am wondering if anyone else has any experience with this brand, and are they as good as an Ohlins shock for off road ability. They cost $750 and have adjustable compression and rebound, and will be built for my weight and riding style. I dont really want to sacrifice my tarmac ability to much, but I need to have a better off road shock. Get Dirty
I have a Works rear shock. The thing is wonderful, it really lets you feel just how bad the stocker is/was. I can haul all the camp gear offroad without the back end of the bike bouncing all over the place. The road ride is wonderful too. The only problem I had with them was the first shock they sent which didn't fit that well. I sent it back and the reworked unit went right in. It did take a little while though(like 30 days). I have the full unit for the Dakar with remote preload, ect. 'tis a beautiful full billet shock, very nice. I would do buisness with them again. DakarDon #1686
Hagon Shocks
I put a Hagon on Paula's Funduro. We needed a shock, in a hurry for a trip, and the Hagon was available. We've since sold the bike.

I didn't like it. No remote preload adjuster, so adjusting the preload is a bitch. We're different sizes, she has a tough time with any increase in ride height. With enough preload for the bike to even start to handle well for me, we'd increased the ride height close to an inch, which wouldn't work for her. And it was still set too light for any serious sporting action on the street, at least for me. I also felt it was under damped.

I preferred the stock shock on my Funduro to the Hagon on Paula's. Of course, I didn't know that when I bought the Hagon. My Funduro was sold before the Hagon arrived. So we never did a back to back comparison. Another high-end shock to investigate is Wilbers. I've heard nothing but good about them, and am thinking of putting a set on my RS. I haven't checked to see if Wilbers is familiar with the F650. Bryan, #179
I replaced the stock shock on my '97 Funduro at ~40K with a non-remote adjustment Hagon. The Hagon has been used for trips on all the named and numbered roads in AK, thruout Labrador, NFLD, NS, etc and to BigBend, Mena, WV Hoot and numerous other places. That means 26K on the Hagon; almost always with a luggage load.

I've been riding for 52 years but am not a discerning rider (Example:I can't tell when an after market exhaust changes the power output +/- 1%). The Hagon suits me fine and the importer gave me excellent service at what I thought was a reasonable price. Ike647
---
Shock Protectors
Rubber Strip
June 8, 2000, Harl #380

Changing the stock shock on the F650 for an Ohlins has many advantages but one big disadvantage. The stock shock has a cover that protects the shaft and seal. The Ohlins shaft is exposed to the debris spun off the rear tire. It is a nice shock but expensive to rebuild. Aprilia makes a cover for the Pegaso that protects the shock, but seems to be in very limited supply. With that in mind, I fabricated a simple cover that fastens to the shock, rather than the swingarm ala Aprilia.
The materials you'll need:
One insulated cable clamp
6 mm button head cap screw (Allen head), 20-25 mm long
6 mm Nylock or other locking nut
6 mm washers
Piece of plastic, 1 X 2 1/2 X 1/8 (approx. and you may want to make it a bit larger)
The cross-section shows how to put the guard together. I put a slight bend in the plastic for clearance. That's also the reason for using a button head cap screw, so the head won't rub on the spring on full compression. Other than drilling a 6mm (1/4) hole in the plastic, all that's required is putting the parts together on the spring. Depending on the type of clamp you use, you may need to fiddle some with the fit, so that the guard assembly won't rotate on the spring. Other than the fact that there isn't much room to work, it's a relatively easy task.
Windsurfing Mast Protector
November '01, Kristian #562
One Solution

Aprilia Shock Protector
December '01, Marty #436
| | |
| --- | --- |
| Another Solution | Image thanks to Marty Graves #436 |
The Aprilia Shock Absorber Cover (really a splash shield to mount on the rear swingarm) part number is APR8138918. The price is about US$8 (plus your RTV to glue it in place). Marty #436.
DirtSkins

http://www.off-road.com/atv/reviews/products/dirtskins/gallery/
Neoprene or Clingfilm
Glad wrap. You know, some people call it Clingfilm. A few times around will keep Mud off for a day, cheap easy, flexible disposable.
Actually on my GS I have a length of thin neoprene. I bought a roll of it, cut out a length, rolled it around into a 1/2 circle and jammed it up under the plastic tank/suspension well. I thought I might need tie-wraps, but it just sits there. Works great. k.
Rear Huggers
Touratech Shock Protector
Touratech rear shock protector... Part number 01-300-0147-0... Bought one recently for my 650GS 05. Easily fitted and looks good quality stuff. Price was around GBP21 plus delivery and VAT (UK) Carl ( UK)
Bill Mallin Crap Flap (CBOA Approved)
Inspiration for the project was a picture someone sent me of Charlie Boorman's F650RR for the 2006 Dakar Rally. After studying the original design a little more, I set out to create The Crap Flap today. For reference, the original design is on the left... And on the right is the problem I set out to fix. My new fancy shock is a bit exposed. While nothing may ever fling off the back tire and damage the shock, I figure why take the chance...
So here's what I did...
After removing the rear wheel, I removed the bolt in the picture below which holds the inner piece of plastic fender on. It's not a great picture, but when you are doing the doing and the photographing... well, you get the idea. Removing the bolt allowed me to access the area between the gas tank and the inner fender...

Next I used a little nub screwdriver to remove the Phillip's head screw in the picture below... It lifts up quite easily to reveal the hole I used to secure the right side of the flap...

The material I used is Firestone PondGard EPDM Pond Liner. Apparently it "stays flexible from -40 degrees F to 175 degrees F." And "shows outstanding resistance to the harmful effects of ultraviolet radiation (UV), ozone and other environmental conditions." This stuff is incredibly strong... it's the perfect material for this application -- very pliable and very very strong and resistance to tears or rips. There was a great deal of trial and error cutting out the flap. Lots of cutting... lots of figuring... lots of loud music... several Cokes... one failed version, and finally on the left is the version after about 30 minutes of tweaking it...

And on the right is what it looks like installed...

Note in the picture above I made my version wrap around the side a bit on the right side to better protect the shock. I felt this was a flaw in the original design. Below is a picture of the other side...

You can see on the picture above that I drilled one hole in the swing arm and used a stainless steel screw and a stainless steel fender washer to hold it down on the left side. The right side is held down by re-securing the screw I removed earlier with the nub screwdriver. The screw goes through the flap.

I went round and round with myself on how to secure the top. Finally I decided to see if it would stay-put smashed (sandwiched) between the gas tank and the plastic inner fender. What I did was to cut it quite tall and tuck it behind the inner plastic fender. You can see in the picture below how tall I made it. There is a significant amount of material sandwiched between the fender and the gas tank, so I am hopeful it will stay. The large notch I made on the right side should also help...

If it does move, I will squirt some RTV or other adhesive under the inner fender, but I think it will be OK... I mean, that's a lot of material sandwiched back there... time will tell I guess... Here's a shot with the wheel back on...
So for less than $2 in parts, I have a little protection for my shock!
---
Shock Protector Opinions
I've just fitted front fork Gaitors to my Dakar (bit of filing to fork brace!) What I need to do now is give some mud/water protection to the rear shock. Anyone any ideas ? I don't want to drill holes in the swinging arm to attach anything. Are modern day glues successful? (i.e. rubber/plastic to metal) especially in this very mucky area. I'm thinking of a rubber strip to extend mudguard under petrol tank and because of the alignment with the swing arm it won't be able to just drop through (as I've done on other bikes). Thanks in advance for any ideas/comments etc. Paul (UK)
It sounds like you are on the right track... have a look at what BMW has done with the R1150GS, it has a rubber flap that shields the spring coil - and seems to work really well. Their attachment method and size my prove useful for your 650GS conversion.
I have an Aprilia Pegaso rear shock mud guard on my 1997 F650. I paid $8 for it two years ago and glued it in place with GE silicone glue (Goop should also work). It works great and has not come loose in 15,000 miles of use. (It is bolted down on the Aprilia Pegaso 650, but I was not about to drill holes in my swingarm.) Richard #230
I shaped a piece of plastic cut from an ice cream bucket and glued it to the gas tank of the Dakar with auto silicone. Lasting fine after two years of 70% gravel riding. Calvin #840
I too have the Aprilia unit, held in place with 3M Super Velcro (ball and socket type as opposed to hook and loop). Has stayed on fine for 15K miles including many hard off-road miles. David#476
I got the Aprilia thing, too. Mine is held on with Ty-Wraps (tm). (Sorry Todd, coulda been worse, coulda been duct tape.) Flash #412
There's also a product ATV'ers use called Shockwears. I have no experience with them, and it looks like a potential downside is it could wear the paint off your spring. Shockwears http://www.atving.com/editor/review/accessory/outerwears/review.htm DH #920
Recently, my other half picked up her new f650gs, having had a good look at it, the only thing missing was a hugger/shock protector. I solved the problem quite by accident. I recently changed the oil in the car, I bought the oil from Halfords, it's their own brand, 5 litre pack, when the can was empty, i cut the back of the can out, measured and trimmed it so that it fits between the tyre and swing arm, held it in place with 2 ty-wraps using the bottom suspension linkage mounts on the underside of the swing arm, the can had a curve in it so that even when the suspension is compressed it doesn't foul the rear of the petrol tank, and it extends far enough below the swing arm to protect the linkage as well as protecting the shock, it's a cheap but effective means of protection, it's also colour matched silver!. Trevor #999, Bristol, UK, 01GS.
Here's the shock protector pics as discussed in the thread below, as supplied by Gavin Broadhurst. Gavin says "overall height is 12-13 inches, width at widest part 7 inches, the size and shape is basically the same as the back of the oil can, it's almost as if it was made for the purpose, as a cheap and effective means of protecting the shock and linkage it would be hard to beat." Trevor George, Bristol, UK.
I made Gaitors for the front from left-over fuzzy-backed silver vinyl that the car upholsterer used to make my bike cover (there's a whole souk here dedicated to car upholstery!). Made one for the rear at the same time. Basically, they are rectangles with a strip of Velcro down one side, matching Velcro the other side, which closes it and provides relief from air shock. Held on with tywraps. This method allows installation and removal for inspection without any disassembly. No crud inside so far, but it never rains here. Dimensions for the rear finished product are 250mm circumference by 200 long. That's finished product, so if you're cutting fabric, take into account the edge finishing (hems). Aleksander in Dubai
I've got the Aprilia protector on mine. Marty #436-Chicago-97 F650F
Glad wrap. You know, some people call it Clingfilm. A few times around will keep Mud off for a day, cheap easy, flexible disposable. Actually on my GS I have a length of thin neoprene. I bought a roll of it, cut out a length, rolled it around into a 1/2 circle and jammed it up under the plastic tank/suspension well. I thought I might need tie-wraps, but it just sits there. Works great. k.
After 3 years, I noticed the other day that my Aprilia guard came off and I'm thinking of getting a set the shock covers you can buy for ATV shocks (they come 4 to a pack) for the F and the ST (Sprint, that is). The Aprilia guard works well for keeping stones off the shock, but doesn't do much for road grime in a downpour. It looks like these might. David #476, '99 F650, Las Vegas, NV.
If you are talking about the nylon ones that Velcro around the shock? I have had one on my Ohlins for 4 years and the shock still looks like new, seems to work really good. Mine was installed with the shock , so yes the shock needs to be out. The one I have is made(?) by moose and is 12.5" X 11" (open) with several holes. I have ridden mine in wet and mud and a quick rinse is all it takes to clean it. 97 ST VT USA Peter Jensen #233
Bad news to report: 1) The one and only size they sell at Cyclegear is too small to go around the Ohlins. 2) It looks as if the only way to install it is to remove the shock, or at least the wheel. David #476, '99 F650, Las Vegas, NV.
This may not help, unless you're thinking of doing some swingarm maintenance or something where you'll remove at least one end of the shock. I went to REI (outdoors shop), bought a neoprene cover they make that fits the quart-sized Nalgene bottles for about $8. It's closed at the bottom and has a short drawstring at the top. I cut a hole in the bottom, about the size of a quarter, and installed it upside down while the shock was off. the hole fits tightly around the top of the spring/preload rings, and the top of the cover (at the bottom of the shock) is closed up with the drawstring, right above the rebound adjuster. the extra drawstring is wrapped and held secure by the nylon belt-strap that's sewn into the neoprene cover. it's very, very good at keeping things clean and fits like a glove. once it's on, you can open the drawstring if you're so inclined, push the cover up over the spring, and clean the inside/shaft/etc. but so far, I've had NO dirt problems at all, and don't expect any. this was the best solution I could come up with at the time, and now that I've done this, I'd do it again no matter what was on the market...that's how well i think it turned out. '99 F650, Bay Area, California. Mark #403
---
Flash 412 (CO): Lower your daily calorie intake to 1000. Run at least five miles every day.
In a month, your shock will seem as if it has been resprung. Cost... $0
Komatias: Fantastic tip there as per usual. Flash If i lost that much weight
I would look like a starvin Ethanopian. Thanks anyway