The Wheel FAQ:
compiled & edited by Brad #1002
updated & edited by PDuffy 21 March 03, Kristian #562
Please read the Disclaimer before attempting any work in this FAQ.
Refer also:
The very essence of a motorcycle is found in its two wheels. A lot of the character of a motorcycle is derived from the size and style of its wheels. Our F650 was conceived with wire spoke wheels and it will be some time before cast wheels like those on the newer CS model out number their older siblings. Problems with wheels themselves are fairly small in number. It is usually the bearings or the tires that bring us to these pages. However, things to do go wrong and some seek to find wheels better suited to their needs, so read on for solutions and ideas in the world of wheels.
Q: Is it possible to convert wheels to tubeless by sealing them?
A: Possibly. Although not common it may be possible to do this. People have been sealing spoke rims in the US for years. (see the Wheel Works web site). What is used is a two part (like epoxy) aircraft gas tank sealant. This stuff is available in 2 weights, thick (trowel on) and thin (brush on). Each of those are available in two setting time versions 1/2 hour or 2 hour. One down side is, if you need to true your rim, you will probably need to reseal the affected spokes. Some folks recommend fitting with heavy duty stainless spokes before attempting, to make the rim more stable. The specifics:

PRC-DeSoto Int'l Polysulfide sealant PR 1440 A/B
PR 1440A (thin/brush-on)
PR 1440B (thick)

Some have used Silicone RTV sealant. However, this material is heavy and could offset the benefit of the tubeless setup being lighter. (ed. Thanks to "mtiberio" for answering this question)

Q: What about putting tubeless rims on the existing hubs?
A: The stock hubs do not support the use of straight pull spokes that are used with tubeless rims. You would need new hubs and so far no one is making after-market hubs for the 650.

Q: Can you recommend a place for custom wheel work?
A: Lots of members recommend Buchanan Spoke and Rim in Southern California.

Q: What is the deal with rim locks?
A: Rim locks are used on wheels to prevent your tire from slipping around the rim. This can occur if you are running your tires at very low pressures. Common when riding off road. If your tire turns on the rim it can pull the valve stem through the wheel or tear it off completely leaving you with a flat. They are fairly simple to install but it requires removal of the tires and tubes and this can be more work than the rim lock installation. The rear is the more critical wheel to lock as it is subjected to the forces of driving the bike forward. Install them opposite the valve stem to minimize the affect they will have on wheel balance.
Riding Tips FAQ for Tips on Riding in Sand or Off-Road.

Q: Are wheels and hubs the same between the Classic and the GS?
A: The hubs are but Classic hubs have no provision for the ABS sensor ring. The rear wheels are the same. Wheel size can be confirmed by looking at your rims where you will find it stamped into the surface. Of course the 21" front wheel on the Dakar model was never an option on a Classic.

Q. Do the GS Wheels fit the Classic?
A. Yes, the wheels will fit. The GS may have mounting bosses for the ABS ring that you will not need.

Q: Why switch to an 18" rear wheel?
A: While 17" rear tires are easier to come by now it is still not the case in all countries. Some people taking trips to other countries have made the change to insure they will be able to find a replacement tire when needed. The 18" size is a lot more common (especially in off road tires). This change requires some planning. Clearance for the larger wheel and tire need to be accounted for. If you have to move your axle back to gain clearance to the swing arm a longer chain may be required. The other motivation is that you can choose a rim like the Takasago Excel which will make tire changing a lot easier. Complete wheel assemblies are offered by Touratech or you can have one built using your existing hubs.

Q: What about replacing rims. ?

A1: According to Wheelcraft, BMW uses an odd pattern/angle for the holes drilled in their rims. If you want just a rim, you may have to buy one from BMW. Wheelcraft have used a rim from Buchanan's, who drill the proper spoke nipple holes in their blank rim. Wheelcraft then laced and trued it up. What I'd do if I were you, I would strip my wheel down to the hub, and send it to Wheelcraft, Buchanan Spoke and Rim, or any wheel specialist in your area for a refit with a better rim and heavy duty spokes. Again, a better/stronger wheel with a lower cost, about ten days away all done. Iceman #975, November '01

A2: Try Paddock (if you are in the UK).

Q: What about straightening rims?
A1: Woody's Wheel Works in Denver is one place. I bent the front wheel on my KLR. He straightened the bent rim and re-trued the wheel for $70. Shipping is extra, obviously. (303) 936-0232. Harl #380.
A2: Even if you do need a new rim, that doesn't mean that you need all new spokes and all new nipples. Maybe even NO new spokes or nipples. I once hammered a big dent out of the rear rim of my R80G/S with an axe (the hammer side, duh) and a couple of stout blocks of wood. Then I trued it up pretty darn good without replacing any spokes at all. Good enough to race, anyway. Flash #412
A3: Lots of members recommend Buchanan Spoke and Rim in Southern California.

Q: I am interested in lacing a 21" front wheel to my '97 F650 but most 21" aluminium rims I find to be 1.60" or 1.85" in width. My '89 Transalp has a 21"x 2.15" front rim which takes a 90/80x21 tire. Would you recommend a wider rim for use on the F650? What size did you use? Also, how did you modify the fork bridge/brace to allow for the taller tire if clearance is a problem?
A1: I do not know the actual width, but we generally run 90/90 -21 tires. With regard to the fender we welded a plate (about 2" tall) below each of the legs of the fork-brace (with holes to bolt to fork), and added little risers (metal strip with 2 holes), to support the bottom of the fender where it connects to the fork, just above the axle. Lastly, dropped the front forks by about an inch, to keep the geometry somewhat original. There should be no problem with cables/wires, and the speedo should become more accurate! Not only is this modification better for off-road, but it gives us a much better selection of tires (not to mention 21" tires are cheaper then 19"). Some people say the mod affects the turning -- dropping the forks helps correct this, and the rest is solved after a day of riding. Chris & Erin Ratay (See also the Wheel Modifications FAQ )


Q: I am buying a 97 F650 from a friend. Does anyone have experience with mounting a 21" Excel aluminium rim on the OEM hub. I am in Springfield, Missouri where we have a guy with a lot of wheel lacing experience who is willing to help with this project. Can I simply order a 21" Excel rim (with 36 spoke holes) and the appropriate stainless steel spokes/nipples for my local wheel expert to assemble? Or, are there other issues that are exclusive to F650's that one needs to take into account? If necessary, I can always just send my hub to Buchanan's for a complete rebuild, but I would like to save some money and do it locally if this is not a problem. Any information on this conversion would be greatly appreciated.
A1:Take a close look at your rim and hub. You will notice that the spokes cross each other, on the same side of the wheel. (On the GS, front wheel, each spoke cross 3 others on the same side.) The angle at which they are "bent" (in the hub) and the angle at which the holes in the rim is drilled had better line up. Some of the custom HD's have spokes going at 90 degrees from the hub and entering the rim at 90 degrees. Then the holes in the rim is drilled for that lace pattern. Take the bike to your lacing expert and let him order the rims for you. That way you (maybe) will get a rim drilled right and if not, your expert is stuck with a problem.

Q: Converting a F650GSA from 19" to 21" front wheel?
A. I assume you are going reuse your hub. I've seen bikes that have been done so maybe they will be able to give you some detail beyond this. I offer this; Call a good wheel shop (references in the FAQ) and get a quote. You can do this yourself but it's a lot of work. All it takes are new spokes, new rim, tube and tire. Additionally you will have to raise the cross brace on the forks about a 1/2". The Dakar has this mod. stock. The spacers are about $10 each from BMW. You may also need longer bolts. That is pretty much it. FWIW the lower forks, hub, brakes, etc. are identical between the two models. The 21" rim is a little narrower and the typical 21" knobby tire will be narrower. You'll give up a little braking and cornering. Your handling will be affected slightly by the 1" rise. You could lower the forks in the triple clamps a little to compensate.

I can assure you that the lower external half of the forks are identical on both models. The entire wheel assembly is identical except the spokes and rim. If the fork brace is moved up as it is on the Dakar there is no way the wheel can contact the fender at full compression. If your dealer says you need new forks, I'd love to hear why they think you need new forks.

Personally I think that unless you are going to change suspension front AND rear you should stick with a 19" wheel. An 18"/21" combo is the way to go if you need to travel outside the US a lot. Those sizes are the most common in off road tires.

I'd try out a better tire front and rear. You might just be satisfied for a whole lot less money. The Conti TKC80 is a great tire, the others had suggested some to try as well. If you had a 21" front and opted for a real aggressive off road tire you are going to give up a noticeable amount in road handling. In a recent Motorrad magazine test the TKC80 tires outlasted some of the other less aggressive dual sport tires. Problem is you really can't have a great mud tire and a great road tire in the same design. Our UK members use the TKC80 in the mud a lot. They always seem to have good reports. BG#1002.

Feedback: I changed my front to a 21" and rear to 18". I used my stock hubs and just had the wheels built using Buchanan spokes and Excel rims. For the fork, you will only need the 4 spacers and bolts (used on the Dakar model) for the cross brace directly above the wheel. The dealer can get these for you. For tires, I went with the TKC-80's. Kristian #1175
Q: If my wheel is out of true how can I tell how bad it is?
A: If you have been in an accident or purchased a bike with unknown history it is possible that your wheel could be out of true. The wheel may appear to wobble laterally (side to side) or appear to move up and down (out of round). Wheels can be casually inspected by supporting the bike on the centre stand or other stand and spinning them while viewing side on or edgewise. Bad wobbles will be obvious (see the FAQ below for a way you can be fooled when doing this). You can secure a sharp pencil to the fork or swing arm to help measure smaller deviance. The BMW manual calls for 2mm (.08 in.) as the maximum out of true measurement. If the wheel is grossly out of true, especially if the cause is from an accident, you may want to let a professional wheel shop or dealer do the repair. Sometimes the cause is just from lazy spoke maintenance. The wheel can slowly drift out of true over time. This kind of thing can be repaired yourself if you are up to it. Here is a link that describes in some detail how to true a wheel. There are probably lots of other sites too. In the US shops charge around $70 and up to true a wheel. Parts and damage are going to run up the cost.

Q: My wheel wobbles after having new tires installed. Did they bend my wheel?
A: If you have just had new tires installed and you feel or see a wobble it is more likely that the tire is the cause not a bent wheel. What can happen when mounting a new tire is the installer fails to get the new tire fully seated on the rim. It may be close and because the tire has a tube in it there will be no leak to give it away. Carefully examine the sidewall of the tire where it meets the rim to see if there is any indication that the tire is not fully seated. This can show up as a change in distance between a mould line on the tire and the rim. This is best done on a centre stand if you have one. Have the installer correct any problem you find. The stock rims, especially the rear, can be very hard to seat properly (or unseat for that matter). Sometimes a temporary increase in air pressure to higher than recommended pressure can force the tire to seat. BEWARE this can be dangerous if you don't know what you are doing.

Also make sure the tyre in installed correctly, arrow pointing in the direction of Travel.

Q: Does anyone ever have problems from not maintaining their wheels?
A1: You bet. One member suffered a flat when a few spokes failed. This happened under ordinary conditions. The broken spoke pushed into the wheel and punctured the tube. Keep your wheels clean and check them for signs of corrosion or other damage. It may only take one bad spoke to ruin your ride. The aluminium rims are coated. Some chemicals used for maintenance of other systems (like brake fluid) can damage that coating. Once the bare aluminium is exposed to air it can begin to corrode. Wheels can come under a lot of stress and even small areas of corrosion can become a point of failure.
A2: Lots of people (Classic owners) have had "pitted rims" replaced under warranty.

Q: My wheel is shot. What now?
A1: There a lots of places you can have your wheel replaced. This might be the time to consider an after market brand. You have choices. Rims from Excel have a good reputation and are designed in a way that makes changing tires possible without special tire wizard tools. A new rim is going to cost you in the area of $200. The lacing and balancing can add another $100 to this. Then there is shipping if you don't live near a shop that does this. But that is still a lot less than buying a whole new wheel. You might also try placing a notice in the F650.com classifieds. Sometimes people have spares they are willing to sell.
A2: Dented Rims? http://www.motorcycleframeman.com/. Contact the Frame Man. They straightened two fork tubes and both upper & lower clamps for me for ~$120, saving me about $800 vs. new. They do not charge for estimates. They do fast, honest, GOOD work. Flash#412
A3:

Q. What are the wheels made of? My front wheel is bent in a couple of places, and my rear wheel is bend in one spot. Are these aluminium , alloy, or magnesium? If they are aluminium they can not be straightened, but they can if they are alloys.
A. You seem to be confused about the word "alloy." An alloy is a solution of one or more elements in a metal. All the aluminium parts in your motorcycle are alloys - no where will you find pure aluminium. There's always some other element dissolved in the aluminium base to give the material the desired mechanical properties. As an example, steel is an alloy of carbon dissolved in iron. Stainless steel has chromium dissolved in the iron. "Chrome-Moly" is an iron/carbon-based alloy (i.e., steel) containing chromium and molybdenum. Saying that alloys can be bent and straightened is incorrect - some alloys you can, some you can't. I'd be hesitant to straighten cast materials, but it really depends on _what_ alloy. As to your wheels, they can be straightened somewhat. It depends on how bent, and if you've "creased" the flange. Without seeing one, I can't really hazard a guess. Take it to a decent wheel shop that has experience straightening dirt bike wheels. If you straighten it and it breaks, then you needed a new one, anyway. If you have any doubts, replace the rim for peace of mind. In another life, I'm a metallurgist / materials scientist. Bryan #179

Q. Over the last 1000km I have broken 3 spokes in the rear wheel, I replaced 2 of them and thought bad luck on my part. When the third one broke, it chewed the rear caliper, fortunately it missed the brake hose and speedo sensor cable. I took the wheel off and sent it to the dealer 350km away. They were going to re-spoke the whole wheel under warranty, however there were not enough spokes in Australia, so some were air freighted from Germany. The dealer went to do the work and discovered hairline cracks in the hub, where the spokes go through. Anyone else had problems with cracked hubs? My bike has about 16.000km on it.
A1. No cracks as far as I can see, but when I was changing the wheel bearings there were small cavities in the machined part of the hub where the rotor-side bearing sits. I have no doubt that located in the right (wrong?) place these cavities would be top class inducers for the type of cracks you describe.

Q. What size are our rims?
A. I just got off the phone with Kevin at Buchanan's Spoke and Rim, http://www.buchananspokes.com. Tel. 626/969-4655. Here's the deal:

The (Classic) Funduro uses and oddball size rim 3.00x17. The ONLY one available is the one we have. But, you can change to a 3.50x17 or a 3.00x18.
If you go with the 18" rim, you'll alter the handling characteristics some. If you go with the 3.50, you can still use the stock 130/80 tire size (which is recommended from 2.5-3.5" rims). Or, you could go to a 140/80, which is about 3/8" wider.
Kevin says that guys who race F650's get three sets of wheels, moto-x, dirt track and super-motard so that they can get three times the usage. (!?!?) Anyway, Buchanan's knows what you need if you want to order.
Sun rims are dimple-less, made from 6061, are thick and will bend before they break. Excel are 700 series alloy, dimpled and will crack before they bend. There are several options for finishes. But the plain-jane prices are $205.50 for the Sun and $191 for the Excel. All rim orders must be in writing because if you screw up the order, you eat the rim since Buchanans gets them un-drilled.
There are lots of spoke options. Stainless steel spokes are $1.16 each, 40 required (I *THINK*!) and ss nipples are 92 cents apiece. They'll polish up the spoke and nipples for $1.13 extra. Nickel plated nips are only 59 cents. Lacing and truing is $83. (Or you could do it yourself with a spoke wrench and some patience.)
You could get a tube-type rim with a decent drop-centre for your rear wheel with a set of proper spokes and nips for $261, or $344 lace and ready to install. Flash #412

Next.
Q: My GS Front Wheel Spacer Split. What's with that?
A: Like this?

See the Front Wheel Removal FAQ.
Q. I'm trying to find out the size of our spokes (i.e. which spoke wrench will work on them). So what size are they? Seacuke #1214
A. Doesn't quite answer your Q, perhaps, but 3.5mm would SEEM to be the correct answer:
GS & GS/Dakar
BMW Rear 36 31 2 345 807

GS
BMW Front Left L=226.5 36 31 2 345 819
BMW Front Right L=229 36 31 2 345 820

Dakar
BMW Front Left L=250 36 21 7 654 449
BMW Front Right L=253 36 21 7 654 450

Classic Funduro
BMW Rear D=3.5 36 31 2 345 329
BMW Front Left 224/D=3.5Li 36 31 2 345 353
BMW Front Right 223/D=3.5RE 36 31 2 345 354

Classic ST
BMW Rear D=3.5 36 31 2 345 329
BMW Front Left 36 31 2 345 651
BMW Front Right 36 31 2 345 652 Kristian #562
Q. I just visited my dealer and wanted to order some spare spokes for the front and rear wheels. The rear was no problem, but for the front wheel there are 2 different spokes.
a) 224/D=3.5Li
b) 223/D=3.5RE
What's up with that? Spakur #1117
A. If you look at the front wheel you will see that the spokes are shorter on the side where the disc is fitted, as the hub has a larger diameter flange on that side to give strength the disc fixings. Hence the two types of spokes. Trevor #999

Tips on Wrenching Spokes
Flash #412
06-Dec-01
Checking for Loose and Broken Spokes.
Tap the spokes, working your way around the wheel.

They do not need to have the same tone.

They do need to have SOME tone. "Dead" spokes need tightening.

Broken Spokes should be replaced, before the additional stress causes others to fail. Replace any broken spoke immediately. If you hit a pothole just wrong, adjacent spokes may break. One will become six in short order.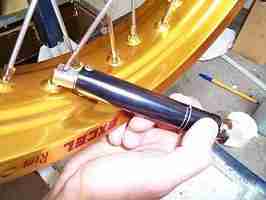 Ask to see a spoke wrench at a motorcycle shop.
Buy it. You will be glad you did.
You will need to remove the wheel in order to thread the new spoke in. You MAY need to remove the tire to facilitate the job. You might be lucky and get away with just reducing the pressure to nearly nothing.
When you have the wheel off, remove the old spoke.
Pay attention to how you needed to turn it this way and that.
The new one goes in similarly.
You will need to push the nipple down against the tube in order to get the spoke started in it.
If you can not push the nipple in far enough to get the spoke thread started, you will need to remove the tire.
See also http://www.xoutfitters.com/mototips/rims.html
Wheel & Spoke Adjusting Tips (Faast)
Your torque wrench will operate in both directions.

Back off nipple until it turns freely on spoke.

Tighten nipple with Fasst Company's spoke torque wrench until the wrench clicks

Be sure to torque every fourth spoke so that you do not pull the wheel out of round.
Use the following procedure as an example.
It is very important to only turn your nipples a half of a revolution or two flats at a time on a newly laced wheel. If you find yourself having to turn more than a half of a turn go to the next spoke in the pattern, and gradually bring the nipples up to torque by working the pattern. Once you have all your spokes close to the torque range, this will no longer be necessary. If you turn the nipple more than 180 degrees to bring it up to torque, you will pull the offset of the wheel off to one side or the other.
1. Start at the spoke next to the rim lock. Call it spoke #1
2. Back off spoke #1 until it turns freely - then tighten until spoke torque wrench clicks. Go to spoke #4 - repeat step #2. It will come from the other side of the wheel.
3. Go to spoke #7 - repeat step #2.
4. Go to spoke #10 - repeat step #2.
5. Continue around the wheel torque every third spoke, until coming back to spoke #1 (on a 36-spoke wheel). Move to spoke #2 and repeat step #2.
6. Go to spoke #5, then #8, then #11, continuing this pattern all the way back to spoke #2.
7. Move to #3 and use the same procedure on spokes #6, #9, #12 and so on around the wheel.
8. It will take 3 revolutions of the wheel to complete the torquing process. You will torque 12 spokes per revolution.
9. To avoid having the nipples seizing on the spoke it is a good idea to pull the spoke nipples off one at a time and fill them with waterproof grease. While you have the grease out, use it to fill in the void behind the wheel seals to protect the wheel bearings.
Why is it that spoke rims are the rims of choice for off-road/dual purpose use?
See http://www.stormpages.com/spokeanwheel/trig.htm and http://www.stormpages.com/spokeanwheel/index.html
Because they can bend without breaking, and still work. They are also much more repairable than alloy wheels, and if a rim is bent beyond repair, it can be replaced and re-laced with new spokes. Excel and Sunn rims are two common ones, and are available at any MX store or a multitude of online outlets. David#476

It's not the weight but the strength/flexibility issue. Have you ever heard the saying "Oak Breaks, but willow bends?" In gale force winds the mighty oak will be splintered but a more flexible tree will be more likely to survive. A spoked wheel is like a circular suspension bridge. The hub, thus the bike, is hanging suspended from the upper spokes. When hitting a bump the force is dissipated differently (spread thru the whole wheel) than that on a cast wheel. A cast wheel has no give so the full force will be transmitted into the portion of the wheel at the point of impact. 2001 F650GSA Chicago, IL Logan's Ride

This site has a lot of diagrams on common lacing patterns for bicycle wheels: http://www.terminalvelocity.demon.co.uk/WheelBuild/ gim
I have a 2000 F650GS with 10000kms on it. In the last 6 months I have broken 3 spokes on the front wheel, all during routine braking. One jammed between the brake caliper housing and the other spokes and destroyed the black finish on the caliper but did no serious damage. Is this a normal rate of spoke breakage or a sign of a more serious problem. By the way the front wheel under breaking makes a terrific howling sound under braking that the dealer says is normal, but when the spoke breaks the sound goes away and the braking is quiet. Help please. Timik.

When spokes are uniformly and properly tensioned each spoke does its share of the work and the wheel is true and strong. If a spoke breaks it's because it is subjected to more than its share of stress (non-uniform tension), or it has become fatigued from the effects of insufficient tension. When the wheel is repaired, it must be insured that the spoke tension is both uniform and sufficient. BruceCO.

Broken Spoke, again
.

Discovered a broken spoke in the rear wheel, the new one I had to wait a month for as a warranty replacement, due to numerous broken spokes AND hairline cracks in the hub. Done 8000km on this wheel, 3000km after a dealer service, I get a broken spoke. I am starting to wonder IF dealers have ANY idea on spoke tensioning?

I note they were done in the service report (not that they would have actually been done!) Going to see what happens in the next month or so. Maybe time to find a pro motorcycle wheelwright (sp?) and let them look at it before it all ends up pear shaped :-( Jack, F650GS, Rockhampton, Qld, Australia.