Changing

your Coolant on a pre-2000 BMWF650.
by Kristian #562 & Flash #412 15/10/01
Please read the Disclaimer before attempting any work in this FAQ.
Updated 15 August, 2004 by Nate #1379
For the GS Coolant Change FAQ GS
Recommended Coolant Interval: Every 2 Years.
Changing coolant at 600m service. This is a quote from the "Chilton Motorcycle Handbook": "One of the common misunderstandings about cooling systems is that the coolant can be ignored. You know, I can see some in the tank, so it must be fine. Well, WRONG! Coolant MUST BE CHANGED REGULARLY. It is not sufficient to just have the system full. As coolant ages, it loses its ability to resist boiling and conduct heat. But, more importantly, it also loses it anti-corrosion properties, and this will allow the build up of scale and residue in the cooling system. this build up will reduce the cooling system's ability to do its job and could eventually render the system useless. To prevent this oxidation of the aluminium cooling passages you should replace your engine coolant AT LEAST once every 2 years." from Spakur.
Reference Diagram: See the Water Pump Diagram. The item marked '2" is the Coolant Drain Screw. Here is a photo of the Drain Screw Location (Lower of the three Screws).
Introduction:
This job is just plain easier if you remove the fuel tank. See the Gas Tank Removal Replacement FAQ. It only takes 10 or 15 minutes to remove the tank. (This task also lines up with other service items such as checking valve adjustment, re-torqueing engine fasteners and cleaning the fuel tap and tank etc.) An inmate did it without removing the tank (See Below, but even he doesn't recommend it). If you choose not to remove the Tank, make sure you unscrew the Radiator Cap to allow the Coolant to escape without having to fight against a vacuum. Also Undo the Reservoir Tank Cap. You can JUST undo the Radiator cap by reaching under the front fairing, beneath the headlight. It's on the RHS of the bike, but it is a bit difficult to do up again.
Tools:
Parts/Consumables:
A

ny automotive non-silicate, non-nitrite antifreeze mixed 50:50 with water is fine, and lots cheaper than BMW or Honda Juice (Recommendation by Flash). The mixed quantity should be a total of 1.2 liter (1.27 quart), where 0.2 liter is for the Burp Tank.

Crush Washer

.

Loctite 243.
Time :
Method:
Warning.! Do this with the Bike COLD. At normal running temperature, Coolant is HOT.!
Remove the Seat and the LHS Fairing.

Remove the Tank. See the Gas Tank Removal Replacement FAQ for a detailed description if you've never done it.
The Radiator will now be exposed. Remove the Radiator Cap & Clean it and the Cap Seat. This will allow you to drain the coolant without fighting against a vacuum.
Remove the Reservoir Tank Cap also.
On the attached Diagram remove Bolt (2), the lowest of the three bolts that hold on the Water Pump Cover. It has a copper crush washer attached to it. Have a bucket ready to collect the coolant. Put the bike onto its side-stand to get out all the coolant.
I flushed out the radiator with a hose, running water through it for a while, but not under too high pressure. Clean the Reservoir Tank too.
Replace the Bolt (2) and if possible use a new Crush Washer, they're Cheap, but you can re-use the old one. Torque to Spec. (10Nm). Use Loctite 243.
Fill the Radiator (1.0 liter) & Reservoir (0.2 liter) with NEW Coolant.

If you didn't take the tank off you can fill the Radiator via. the Burp Tank (Reservoir), provided the Radiator Cap is Undone.

Note: You have to fill the radiator SLOWLY to avoid trapping air, and give the air that does get trapped time to escape. You can help this along a bit by repeatedly squeezing the rubber hoses that go into the water pump impeller-cover area. See also Bleed Notes & Troubleshooting below.
Replace the Radiator Cap.! Replace the Reservoir Cap.!
Replace the Tank but NOT the Side Cover. It's easier to check the Coolant Level with it off.
Run the Engine and Check the Reservoir Level. Refill if necessary.
Replace the Side Cover.
Bleed Notes & Troubleshooting:
If the radiator cap is installed correctly, the only way coolant backflows from the burp tank into the radiator is when the radiator forms a vacuum due to cooling. The radiator cap is much more complicated than most people imagine, with two seals, a pressure valve, and a check valve. If the rad cap is removed, coolant may flow by gravity, but there may still be bubbles in the system. Only by heating the engine up, and cooling it with the cap installed to seal it, are you likely to get that last .1 liter into the burp tank. I always measure when refilling anything, sometimes it tells you when you've done something wrong. HsN
After a couple times running up to temp, it'll bleed out into the overflow tank and set up the appropriate vacuum to the system. Only problems I've ever seen is air trapping in the heater core (analogous to a separate radiator). So, my procedure is pour slowly into the radiator till full, let it bubble up a bit, refill if necessary, fill the overflow tank to the full line, put on the caps and run the motor looking for leaks. If none, I'm done and check the level after each run for a couple days. Nate
Have you run the bike to full operation temp and let it cool completely? Only when it cools completely will you get enough vacuum in the system to suck from the reservoir. If you got a liter in there, ride it. Watch the temp light, and if it doesn't come on, ride it a few more times, then check the reservoir again. I've never even measured my coolant exactly. I mix 50/50 in an empty 1.5L water bottle, and then poor in whatever will fit. Close the cap, and fill the reservoir. Check again after a few rides. I've yet to "bleed" my system. Mark #403
That's it. If you do not use Non-Silicate Coolant you MAY end up doing the water pump replacement sooner than you should. Not proven, but the GS Water Pump has failed too, it's not just a Classic problem.
From an inmate who didn't remove his Tank:
Changed my coolant and all brake pads this weekend (1997F) and found out the following:

Coolant -
You can fill the system entirely the first time by jacking the bike up to rest on the rear tire and by also bending the hose from the top of radiator to the thermostat down to allow coolant from the radiator to fill up the top of the motor. You can also massage the bubbles out of this hose. I rode for a very hot 50 miles and did not have to add a drop to the reservoir.

I drained the system while on the Centerstand and carefully tipped the bike over to get everything out of the system. I did this multiple times.

You can reuse the sealing washer on the drain bolt. Just torque to spec. A low range torque wrench helps here. I did use Loctite.

When you disconnect and clean the remote reservoir (optional), it is a fine time to remove the helmet lock if you don't or can't use it.

This job is just plain easier if you remove the fuel tank. It takes two minutes to remove the tank after you get the bodywork off. This task also lines up with other service items such as checking valve adjustment, re-torqueing engine fasteners and cleaning the fuel tap and tank etc.
Back Friendly Coolant Change Procedure
By Nate #1379 23/04/04
Please read the Disclaimer before attempting any work in this FAQ.
Overview:
This is a method for changing coolant which can be used by individuals with back issues. Rather than having to remove the fuel tank, which is cumbersome and can be heavy if not emptied, this method involves removing the front fairing which is much lighter and can be removed and reinstalled with out any bending over.
Tools and parts needed:
1. Allen wrenches (Correct sizes in tool kit)
2. Bucket
3. Coolant (1.1 liters)
4. Thread locker
5. Crush washer for drain bolt (not required, but handy)
6. 4 rubber wellnuts (not required, but handy to have just in case)
7. Small funnel

Procedure
1. Remove the seat and right side cover.
2. Remove the burp tank cap. Some people can remove the cap without removing the right side cover (I can), however, for those who can't the right side cover is easily removed (2 allen head bolts and a plastic post in a rubber gasket hold it on)
3. Remove windscreen. On the ST, there are 4 allen head bolts which hold on the windscreen and black screen, 2 on each side.
4. Remove the 2 allen head bolts on each side holding the lower engine trim piece to the front fairing (it is silver on an ST and black on the standard F).
5. On the standard F model, there may be another allen head bolt holding the fairing onto the lower radiator bracket (not on the ST)
6. Carefully disengage the tabs on the lower engine trim pieces from the front fairing (figure 1)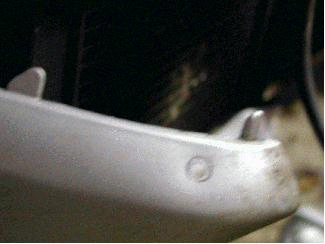 7. Disconnect the headlight plug (3 prong type) by gently rocking it slightly side to side as you push it off the blades of the headlight.
8. Pull out the parking light on the lower right hand side of the head light lens (left side if you are facing the headlight)
9. Disconnect the turn indicators at their plugs (figure 2) Turning the handlebars from side to side can help give extra room to reach the plugs.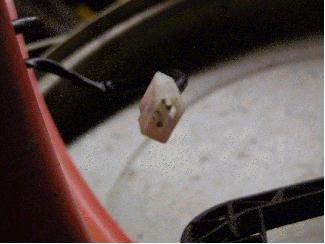 Figure 2.
10. Remove the 4 allen head bolts on each side which hold the tank cover to the front fairing.
11. Remove the final 2 larger allen bolts from the upper part of the front fairing where they bolt to the gauge bracket (figure 3)
Figure 3.
12. Carefully slide the fairing off of the tank cover. Be careful, there are tabs on the front fairing which fit into the tank cover. Set the fairing in a safe place where it cannot fall and won't get stepped on, run over etc.
13. The radiator is now exposed. From here, the procedure is exactly the same as if you removed the gas tank.
14. Remove the radiator cap. It requires pushing down and turning counterclockwise simultaneously.
15. Remove the coolant drain plug on the water pump cover (figure 4)
16. Drain and flush. (Note: at first, the coolant will shoot out about 12 inches from the drain so place your bucket carefully). Flush until no sediment comes out of the drain hole (if you do this regularly, there may be no sediment)
17. Apply locktite to the drain bolt and replace the drain bolt with new washer (you can usually reuse the old washer, but it is good to have a new one on hand in case the old one leaks) Tighten down to spec (10 Nm).
18. Slowly fill the radiator. I find a smallish funnel with flexible hose works well to fill. If you pour slowly, you will have less chance of trapping air. Fill right up to the cap.
19. Carefully replace the radiator cap. Remember it takes pushing down and twisting clockwise to lock it in place.
20. Fill the burp tank to the full line and replace the cap.
21. Check for leaks.
22. Start bike and check for leaks again.
23. Slide front fairing back into place, carefully relocating the tabs from the tank cover into their slots in the front fairing.
24. Carefully relocate the lower engine trim tabs in their slots in the front fairing.
25. Reinstall the larger bolts in the upper part of the front fairing (figure 3)
26. Carefully reinstall the bolts on each side of the tank cover and lower engine trim (and lower radiator cover if applicable.)
27. Plug in the headlight
28. Reinstall the parking light
29. Reconnect the turn indicators
30. Reinstall the black windscreen and clear windscreen (if applicable). If the wellnuts are really old, they may not hold. In this case, you need to replace them (that's why it's good to have some spares on hand).
31. Test all lights.
32. Replace the right side cover (if removed) and the seat.
33. Go for a ride to the local convenience store and buy beer and pretzels
34. When you get home, check the coolant level. Top up if necessary.
35. Go inside, turn on recorded motorcycle races from Speed Channel
36. Drink beer and eat pretzels
So what Coolant Should I use ?:
Well as Flash says "Any automotive non-silicate, non-nitrite antifreeze mixed 50:50 with water is fine, and lots cheaper than BMW or Honda Juice".
"You don't HAVE to use distilled water in a cooling system like you do in a battery. However, some will argue that you should. (Most folks are blissfully unaware that anal-retentive IS hyphenated.)"--Flash #412 (a few years later)
"Just for what it's worth (anal-retentive is probably correct, though).

Tap water conducts electricity (it is just bursting with ionic species of calcium, magnesium and chlorine, for example). Water quality varies dramatically. But if there are any significant ions present, you can generate bi-metallic corrosion (see previous threads - note that there is undoubtedly aluminum and steel, possibly copper in contact with the coolant). Distilled water is a poor conductor (ions removed), as is the stuff in the antifreeze. So bi-metallic corrosion is minimized (weaker electrolyte). Most antifreeze will have additives in it to prevent/forestall/diminish the corrosion. If you flush the coolant at the recommended intervals (even with tap water), you are unlikely to have issues (YMMV, depending on antifreeze and water quality).

Do I still have a gallon of distilled water around for batteries and such? Sure, so why not use it (I still have a few empty quart bottles of Specto pre-mixed coolant that I refill with BMW coolant as I dilute it down to operating strength). Would I use tap water in a pinch? Sure. (Clean coolant is better than dirty coolant is better than NO coolant?) "--Marty #436
However the BMW Coolant I have is NOT Silicate Free, only Nitrite Free. So look on the Bottle you are buying. They say Honda Coolant is Silicate Free. I don't know this for a fact. If anyone CAN confirm it, Great, please send an email to the Webmaster.
There's another one available at most bike shops in Sydney, its Silkolene Pro Cool from the UK. Says that its Silicate free. You'll need two of the 1 litre (the only size) bottles it comes in. Thanks to Andrew #870, Sydney, Australia
It seems that most of the live extended coolants are s+n free. Others are Ford's Dex-cool, some Synlube and as mentioned earlier Prestone. Don't know if these are available down under. I got the coolant as planned from Caltex (petrol/gas supplier). A$ 9.95. It is E-friendly:-amine, phosphate, nitrite and silicate free. Prestone is actually sold by Repco in numerous shops in NSW. Try www.synlube.com/prod05.htm to get some info about Synlube Silicate free coolant. Thanks again: Oliver in Oz.
I bought my coolant at a Pep Boys auto parts store. The advanced coolants state explicitly they are silicate & nitrite free. They come in undiluted form, so I'm not paying Honda for water and I got twice as much for my $$$. Richard convinced me to get off my keister and actually re-read the label on my "Red Stuff." I've been using Peak Extended Life. The label reads, in part: "Protects all cooling system metals, including aluminum, against corrosion. Silicate-Free, Phosphate-Free, Nitrite-Free, Borate-Free. Meets the automotive performance requirements of ASTM D-3306. Ingredients: Ethylene Glycol (107-21-1), Diethylene Glycol (111-46-6), Water (7732-18-5), Sodium Benzoate (532-32-1)". Andy #618. (Apparently the "Red Stuff" is also Toyota's Coolant.)
I just happened to have a bottle laying around of this stuff too. Exclusive Honda formula with unique non-abrasive corrosion inhibitor. Premixed (50/50) with purified, de-ionized water. Prevents Hi-RPM foaming and cavitation corrosion. Extends life to mechanical water pump seals. Pro Honda HP Coolant is a uniquely formulated, ethylene glycol based product engineered by Honda R & D to give maximum service life to all Honda cooling systems. For convenience, it has been blended to factory specs (50/50) with purified, de-ionized water. Andy #618.
This was posted to a KLR message board I frequent:
Two recent restoration projects undertaken here at Trail Rider have introduced us to an emerging phenomena with early water cooled dirt bikes. That is, long term corrosion problems associated with integral clutch cover/water pump housing side covers. Many of these early water pumps were delivered with magnesium side covers. Magnesium, it turns out, is highly reactive to the corrosive effects of ordinary coolant and galvanic coupling, the result being serious pitting and eventual compromise of the water pump housing. Can you say "sacrificial anode"? Fortunately, this problem is less prevalent with newer sleds for couple of reasons. Obviously age has a great deal to do with things, allowing time for the affects of corrosion to manifest themselves. Also significant, newer alloys used in the manufacture of late model engine side covers are more resistant to the corrosive affects of coolant and offer less of a galvanic couple. Finally, newer low silicate coolants formulas, especially the non-silicate (red colored) coolants sold as OEM Honda and Toyota and some aftermarket brands, are less of a catalyst to corrosion for aluminum, magnesium and their alloys.
Many people think that all cooling system antifreeze products are the same, except some are methanol based and some are glycol based. Not so! In newer automotive applications, silicates are needed to protect aluminum engine parts and radiators from corrosion, and are used in virtually all antifreeze mixtures in varying forms and amounts.
Eventually, silicates are supposed to drop out of the coolant mix, and as long as they do so at a controlled rate, they work quite well. However, over time, the "soup" of chemicals, impurities, and corrosion by-products in a cooling system can start to behave in ways difficult to analyze or predict. When silicates begin to drop out too rapidly, they build up and form a gel.
A number of things can start this process: high silicate levels from incorrect antifreeze concentrations or improper use of coolant additives, impurities in very hard water, and severe engine temperature swings.
The main effects of the formation of this silicate gel are clogging of radiator and heater cores, and engine overheating. Silicate gel build-up greatly reduces heat transfer from the engine castings to the coolant. When the gel coats the temperature sender, engine overheating can take place without notice. Silicate gel also carriers abrasive particles to the water pump, where it wears away pump seals causing leakage and failure.
Unfortunately, there are few effective methods for cleaning the gel from an already-clogged system. Radiators must be removed and sent out for a thorough cleaning. The engine must be flushed with a caustic solution. The gel is not water soluble, so flushing with water alone will not work.
One additional point, the orange antifreezes such as "Dexcool" are specifically formulated for aluminum components. Since the KLR-650 has an aluminum engine and radiator, the orange antifreeze would be preferred over the green antifreeze. Harl#380
From what I read, I can't see any reason not to use Prestone Extended Life. By the way, I think the dealership has always used the OEM stuff, which as we know is nitrate, but NOT silicate free. David #476
I use Prestone Extended Life. It costs about 1/10 of what BMW coolant costs. Flash #412
I just put in Prestone Extended Life. It says silicate- and phosphate-free on the front, and it lists the ingredients on the back and does not list nitrates or silicates. MasterITRIT #1231
BMW coolant isn't that pricey. My dealer sells it for $13 a gallon (about twice what the green stuff costs at the auto store). Mixed 50% means this gives you 2 gallons of coolant, or about 6 coolant changes (if I recall correctly). Richard #230
There are non-toxic coolants. They work just as well and are priced in level with regular ones. If you have to drain the bike in a bad place, you can do so without feeling as bad. I started using non-toxic coolants for the sake of my cats, as they will drink anywhere but from their bowl, and I had a leaking old car at the time. Coolants are by tradition toxic, and many of them have a pleasant sweet taste as well :( RakaD
I was looking for nitrate and silicate-free coolant and I found this information at a Texaco site:

"Texaco Extended Life Coolant/Anti-Freeze Nitrite Free meets both ASTM D 3306 for automotive service and ASTM D 4985 for heavy duty diesel service. These nitrate-, nitrite-, borate-, phosphate-, silicate-, and amine-free formulations use Texaco's patented carboxylate technology to provide maximum protection of the six basic metal alloys found in most heat transfer systems. Since the coolant contains no phosphates or silicates, hard water deposits in the cooling system are reduced. Water pump seal wear is reduced as a result of fewer abrasive dissolved solids in Texaco Extended Life Coolant System which results in improved water pump life. The patented carboxylate technology in Texaco Extended Life Prediluted 50/50 Coolant/Anti-Freeze Nitrite Free has been shown to remain above 80% of their original concentration after 400,000 miles of on-road use in heavy duty diesels without the addition of supplemental coolant additives."

The site also provides instructions for swapping over from other types of coolant (e.g., flushing methods). Wal-Mart carries Texaco Extended Life Coolant here in Georgia, but any Texaco-operated gas station/convenience store or truck stop may also carry it. I bit the bullet today and changed the coolant in the ST. FAQ info very useful (can't imagine how to do it without removing the gas tank). Drained system, flushed system with tap water (our local stuff has very little hardness), flushed with distilled, and then refilled with 50/50 mix of distilled water and Texaco Extended Life Coolant (5 yr/ 150,000 mile). It runs ~ $6/gallon. I had called Shell/Texaco technical service centre and asked if they knew of any reason this product and its carboxylate corrosion inhibitor should not be used in a BMW cycle. They knew of none and also confirmed that it is nitrate- and silicate-free. I'll make a post if anything bad happens before 2008 or the odometer hits 165,000. I may be the first to discover that carboxylates eat rubber hoses. teddco
I have been using the BMW auto coolant, but the Texaco looks like a good choice. Just be sure to dilute it (if required) using DISTILLED water. Not sure if I would go more than 2 years on any coolant in a motorcycle. (See the manual for warranty requirements.) You'll have to replace the coolant when the water pump eventually fails anyway. Marty #436
I have been using the auto BMW coolant (mixed 50% with distilled water) for the past 6 years and 30,000 miles with no failures or problems with water pump or anything else. My radiator shows no evidence of internal corrosion. Honda motorcycle coolant (which comes already mixed) is another good choice, as at one time Honda had a lot of coolant pump problems on their Goldwings and blamed it on the coolant, so they started selling their own. Richard #230
FWIW my experience with Engine Ice was with my Honda Hawk race bike. I read all the claims and thought it might have better heat properties than using just water (which is what's required in racing - most coolants would make the track slippery if you dumped any).

In a couple of words - it's crap. The race bike ran 20 degrees hotter with engine ice than with plain water or water with water wetter. --MarkF
Any of you guys with systems nearing the edge consider trying "WaterWetter" from Red Line? They sell it in my local Murray's auto parts store, and I've not heard any BAD things about it (may be snake oil, for all I know, though). Supposedly designed for use in racing machines using straight water (due to the hazard of dropping slippery antifreeze on the track), it can also be used in normal antifreeze. The label I read said it could be used as well in a traditional antifreeze/water mix. Marty #436-Chicago-97 F650F
Only thing about WaterWetter is that you would have to drain the system and refill it with antifreeze as water with WaterWetter in it will freeze causing tons of damage. I know a bunch of guys who race, and they change out after the season. MasterITRIT
I've used a mix of WaterWetter and tap water in a turbo 5-series BMW, a supercharged Jeep, a 320is with a Korman built race motor, a stock EX500 and my R1 as required to run at Thunder Hill raceway. No problems with any of them, and the turbo car actually ran noticeably cooler at the track (she used to heat up a LOT running flat out all day at Stapleton in Denver, something about there not being any air up there). I did have to pull it out in the winter to keep things from freezing though. Moving back to CA solved that little problem. kelly1005
I hit the WaterWetter link and did a quick scan. It aroused my engineering skepticism, since it did not mention specific active ingredients and corrosion-inhibitor chemicals. I'd like to know what's in the stuff and if it is compatible with the type of coolant I might mix with it before using it in a cooling system. The Material Safety Data Sheets (MSDS) for it or its ingredients may be posted on the web. If both the Texaco and Water Wetter experiments go south on us, maybe we can get a group discount on radiators and water pumps. teddco
Beware, WaterWetter is NOT antifreeze... Red Line WaterWetter does not significantly reduce the freezing point of water. If the vehicle will see freezing temperatures, an antifreeze must be used. Flash #412
WaterWetter is used in motorcycle racing because it provides some benefit for a bike's cooling system and is apparently relatively non-toxic and not slippery, should the bike crash on the racetrack. It is mixed with straight water and I do not believe that it is what you want to use for long-term street-riding coolant. I suspect that it will not provide as much high and low temperature boil-over/freezing protection and will not keep coolant systems from corroding, the way commercial coolants will. I would not use it for street riding. Richard #230
Some Very Interesting Coolant Information:
Can you please confirm whether or not this product has NO SILICATES as Silicates have been blamed for failure of the Water Pump on the BMW F650 (including mine). If it does have Silicates, what percentage and how does this compare with other Brands. I would very much appreciate a prompt response as I intend to redo the Coolant this weekend.
MOTOREX (No affiliation) have confirmed this:
MOTOREX ANTIFREEZE PROTECT G30 is silikatesfree.
I wish you a pleasant motorbike season.
Arnold Zuppiger
Leiter Kundendienst
BUCHER AG LANGENTHAL
Telefon +41(0)62 919 76 91 Homepage http://www.motorex.com
An: "'arnold.zuppiger@motorex.com'" <arnold.zuppiger@motorex.com>
by Flash #412

The whole POINT of the burp tank (Coolant Reservoir Tank) is to have the cooling system purged of air, for two reasons... reduced oxidation and increased efficiency. ALL burp tanks will have the hose to/from the radiator feeding (somehow) into the bottom and an overflow out the top.
When your cooling system is refilled, odds are you got some air trapped in there. Air expands a WHOLE LOT more than water when headed above 212F = 100C. This builds pressure inside the cooling system. The radiator cap lets the pressure out at 1.2 bar. The pressure goes out the hose just below the cap and into the bottom of the burp tank. This air goes right out the hole in the cap at the top of the burp tank.
When the system cools, pressure reduces, so much in fact that a vacuum is created. The pressure differential across the burp tank forces the liquid in the burp tank back down the hose and into the radiator. A couple or three heat cycles later and your system is totally purged of air. No need to mess with the radiator cap but you MUST keep an eye on the burp tank level.
When the system is totally purged, the coolant STILL expands and contracts some, causing different burp tank levels between cold and hot.
If you check it hot, there will be more than if you check it cold. If you check it cold, to the min line is FINE. But if you check it hot, that MIGHT be too low when it cools off.

My Bike Gently Weeps - Other Sources of Coolant Loss
by Karl #1012
I changed the oil this weekend and noticed a few drops of coolant on the engine. I immediately assumed that I had a case of the weeping water pump shaft. I checked out the appropriate FAQ and to my surprise, the water pump shaft is at the bottom left of the engine, and my drips of coolant were coming from the top right. After finding the appropriate drawing I now know that this is, of course, the thermostat housing. (Hey, I thought that maybe the water pump ran off the cam shaft or something.) I don't see anything about thermostat housings leaking in the FAQ. I'm getting the smallest bead of blue coolant just between the thermostat housing and the cover.
Hi friends, this afternoon I noticed a few drops of blue coolant on the engine. I cleaned the thermostat housing very well and this evening I went out for 100 kilometres. GU@RDIAN.
I noticed some blue droplets and staining on the right side of the bike's engine, which look suspiciously like partially dried BMW coolant. I don't think they were there when I washed the bike prior to putting it away for the winter. Starts at approximately the height of the slits in the outer spark plug cap (stock) which has a greenish-blue cast to it, runs down the engine from about where the temperature switch is (starting at the same level as the spark plug cap), and a few drops blown back as far as the bottom-front corner of the seat pan. The last two rides were at speed in cold weather (+/- freezing), with no indication of overheating. Got out the wrenches (and calibrated wrist) Found the nuts on the two temperature sensors and the bolts on thermostat cover just a tad loose...tightened them both up a bit more. The puke-tank was a touch low, halfway between low and full. Warmed the bike up, off for a short ride, no trace of a leak. Marty #436
The recommended fix:

Replace the Seal between the thermostat cover and the housing. You may not need to drain the coolant, as the thermostat is fairly high, with respect to the Coolant Reservoir/Burp Tank and the Top of the radiator/head.
Marty writes:
I used Hylomar sealant on the new gasket (non-permanent, in case I DO have to take it off again to replace the head gasket).
So far, this is not a common occurrence.

2. Defective Radiator or Radiator Cap
by Kristian #562

This has not been a common reported problem on the Classic, but see the GS FAQ for the number of defective radiators on early bikes. You can still get hole in your radiator if you get stone chip in it, ride off-road a lot, the neighbours cat sticks a pencil through it, or it's getting old and you power-wash it. You may want to consider a Radiator Guard. Refer the GS Aftermarket Frame Accessories FAQ or the Classic Aftermarket Engine Protection FAQ for Radiator Guard Options.
3. Overflow or Burp Tank Rubber Hose-line
by Werner #547 Ottawa

Crossing from Norway into Russia near Murmansk is like entering another world, the Nether World. Everything looks run down, the road, the houses, and the people. No wonder that the bike wanted to sympathize with this environment. At every stop there were a few drops of green liquid falling from the bottom of the radiator. "Chyort," three times (the Russian word for "shit"). Broken radiator? But why green, since I remember putting in orange stuff. Irish terrorists? In the evening I took off the gas tank to have a look. Relief! The little hose connecting to the auxiliary tank (overflow or burp tank) had sprung a leak right next to the stud under the filling cap. Cutting off one inch and reconnecting fixed the problem. So, next time you have your tank off, check that little hose, or replace it. Better then than when you're in the boonies.

Reattaching or Replacing Radiator Hoses
At a stoplight I noticed I was practically gushing coolant. Turns out one of the thick black hoses had wiggled loose and was almost off. Should be an easy fix, but I'm having some trouble getting it back on. There's a circular clip that attaches to itself with a curved clip that pops over a raised nub on the other side. With the hose off I can connect the two pieces but can't get the hose over the metal tubing. With the clip off I can get the hose in place, but am having a h*ll of a time reattaching the clip.... Of course the end of the hose that came off is the one right behind the clutch cable...the hardest one to get to. Stu
Same thing happened to me, and I've read other accounts here, too. I was lucky...happened just as I pulled in the driveway. I used a regular hose clamp. Mark #403
Take the OEM clamp that let go and throw the *** in the garbage. Get a regular hose clamp that fits (preferably a "Norma" clamp from a BMW dealer or other with NO slits cut in the strap). Put the clamp on the hose, put the hose on the engine, tighten. And while you're at it, save a trip and get enough hose clamps to replace the rest of the *** OEM clamps, before they let go. If anyone's interested, a few years ago when I was restoring a 912, I discovered Au-ve-co. They are a huge wholesale-only manufacturer of every clip, screw, and weird piece of vehicular hardware you can't find at a normal hardware store. And they supposedly STOCK 15,000 parts! If you contact your local distributor and convince him to sell you at <10 pricing, you can get a box of the same groovy high-tech hardware that goes on a REAL BMW for less than the cost of one hose clamp at Pep Boys. Quantity varies by size; hose clamps come 2-10 to a box. I don't have access to the bike right now but if I remember correctly, one box would probably do the entire job. I would post the part number, but the site is now password protected. Any distributor will give you a catalogue though. David #476
One of my radiator hoses is weeping and I was thinking to change them. Does anybody have idea of an alternative (aka CHEAP) source for the parts? Any idea/experience with the transparent ones? http://alba.buyol.com/Item/WCH%2D00076.htm The $99 is NOT a minor issue right now. These look exactly like the ones in the picture: http://www.wocoengineering.com/index.htm I think one of the hoses on the DS [Bombardier DS 650 ed.] is longer than we need. IF the hoses are flexible (the ones from Alba Action Sports seem to be flexible and not pre-formed), do you think it is possible to use the same hose for all 3 applications, i.e. a hose 22 cm long, inner diam. 19 mm and outer diam. 25-26 mm? Having the 3 hoses of the same exact size should bring down the price if they are custom made AND you can carry a single spare instead of a whole set. Also, the colour of the coolant I use (orange) matches the colour of the bike :) Giovanni
Those things are just WAY too cool. I would start by tightening all your hose clamps though. Chances are one is just loose. David #476
Replace all the stock (crap) hose clamps with "worm" type radiator clamps. Should be very cheap to do. I think you can probably do this without even removing the hoses (may be easier, though), and should solve your leak. Replacing the radiator fluid is a good thing to do (at least every 2 years). I think this is also possible without replacing the hoses. Unless that $100 is burning a hole in your pocket, hoses are usually good for at least 6 years. Marty #436
I changed my hoses last week after discovering that one of them was worn out at one of the ends. I changed all, since I was at it. Later I discovered that they weren't bad, so I guess they could have functioned a few more years... Here is the info you need. The second hose (listed below) is a bit different from the others, since it has a wider diameter at the ends (~20-25mm of the hose) comparing to the rest of the hose. All hoses are twisted differently, so it is a bit hard to measure the length, so give or take some.

1995 Classic
Left side radiator to waterpump:
length: ~22 cm
inner diameter: 19mm
outer diameter: 25-26mm

Left side water pump to engine:
length: ~20 cm
inner diameter at the ends: 19mm
outer diameter at the ends: 25-26mm
inner diameter in the middle: ?
inner diameter in the middle: 23mm

Right side radiator to engine:
length: ~21 cm
inner diameter: 19mm
outer diameter: 25-26mm

The reason for one of them to have a slightly smaller diameter in the middle than the others is because it wouldn't fit otherwise. The hose is just barely in contact with the engine side. However if they are flexible (the OEM is not very flexible), I don't see any reason why it wouldn't be OK to bend it a bit. Spakur #1117
Those hoses are cool. They would also make going through tech at the races really easy (not having to go through the hassle of opening the rad to show it's straight water with a dash of WaterWetter). Me likey!! Gar #673
What Temperature does the Coolant Idiot Light come on at?
Classic
115 degrees which converts to 244 F
GS/Dakar:

118C/245 F.
Feedback:
I don't see in the F650/F650ST shop manual any comparable page. But, with that said, it doesn't mean its not there (though I doubt it) and more importantly I offer this for my 1997 F650 (I'm open to correction here): Thermostat opens at 72-75C (162-167F) and is fully open at 87C (189F). This from my manual. Fan comes on at 95C (203F) and turns off at 90C (194F). This from the Thermoswitch on my bike. Warning light comes on at 115C (239F) for my Thermoswitch at least. Chris #782
What is the Radiator Cap Release Pressure

Classic
Todd #389 & Alberta Deryl
Most thermostats operate and are calibrated by temperature, not pressure. The old thermostat should be stamped for it's rating, in degrees Celsius. The (Classic) Service Manual says: Thermostat Opens at 72-75 degrees C (162-167F), an opening gap of 7.5mm at 87C. (The Thermostat is stamped 75C and should thus open at that Temperature.)
The only pressure rating mentioned in the specs is: Cooling system test pressure 1 bar (14.23psi), however this is not the Radiator Cap.
The Radiator cap with "1.2", which is 1.2 atmospheres (bar) and equates to about 17.4 psi.
GS/GS Dakar

Radiator Cap Comparisons GS vs. Classic
So does anyone know if the Classic and GS models use the same cap? I have a slightly used but un-abused cap from an 01 Dakar laying here on the desk beside me. My radiator was replaced under warranty and a new cap came with it. Let's compare them. Looking at the top of the cap you have an ear on each side. On the left is the number TW63. I suspect that's a p/n for whoever makes the cap for BMW. On the right ear it has1,50. Probably indicating a 1.5 bar pressure rating. At the bottom of the cap are the numbers 17.11-1 464 983. Turning it over and looking at the guts side of it the sealing ring is 1and 1/8 inch diameter. Any of this match up?
It sounds like they are not the same. My Classic, has "1.2" ( for 1.2 atmospheres) stamped in the top. The search continues.

If you're looking for a Replacement Radiator Cap:
These guys make Radiator Caps:

This one looks small and is 1.2 bars
Radiator Manufacturers.
General Comments on Cooling System Maintenance
I have seen it before on bikes that have not had their overflow tanks cleaned in a few years. You need to pull that tank off every year and clean it or it will develop that black gunk. I think it is a reaction between the plastic tank material and the coolant. Don't worry about it. If it gets really bad and you can't clean it with some sort of caustic chemical, then just buy a new tank and start all over.
I've taken an indelible magic marker and highlighted the fluid level marks on the coolant tank . . . . I can see the fluid easily enough, I just couldn't read the lines. Now I can. (Muriel#582)
Pffffff, fill it and forget it. I can fill my burp tank to the top line everyday and it'll spit it all out and when the bike is cool, there's just a lil' smidgen of coolant at the very bottom of the burp tank. I've learned that if I see any coolant in there at all it's fine. And I too can not see it unless I take the side panel off. (Shank)
Just had the radiator replaced for a serious leak near the top right mounting point. Kristian#1175
I had a Classic 99-00 and now a 2002GS and I noted that the GS radiator/cooling system is more efficient. In the classic the start of the radiator fan is more often. In highway speeds the air cool down the bike, fan won't go on. One friend had a leak in a classic long time ago and he ride like 15 miles in the highway to ne next gas station to fill it again. Temperature never went on. Only in a very low speed just arriving to fill up water just to go home. No extra damage to the bike. Radiator was replaced. That's why radiator grills are very important. Specially off road. Front wheel without a low fender throws up lot of small rocks. Or when you ride behind somebody. Radiator grills are one of the best investments in aftermarket products. (Guz)
Riding with NO coolant! What have I done?
During a little off-roading excursion, I busted the radiator on my '02 GS. Not a little hole, mind you, but a big fat gap where the plastic end-cap separated from the metal finned part. No just filling it back up, or patching the hole. The radiator was done and wouldn't hold a drop of fluid. No possible way to get home besides ride the thing. So, for the thirty mile trip home it was ride two miles (temp light would come on), shut off the bike, let cool for 10 minutes, and then repeat (coasting down the hills with engine off as much as possible). Could I have done significant damage to the engine, water pump, fan, etc. by riding it with basically no cooling system? The engine didn't seem to get overly hot and I didn't notice anything out of the ordinary. It was running same as usual on the trip home. I just didn't want to push it with the temp light on so I took it easy. Sometimes the light would come on and it would take me a minute or two to find a safe place to pull over. Mike
The water-pump impeller will be corked, along with the sealing rings. The shaft MAY be scored too. Jack
Not sure how the temp-sending unit is set up, but if there were no fluid for the temp-sending unit to sit in, was it reading accurately (or is it a surface mount thermal probe?)? Way too hot an engine can cause torched valves and warped/leaky head gaskets (check your compression). The water pump is likely shot...you may want to postpone the oil change until a bit AFTER you get the fluid issue dealt with (in case the impeller seals leak and you end up with "mocha" oil). If you don't change it, probably a good idea to keep spare bits handy. Marty #436
FWIW, Chrysalis Racing apparently used a Goodridge oil cooler on their modified Rotax-powered bike in 1999. http://www.chrysalisracing.co.uk/f_bike.htm

Feedback:
I have an oil temp gauge on my 1997 bike and in my opinion, the F650 runs cooler than most air-cooled bikes that I have owned. At the same speeds and air temperatures, it runs about 10 to 20 degrees cooler than my 1978 Yamaha SR500 did, as an example. In my opinion, the bike does not need an oil cooler. Perhaps your coolant system needs some service. Richard #230, Pacifica, CA
Oil coolers are not normally used to cool the engine as a whole. They are not effective that way. Their use is to keep oil temps down in an application where the oil will become so hot it cannot lubricate effectively. Oil coolers are less used with modern oils since they lubricate well at much higher temperatures. Johnny #862