F650 Aftermarket Forks
Original FAQs by Kristian #562, BradG #1002, Scott ID #1244
Please read the Disclaimer before attempting any work in this FAQ.
Last Updated: 3 September 2006, by Winter #1935
For FAQs related to forks, shocks, maintenance and aftermarket options:
---
Introduction
There are lots of options for aftermarket fork protectors. Here's a few different types, with some comments on each. You may not see some of the advantages or disadvantages as particularly troublesome. It's your bike, so you choose. This is just to give you an idea what's out there, and what the people who have them, who have said something about them, have said... Information on complete aftermarket forks is a little harder to come by - please let us know if you have more information to help fill in the blanks!
Fork and Spring details (based on the Classic F)
The fork diameter is 41mm
Spring Length = 20.675"
Wire dia = 0.190"
As for the O.D. of the spring, it's tapered more at one end. The first full turn where the wire is not ground flat is 1.315". By the 3rd full turn from that end the O.D. is 1.377".
At mid spring the O.D. is 1.389". The other end is 1.360" (again where the wire is not ground). In a couple of turns from that end it's the same as mid spring O.D..
There are 36 full turns of wire from end-to-end. patobravo #1754
What are emulators?
Think of the emulators as restrictor check valves that help control the oil flow inside of your forks. The damping action comes from forcing oil through a restriction. I guess they wok. My bike's PO put these (gold) emulators in with stiffer springs. I added some higher grade (SAE 10W-40) fork oil last seal replacement. They work alright together. Nothing I would enter competition with, though. I do not know how much they cost. beem_dubya #1328
From the Race Tech website (thanks beem_dubya #1328)
Race Tech Emulators enable damping rod (conventional) forks to duplicate the fork action of well-tuned cartridge forks. Standard damping rod fork setup is a big compromise. They have either mushy fork action under braking and going through dips and gullies or harsh fork action while hitting square-edge bumps. In addition to the vehicle speed, the size and shape of the bump are critical factors. This poor fork action is because damping rod forks create damping by simply shoving oil through holes. At low vertical wheel speeds the holes do not have much resistance to the flow and therefore are mushy. As the velocity of the fork increases the resistance to flow increases dramatically and more oil cannot be forced through the holes. This is what makes them harsh.
Emulators were invented by Paul Thede in 1993 and are variable orifice valves that sit on top of the damping rods. Not only do they create a firm yet plush ride with excellent bottoming resistance they also provide the ability to adjust compression damping. Thus, with Race Tech Emulators installed, conventional damping rod forks are turned into forks with excellent well-tuned cartridge fork type action.
---
Aftermarket Fork Options
Heavier Fork Oil
Probably the low cost / easy option is to use heavier fork oil. See the Fork Maintenance FAQ for more information on changing the fork oil. Try a 10wt oil, or may be even heavier. If you ride a lot of dirt, particularly at higher speeds, or you carry heavier loads on your bike you might consider even as high as 15wt.
Touratech Upgrades
Website(s):
Touratech offers several upgrade options for the F650 GS models. The most extensive upgrade is to WP forks and shocks with a huge 280mm and 250mm of travel (respectively). This upgrade includes all parts to perform the upgrade. However the kit is expensive - but includes everything you need including the bracket for the ABS sensor (if you have ABS). Touratech also sells fork springs for the Funduro and GS. (Note: In the closeup image below, there is an additional reed sensor for a bike computer. The Touratech 650RR instructions have more images of the kit installed).
Touratech upgrade (taken from Max Kool on advrider)

Closeup of ABS sensor (taken from somewhere?)
Is this an earlier version???
How much higher is the Touratech WP setup?
The upgrade takes to front fork travel to 280mm and rear shock travel to 250mm. This is compared to about 170mm on the GS and 210mm on the Dakar. In other words an extra 40mm (nearly 2in) of travel on the Dakar and a huge 80mm (just over 3in) on the GS.
What are the exact model and specs of the WP fork upgrade?
The forks are the WP 4357 MXMA USD 280mm. The shock is a 4014 Fusion with 250mm travel. You can also get an axle and brembo bracket from WP suppliers, and also upper and lower clamps.
What are the part numbers for the Touratech upgrade?
The following table contains the Touratech part numbers for the WP USD 250mm upgrade. The first group are the components you will need. The other groups you may or may not need depending on if you can source the other parts from elsewhere. (Please check these part numbers!)
Part No
Number
Description
05-320-0180-0
1
Upper fork mount
05-320-0181-0
1
Lower fork mount
05-320-0182-0
1
Center steer tube
05-320-0184-0
1
Ignition switch mounting bracket
05-320-0185-0
1
Front brake caliper mounting bracket
05-320-0186-0
1
Front axle
05-320-0188-0
1
Roller bearing ??
05-320-0189-0
1
Bearing race???
01-300-0188-0
1
Nut for front axle
05-320-0210-0
1
Sensor mount (front wheel)
05-320-0211-0
1
Sensor cover (front wheel)
You Could Source These Elsewhere
05-320-0170-0
1
Front forks WP 43mm USD (250mm or 280mm travel)
01-040-0800-0
1 pair
Front fork protectors
11-112-0904-0
6
Spacers for fork protectors 10/6/4mm
Bar Rises - Purchase as required
05-320-0183-0
2
Bar mounts
05-310-0190-0
2
Top handlebar clamps
05-310-0191-0
2
Lower handlebar clamps/risers
05-310-0182-0
2
Steering stops
01-040-0335-0
1
Front brake line Stainless steel
| | | |
| --- | --- | --- |
| Touratech Fork Clamps | Touratech Front Axle | Touratech ABS Mount, Spacer and Caliper Bracket |
Using KTM WP Suspension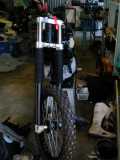 Thanks to atgreg over on advrider: It's not my bike but a friend of friend, the forks are 50mm whitepower extremes from a 99 KTM. Triple clamps are custom made, extending the rear swingarm means you get more suspension travel for the same length of shock. This bike will have a longer WP rear shock as well as the extended swingarm and will have close to 300mm of travel at each end.
The welded section extension of the swingarm = "probably not a good (read reliable) idea...???" troy safari carpente on advrider
Yep, it has an internal sleeve etc and has been done properly atgreg on advrider
given its shod with a 908rr its an 18" rear. Sounds to me like a great way to throw away lots of $$$$... Mouse on advrider
1995 Honda XR250 Upgrade
Hi i just want tp share the installation af a cartridge type front fork on a f650gs 2002, the newfork came fron a XR 250 1995 all fit,41mm fork wheel and brake line. Roberto
The only information I can dig up on the forks appears to be they are 41mm Kayaba forks with 11 inches travel (~280mm) with 20 position rebound dampening. Later models had 10.6 inches travel (~270mm). My only concern would be the forks are probably not strong enough for the weight of the GS. Winter #1935
This upgrade may not work with ABS bikes due to the sensor mount on the front forks. Anyone up for making a "generic" sensor mount? Winter #1935
i test yesterday the forks, from La Rumorosa-Laguna hanson-Valle de La trinidad-Mexicali, it was snow in that mountain pass, mud, water, rocks, i use it with the air preload, no change springs and it works good for my. Please see this route is follow by many riders to mike ski rach in Baja Ca. i will doumload from my camera the photos and send it, thanks for the info. Roberto
CBR600F2 Forks in a Funduro
I dunno about the fool infected bikes. But a set of CBR600F2 forks will slip right into the clamps of a Funduro. Flash #412
Cytech Air Suspension Upgrade
See the http://www.toursforafrica.co.za/ website for more details. Has anyone actually done this mod? Feedback would be fantastic! According to the website you must also use bar risers.
Marzocchi USD Forks
The following appear on http://victoria.craigslist.org/mcy/138985865.html... It is a custom mod of a F650GS (possibly with ABS). The following is what was listed, including the use of Marzocchi USD Forks. No specs or details were provided:

2001 BMW F 650 GS
10.900 K km's
Steel blue metallic
Custom build and re-desiged BMW 650 GS
17" BEHR 3.50 x 17 polished front wheel with racing tire
320mm Front Rotor
Tokico 6 piston caliper
New 2005 Marzocchi upside down front fork
Pro taper triple clamps ( 6 bolts )
Pro taper handlebar positioners changers
Pro taper Ricky Carmichael 2005 handle bars 1 "tapered
ABS on both wheels
Heated grips
Custom seat
Upholstered front fairing
and more

Preload Adjusters for Front Forks
11/4/99, Peter #233
With the nifty preload adjuster for the rear shock, wouldn't it be nice to have the same feature on the front forks. figured out that the 91 Honda CBR 600 F2 has the same diameter of tube as our F650 and it fits.
Since Honda is the parent company of Showa why wouldn't it. The Honda part # is 51450-MR8-003. Peter's local dealer charged about $45.00 ea. It requires changing the spacer and clip on the bottom (Peter guessed that the BMW has thicker castings than the Honda). Replace the spacer with 2 1-1/4" fender washers and a smaller cotter pin. They'll fit perfect after that little mod, and you will be able to dial in the preload on the front suspension. EBay occasionally has pairs listed for Honda CBR600 F2/NT 650.
Q. The FAQ talks about using '91 CBR 600 F2 adjusters. Anyone have any idea if '94 CBR 600 F2 adjusters will work? '97 F650, #1291.
A. Yeah, F2 are the same. Pro'lly a whole bunch of other Honda models with 41 mm forks. Harl #380 '98 KLR 650, ex F650. Fort Collins, CO.
Race Tech Gold Valve Emulator Install
by David #476
Photos by Iceman #975 and Harl #380
10/11/01
To go along with my new Ohlins Rear Shock, installed a pair of Race Tech Gold Valve Emulators, Race Tech Springs, and Honda F2 Pre-load adjustors on my fork.
Tools required:
BMW tool kit
Torque wrench
6mm 8mm 10mm Allen head sockets
8mm and 10mm combination wrenches
Pipe cutter
Drill Motor & 5/16" bit
24" parts picker (if you need to remove the emulator from the assembled forks)
Removing the Stock Forks and Springs:
The install is very simple and required very few tools. The BMW manual suggests removing the entire front of the bike to do this, but I knew my Steering Head Bearings were good, so I thought that removing the Gas Tank, Fairing and Triple Tree was just needless work. If you have any doubts about yours, you may as well take it all apart and replace the bearings.

First thing was to lift the bike. I bought a motorcycle jack that worked dandy. Available at Costco for $100, it's something I've wanted for quite some time, and this was the perfect rationalization to buy it. It took a couple of tries to get just the right lift, until I found a two by four under the skid plate and the two center stand mounts lifted the bike perfectly straight. I used tie downs to the rear rack and jack and it was extremely stable, allowing me to move the bike around to deal with the limited space I had to work on it, which would have been a problem with the front end removed. That said, I'm sure you could do the job on the center stand if you wanted.

Then I removed the plastic from the front wheel; the fender and the caliper cover. Then the caliper itself. I made a hook from a clothes hanger bent in the shape of a 'C' and hung the caliper from the plastic radiator surround. This keeps it out of your, as well as harms, way. Next was the front tire. Loosen the four bolts on the axle keeper (no need to remove them) and unscrew the axle with the 12 mm Allen wrench Then I removed the fork brace/Fender support.

At this point you have the bike suspended in the air with everything removed from the forks, which are now ready to be removed themselves. As stated previously, the manual says the fairing and gas tank (as well as the handlebars on an ST) should be removed, but I found this unnecessary. By simply moving the forks left and right, I was able to get my ratchet in to undo the bolts.

First I loosened the top bolt on each triple clamp, (marked yellow) then I undid the fork cap, taking care to keep the spring pre-load from shooting the cap across the room. You don't need to worry to much about this as there is hardly any pre-load on the stock forks. (More about this later) A word of caution here. The fork caps are aluminum with extremely fine threads. The forks are steel, with a spring pushing up on the cap. In order to keep from damaging the threads, especially the last two or three, it's important to keep downward pressure on the cap as it's unscrewed. I found a closed end wrench worked best for this, keeping downward pressure on the cap with my finger while I re-set the wrench. Remember, you should be able to loosen and tighten this cap by hand once the torque is broken. If it won't, there's a good chance it's cross-threaded, so be careful. Doing it by hand also gives you good feedback on the amount of downward pressure you using.

Once the caps are out, you can remove the spacer, washer, and spring from the fork. Then it's time to drain the forks. Get a container ready and open the 10mm bolt on the back of each fork. The first little bit comes out at a good rate so be careful. (I found a supply of oil absorbent close at hand was invaluable for this entire job, BTW). Let it drip for a while, it will save you cleaning up a mess later on as quite a bit is still in there when it stops flowing. At this point, put the axle back in to keep the forks from turning and break the bolts in the bottom of each fork leg, which hold the damping rods in place. Leave them is place, just finger tight for now. Now take the axle back out and remove the forks by undoing the two Allen head bolts on the lower triple clamp and carefully sliding the forks out the bottom.
Modification Work:
From here the damping rod needs to be removed for drilling. While it is possible, so I'm told, to do this without disassembling the forks. I chose to take them apart so that I could clean them, inspect the bushings and replace the seals. This is accomplished by finally removing the bolts from the bottom of the forks and turning them upside down. The damping rod and top out spring should fall out. Then carefully place the lower part of the fork (outer tube) in a vice, and using the upper part (inner tube) as a slide hammer to pull the seal out. In the very bottom of the fork is a cup which goes between the damping rod and the outer tube which is very important. If you elect not to completely disassemble your forks, its necessary to get this cup in correctly on reassembly. At this point I would lay out all the parts and compare them with an exploded picture of the forks from the manual or parts book, so that you know you have everything and you know where everything goes. This mental picture will help you later on, when putting it all back together.

Next I would take some time for a religious cleaning of all the parts. For the chrome fork tubes carb cleaner and a well worn ScotchBrite pad work well. Interior of the outer tube I used carb cleaner and a Heavy Duty paper towel, but a cotton cloth would work well too.

Now it's time to drill the damping rod. The instruction say at least 6 5/16" holes. The rod comes with two, so I drilled these all the way through and added a pair above them. Thoroughly de-burr these holes inside and out. You don't wan a bit coming loose and landing in your seal down the road. Then re-clean them.

Next, set up the emulator (top view). Here's a view of it from the bottom and side. I found the instructions a little unclear here, but several calls to Race Tech cleared things up. As they come from Race Tech, the emulators are not adjusted. To do this you back the adjustment bolt off until there is no pressure on the spring. (Kinda like a feeler gauge feel thing) Then screw the bolt in the desired amount of turns. The instructions say two turns. A call to verify this was for off-road (I bought a set for my Triumph which also said two turns so I called) revealed an error. The recommended setting for off road travel is one turn. To make a long story short, after installing, un-installing, re-adjusting, and re installing a couple of times, I finally settled on 2.5 turns, but I'm a heavy guy and I often travel well loaded (with luggage, that is!) Also, this is totally subjective. One turn is soft, but in a different, more controlled way than stock. Four turns is great, highway driving is sweet and off road the bike tracks like it's on rails. The only problem is that it's stiff. Unless you're a body builder who runs marathons or Ricky Carmichael, it will wear you out quickly and isn't much fun after about an hour. Here's a view of the emulator in place on the damper rod.

Next, you need to make the spacer. If you were using the stock spring and wanted to retain stock pre-load, you would need only to remove 20mm off of the stock spacer to compensate for the height of the Emulator. Another member of the Chain Gang, wanting to add pre-load to the front end, simply put the stock pre-load spacer in as is. The Race Tech spring I got was 100mm shorter than stock, but thicker (hence stiffer) so some math was involved. This was complicated by the fact that I was adding the additional length of the Honda Pre-load adjustor (12mm fully out) as well. Here's how it worked out: The stock spacer (100mm)and washer (1.5mm) added up to 101.5mm. My shorter spring meant I needed to add 100mm minus the 20mm for the Emulator and 12mm for the Honda pre-load adjustor. Based on the fact that there is very little stock pre-load, I decided to add 5mm as well. So;101.5+100+5-20-12= 174.5mm. I figured what the heck and made the spacer 175mm. This is accomplished with a large size pipe cutter available at any hardware store. Once again, this tube needs to be thoroughly de-burred.
Reassembly:
Now it's time to re-assemble. I placed the damper rod cup into the (immaculately clean) outer tube, the spring over the (equally immaculately clean and be-burred) damper tube and dropped the pair down the (immacul... you get the idea) inner tube. Then the inner tube goes into the outer tube and with the damper rod fixing bolt on the end of an Allen wrench (T-Handles work the best) fiddle about until you get the threads started and tighten it down. Don't worry about the torque at this point but remember it's only 25nm so don't make it too tight. Next open your brand new 10wt fork oil bottle and put a little on the top bushing as well as splash a little bit down the outer tube. (Oh yea, don't forget to replace the drain plug first, DOH!) Squeeze the bushing lightly and get it started down the outer tube. Now it's time for a special tool. You can get one at any M/C shop for $40-$50 or do what I did, get 1 1/2" PVC pipe coupler and grind the center stop out of the ID. This fits over the 41 mm inner tube perfectly. Then I simply tapped gently with a hammer until the bush is in. For the last little bit put the washer into the tube as well. When the washer has bottomed out you know the bushing is in as far as it will go. Next lube up the INSIDE of the seal with good ole #10. If you get any on the outside wipe it off and slide it down over the inner tube. Make sure the writing on the seal is up and you can see the spring. (another DOH!) Then I placed fork seal tool on top of the seal and tapped gently again until the seal bottomed against the washer. Next I lubed up the dust cover and pressed it down over the top of the seal.

Next is fork oil. The Race Tech spec is 120 mm down from the top of the COMPRESSED fork, with the Emulator in, but the spring, spacer and washer out. This ends up being about 50cc less than the 600cc recommended by the factory, but measure it with a rule, not by volume (a hook rule, available at Sears, works great for this). Note here: Put about 300 cc in and work the fork up and down to expel all the air from the bottom of the fork, (Another DOH) do the same to the second fork, then go back to the first one and do it again. Then put the remaining oil in and measure. If you get too much in, a turkey baster works great to remove a little bit.

Once the oil level was set, it was ready to button up. First thing, extend the fork all the way and make sure all the flowing oil hasn't pushed the Emulator out of place. Put the spring in, followed by the washer, then the spacer. Note here, The spacer needs to have a washer between it and the spring and between it and the cap, if you're not adding the pre-load adjustor, you'll need to use the two washers that come with the Race Tech spring (and grind them a little bit, 'cause they're too big to fit!) and adjust the length of the spacer accordingly (The R-T washers are 2mm as opposed to 1.5 and you need 2= 4mm instead of 1.5) The bottom of the pre-load adjuster is actually a washer, so if you're doing this as well you won't need a washer in between the spring and the adjuster. (Although you will need to grind it as well. Once again a little to large for the inner tube.) At this point fully extend the fork and make sure you only have 20-30mm of spacer sticking out the top. Any more (or any less) means something is wrong. Most likely the Emulator has been dislodged by the fork oil. If so remove the spacer, washer and spring and move the inner tube up and down a little until the Emulator gets back in place.

Now for the cap. The cap should be put on in the "fully retracted" setting. As stated earlier the cap is very delicate and needs extreme care. Holding the inner tube in one hand, I let the fork fully extend. With the other hand I pushed the cap down on the spring to get the threads started. Gently pushing down on the cap as you turn, the cap should go on all the way to the o-ring by hand with no problem. If it doesn't , chances are it's cross threaded. Take it off and start over. Once you get to the o-ring tighten it down. (Save the torqueing for later). Here's a picture of the Cap fully extended and fully retracted.

With both forks done, it was time to put them back in the bike. A note here. Unless you have a lowered bike, when you disassembled your forks the top of the cap was even with top of the top triple clamp. This spec has been changed. The top of the INNER TUBE should protrude 3mm above the top of the triple clamp. At this point I just tightened the two Allen bolts on the lower triple clamp, just enough to keep the fork in place and torque the fork cap and the damping rod keeper bolt. Next I put the fork brace on, then the wheel. Torqued the axle bolt, leaving the pinch bolts just finger tight. Then the top fork pinch bolts, getting the bike off its stand or jack and, I sat on it and compressed the forks several times. This lines up the forks and axle. Then I torqued the lower fork bolts and the axle pinch bolts, then undid and re-torqued the top fork bolts.

Now all that was left was to replace the caliper, caliper cover and the fender. And ride.

I would suggest a short test ride staying close to home, checking for any untoward noises and vibrations. Once your finished, park on the center stand, check all your work, make sure everything got torqued and tightened properly and you're done.
Here are some further Photos from Harl #380: Emulator pre installation, Emulator on Rod, Emulator, Rod showing Drilled Holes
Riding Impressions:
The shock and fork transformed the bike. Now the bike stays planted as if it weighed 100 more pounds, but it is every bit as flickable as before. When turned into a corner, in maintains its line much better. When passing or being passed by large trucks, the turbulence barely affects the bike. In crosswinds the bike goes when you point it, rather than wandering all over the place. The overall effect of the mods is that the suspension is stiffer, but at the same time, it reacts faster and better to input. And best of all, it's adjustable.
I'm still in the process of experimenting, (and this process could last a long time!) but the ability to change the suspension for Road and Off-Road, Load or no Load is fantastic. With the exception of the Emulator, a change takes only a few seconds by the side of the road. While my first few adjustments of the Emulator required draining the fork oil and removing the fork caps, (I did it the last time in 35 minutes!) I don't think I'll have to do it again soon, the Honda pre-load adjuster allows a lot of adjustment. All in all, a great investment in riding and traveling pleasure.
AK-20 Cartridges
Here's the the response to my e-mail from Mike Hardy at Traxxion Dynamic.

"Yes, we can certainly make the AK-20 fit. I am almost positive the our Damper Rod Kit will drop in as well. So either way you want to go we will be more then happy to accommodate you. Send the forks in we will hook you up."

So it looks like I will be sending them my forks after I get back from the rally in June. I can't wait to have the AK-20's installed along with the Ohlin's shock. This bike should ride like a dream.
That sounds really, really nice... how much for the front end work? The cartridges eliminate the need for the Race Tech emulators? I sure would like to see the follow-up to this one! Sadlsor #1444
The cartridges are around $1k but the great thing is if you change bikes you can switch them to the new bike for a small amount of money. Every review I have seen on the AK-20's has been great so I look forward to the upgrade. The cartridge replaces all the fork internals so there is no need for the emulators. cadhopper #2041
I suspect the AK-20 would be suitable for the Dakar but not the GS (not sure about other bikes) since the GS does not have the threaded cap on the forks. Can anyone comment? I think if the AK-20 is a viable aftermarket option, I think it offers a good intermediate upgrade option. Winter #1935
That is an isssue they will llook at when I send them the forks. I trust that Max and Mike will do a good job and come up with a solution but I see no reason why the assembly can't be contained with the same clip that currently holds the preload spacer and spring in place. Anyhow I'll send them my forks after the rally and be the test case. Hopefully. if there is enough interest from F650GS riders, they will develop a kit like they have for other bikes that you can install yourself. cadhopper #2041
Spring Options
Aftermarket spring options include:
Here are some comments from members using various springs.
Touratech in a Dakar - Forks noticeably stiffer, but not harsh. Reduces excessive dive under braking. Rides fine. Mike #639

Touratech in a GS - Much stiffer than stock. Had to reduce preload to the minimum. Street performance is much better. Brad #1002

Race Tech in a Classic - I went with the stiffest spring on their recommendations (I'm 99% sure that was the .90). It's pretty stiff. Sometimes I'm amazed at how nicely they absorb bumps and handle braking (dive virtually eliminated), other times I feel like they are just a tad firm, usually on the smaller bumps at speed. Big bumps, they handle well. Mark #403

Race Tech in a Classic - For a 240 pound (~220 plus gear) street rider with bad roads, .9's are wonderful. I feared it would seem too stiff, but it actually seems less so, because the front of the bike moves less over irregular roads. Todd #389
In general terms you select spring rates (stiffness) based on two basic criteria. First, the weight of the bike, rider and normal load. Second, for the type of riding you do. The more weight the stiffer the spring will need to be. The other factor is where you ride. Street riders use and need stiffer springs than off road riders. When off road the suspension needs to respond to a greater range of motion (the bumps are bigger and more numerous). However, be careful about using spring rates that are common for the typical off road motorcycle like a motocross machine. These are much lighter than our dual sport machines. That is why weight must be included in the decision as to what rate springs to use.
It has been reported by others that the stock springs in the F are about a .6 rating. This may be suitable for you. For some, usually heavier riders (180+ pounds), they are too soft for street use and may even be too soft for off road for those carrying more than 200 pounds. In the end, the choice is a compromise if plan to use the F as a true dual sport. Like tires, you can't have the best of both in one solution.
Don't forget that spring rates are related to fork oil weight. The weight of the fork oil needs to be matched to the springs you choose. There are as many opinions as options on this topic. Keep in mind that the stock front suspension on the F has no adjustment for either compression or rebound damping (thus the interest in Gold Valves). The weight of the fork oil in a stock setup is going to have more of an affect on rebound than compression. The stock oil is 7.5 weight. Some members report good results with 10 weight oil when using stiffer than stock springs. For off road applications it would be unusual to need higher than 10 weight (oil that is too thick will slow rebound so much that the front wheel will not return quickly enough).
Lastly, the quantity of oil plays a role as well. The simple explanation is that changing the oil level changes the amount of air in the fork. Air compression plays a part. The less air the more resistance to compression. More information in the Fork Oil Change FAQ on fork oil.
If you are curious enough to want to know the 'spring rate' of your springs you can learn how to calculate it by reading the Spring Rate FAQ.
Comments on Diving Under Braking/Spring Installation
On the old Airheads, front end "dive" under braking was also an indication that the rear shocks were going (actually, the front end wasn't really diving, the REAR end was rising due to weak shocks/springs). That said, I added the +50ml/leg (of 10wt) oil to the fork legs (Classic...this is allowed for the lowering kit, so it should be OK for stock), plus fabricated new preload spacers 1/2" - 3/4" longer (13-19mm for you metric folks). Front end doesn't dive any more, but it feels pretty stiff. I may put the original spacers back in at the next fork oil change. The stock rear shock will be out for a re-charging and/or rebuilding this winter (has anybody identified the "generic" needle bearings in the swingarm/linkages yet?). Marty #436-Chicago-97 F650F

If you think you have a problem with your sag up front, I'd see what the sag is, like listed at the Race Tech site. If it's more > than an inch or so..... you might want to upgrade. My short short version: $100, Race Tech .9's with 22mm preload. Don't trust their shipping dates. You guys looking to control fork dive thru oil viscosity and oil level will get only limited satisfaction when what you really want is stiffer fork springs. Look at it this way - if you have anything more than (or near) an inch of fork sag from the bike on centerstand (forks fully extended) to it coming to rest after bouncing with your weight on it, you can benefit from stiffer springs. Our springs are pretty soft, and if you are a big guy, with springs a couple years old.....you might go for the upgrade. Btw, I know our riding style is completely different, but looking at your photos of how you load the bike (I'm both impressed and frightened!), and knowing that you are not a small guy.... if you are still running on the .6 OEM fork springs, you really owe it to yourself to upgrade stiffer. I'm not one for expensive suspension crapola, but once I got the preload right, stiffer front springs made a huge improvement to the bikes handling. The OEM rear shock can handle things well enough up to max preload, but the forks are way too soft, and add any load and you lose much of the travel. I marvel at the way I go over potholes now, without any fancy Gold Valves or any of that hype. Now when I hit something, the suspension moves, not the front of the bike. Despite being overpriced, as a painless "drop in" upgrade, the springs were worth it. Just a suggestion. I'm certainly no suspension expert, and would readily defer to someone like mtiberio in almost any debate on the subject, but here goes. I don't believe in the Progressive spring argument, unless you have no ability whatsoever to tune/modify. Progressive wound springs are just a "one size fits all" mediocre at best compromise. And all too soon, the lighter windings begin to sag, which ruins the whole point of the upgrade. That leaves you (AFAIK) with the Wunderlich (or was it Touratech?) or Race Tech http://www.race-tech.com/ springs. I went with Race Tech, as they have more info on their website, how to check the sag and all that, but some of the California shops which are sources for the Wunder/Toura might be more accessible to you. Our stock springs (Classic and GS, not Dakar) are .6 (kg/mm?). Race Tech sells .8, .85. and .9 springs. According to their trusty chart you could use any of them depending on your weight. I went for the .9's (I'm 215 lbs nekkid) on their recommendation. Started with 30mm preload when the OEM was about 20mm. Too much preload, the bike stood too high, fully topped out the forks even with my load, and manoeuvred weird at full steering lock. Went with 22mm preload - gave me a tiny bit of sag, which gave me back the right steering angle, far less brake dive, and does NOT bottom out despite repeated impacts going down stairways while braking. I'm quite happy, but I have to admit that I still wonder what the .80's would feel like, probably with 22-25mm preload. Compared to the very soft stock .6's, I cannot see how you could go wrong with the .8, .85, or .9's, if you are willing to adjust the preload a bit. Of course that's assuming you will put up with a slightly stiffer ride while cruising. If I had more fork travel say 11") or didn't abuse the bike so much, or rode Loong distances, I might try the .8's. I'd love to compare the ride on side by side bikes sometime. Is this of ANY help? Suspension is pretty subjective, even for the Artistes - I've seen the pilots and the suspension guru's test and argue in circles more than any other track aspect I can think of, and I don't pretend to understand half of it. Hombre Sin Nombre.
Don't panic about 10wt. I'm running 20wt in my classic - (yes another mistake by a bike shop :P) However the results are very good, much better road handling (no front end twitch) and it's bearable off road. Pete.
When I changed oil viscosity, I couldn't tell any difference in brake dive. but the ride did get a bit more harsh. I only went from 7.5wt to 10wt. new springs made all the difference in the world. as Todd indicated, the stock setup is for someone who weighs about 150lbs, and after 2 yrs, probably more like 75lbs. My front end is absolutely fantastic, but I paid the price. new springs, cartridge emulators, new bushings and seals, and finally, a fork brace. altogether, about $500 in parts. Mark #403.
Big ticket item but can make a hell of a difference. At this point, I have never really messed around with suspension alterations, other that I'm certainly no suspension expert, and would readily defer to someone like mtiberio in almost any debate on the subject, but here goes.... I don't believe in the Progressive spring argument, unless you have no ability whatsoever to tune/modify. Progressive wound springs are just a "one size fits all" mediocre at best compromise. And all too soon, the lighter windings begin to sag, which ruins the whole point of the upgrade. That leaves you (AFAIK) with the Wunderlich (or was it Touratech?) or Race Tech http://www.race-tech.com/ springs. I went with Race Tech, as they have more info on their website, how to check the sag and all that, but some of the California shops which are sources for the Wunder/Toura might be more accessible to you. Our stock springs (Classic and GS, not Dakar) are .6 (kg/mm?). Race Tech sells .8, .85. and .9 springs. According to their you could use any of them depending on your weight. I went for the .9's (I'm 215 lbs nekkid) on their recommendation. Started with 30mm preload when the OEM was about 20mm. Too much preload, the bike stood too high, fully topped out the forks even with my load, and manoeuvred weird at full steering lock. Went with 22mm preload - gave me a tiny bit of sag, which gave me back the right steering angle, far less brake dive, and does NOT bottom out despite repeated impacts going down stairways while braking. I'm quite happy, but I have to admit that I still wonder what the .80's would feel like, probably with 22-25mm preload. Compared to the very soft stock .6's, I cannot see how you could go wrong with the .8, .85, or .9's, if you are willing to adjust the preload a bit. Of course that's assuming you will put up with a slightly stiffer ride while cruising. If I had more fork travel say 11") or didn't abuse the bike so much, or rode Long distances, I might try the .8's. I'd love to compare the ride on side by side bikes sometime.
I have the Touratech springs installed and the RaceTech emulators. I did the springs first, and switched to 15 wt fork oil at the time. Night and day. Huge improvement, as in a different bike. I would say that this is 90% of what can be done to the front end. Emulators? Well, they work, by letting you control rebound and compression damping separately. Of course, to change the compression damping, you will have to pull the fork caps, remove the springs, fish out the emulators, make your adjustments, and put everything back together. But mine worked pretty slick right out of the box with the RaceTech supplied settings. Where you will notice the improvement is in washboard type surfaces at speed, which for me isn't that fast. But the front end is much more supple. With the emulators, I was able to drop down to 10 wt fork oil. Best bang for the buck? Springs and oil, definitely. Do the emulators if you want to. And get some fork boots. F650's eat fork seals without them. I haven't had any real complaints about the stock rear damper. The springs a little soft, but other than that I think it is a pretty nice unit. Ohlins are great, but they want your left nut in exchange. I don't think the Dakars have nearly the suspension deficiencies that the big GS seem to have (to hear about it here). But then, we are lacking an additional 200 lbs of "road hugging weight", and Boxer guys are idiots anyways. Jinx on Advrider.
I think that the most common upgrade is the Touratech progressive fork springs and replace the factory fork oil with some 10wt. I can't afford Ohlins forks either but the progressive springs have made a big difference. As for gold emulators-I haven't heard of anyone putting them on or how much they are. Progressive springs is probably the best 'value-for-money / noticeable-benefit' option. Zahnradkopf.
I disagree w/ the Big Black Cat. Get the emulators. Keep your springs. Run 10 or 7.5 oil. Important Notes and Limitations of Free Advice:
1. I've ridden an old F650 but only briefly. The forks sucked.
2. I rode an R100GS for ten years. Added Fox Shock and ProgSusp fork springs. Big improvement.
3. I put the emulators in my KLR. Frickin' bloody wow. They made a much bigger improvement in the KLR's performance than the PS springs made in the GS's performance. For the KLR, the emulators add 14mm preload, which makes the total preload about 30mm, which is a lot, but the sag is about right.
4. You may need different springs. Depends mostly on how much you weigh.

There is a process for tuning suspension:

1. Get correct springs. Spring rate is most important. Length can also matter. RaceTech has a spring rate calculator.
2. Set sag to 20% to 30% of total travel by adjusting preload.
3. Adjust ride height to tune F/R weight distribution and steering head angle. Set ride height by changing shock linkage (if your bike or shock has it--most don't), sliding the fork tubes up in the triple clamps, or by adjusting preload. The last method is okay only because the spec for sag is so broad.
4. Adjust damping.

I'm no expert on this, but the process works, even for me. Chasing suspension settings around without doing it in order is like trying to fettle the carbs on an old twin without first setting the valves and ignition. That said, just installing the emulators made a huge difference in the KLR. Undoubtedly the best mod I've ever made to a motorcycle. The improvement was quite dramatic. Stephen, KD5SSU.
650 Dakar. The single most useful mod I'd consider is Touratechs stiffer fork springs. Apart from the pathetically weak headlight / front fairing assembly, I still think it's a great bike. Cheers
Jeremy. Jaz #1126. www.horizonsunlimited.com/tstories/andrews.
Touratech's Progressive front springs Installations
TT spring installation
I'm received the TT Dakar springs yesterday and will try to install them tomorrow. Feel a bit unsure about it and since I'm going away on a 1 week offroad tour this satuday I don't want to mess anything up. Checked the faq but found no description, probably because it's so simple, but I like to make sure anyway.
To install the springs, do I just remove to caps (and screw) on top of the fork legs, pull the old springs out and replace them with TT springs? My plan is to start with replacing the springs and then maybe later change the fork oil. bjorna
Scott, ID #1244: That's about it! However, they do recommend a different oil level; if the oil looks dirty, you may as well change it at the same time.
Oil Level With Progressive Springs
I just installed a couple of Touratech's progressive springs. Does anyone know how much oil I must remove from the fork legs for them to work properly? If no one does, can you come up with a method of determining this accurately? What are the potential problems I might face by running the bike with too much oil in the forks? Mexico Juan. Actually they do displace a significant amount, I think. Not only is the wire thicker, but it has more coils!!! Balam
Conclusion on oil level with progressive springs:
Over the past few months it has been posted a few times that the use of progressive springs in the front forks should be done with reduced oil levels from stock. Here is what I found after running Touratech springs in my standard GS in both states.
with stock oil levels - very firm ride, so much so I reduced pre load to a minimum to compensate. It was acceptable on the street but too harsh off road.
reduced oil by 50 cc a side - I retained the short pre load spacers. The ride is much improved off road. I'm convinced now this is the correct approach with these springs. There is a bit more dive under braking on the street but still way better than stock.
Side by side with the OEM springs the Touratech are clearly going to displace more oil when installed. The exact amount I never bothered to try and calculate. Now I'm wondering which is the correct way to install these springs. Should the tightest coil portion be on the top or the bottom? This would affect the displacement of oil some but I can't imagine it would affect performance otherwise. The air column size is what is key. I'll make a dipstick from a coat hanger and measure oil level on the center stand with no load on the front wheel. Always good to start from a known and adjust from there. BradG, N. CA., 2001 F650GS - Inmate #1002
Feedback:
One way to solve this problem, would be to install the stock springs with the correct amount of oil and measure the distance between the top of the oil and the top of the fork tubes. Then remove the stock springs and install the new progressive springs and take another measurement. If the oil level is higher, then remove the amount of oil to bring the level back to the same distance as with the stock springs. Forget this calculation stuff. I sure couldn't calculate the amount of displacement that results from various lengths, wire thickness and the number of coils for different springs. Richard #230: 1997 Funduro
Oil level should be measured in distance, not by adding a given amount of oil (as the BMW instructions state). Everything else I've read has always quoted the oil level, not a given quantity, and there are different ways of measuring the level. For instance, my KTM w/upside down forks, you measure the level with the spring in and the fork completely compressed. however the instructions from race-tech for the F650 (from memory here...) were to measure with the spring in and the fork fully extended. either way, it's an oil level that matters, not an oil amount, so which way the springs are in place shouldn't matter. there may be a difference in the amount of oil used, depending on which way the fork springs are installed, but the measurement should be made in mm's not cc's. Richard's got the right idea...find out what stock oil level is and go from there. there are cheap tools available for setting oil levels. mark #403
WAY too much oil will blow your fork seals. Flash #412 (CO)
Do they displace significantly more fork oil volume than the stock ones? (hard to believe) Or "bottom" out later (spring length when coil bound + preload spacer differences). I would expect (assuming that the answer to those two questions is "negligible") that the change should be minimal. And on the non-lowered Classics, another 50 ml/fork leg is available, as that is what is recommended for the same fork in the "lowered" configuration. Check the FAQ for the OEM recommended fork oil volumes. To be really accurate, you would need to mic. the spring wire, count coils, and determine the depth that the oil covers the springs. Calculate the volume difference between the two different springs. My guess is that the new springs are just STIFFER by design. Marty #436-Chicago-97 F650F.
I have the TT springs too. I put the normal amount of oil in them and have had no seal problems. I found them to be a bit too stiff and made pre-load spacers that provide the minimum amount of pre-load. This gives about the right amount of sag. I also went to 10 wt oil. I may try reducing the oil quantity by a small amount to see if that will soften them up a bit. Yes, I know that excess oil (less air space) increases compression forces. I read in the FAQ were someone had determined the difference between the springs to be very slight. Thus I put the normal amount of oil in. But the springs seemed much stiffer then I expected so it may indeed be necessary to reduce the oil. I suppose one could measure the air column with both springs and just adjust the oil quantity so that the oil LEVEL was the same. I'd have to fee real inspired to go to that much work but I might. I'll post if I do. The TT springs are of course designed to be stiffer. You can tell by just comparing them to stock. They appear quite robust. They were just so stiff that it did not make any sense for any kind of off road application. On the road they were tolerable. The preload spacer I'm using now is just long enough to allow me to install the fork caps and still have some pressure on them. I still think that they are a bit too stiff for off road but I spend more time on then off so I opted for that compromise. Brad, N. CA., 2001 F650GS - Inmate #1002.
Aftermarket Triple Tree
by beem_dubya #1328
I installed a custom triple clamp on my Dakar. Replaces the stock set perfectly, switches, bar height, ignition, fork lock, etc. Anyone with an '01 or newer GS should see my pics. Anodized blue, two top clamp bolts per side, vibration isolated bar risers, mount for the BMW power plug next to the ignition switch, SWEET. You can get the bar risers in several heights, sized for stock or aftermarket bars (Pro-tapers, etc) and the whole thing can be done in several colors.
Why do we modify our bikes at all? To make it better. (if only in our own minds) I installed it because the first one I had seen (on the counter at Engle's) it seemed cool. Then after riding out to Emig Racing and meeting with Gary, it seemed to be a sensible mod. Stronger, adjustable bar heights, power plug in a more accessible area for my GPS, etc. Gary had made the prototype for his Dakar, shown me the bike and then we talked at length about it. We talked about why he made it, how it rode, strength, etc. Gary is very experienced both in dirt riding and machining which leads me to trust his ideas. I loved it and thought it was a great idea. I am going to do suspension upgrades but am still in the research process. (WP, Ohlins, etc) Then there is the custom factor. Nobody else has one and it sets my bike apart. Gary of course has one (silver) and he has sold others, but as of now, this is the only one made public. (as far as I can tell) It's different.
So how weatherproof is that cap on the end of the power plug? And if water gets in there, does it drain out through the bottom? I had the exact question for the the manufacturer, Gary Emig. He reported no problems to date and neither have I. He rides an 02 Dakar, KTM LC4 and others with the same set-up. I rode to a local BMW club meeting the other day in 38 degree pouring rain and had no problems. I'll report any long term successes and/or failures.



For anyone interested, the website is: www.emigracing.com
Feedback:
My only question is "why". I'm assuming from your post that everything is pretty much stock, save the power plug. Seems like an awful lot to simply change bar height or handle bars. Not that really cool stuff doesn't have it's own intrinsic value. (And this is really cool) Did you change forks, wheels or anything else. The reason I ask is that I'm contemplating grafting a sport bike front end on an ST and this would be an elegant (if somewhat expensive) solution to the different diameter and spacing of the fork legs. David#476
I emailed Paige at E-R, and she replied they are available for our bikes as a special order (3 - 4 weeks), but include the key switch mount and integrated power port (accessory plug). You can specify solid or rubber mounted bar mounts, mounts for 7/8 or 1 & 1/8 bars, various bar heights, forward and rear bar positions. *If you click on, say, the H*nda link on the website, you can see pix of the different anodized colors, and they are shown with the bar mounts. Sadlsor #1444
After almost two years of riding in all terrain and all weather, no problems to report. beem_dubya #1328
I've had the anodized blue Emig Racing clamp on my '02 Dakar for a little over a year now and have had nary a problem with the set-up. I still say it is an excellent upgrade for strength, durability, custom sweetness and worth the $$$, IMHO of course. I removed most of the front end to do the Touratech spring mod, with some much needed clean-up, and everything seemed to be in perfect condition. The Dakar was my only source of transportation from February through December last year and had seen many miles of street, dirt, rain, sleet, etc. and the clamp never let loose. It still looks brand new and sets my Dakar apart as well. If you need any other info, let me know. See if this link works for the original post with pictures. beem_dubya #1328
Adding Preload Spacers
by Marty #436-Chicago-97 F650F
On the old Airheads, front end "dive" under braking was also an indication that the rear shocks were going (actually, the front end wasn't really diving, the REAR end was rising due to weak shocks/springs). That said, I added the +50ml/leg (of 10wt) oil to the fork legs (Classic...this is allowed for the lowering kit, so it should be OK for stock), plus fabricated new preload spacers 1/2" - 3/4" longer (13-19mm for you metric folks) from PVC tubing. Front end doesn't dive any more, but it feels pretty stiff. I may put the original spacers back in at the next fork oil change.
To stiffen up "the front wheel", fabricate some slightly longer preload spacers for the front forks. Cheap fix. I'm assuming that 95 and 97 forks are similar or identical.
The preload spacers are thin walled pipe (think car exhaust pipe, but smaller diameter). Pretty hard to stack two of them end to end inside the fork and expect them to stay. Maybe better to use a stack of washers, but stay away from plated ones (the plating could flake off and do bad things to the dampers?). PVC pipe seems to be working OK, and is cheap.
When getting your PVC make sure you get the thicker wall pipe. In the US we have two types. One thin and one thick. The wall should be about 3mm thick. Given that all the parts will be coated in oil you can probably use stainless steel washers. The plated washers are usually plated with zinc.
As BG mentioned, the plating is usually zinc (galvanized) or similar to prevent corrosion. He's right on about getting the thicker walled PVC. You could also use hollow metal closet rod (idea from another inmate) if you can find the right size (and again, be aware of plating, probably "chrome" in this case). Be sure that you clean up well whatever parts you put in there after cutting, you don't want any metal or PVC "sawdust" in your hydraulic forks!
Reducing Fork Tube Torsion during Spring Compression
Draft FAQ. Not Ready for Prime Time "Just Yet"
Harl #380, Fort Collins, CO.

This was posted on another site I frequent.

A coil spring by design is a torsion spring; however, due its wound-up design, a coil spring wants to rotate one end when compressing and expanding. While not a big problem on cars, since the coils are short and rigid, on a motorcycle the coil spring action is noticeably crippled by the amount of friction the spring has to overcome to turn.
On many bikes that forces the spring to bend sideways, and if not possible, to distort unevenly. Also there will always be the tendency to twist your two fork tube relative to each other, which of course is almost impossible, resulting in insensitivity of the front springs and the tendency of front end deflection.
Put a removed, complete forktube on top of a bearing, put another bearing on top of the tube and push down on the top bearing; you'll be surprised how much the top tube rotates out of its original position.
Or do a hard front brake only stop while trying not to put any steering input into your bars, and you'll notice that virtually any bike will always turn in the same direction due to fork deflection (even with two brake discs).
So I did what many road race teams and some SX/MX teams do and installed a bearing on top of each front spring, allowing the springs to rotate freely on one end.
The bearings are only about 1/4" thick, so there is no need for change in spacer length. (That quote is from the guy selling the bearings) Furthermore they are 32 mm in diameter, so they self align. Also, the bearing sides (contact points) are so wide that, mounted on top of the spacer, the spacer sits entirely on it and the force transmitted from the spacer is evenly transferred onto the tube cap, preventing those ugly offset indentations you probably have noticed on your end cap.

It's apparently 32 mm in diameter and 6 mm thick. Beyond that I don't know. It must be akin to a Lazy Susan bearing. I'll let you know more when I get them. The diameter might be a tad small for an F since I'm getting them for 38mm forks. But at least I'll have some idea of a bearing number which usually indicates something about it's application.

OK, So What Bearing do I need?
I poked around on the McMaster Carr website. It's got to be some sort of thrust bearing. Basically two flat "races" with caged balls or needles between them.
Use whatever thrust bearing (a thrust bearing is solely for axial loads) you have handy. The height of a needle thrust bearing is a lot less than a ball thrust bearing, but a needle thrust bearing is a misnomer. A "cylinder" rolling in a arc around a centre is not rolling. The middle of the cylinder is (theoretically) rolling at the right speed, the "inner end is rolling too fast and the outer too slow - Whatever thrust bearing used, it works. I have always used thrust bearings in my front froks with coil type springs and never thought of telling anyone as it was a matter of course. Another matter regarding forks; have you ever tested how much force you have to use to overcome the resistance caused by the Fork Seals? When you have the forks dismantled, try to put one of the "legs" on a scale and see how much force is needed to start compressing the fork, without a spring inside. (just to overcome the braking force of the sealing on the inner tube). It is a LOT. I once used 2 Seals each side prior to a LONG ride. The "start movement" force was nearly 5Kg each leg. Needless to say I removed the extra set after a short test ride and has always after used Seals with soft rubber and weak springs. The pressure makes the lip seal. A small amount of moisture does not matter, except it attracts dust. Haakon#626 (Norway, F650GS)
Alternative to Bearings?
Two steel washers with a Teflon washer sandwiched in between would do the same thing with less thickness and co$t le$$, too. Go with the nylon from Ace Hardware. Flash#412
Feedback:
After I ruined a very rare and hard to get spring on a Webb fork, I just decided to prevent it from ever happening again. On one of my Guzzies, bought used, one of the springs looked like a corkscrew and had punctured the damper unit. If it does any difference or not for the handling I can not say for sure. The setup I have on my GS is just 7mm high so I do not think the extra preload matters much. Haakon#626 (Norway, F650GS)
"The bearings are only about 1/4" thick, so there is no need for change in spacer length." Harl, I'm not sure, but isn't that about the full amount of adjustment on the pre-load adjuster? Not what I would call an insignificant amount. Of course that would only help with the stock fork setup. I tried surfing Kamen and SKF website, with no real luck. When I used to replace expensive SKF OEM bearings in Volvo boxes with cheap SKF bearings in SKF boxes I used to just head down to Kamen with Bearing and Micrometer in hand and figure out what the part number is. I'm sure any bearing supply house could come up with something. If you do the mod, let us know how it works out. David #476, '99 F650.
The McMaster Carr site had quite a few different thrust bearings. Some contain bearings, others are just simple washer types. Most of the ones I saw that would handle more than a 100 pounds of thrust were $20 - $50 each. I did find one that is a flat ring of needle bearings that requires washers above and below for about $10 a set. I'd post the exact links but the site uses frames so you just have to go there and search for "thrust bearings" if you want to see what they have (search box is in the upper left on their home page). I believe this mod falls into the category of things you do when trying to get that last %5 improvement. I think it is only going to be noticeable by very experienced riders on smooth, track like conditions. Love to hear the results if anyone tries it. Brad, N. CA., 2001 F650GS - Inmate #1002
"I believe this mod falls into the category of things you do when trying to get that last %5 improvement. I think it is only going to be noticeable by very experienced riders on smooth, track like conditions. Love to hear the results if anyone tries it." I quite agree. OTB says that she has seen a Delrin spacer/washer used in race car suspensions between the spring and the chassis. The next time I pull my fork cap off, I am gonna measure so I can put a nylon & steel washer sandwich in there.
Hi Flash, it is none of my business, but you know- you can NEVER get a sagging fork back to spec. with a spacer. If the spring is permanently compressed a spacer will just raise the front? but it will still bottom out. The efficient "travel" of the spring will still be the same. The only (almost) real cure (if you do not want to replace the spring) is to put in another spring with a rate a bit higher than the sagging one. You will still go coil bound earlier than with a new spring. Haakon#626 (Norway, F650GS)
Thank you, Haakon, I'm aware of that. Harl gave me a set of heavy duty springs and some PVC pipe with which to make spacers when I mounted an Ohlins on the ST (NewMexEd's old bike). I just haven't gotten around to installing them due to cold weather, travel and other projects and things going on in my life.
" It certainly is less than the range of the Honda preload adjusters, if that's what you're talking about" That's it exactly. I looked at my forks last night on my way home and you're right, each mark is about 1/4". But I notice (or imagine) the difference in 2-3 turns on the pre-load so I personally would modify the spacer if I put in the bearing. I'm thinking of whacking some length off the next time I do my forks anyway, as my current set up gives proper sag on the empty bike with the adjuster backed off all the way. Don't plan on doing any touring on the fully loaded F in the near future (which is why I set it up that way), so I'm thinking if might be nice to have a little more range of adjustment. David #476, '99 F650.
Forks By Frank
Another non-OEM fork suggestion - Forks by Frank: http://www.frankmain.qpg.com/. I've never used them, but heard good things - IIRC Flash has also recommended them. Marty #436
If it helps lend some credence to the company, I bought a set of tubes from Frank close to 15 years ago for the R75/6. They've been around (the new forks and the company) for a good long while. borg #1716
GS to Dakar Forks Conversion
I am trying to change out my GS forks for Dakar parts. It is the trying part that is my problem. I bought Dakar tubes, damper rods and TT springs. The stock little spring that goes in under the damper rod doesn't fit into the Dakar tubes. Does the Dakar not use this part? Also, the TT springs are shorter than my stock GS springs. The only thing that I can figure on this is that the Dakar doesn't use as much of a pre-load tube or none at all.
More trouble. I just tried the damper rods in the tubes. They are snug and the fiber ring that goes on the damper rod doesn't fit into the tube. The Dakar tubes have a slightly smaller inside diameter.
The Dakar tubes are 31 42 7 660 357
The damper rods are 31 42 7 660 360
Touratech springs are 040-0457
gordy
Have you looked at the parts fiche(s)? It seems that the part number for the small compression spring (item 10) is different between the two models. Is the fiber ring you mention the "piston ring" #8 p/n ...660 365 as shown in the fiche? It looks like there are two different part numbers for this ring between the GS and Dakar so you may need to order these.

Seems like you will have to compare the two lists of parts between models to see what else is different. I suppose it is possible that only the part numbers are different but as you have already discovered some don't fit so it implies there are differences. The good news is the lower tubes are the same so you just need a few more items to make the conversion.

As for the TT spring length just make your own pre load spacer from some PVC and SS washers so you can dial in the amount of sag you want. bg #1002
GS and Funduro Forks
Anyone know if BMW F650GS forks and BMW Funduro forks are interchangable? cdnabn49
I know this is old but the answer is no Komatias
---
Aftermarket Fork Opinions
Pros-Cons of TT Progressive Fork Springs?
I used to bottom-out the forks when riding off-road. Then I blew a seal. When I replaced the seals, I also changed from 7.5wt to 10wt oil. This made a big difference in fork stiffness, with less bottoming. However, the front is still a little soft in the ruts, and I was about to order a set of Touratech progressive springs. Then I read the FAQ and found this comment: "They were just so stiff that it did not make any sense for any kind of off road application."
Anybody have any comments on that opinion? Are the springs' princpal function to minimize brake-diving, and not so much for off-road bumps? Also, the TT site says to use 15wt oil with these springs. Would the oil alone minimize bottoming? (i.e., maybe I should try that first?) Scott, ID #1244
I have them and they work great. Yes they are quite stiff, but if you want to ride a 450lb dirt bike with 5 inches of travel and don't want to bottom out, then you need them stiff. gsatlanta
I'd suggest you try the 15w first. It's easy, cheap, and may be all that you are needing. There is always the springs options if you're still not happy. I ran 10w in my Dakar forks, and it did just fine for me. I don't know how the Amsoil ATF that I just stuck in there will do, since I haven't been off-road with it... yet. dmemt #1464
For the price, the TT springs are possibly best upgrade I've done. I also like the TT footpeg relocation kit, although the cost:benefit ratio is not quite as impressive as the springs. Scott, ID #1244
Hey, I have read the faqs on this topic a few times, but I'm just following up here... I have heard reports on the touratech progressive fork springs with diff. weights.... Just curious if this is worth doing for a f that mostly runs pavement,,,, Jacool3
Yes. David, #476
From TT site: "Fork Springs F650GS Standard Part Number: 040-0458" "Use 550ml, SAE15, Install with tighter-wound coils down" Scott, ID #1244 [Ed note: It appears TT updated their site... it now states "tighter-wound coils UP"]
---
Aftermarket Fork Protectors
What diameter is the top of the fork leg?
(I think that the stanchion is 41mm, if not please correct me). I want to get gaitors to put on this weekend when I am replacing the steering head bearings AND the fork seals.
The 41mm fork diameter is all you need to worry about for fitting the gaiter. If it's any help to you some folk just secure the gaiter at the top because it' not so easy to secure it at the bottom, because of the odd shaped fork-brace. Andy Smale just lets his fall loose at the bottom and if they are long enough at full fork extension then they work fine. At least he says his work fine. He got them at an Off-road/Moto-cross shop. Trevor, Bristol, UK, 01 GS, C.G. member #999
Looks are subjective!
Q. Do the Classic Fork Protectors fit the GS/Dakar?
A. Yes but there is ONE very IMPORTANT difference. In their wisdom, BMW made a Fork Brace which basically leaves no room at the bottom of the Gaitor, on the Stanchion, for fitting Gaitors or protectors. However Stuflinn reports "BMW fixed the problem with machining for us. I just bought a 650GS, and then purchased some MSR fork gaiters for it. Of course the stock fork brace needs to be machined to make room for the lower gaiter. On the new GS that is in dealerships, the fork brace is designed for gaiters, and is sharply raked upwards in the center. This should also throw more air up into to the radiator. The pieces is outrageous for what it is (about $90.00), but it is a turn-key solution."
Q. If I installed a GS Lower Fender Kit, can I still fit the Gaitors on?
A. No, not without modifications. The Low Fenders, with the exception of the one from Wunderlich, all either push the OEM Brace UP or replace the brace with a similar one so it makes it even harder to install Gaitors. See the Front Fender Mods GS FAQ for further details.
Is there a quick way to install gaitors?
I recently bought an '03 Dakar and just changed the oil & filter today (thanks to the FAQs). My next M&M task, based upon all I've read here, is to install fork gaitors. I picked up a set from MSR yesterday...but I have a question: Is there an abbreviated method for removing the forks just to slip on the gaitors or do I need to go through the entire process outlined in the Fork Oil Change FAQs? I searched the forums and the FAQs, but only saw mentions like 'it only took me 45 minutes and 1 beer to install my gaitors'. Any step-by-step instructions out there? The seals on my bike are fine (only 2300 miles) and I probably will save changing the fork oil to 10wt until after the summer -- I'm too anxious to begin exploring all of those wonderful unpaved Rocky Mountain roads. Douglas80210 #1798
It's an easy job. Remove the front wheel (put a jack or stand of some sort under the motor to keep the bike from falling forward) and the brake caliper. Loosen the bolts on the triple tree and slide the forks out. You'll need to grind the fork brace a little to get the boot to fit between it and the fork, or you can trim the boot to fit around the brace. More instructions here. It's a cheap and worthy mod. SScratch #1082
And before you tighten the top bolts, you may as well pull the caps, drain the bmw swill out, and stick 10w oil in. It's well worth the extra 20 minutes it'll take ya, especially since you mentioned "unpaved". dmemt #1464
Wrap-Around Neoprene/Rubber Fork Protectors
NOJ Inc.
These are generic Neoprene wrap-around and Velcro on Type, for any Bike. On my Bike they look like this:
Advantages:
Easiest to install and remove. You don't have to remove theforks.
Unbreakable.
Easy to wash.
Can move from Bike to Bike.
Disadvantages:
Will eventually lose Velcro-Grip
Not Full length. i.e. Stones could hit and scratch the stanchion above the Protector.
Can trap Dust/Dirt scratching the Stanchions or allowing Dust into the Fork Seals.
Wojtek #212 uses Neoprene Fork Guards made by Noj, Inc.(1-800-456-0485 or 1-612-926-8144). They come in several colours and work and look like the ones Glenn Metcalf has made. They cost $14.95 a pair and there's a $2.00 shipping charge.
Also available from:
Road Rider MC Accessories. sales@roadridermca.com
Cost : $14.95+Shipping.
Home Made Wrap-Around Protectors
If are Fork boots too expensive and too difficult to install, then Glenn Metcalf has a solution. An inexpensive alternative is to make your own. Glenn says his wife got out the sewing machine, and using soft-backed vinyl and some Velcro, made a pair of fork boots for his red F650. Off and on in a jiffy! See photo.
Seal Savers
I use neoprene fork boots from www.sealsavers.com. I had to grind a little off of the fork brace to get these fitted on the bike. andy112652 #1481
Concertina (Closed) Type Fork Protectors (Gaiters)
These are Full Length protectors like a concertina, made of either plastic or rubber. They look like this:
Gaiters (Concertina Type Protectors) - 1
Gaiters (Concertina Type Protectors) - 2 (Marty #436)
Advantages:
Don't Trap dirt as they do no contact the Fork Stanchion. They have a little hole at the bottom to expel air as they are compressed.
Full length. i.e. The entire stanchion is protected.
Disadvantages:
Not easy to install and remove. You have to remove the forks.
Fairly Robust.
One option is /6 BMW boots on (part no. 31 42 1 234 908) available from your BMW Dealer. BMW 100 GS 1988 model part # 31 42 1 458 220
GS Installation Report 1
by Gerry #951
Q. Can I fit gaiters to my GS Dakar without modifying the fork brace?
A. Yes, but it's not the easiest of tasks
Bob's BMW sells a fork gaiters (boots) that will cover the length of the forks. Their part number is 1950 and the description is "Fork Boot Blue K". Othe colors will have a slight different number. The cost (July/2002) is $9.95 and you"ll need two of course
The boots appear to be a good quality product. Each one has two sets of two holes on each side to facilitate drainage and allow air to escape when compressed.
They will also sell you the clamps if you don't want to go to your local hardware store. Those are items 07 12 9 952 119 and 07 12 952 123 @ $1.39 each. You'll require two of each.
Picture 1 shows how tight the space is in between the fork and the brace. There's not enough room even though picture 2 show that it's possible to fit one side with the bolts in place. The problem is that the other side won't fit. It's just too tight.
Removing the forks is simple. Remove the front wheel and loosen the upper and lower fork clamps on the non-brake side. Slide the tube down and off and slip the boot over the top. Reverse to re-fit.
The brake side is slightly more complicated. There are two bolts holding the brake calliper on and when you take them out, the calliper can be moved out of the way. Loosen the clamps, remove the fork, slide the boot down, and reverse to refit.
Both boots should be fitting loosely over the fork seals and we'll need to do a little trimming to fit them. Fit the brace loosely in place and mark where you need to trim. Picture three is a little dark but if you use a "Sharpie"-type permanent marker, you can mark a line to use as a guide for trimming.
Picture 4 shows the small amount of trimming necessary to fit the brace into place. It doesn't take a lot!
After you've trimmed both sides, the real challenge is getting the brace into place with the hose clamps. One side is fairly simple since you have a little wiggle room to use.
The other side will be more difficult. I used a small screwdriver to drift the hose clamp down and in between the boot and the brace. Take your time and make sure you use the smooth side of the clamp (as opposed to the side that is used with the screw to take up the slack) that gets pushed down in between that area. It's tight but it'll work.
Take time to fit both the upper clamp too. Picture 5 shows the final fitting.
GS Installation Report 2
by BradG 1002
The 90/100 model boots are thinner then the 5/6 model ones and made of a different material but both are black.
I was able to install the 90/100 type on my GS without modification of the fork brace. I got the idea from a Dakar I saw with them installed.
The are long enough to work on both models of GS. Can't find my receipt or I would give you the part number.
Installation is a breeze.
You'll need a stand unless your Dakar has a center stand.
Remove the front wheel.
Loosen the triple clamps and the forks slide right off.
You should slide the boots on and put everything back together including the brace.
The boots should just fit in the gap left between the brace and fork. The boots won't go clear down on the bottom but the overlap is enough.
I used black tie wraps top and bottom to keep them in place. I think I left the brace a little loose until I was done to allow some wiggle room.
The boots have several vent/drain holes top and bottom.
The downside is that the BMW boots are pricey. I think I paid $25 each.
The main point here is that if the boot is not too thick you don't have to modify the brace.

Gaitors on the GS with NO low Fender.
GS Fork Brace Alternative
After about 22K miles, the fork seals on my GS finally gave out despite all diligent attempt to keep the fork tubes clean by a good, frequent wiping with WD40 between runs. This was a real good time to think about installing fork boots so I opted out for this kit from Wunderlich (Part # 8160394) that, albeit being pricey at $120 from Santa Cruz BMW, fit the bill and looked good on the bike. Ken_WVHills #1405
Based on the issues with the fork seals I installed the Wunderlich setup as well. I have the low fender and was able to keep it. In order to do so, I had to grind flush the heads of the bolts that hold the fender to the plate in order to let the Wunderlich brace sit flat on top of it. I put the Wunderlich brace right on top of the fender plate and used the long screws that came with the kit on 3 corners and used a slightly longer one on the back left one, long enough to stick out underneath about 3/8". I then put the brake line guide on the bolt sticking out and used a nut and a little bit of loctite to hold it on. If you want a picture or two let me know. zdkayaker
My bike had the low fender which comes with a black plate and then there was a brace on top of that. From the paperwork I got with the bike (it was used) it's a GS Technik brace. It angles upwards from the front to the back of the brace, I guess to direct more air onto the radiator? Anyway, because of this angle it sticks above the top of the fork seals. To get on a set of fork boots I would have had to do a lot of grinding. The better solution to me was the Wunderlich brace and boots. zdkayaker
Dual Star
Does this sound right for fork boots for a classic? The company is called Dual Star rather than the daystar mentioned in the faq. I measure that I need something that will go over the approx 60mm diameter of the top part of the stanchion and is at least 22 or 23cm long. Do you think the part number below is an appropriate size? I've never fitted boots so not sure what kind of slack needed etc....and the compressed length of 2 and 3/4 inches would mean that "at rest" the things would have to extend to about 3X their collapsed height.
For conventional forks with up to 13 of travel:
Fits upper tube dia of 40mm - 48mm
Fits lower leg dia of 51mm - 64mm
Collapsed height 2¾
20-01085 ... johnny canada #1088
Dual-Star is located just North of Seattle in Mountlake Terrace. They are really nice folks and go out of their way to make sure their products work for your application. I perfer talking to them on the phone or in person rather than trying to navigate their web site. They have alot more info and products than their website would indicate, at least that's my impression. Why not give 'em a call and see what they have to say. CascadeThumper #1653
Barry - The boots for the R100 fit them perfectly; I think the part # is in the FAQs, but you have to pay more for them as the Rondel is in control. Greg #1245 SEVa
The part # on the website is 20-01085. google "motorcycle fork boots" I think it's the second hit. On the package it says, " F00069-BK-03. I used the first part # to order. johnny canada #1088
Ah Ha! Dual Star, not day star. Gotcha. Thanks wontco #2003
Shield Type Fork Protectors
Another option for a fork protector are ones from Triumph. The Triumph fork deflectors install in minutes and look professional. Check you local Triumph dealer for A9641010 (Fork Protector Kit, T509, Tall Deflector) or A9641005 (T509, Short Deflector) See picture on left..
Tall Deflectors:
Triumph Shield Type Protectors - Off Bike 1
Triumph Shield Type Protectors - Off Bike 2
Triumph Shield Type Protectors - On Bike 1
Triumph Shield Type Protectors - On Bike 2
Short Deflectors:
Triumph Shield Type Protectors - On Bike
Advantages:
Easy to install and remove. Just Two Bolts. You don't have to remove the forks.
Can move to another bike with the same Stanchion size
Easy to wash.
Don't Trap dirt as they do notcontact the Fork Stanchion
Disadvantages:
Can probably break more easily than rubber or neoprene Gaiters, particularly after a while in the sun, when the plastic becomes hard & brittle.
Not Full length. i.e. Stones could hit and scratch the stanchion above the Protector.
Triumph Protectors
by Kristian #562
Without the Low Fender the Triumph Fork Gators will JUST fit the GS/Dakar after a fashion, but will NOT be able to be installed properly, because of the existing fork brace.
I had them on my GS, but their purchase on the stanchions was only on about a 5-6mm lip at the top of the stanchion. Even rubbed a bit of grey paint off. i.e. the do not sit properly over the full depth of the protector seating band.
When I installed the G&G Low Front Fender even THAT lip disappeared. I'm thinking about some sort of Holder, but haven't got around to it yet.
Touratech Shield Protectors
Here are 2 pictures of the new Touratech Fork Protectors, TT# 300-0145, for the 2001-present 650 GS and Dakar; they are mounted on my 2002 GSA. These provide more protection than adapting the Triumph models (that only go ca. 2" up) and should not interfer with the air flow to the radiator (and thus not void the BMW warranty).
Last year I experienced overheating with my fork boots on and the disappearance of same when they were removed. Admittedly, this was during a summer ride to Georgia, but nonetheless, I wanted fork protection without the potential cooling problems (no comment here Flash). So I just installed the new Touratech fork protectors.
It took me about 15 minutes to install completely (instructions in German, and I don't speak/read German, and no English version on web site yet). There were LOTS of extra parts (which confused me...am I installing correctly?) that I suspect are for newer bikes with the low fender (spacers, new torx bolts, etc). $67 US, plus shipping and since I'm one of the first with them, it took 4 months! We'll see how they work (mud is still a problem), but they protect a lot more than the Triumph ones (see FAQs), and fit perfectly (and hence the heavy TT price). Greg #1245 SEVa
Wunderlich Fork Brace for Gaitors
Wunderlich
A&S BMW offers a neat set from Wunderlich especially for the GS. This includes a new fork-brace that provides the required clearance (which is the problem with simply fitting existing after-market boots to the GS). $129.95. Direct Link. No endorsement of A&S BMW is made or implied.
There are some Wunderlich Gaitors available through Direct Link BMW of Santa Cruz County. I don't have them yet, but I read about them on this board several months back -- one of the benefits of this set is they give you machined fork brace so that you don't have to do that tweak yourself. Chuckles #912.
BMW Fork Protectors
I know there are some BMW options as well listed in the FAQ but can anyone tell me what dimensions I should measure to see if some "off the rack" gaiters will fit? johnny canada #1088 - for a classic
The 11 rib bmw /5 gators work best. I have had mine on since new with the original seals going strong. Steve#417(in,us)
When I first got my 98F I was living in Saudi Arabia and there was a lack of bike shops so I measured my forks and went to the S*zuki shop and ended up with a set that fit perfectly. I have no idea what model they are off and this part number might be obsolete by now but it's - "S*zuki-51571-40300" They have been on there since late 98 and still look fine and my fork seals are still good. Doc
And each one costs more than a pair of Daystars. I have had Daystars on my bike ever since the 35 year old BMWs I started with ripped. I've never needed to replace a fork seal on any F650 with gaitors. Flash 412 (CO)
---
Fork Protector Opinions
Classic Fork Protector Opinions
Q. I'm contemplating the purchase of some fork boots for my GS, primarily at the suggestion of a good friend and well-seasoned rider. With the variations of climate we have here in the Midwest, he thinks it would be a wise addition to my bike -- and I tend to agree with him after riding through quite a lot of weather and seeing some unique conditions both on and off road this last year. For those of you having experience with them -- what are the pros and cons? Anything in particular to be mindful of when riding with 'em? Installing 'em? Maintaining 'em? Just curious. Any observations would be appreciated. Thanks.
BMW /5 and/6 gaiters work well-I have a pair on my 1999 F650. DWM #365
I just installed Gaitors from 88-89 R100gs They are a perfect fit for the classic. Bill #391
Buy Malcolm Smith Racing #152303 MSR Racing Fork Boots, Black (or other colors, but I dunno if they have other numbers). They're $15.95 a pair. They're LOTS easier than BMW /5 fork boots to install. There is NOTHING to maintain. The pros are that you will never need to clean your fork tubes which will never get nicked from rock throws therefore making your fork seals last a very very long time. Cons?... $15.95 and about 3/4 hour to install. If you do it while you're changing your front tire... add about a half hour to that job. I got mine Thursday afternoon at Fort Collins BMW / Ducati. Drop Sparky a line at jason@bmwducatifortcollins.com and he'll fix you up. Or call 970/223-2829, but they're closed Sun and Mon. The /5 boots took me about a fifteen minutes per boot to install. The MSR boots take about thirty seconds to install. No lie. Harl was present when I installed them. We looked at each other and LAUGHED at how easily the MSRs went on. He said, "They're LOTS easier than /5 boots! I'm doing fork seals on Nancy's bike real soon. I have GOT to get some of THEM.". What I meant by how long it took to install the BOOTS was after the forks are all apart. Pulling the /5 boot down over the lower leg is a B*I*T*C*H. The MSR just slips on like it was made for the F650. Sparky told me that they try to put them on ALL the GS and Dakars they sell now because it really is a no-brainer that an offroad bike should have fork boots. Flash #412 (CO).
Just installed fork boots on my brand new Dakar following FAQ pages. My boots are from Cycle Gear and $29.99. Snipped off the lowest straight portion of boots (opposed to slanting bulging part) immediately next to fork bridge. Easy job (1 beer). Having no center stand yet (waiting for my pay check and will get one from one of Product Evaluation page), I dug a hole for the rear tire to go in. All done in 45mins not including buying the boots (took 2 trips to different bike shops). Tomn SF, CA.
Fork Gaiters. There was a thread (on the old board?) about gaiters voiding some warrantee. Namely the cooling system. I ordered a set of gaiters, then read this thread, and in my paranoia the gaiters are still sitting in my garage unused. Eventually I'll put them on, just not yet. Seacuke #1214
For those that are worried about cooling, you can buy neoprene covers called sealskins or mudskin seal savers. These don't have the same profile as accordion boots. I've got the mudskin on my bike with the summers racing fork brace, and they work very, very well. unlike boots, they wont suck in dust when they are extended. These could be used without the fork brace with a zip tie. Check out http://www.srcinc.net. mark #403
I know of an owner who had bugs dried out on his tubes on an extended trip that took out his fork seals. It was warrantied tho... FWIW. Seems like a little wipe down while fueling could have prevented that...bwfox. Chaingang Member #1131
I purchased the MSR Fork Boots, and the fit is O.K., but not perfect. They fit perfectly over the lower forks, and snug tight at the top. My only complaint is that they fit tight enough to touch the fork tube, so they bunch up a bit. If I were to do it over again, I'd probably WD-40 the upper tube thoroughly before installation. If you have a new 2003, you might be lucky enough to have the new fork brace. I bought in November, so I needed the new style. The cost was about $80.00, but it works perfectly for the boots. Total cost was about $95.00, and the installation was a piece of cake. Stuflinn
Then there is always the cheap "Noj" (spelling?) fork tube wraps. They don't look as good as fork gaiters but work just as well, install in seconds and can be removed for washing. My daughter has been using them on her VFR700 for the past 16 years and 80,000 miles and there is not a ding on the fork tubes and she still has the original fork seals - in spite of the suspension using an air-pressure assist for the springs. Richard #230: 1997 Funduro
The BMW Fork boots are expen$ive...I'd go with the MSRs for the price. I followed the advice in the FAQs w/o a problem. They didn't seem too difficult to install, so if the MSRs are that much easier then it seems like a no brainer. Andy #618 (MD) 99F.
I used "Factory Replica" aftermarket gaitors available at any off road MC store. I used the size for mini mx bikes as our forks are about the same size as these. At the bottom, I used the hose clamps from a Suzuki DRZ-400. The drawback to these is you must remove the forks to install them. David #476, '99 F650.
GS Fork Protector Opinions
I installed rubber boots from BMW 100 GS 1988 model part # 31 42 1 458 220 on my F650GS. They fit well, even it the total length doesn't cover all of the chrome tube. Unfortunately, the cross brace must be modified to allow installation of the hose clamp. The clamps will guarantee, that boot stay on, regardless of riding terrain. Jerzy
I got the Gaitor kit (faltenbalgkit) from Wunderlich. It comes with a new, nicely made and TÜV certified, brace to accommodate the Gaitors. Just a wee bit more expensive than what my dealer wanted to charge me for Gaitors only. Taking off the forks is no big deal, the whole operation took me about two hours. Oyvind #1052
I picked up a set of fork boots at a local (non BMW) shop that sells a lot of dirt bikes and stuff for them. Had them on for 30,000 miles now on my Dakar with the original seals still working quite well. Homeless (CO)
I went down to the Yamaha shop and got a set of MSR boots for my 01 Dakar! They were $16.00, fit perfect and are extra cool cause they are almost the same blue as the Dakar.......You still have to modify the fork brace just a hair though. Scotty FT. W, TX. #1078
Fork Gaitors with the low fender. I previously mounted a Touratech low fender kit on my Dakar. Unfortunately that kit is designed using the stock fork brace and doesn't allow enough space to attach fork Gaitors. I have now had a custom "fork brace/low fender mount" made for me that does it all. Pelle, Sweden.
Happy Trails. www.happy-trail.com. Makes a replacement for the fork brace that bolts on in the same holes but leaves room for the fork boots to slide over the top of the sliders. I am going to do this also. You are right a dark blue fork boot, (gaiter), would look good on the Dakar. Hope this is of some help. Bert. Chaingang Member #1131, 02 F650GS, (Wife's), 03 F650 Dakar.
I have a Pair of Ariete Pro Fork Gators mounted on my Dakar. Perfect application. I've used these same boots on lots of K's as well. My friend machined clearance on the fork bridge on his Bridgeport but it could be done on Drill press with a sanding mandrel as well. My Digital Camera is on it's way back home and I would be happy to send a Jpeg or 2.Cost for the boots $40.00 from Freeman's Cycles in Beverly Mass. I also mounted the new and improved low G&G Technik front fender at the same time if anyone would like to see that setup. The fork boots needed to have air bleed holes punched in them to let air escape. I used a leather punch. Five small holes on the back side on the lowest pleat did the job. Freeman's phone is 978-922-6668 ext. 4. They are in stock usually. Gary #710
I just put my Gaitors on and it using the one for the newer R100G/S. There are two gators for the R100. Get the ones for the newer model. Supertech. Dakar
Just installed fork boots on my brand new Dakar following FAQ pages. My boots are from Cycle Gear and $29.99. Snipped off the lowest straight portion of boots (opposed to slanting bulging part) immediately next to fork bridge. Easy job (1 beer). Having no center stand yet (waiting for my pay check and will get one from one of Product Evaluation page), I dug a hole for the rear tire to go in. All done in 45mins not including buying the boots (took 2 trips to different bike shops). Tomn SF, CA.
I installed the Sealsavers on my '01 Dakar two years ago without any brace mod. I used thin zip-ties at the bottom and glad to report they have performed very well in harsh conditions without any problems. Not bad for a $20 fix IMHO.
MSR Fork Boots on a 2005 GS
I ordered a pair of thje MSR gaiters (part number is posted in another thread) for my 2005 GS. Yesterday, I took the forks off, carefully ground some meat off the brace and tidied it up with my Dremel so the gaiters would fit. I put the gaiters on (using slighly soapy water to ease installation) and discovered that each fold of the gaiters is so tight that they tend to 'bunch up' on the fork tudes as the tubes move up and down. I was hoping they would have better clearance on the fork tubes. Does anyone have recommendations for gaiters (boots) with more clearance for the tubes? Thanks. lagondacoupe
That's about how they fit, alright. If you put a wipe of oil on the tubes, then they don't bunch as much. Scott, ID #1244
BTW, I was considering getting a pair of gaiters also, but decided instead to buy a set of front fork protectors from Touratech. It is basically a metallic shield mounted in front of the forks to protect it from rocks. No need to remove the front wheel to mount them and the shocks are still accessible for wiping down and inspection. A.T. #1625
I don't know if they were MSR or not, but I had a pair that did that as well. The Daystar "Factory Replica" boots for mini-cycles that I use now don't. dlearl #476
---
Fork Protectors and Warranty
What's the Story with BMW not Accepting any Radiator/Cooling Work on Warranty with Fork Boots?
I purchased a fork gaitor set complete w/new fork brace directly from Wunderlich about a year ago. Some months later I received a letter from Wunderlich's marketing department, saying that BMW was claiming that fork gaitors might restrict airflow to the radiator/engine, and that any warranty claims related to overheating would be rejected if fork boots had been installed. Wunderlich further wrote that their own tests had shown no signs of overheating, and wrote it off as "misgivings" from BMW. I still have my gaitors on, and do not intend to get rid of them. Oyvind #1052, Bergen, Norway.
Hot Topic - Feedback on the issue
I had ordered fork boots thru my dealer, but when I went to pick them up, a different parts person told me of the memo issued by BMW that stated they would not accept any warranty claims for overheating if fork boots were installed. He then refunded my money. '01 Dakar -- Nashville. SScratch
I recall someone saying in a previous post that they'd been told that BMW wouldn't cover under warranty any radiator or overheating problems on bikes where fork boots (gaiters) had been fitted, presumably because the fork boots slightly restrict or modify the cooling airflow to the radiator. Trevor#999
1) BMW does not install fork boots. 2) Many (most?) folks who buy the bike DO install fork boots. 3) BMW CLAIMS that fork boots cause the bike to overheat, a phenomenon not observed by the Chain Gang in general. And BELIEVE ME, we WOULD say something if it were true. 4) BMW then uses "owner modified vehicle, fork boots installed" as an excuse to dodge legitimate warranty claims for things like defective radiator and/or leaking water pump. Q.E.D. If you DON'T have fork boots, you'll get a nick from a rock chip which will take out not only your seal, but quite possibly require the fork tube to be replaced. THAT is not covered by warranty either. Anyone with any sense would much rather take their chances with the seals UNDER the boots. Pretty soon owner-installed non-factory BMW handlebar streamers will make your entire warranty null and void. So much for the "legendary motorcycles of Germany" slogan. The sphincters in charge now are taking it in an entirely new direction. Flash#412
Anyone getting the feeling that BMW doesn't want any company but theirs to design improvements to their bikes, or to sell any accessory for BMWs? I'll bet that if they had decided to install fork boots on the GS, or to sell them as an official accessory, there would be no problem - even if there was overheating, it would be your fault for not using the official BMW radiator fin cleaning soap, dissolved in distilled water. If the coolant system is so delicate that it can't handle a slightly wider fork tube in the way of its airflow, I would say that the coolant system design needs to be improved. After all, doesn't it need to be able to absorb a bunch of bug hits during the summer, without overheating? Richard #230: 1997 Funduro
Sounds like another BMW 'snow job' you would think that radiator guards would have more effect on the cooling system than fork boots. I am in the process of making a set of guards, guess I will have to be wary of the marginal performance of the BMW cooling system :-) Jack, F650GS, Queensland, Australia.
When I took my '03 in for it's 600 mile service, I asked if they had heard anything on this. Not only had they not heard anything, there were no releases from BMW NA that they could find on the subject either. As for warranty, they said it would have no effect as far as they were concerned as long as the boots were not some home made monstrosity that worked in some way other than a standard fork boot. They did, however, say that without proper installation and maintenance, dirt could become trapped under there and take out your seals. If this happens, then they will probably not cover this problem, which seemed fair enough. I routinely raise the boots and make sure everything is clean and lubricated under there. stuflinn 2003 GSA, Pittsburgh, PA.
Has anyone had trouble with over-heating after installing fork boots?
Not at all. Of course it's not summer yet but at 80F it was doing just fine in the stop-and-go. 2001 F650GS, Aurora, CO. chppdlvvr
Could you have possibly damaged the radiator taking the forks on and off? Or loosened a hose? David #476, '99 F650, Las Vegas, NV.
FWIW, when I installed a Wunderlich high fender mount and Acerbis fender (which almost COMPLETELY covered the radiator) I noticed the fan coming on more often, but the oil temp never varied from it's pre-fender norms. I've had fork boots on for two years now and never had any overheating problems. Because it's so hot here in the summer, I've gone back to the original fender. (and t-66s don't need the high fender). David #476, '99 F650, Las Vegas, NV.
BMW (ok - George in Alaska) installed my fork boots. never a problem with overheating. y_kiwi Lance, #1303, '01 F650GS, '96 G650ST.
Foothills BMW of Denver installed my Wunderlich fork brace and boots. BTW - I've never had an overheating problem with the fork boots and home-made radiator protectors made of steel mesh. Rod CO '02GSA rpozak
BMW, AG, is a company with a factory in Spandau, Germany. BMW of Denver is a Colorado company that sells products from Germany along with other products and services. Your fork boots were not installed on your bike in Germany. BMW, AG, did not install your fork boots. Flash#412
Fork Gaitors Void Warranty (GS/Dakar)?
I just received a letter from Wunderlich. Apparently, if you fit the Wunderlich Gaitors then BMW claims that, "the external temperature sensitivity limit of the engine is lowered, which could cause damage under extreme conditions. Therefore BMW are refusing any related claims." Wunderlich goes on to say that "none of our repeated tests, nor consumer feedback have confirmed these misgivings." Well, I'm not removing mine and having to replace the seals every 10' km again! Oyvind #1052 Bergen, Norway.
BMW claim fork gaiters reduce the air flow to the radiator and cook the engine! Imagine how dangerous a leaf or crisp packet over the radiator would be! These clowns are obviously on something or the radiator is too small already. Andy Leeds UK #982
Wouldn't the same be true of radiator guards? The Touratech item in particular seems to cut off some surface area. GSTimRugbyUK
I had the fork Gaitors and the Touratech radiator guards on my bike and I did have cooling problems. I have removed the radiator guards - as a precaution. Warranty service discovered a faulty thermostat. an $18.50 part. When I think about this whole thing I get madder than a cat in a pool. I'm constantly obsessing about my fan. It ALWAYS goes on on the way home from work. I always think I'm just about to boil over. I've burned through two fans and had warranty on both. I have fork boots and used to have the Touratech radiator guards on there, and I'd like to put them back. Why will this cause the engine to overheat. Does the radiator suck that bad? Is there a way to make the coolant constantly circulate through the radiator? chrislindau
That sucks. Well, I know I'm not putting them on until I'm out of the warranty. At least BMW replaces the fork seals as a warranty item. Annoying as it is. My fan goes on a lot too. Richard, you're in Pacifica, so that doesn't count. Flash, when not moving, usually the engine doesn't produce as much heat anyway (unless you're doing burnouts ;). Or are people overheating standing at idle? But yeah, I'm sure Gaitors have a bad effect on cooling, I just doubt that it's that much. And don't forget to place your aftermarket horns / lights / whathaveya out of the radiators airflow. its_xls 2001 F650 GSA
If the F650GS engine cooks bcoz of fork Gaitor.... I really feel sorry for all of us. But if BMW came up with such idea of voiding warranty..... they have no confident in their product. Honestly I have never heard an engine cooked bcoz of fork Gaitors. anyone heard it b4? Cheers scx
Riddle me this, Batman... if the bike is not moving... how the heck can Gaitors have any effect on impeding airflow to the radiator? BMW is a bag of sphincters. Flash 412 (CO)
Sounds like a communication error to me. I know I have gators and have had cooling system warranty works done. This needs to be reread I am sure. Steve 1130 Or
Sounds like BMW is dodging a warranty issue again...wanna bet next year's model has a bigger or thicker radiator? Flash...don't construe this as supporting BMW. My understanding of engine heat management is that heat output increases as the THIRD power of engine RPM/load/road speed (pick one). The radiator's cooling capability increases as the SECOND power of road speed. No speed = (essentially) no cooling. Therefore, radiator fans were invented to "simulate" road speed (unfortunately, F650 fans frequently "simulate" NO road speed:-)) ANY blockage of the radiator (Gaitors, bugs, mud, etc) will diminish the radiator's cooling capacity. But it seems obvious that the F650 cooling system is marginal at best (seems to be another BMW weakness, ranking right up there with perpetually substandard seats and sidestand). Marty #436-Chicago-97 F650F
This is nuts. I have had my fork boots on my bike for the past 4 years and my fan only goes on about once a year (after about 15 minute of idling in traffic). How could the design of the coolant system be that air-flow sensitive? And if it is, why would it be designed that way? Richard #230
This is one of the most stupid things I've heard lately! Imagine what a little dirt or mud would do... Well sir, you got your offroad dirty, why your warranty is void.... They don't want anyone else to sell you stuff for your bike, and they are idiots to think that we won't understand this! rakaD
I can attest to this as well. I just got my 30,000km service done in Perth, Australia, and they dinged me on my gators, saying that if the engine over heated it would not be covered by warranty. So its definitely a global BMW thing. Having said that, I have been riding for hours on end in some of the hottest deserts in Australia (officially over 110 F in the shade, assuming you can find any), with the Touratech 39L tank (which blocks airflow) and not once has the bike overheated, even after hour long climbs up soft sand-dunes at high revs/low speed. The temp warning light did not come on once (hope its not broken). rodskogj
Overheating Feedback
OK, so we've debated this issue regarding BMW's service bulletin that says fork gaitors on a GS (2001 and newer) can cause overheating and void the warranty, etc. Right, so I've had gaitors on for ca. 1.5 years and never had a problem. That is, until this summer back in Virginia (recall I was in California for much of last year on sabbatical). Before the James Bay trip, I did a "test run" down to Savannah, Georgia (500mi) under very hot conditions (97 °F); slab for most of it. I had just done the usual checks, including coolant, and all was okay before I left. When I got to Savannah the coolant was gonzo (well, about one liter was gone) and the bike was overheating. I called my dealer (still warranteed) and they said "get rid of the gaitors, but we didn't see 'em on the bike (wink, wink)". I cut 'em off, replaced the coolant lost and returned a few days later (at a meeting in Savannah) with the temps in the 90's again, BUT no overheating at all. Hmmmm, maybe Satan is right. The James Bay trip was cool after we got north and I had no overheating. I discussed my empirical observations with Ike, who felt that the radiator surface area (not the radiator itself) seemed small in comparison to his classic, so maybe the gaitors do restrict the ventilation enough under very hot conditions (i.e., where we both live!).
So, I thought I'd share these observations. Just to cover my bases, the bike is well maintained, proper oil, etc., and ridden at sane speeds on and off road. Greg #1245 SEVa
Speaking of overheating, at Chief Joseph rally I noteced a few 650's appeared to have spewed coolant onto the left side of the case.. also, I noticed that one of the vendors was selling an additive (Super Wet?) that would increase coolant effectiveness significantly.. would have bought some but no room.. I wonder what kind of motor oil they and you were/are using. motoplaner #1671

Don't know about them GSs but on a Classic, that'd be ALL the coolant and I would imagine that if ALL the coolant had mysteriously disappeared then perhaps some overheating might occur. I would also think that if the coolant had reached boiling temps, the overheat light may have come on. An engine can overheat while still being full of coolant, the coolant not getting cooled enough to keep the engine heat down at reasonable temps.

Not to trash your observations Greg, it's just that you may have lost coolant due to some other reason. My Classic every now and then thinks it's an old British car and just pukes coolant outta somewhere and then it doesn't do it again for awhile. Thing is, I likes my gaiters and I ain't takin'em off for no one, not even Ike when he's all gussied up for a night on the town.

Greg, there is a possibility that you may have a sticking cooling system thermostat. This can show similar symtoms. Pull it out and drop it into a sauce pan of water, fire up your stove and bring water to the boil. You could get techo and use a thermometer to see the temperature that it opens at. Main thing is, it opens FULLY, before the water boils. If not, it cactus and you need to replace it. jack
Do Fork Boots Cause Overheating on Classics/ST?
Am I understanding the FAQ's correctly? The Classic F's do not have fan/overheat problems associated with fork boots? Only the GS and Dakar experience overheating? wontco #2003
The classic F650 has a radiator which is at least twice as big as the F650GS, so no overheating problems there. Trevor #999
I've had the accordion type on my '99 for a year and a half and no problems that the bike complains about. Protect the fork seals and look better at the same time. Win/win. Otter
I've had the accordion style on since 98 and never had overheating problems. 3 years of that in Saudi Arabia and 5 in Australia. You'll be right Doc
I've been running fork boots on my 97 for about 1.5 years. No overheating problems. Will in NM #1566
---
I had no idea 10 weight fork oil made such a difference.
Switching to 10 weight should be mandatory for all riders over 150 lbs.
Thank you, FAQs! What a difference. Tempo #1908