GS Exhaust & Exhaust Modifications FAQ
Please read the Disclaimer before attempting any work in this FAQ.
compiled by Kristian #562; edited by Scott, ID, #1244
For General Exhaust Questions (like discoloured Exhausts), refer the Classic Exhaust FAQ
Refer also the GS Performance Mods FAQ
General GS Exhaust Q's

For Exhaust Gasket Replacement, Cleaning etc. Refer the Classic Exhaust FAQ
Q: The Connection between the Two Parts of the Exhaust above the Rear Wheel Seems Loose/Leaks. I've noticed that the joint between the 2 rear silencers is loose and blowing slightly. Is this normal and would it explain the flat spot at around 3000rpm? Is the joint a simple compression joint or should it be spot welded?

A1. BMW doesn't want to fix this problem. They see that it happens on all of them so they don't fix. If you have any luck, post it here! I'll go back to my dealer. Chris
A2. This is just a slip fitting. No way to tighten and no need to. It will not hurt anything. This is indeed the way they are supposed to be. Some leak more than others but not to worry. Stuportech
Q. Any Exhaust Modifications on the GS?
A. See the GS Performance Mods FAQ or go directly to the Exhaust Modifications GS FAQ,
Q. Does anyone know why the first (left) silencer has a small hole and has a visible exhaust flow while the second in line (right) has a big hole and seems to have no gas coming out? Just something I noticed on the off road course.
A. The small hole serves as kind of an equalizer, forcing some of the exhaust to go to the right muffler. Actually, exhaust does exit through both mufflers. RogerN #827
Thanks to Trevor #999 for the following: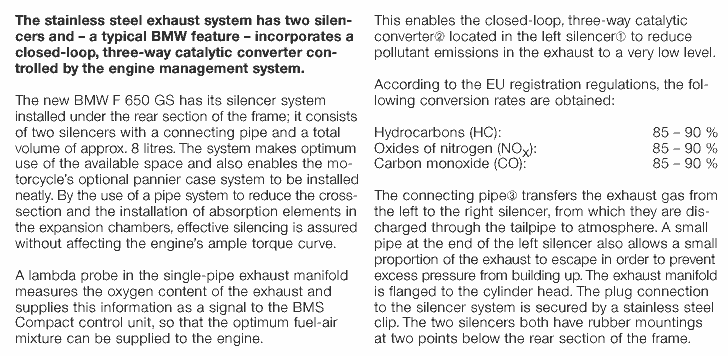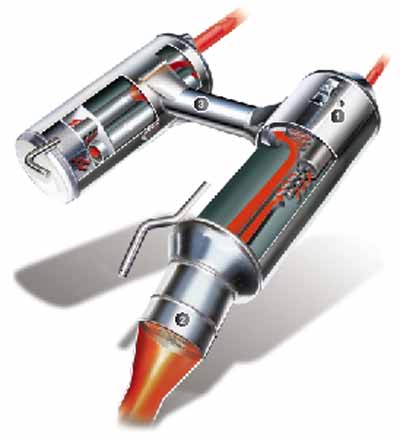 Q. Glowing Exhaust header Pipe?
A. Might be you need an FI reset. See Why is my Exhaust Glowing?
What's available (As Aftermarket)
Sebring -Twins like the OEM, but also available without the Cat. i.e. ONE Pipe.

www.sebring.de (Same login as the Remus Site, no Pics).
| | | | | |
| --- | --- | --- | --- | --- |
| | | | | |
| Laser (Omex) | Remus- This Photo shows the OEM Luggage Rack but there has been a reported case of possible trouble fitting the OEM cases on the Rack. You should check with your Dealer. | Sebring | Staintune | Two Brothers |



If your Pipe looks like this, it was the Adventure Pipe I - Now Superseded

Adventure Pipe II

Adventure Pipe Right Side Storage Canister

Adventure Pipe Right Side Storage Canister

Universal Right-Side Storage Canister for the BMW F650GS/DAKAR. Includes integrated key-lock.

Adventure Pipe for 650CS
Staintune
Eric's
Ross Brisbane Australia (Faux Exhaust Storage Container)
SCX Staintune with Faux Storage Container
Sebring
SCX Sebring Dual Pipes
Removal of the GS exhaust baffle from the muffler (Note this is NOT the same as the Catalytic Converter)
by Rocket boy
Mar-02

For a GS it's pretty simple, to get the sound and performance out of it with out destroying it.
Get a pin puller or dent puller.
Tap a 3/8 hole on the left side (looking at bike from rear) exhaust exit.
The little pea hole may try to turn on you. Stop it with a pair of pliers.
After the hole is tapped have a 3/8 bolt screwed into the hole.
Then attach the pin puller to it and give a good tug.
The only thing holding it in are 2 pressed pimples on the hole outlet. It is only the baffle you are taking out.
But it does make a big difference, Good luck John.
by Kevin #1092
Mar-02
I removed my baffle this way using the following parts:
Tap a 3/8-16 thread about a 1/2 into the exhaust exit of the baffle/exhaust can on the left/drivers side.
Get a half inch thick metal plate about 4 inches square and Drill a 3/8 through hole in the middle.
Put a nut on a 4 long 3/8 bolt and then put the bolt through the through hole in the plate and thread in to the baffle.
Turn the nut with a box end wrench so that the baffle is drawn towards the plate and out of the can.
It takes a lot of torque and a lot of turns to pull it out but it will come out. I recall having to use a long box end wrench to be able to turn it.
I also remember that I had to put two metal blocks between the plate and the exhaust can for the last few turns.
The baffle is long enough that it covers the cross pipe to the right can inside to provide silencing for both exhaust cans.



Pics kindly supplied by Kevin #1092
Q. After reading the FAQ info about removing the exhaust baffle, I had at it. The FAQ suggested that it was just some sorta press-fit arrangement. Mine was not -- it was spot-welded in via two little tabs which broke off when I cranked on it. It most assuredly WILL NOT go back in now.
A. You did it right. If I remember correctly there were two more welds inside. Take that whole straw thing out and it is done. Brad in SB #979.
For Feedback on the Baffle Mod, see Stock Exhaust below.
Q. I'm about to install a new Staintune to my 01 Dakar. I will need to keep the stock exhaust for the UK MOT (annual legality and roadworthiness check - first one in two years time). Would I be correct in thinking that all the nasty chemicals which rot exhausts from the inside will still be active in the stock exhaust whilst in storage. And if so how best can I protect it ? I don't really want to fill/flush it out with oil - there is an emission test as part of the MOT ! So I'm leaning more towards a good flush out with water. Any advice, thanks.

A. Stock is stainless steel and will never corrode. No worries. Flash #412
A. I would get a heavy duty garbage bag, find some moisture absorbing substance to throw in and bag it up if you have any worries. You could dry it out by leaving it out in the sun first, unless of course the sun never comes out where you are. Chris in Santa Cruz, CA #782

Opinions
Note: Many Opinions on essentially the same pipe in the Classic Exhaust Mods FAQ
No way are you going to get an extra 10hp out of an exhaust on your F650GS. You'll be lucky to see 3hp. What you might get is what feels like better throttle response. The engine pulls better. With the Staintune there is a decent boost in mid range torque. More so on the low end with the restrictor out (but then it's a bit too loud for street use). I think these are the best reasons to change exhausts:
1) If you have to use leaded fuels (getting rid of the catalytic is required)
2) To save weight (The Staintune is 7 lbs lighter than stock, don't know about the others)
3) You like the styling or sound better than OEM.
4) You are doing a bunch of performance tweaks and want to get the most from them (no one I know has gotten any significant boost in power without going inside the engine too) . Improving the flow both IN and OUT is worthwhile if you have a feel for slight improvements. If you're less in 'tune' with the bike you may notice nothing more than increased noise levels. A Techlusion TFi box will also allow you to boost fuel supply a bit (lowers your fuel economy 5-10% of course). Brad, N. CA., 2001 F650GS - Inmate #1002

Next.
The Adventure Pipe II exhaust system is designed for those who want more power, less weight, and better sound from the BMW F650GS/ DAKAR, and also the 650CS. AdventurePipe II utilizes the race-proven SuperTrapp muffler canister that allows you to adjust both the sound and power output of the F650 to your exact needs. Simply add or remove internal discs of the SuperTrapp canister (see Dyno charts at www.adventurepipe.com for proven performance results of various disc counts). AdventurePipe II system is easy to install: the header end of the Connector Pipe is precision machined for a perfect fit, and all clamps and hardware are provided. A rubber Grommet mount to the frame reduces vibration. The canister, connector pipe, and all hardware is made of high quality stainless steel. AdventurePipe II shaves about 12lbs from your bike and removes the catalytic converter for motorcycling in areas where un-leaded fuel is unavailable. AdventurePipe II is compatible with all luggage systems designed for the F650GS/DAKAR and the stock exhaust, and costs hundreds less than the typical aftermarket exhaust for the F650GS/DAKAR. Also available is the Right Side Storage Canister. This adds 170 cubic inches of weather-resistant storage space in a stealthy faux right-side muffler that matches the left-side AdventurePipe muffler exactly. In addition, I have a new product, the "Universal Right-Side Storage Canister for the BMW F650GS/DAKAR. This includes an integrated key-Lock" (See the exhaust photo gallery above.) -Rodnock


An in-depth review of the AdventurePipe kit

I completed my next-to-last major modification to my bike during my vacation travels this month. Some folks who have seen my bike consider it pretty "dialed" and this is the penultimate major mod I had on my list of 'wanna do' mods. SScratch and I picked up an Adventure Pipe, purchased from CG Inmate Roger (aka Rodknock) and Adventure Motorcycle Equipment owner in Boulder, Colorado. I installed mine and rode with it for the remainder of the trip in all surface and weather conditions (except cold temps) in Colorado, New Mexico and Texas. Following are my observations of the pipe and the company.

1) INITIAL IMPRESSION OUT OF THE BOX: The left side stainless steel SuperTrapp pipe is nicely finished with clean machining, flawless finish and excellent adjustability for back pressure. All parts were neatly packaged and provided to include hi-temp copper anti-seize compound for the disc screws and the directional tail pipe end. Instructions for tuning and assembly of the pipe are clear, easy and do not require special skills or knowledge.

2) ADJUSTABILITY AND SERVICE: I'm running 4 discs which seems to be the right number to open up the air flow without getting too noisy or relieving too much back pressure. Roger has a slick dyno chart he provides which should satisfy even the most technically oriented person's curiosity about the pipe's performance. Also, the fiberglass packing is easily accessed for routine service when needed.

3) THE CONNECTOR PIPE: The connector pipe (the link between the OEM exhaust header pipe and the muffler) is also nicely finished with clean welds, good machining and 2 high-quality clamps (one for exhaust header and one for muffler). The fit of the connector pipe to my exhaust header pipe was a bit snug but not impossible. If your OEM exhaust header pipe is corroded from high-mileage and has caked on road grime (or red Louisiana mud in my case), you'll need to sand it down at the last 2 inches or so and use a heat gun or hair dryer on the connector pipe to warm/loosen it up a bit. I also used some high-temp, non-flammable lubricant to make things easier. These requirements are not out of the ordinary if your bike is a high-mileage bike that has seen some rain, dirt roads and months of daily riding.

4) INSTALLATION OF THE MUFFLER: The installation of the muffler to the connector pipe was a cinch. The muffler hangs easily from the sub-frame by a high-quality strap (with heat-resistant tape for padding) with a rubber isolation grommet and high-quality aluminum spacer ( both provided).

5) INSTRUCTIONS & TIME REQUIRED: The directions that Roger provides are very clear with color photos and a helpful, insightful step-by-step narrative of OEM pipe removal and Ad Pipe installation. The process takes about an hour (at most) to get the OEM pipe off and the Ad Pipe on. This was my first pipe installation so I did not anticipate the minor amount of sanding and heating requirements due to my caked pipe. Not an issue in my book.

6) THE RIGHT SIDE CANISTER: The right side canister is the cat's meow. It installs easily with 3 mounting points - 2 bolts at the subframe and 1 at the OEM right side exhaust muffler mounting stud (Torx bolt). The finish of the right side canister is first-rate. It smoothly follows the contour of the bike from the fuel tank aft, the welds are excellent and the faux-pipe end cap is ingenious and weather-resistant (and just plain freakin' cool to say the least). I have a chock-full Helen Two Wheels tool wrap in my Ad Pipe Storage Canister and it is a breeze now to get at my tools which I value greatly. I can strap stuff to my Touratech tailrack AND my OEM solo seat now and not have to unpack just to get to tools in the solo seat compartment (where I used to keep my tools).

7) PIPE COLORING: Make sure the pipe is clean before getting underway for the first time. I used some brake cleaner to take all my fingerprints off but Simple Green will work, too. After the 1500+ miles on Friday and Saturday, the pipe has taken on a really pleasant bronze color.

8) CUSTOMER SERVICE: Roger is a great American small business owner / entrepreneur and the customer service is a first-rate example of integrity and dedicated service to the customer. Roger knew I was on the road and under a time crunch to make several hundred miles to link-up with SScratch in southern Colorado and went out of his way to ensure I had everything I needed to keep moving. In one day, I went from some hand wringing with Corporate BMW over a radiator fan warranty issue to being treated with classic American business principles at Adventure Pipe. Roger is a stellar Inmate, IYAM, and I highly recommend his products. If you look at the webpage, you'll notice he's a one stop shop for high performance modification components to the F650 GS to include K&N air filters at an EXCELLENT price and the Techlusion fuel kit as well.

When I linked up with SScratch in the morning, he had a sh*t-eating grin on his face when I fired up the bike and pulled the right side canister open to pull my tools out. As the day wore on and we raced all over southern Colorado dirt passes and the two-track dirt roads of the desolate eastern New Mexico plains, the smile on SScratch's face let me know it was indeed a great mod to the bike. The roll-on tone of the phat thumper powering up the passes didn't hurt nor did the growl of the pipe as we rode off road along the beginnings of the Rio Grande in Colorado looking for a crossing point.

Between BG's Stuff and Roger's Adventure Pipe company, there aren't many more resources one needs for some excellent, highly functional modifications to the stock F650 GS. -NothingClever
(In reply to questions) Also, I'd think you're a sure bet to be a satisfied customer if you got the right-side storage canister to go along with the AdPipe. It's been a great addition and I store almost all my tools in there in a Helen Two Wheels tool roll. It relieves a lot of used space in whatever your other luggage configuration is (duffle bag, tank bag, panniers, tail bag, etc, etc). To boot, Rodknock has great customer service if you have any problems and stays in touch with customer's after the sale.

Rodknock has the impartial, outsourced dyno charts to prove a HP gain but, to be honest, I don't notice any particular increase in zip, just a smoother throttle response (a little more like a Classic) and the top end of the tach doesn't feel like it's on the edge of hitting the rev limiter. Those two things are more valuable to me than some tenths of a second decrease in a quarter mile track time. - NothingClever
Scott, I only have experience with 2 aftermarket exhausts -

1.) Staintue - the model I had on my '01 was considerably louder than stock, and over time I almost got used to it. It sounded "bad", a bit snarly and mean-sounding. I frequently felt a bit self-conscious; I'm not a loud-pipe kind of guy*.

2.) Roger's Adventure Pipe, for evaluation. Used it at the "recommended" setting (2 disks?), and it "felt" a bit peppier, and tamed the loudness very well. I liked it, and it's on my list of "to be added" on the '05. - Sadlsor
I have the Adventure pipe and I use 4 discs as recommended for less sound (more discs more sound). Still louder than stock but not unpleasant. -lagondacoupe
I met with the fine folks at Adventure Pipe Company http://www.adventurepipe.com/ this last weekend and purchased the exhaust system for my 2003 F650GSA. All I can say is great people and a great product.

He installed the exhaust system on my bike for me and it was a very straight forward installation. There was an immediate and noticeable improvement in the sound (it actually sounds like a 650 cc thumper now), low end torque, and top end power. The exhaust fit with my BMW side luggage just like the stock system. My only other modification is that I am using a K&N air filter with the foam pad insert. At the next air filter cleaning I may try it without the foam pad insert and see if that gives me any more performance improvement. I then built a faux right hand pipe out of black PVC to plug up the hole left under the right hand luggage and for some extra storage.



i am thinking about making the step to aftermarket exhaust but i have some questions i cant seem to resolve by either the FAQs or searching the forums.

my criteria,
1: Quiet. the queiter the better. idling honda quiet would be nice.
2: lighter than stock. probably not hard to do this one.
3: port side only, i want the starboard side for storage.
3: cheap. i'm not poor i just dont like spening money on frivolous persuits.

i was hoping someone might have a spare origional bmw exhaust for sale cheap, and doing somehting like plympton did. that might hit a few of the points.

if anyone has any ideas, criteria are in no particular order and i know some of them might be a little self defeating. i guess bigger exaust = quieter exhaust. i dont know - colin



Colin, I recommend Adventurepipe with 2 discs in it. I have installed it recently and I really like it. It is not THAT quiet, but it is lighter and cheaper than the other pipes. This meets 3 out of your 4 criterias :-) -RRejnek
I did a recording that compares the stock exhaust to the Adventure Pipe exhaust (with 4 discs installed; fewer discs will be quiter, more discs louder). The stock exhaust is from TeamGS's 2001 F650, and the Adv Pipe is on my 2002 Dakar. These samples were recorded in my front yard from a distance of 10 feet. (mics placed perpendicular to the rear end of the bike, left side.) I used a pair of Marshall condenser mics (MXL 990 and 991), going into a Behringer mixer, fed into a 24-bit Echo Mia soundcard, saved as 16-bit stereo, then converted into a compressed MP3 to save bandwidth.

Below are two sound clips, both starting with the stock exhaust. One has some revving to 3,000 rpm, the other compares just the 1,500 rpm idle. The purpose of these recordings is to provide, as much as possible, an accurate comparison of the two systems. The sound quality will vary quite a bit, depending on the quality of your speakers. As a result, the actual sound you hear in person may be different from what you hear in these recordings. Scott, ID #1244

Stock vs Adventure Pipe - 1,500 to 3,000 rpm (425kb MP3)

Stock vs Adventure Pipe - 1,500 idle (70kb MP3)
I got my pipe and did 1100 miles with it to Death Valley & back through Carizzo plain. It's definately much louder than stock, even with only 4 disks. I even tried 3 although they recommend 4 minimum. It does sound good, like a real thumper instead of a sewing machine, and it seemed to run a bit crisper, but it is louder than I expected, even after listening to the wav files. I love the faux pipe/stash on the right, a great place to stow things. I tried to get used to the extra volume, but I've decided I prefer less noise. With this in mind, I've decided to sell the pipe. . . I have to add that out on the road, it's not obnoxious or harley-esq, but when I start it in the morning on my street amoung the houses, the extra noise is unwelcome. If I were 20 years or so younger, I would keep it.

The pipe is well made and good looking, although I thought of putting the faux pipe in the oven for a few hours so the color would match. I would suggest putting a leash on the fake tailpipe, so that when you leave the cap sitting on your panniers while stopped on the side of the road, and you forget it, you won't lose it. I rode about 10 miles with the cap just sitting there. Doh! So much for the pre-flight. Enjoy ! Im going back to stock for now. -towpilot
I bitched earlier that the adventure pipe I bought was quite a bit louder than I expected, even after listening to the .wav files. I put it on, I took it off. I put it on again, and took it off again. I've even tried it with 3 disks, then with 2. Even then, it has quite a bark to it. I figured since I've ridden quiet bikes for so long, I just wasn't used to a "proper" sounding thumper, but it stands out so much in a group of other bikes, I know it isn't just my perception. It's even loud in my helmet with earplugs on the freeway.

Here's what bugs me... My friends XL 600, and another I've seen, also use a supertrap, very similar in size. It's not half as loud as my A -pipe, even when he had about 12 disks in it. It sounds like it should, with a nice tone, but not so loud that all your neighbors know every time you come and go.

Comparable size singles, very similar pipes, though the XL has 2 ports into 1 at the header, but dramatically different sound levels. At this moment, Im thinking the XL can is made from thicker gauge alum. It's the only real variable I can think of. I love a good sounding motor, especially big radials, but for me, the A-pipe is about 25% too loud.

Why is there such a difference with comparible systems ? Any speculation? -towpilot
I wear earplugs with mine, but then again, I wore earplugs with the stock pipe too, so it doesn't seem that loud to me!

The other day a friend test-rode my bike, and when he pulled away from the house, I thought, "That doesn't seem very loud at all," from a sidewalk perspective. As I mentioned peviously, the pipe volume seems about average, if you compare to all possibilities. It is definately louder than stock, but quieter than some other pipes available for our bike. For me, the increased performance is worth a little more sound, especially since I wear earplugs regardless. -Scott ID, #1244


Let me take a shot at answering these questions.

Firstly, sound preference is very much a personal thing. What is loud to one person is just right to another and even too quiet for some. To say a pipe is "loud" or "quiet" is not too helpful. Sound level in db is not very intuitive because it is an logarithmic function. It is perhaps best to speak in relative terms. All aftermarket pipes that I've heard are louder than stock, and I think I've heard them all. I would say all pipes are at least 5db louder than stock (stock is 94 db at 5k RPM) or more. With a minimum 3 discs installed the AdventurePipe will be as quiet as you can get with an aftermarket pipe (about 98 db). 4 discs gives maximum power and 1db louder, and 5+ discs just gives a louder exhaust note with about 1db increase for each disc installed.

Sound tests I've done show the AdventurePipe gets no louder even after 10k miles. There will be a little bit of sound absorption material blown out in the first few miles, and it is a negligible amount. Just some loose stuff from the manufacturing process.

SuperTrapp currently has no "quiet baffle" or other device for the silencer used in the AdventurePipe system. I can make one, but I have a feeling few people will buy it because it will reduce the power back to the stock level (you'll still save weight though). It is extremely difficult to gain power without a sound level increase and still keep the weight and size reasonable. There is a trade-off. Send me an email at info@adventure-motorcycle.com if you are interested in an extra baffle.

I hope this helps, no SPAM intended. -Rodnock
Hello Twopilot,

Sorry I forgot to answer your original question. Your friends XL 600 most likely has a SuperTrapp product called an "IDS2." It is a smaller diameter aluminum (about 3.75") silencer intended primarily for dirt bikes and ATVs. It is available in both "race core" and "quiet core" versions. The quiet core version uses a reverse flow baffle. The discs inside a SuperTrapp IDS2 are about 2.9" diameter.

The AdventurePipe SuperTrapp silencer is a larger diameter (4.5") system made of Stainless Steel. The discs inside are 3.75" diameter.

I built a system for the F650CS Scarver and it used same size silencer and same smaller size discs as the IDS2. In order to get at least the same HP/Torque as stock silencer, this system was really loud, over 100 db. I did not test a quiet core version of this set-up, but my experience tells me it would be hard to achieve at least stock performance without excessive noise with this smaller silencer.

In any event, I'm not rattling any windows with 3 discs installed in my AdventurePipe, and I'm rather sensitive to noise. I find it just fine, but again this is a very subjective issue. Send me an email and I'll look into an extra baffle you can bolt in place. Hope this helps. -Rodnock


The standard exhaust with catalytic converter is finally gone, replaced by a top notch system by Remus (the Genesis), and it sounds great, as well as a weight saving of 6.5kg.(14.3lb) over the standard system. No longer do I have to made ridiculous detours just so I can fill up with premium unleaded. Ordinary leaded super can substitute it in cases of emergency. And now the good part, the installation was again carried out by Southbank Motorcycles without any mucking about, they took care of the setup as well, with adjustments to the fuel mixture etc. The cost AU$1238 the lot, and with this being considerably less than I had anticipated, I also purchased a handle-bar cross-brace cover (doesn't do anything, but looks good), for AU$22. from http://au.geocities.com/kaz3125/diary.htm

I have one of the first Remus set ups on my GSD and it has gotten comments about nice sound but still quiet. Most can't tell it is not stock while at idle. Touratech stuff fits very nicely with them as well. No fit problems at all. Bill #697 Atlanta.

I called the Remus distributor in Sweden and he stated that the Remus measures 98dB. According to Staintune website the Staintune measures ~90 or ~100 depending on if the restrictor is inserted or not. I guess this corresponds with you experience. Spakur #1117, Sweden.
Hi, I am from Austria and ride a F650 GS Dakar since March 2002 without any problems. This days I changes the exhaust to a Sebring (without cleaning) and i.e. had to cut off a little piece from the airbox snorkel (hope that's the right word ;-) ) so that the engine gets enough air ! The target was to get more power at lower and middle rpm and it works fine now. For introduction some BMW and KTM pics: http://mitglied.lycos.de/rpl/ stay tuned. Magic.
I have three friends with 3 different pipes on their GS's We do top speed runs and with out a doubt the money spent on aftermarket is negligible at best. The Staintune seems to have the best midrange but the Sebring has the best top end . None of them is that distinct over the stock exhaust and in fact all of them once they reach 107mph are all the same . We've done side by side roll-ons at many speeds and they are just to close to say one has an advantage over another when you figure in the added cost. Unless you do engine mods I'd stick with the stock muffler. The Staintune is the loudest and the Omex and Sebring is closest to stock. I understand Omex is going to make a chip so that combination might be noticeably better. I think my friend paid 800.00 U.S. for the Omex but that's not positive. The Remus on my friends 2000 US model is just plain loud and has no advantage either. VV#710

Q. Did anybody else have to cut out the stock exhaust grommet in order to have said grommet for installation of the Staintune exhaust? Or did you guys get a new grommet with the Staintune? I did the snorkel/filter/exhaust mod and when I called the local Beemer shop the mech. said that I had to CUT the grommet off of the stock can. I went ahead and did it but then got to thinking Hmmmmm, that doesn't sound right! Please let me know your experiences. Cheers, Scotty#1078.
A. I pried one out with some WD40 and a screw driver. That was the hardest part of the installation. Mike#639

Staintune Slip-on. I have the Staintune on my 01 GS also. Fuel Nanny, Snorkel Mod, Disconnected the exhaust sensor. Now the bike rocks. I like the mid range and the sound instead of a sewing machine. When you're passing people can hear you. Mine came with the back muffler only, I found the fit to be so tight that I took the rear piece to the local muffler shop and had them expand it a hair.
JV B.C. Canada

Significant and noticeable power increase, especially mid-range. Top speed before = 94.x After = 99.3 (GPS measured). The before/after also included the R1200C injector and a couple of holes in the snorkel, but I think it was mostly the can. Unknown

Ditto J.V. - very tight fit, and lots of fun swapping grommet over. Lovely noise......... Paul W (UK) Dakar.

Impressions of Staintune silencer fitted to 2001 Dakar. I installed the Staintune exhaust after my 6000 mile service and have covered a further 900 miles since.

Fitting: A few problems. I'll be asking Staintune why they don't supply a rubber grommet. Had I known it wasn't supplied I'd have ordered one before stripping off standard exhaust. I've seen in the FAQs (since) that changing over the grommet takes longer than fitting exhaust……….. Unfortunately I also had problems with the fitting. The external diameter of my header pipe is greater than the internal diameter of the Staintune silencer. A bag of peas from the freezer and 20 mins heating on a gas flame has allowed me to hammer (!) the silencer on enough (1mm) to stop leaks (although its not fully 'home' at the grommet bracket). I'll be getting a local workshop to increase the diameter of silencer (if I can get it off!!). A friend with a 2000 Dakar fitted one at the same time and it was an easier fit - does the 2001 model have a thicker exhaust?

Performance: Certainly helps in the lower rev range, lifting the front wheel without use of the clutch is now much easier (therefore much improved for off road work). The bike is a lot 'crisper', with less of the injection delay experienced off a closed throttle. I can't really feel any increased performance on the road at speed (I didn't buy a 50hp bike for outright performance anyway) but gets to 100mph easily enough. Noise: even with the muffler in it's a little too loud for UK towns (and police!) but very pleasing to the ears. Fuel consumption: probably due to its loudness I've had to restrain my right wrist in built up areas but that wouldn't fully explain the impressive increase from 60mpg to 70mpg (UK gallons). More than a 10% gain - fuel light coming on between 180 and 195 miles from fill up. Exhaust should pay for itself soon! Overall I'm very pleased with the Staintune, and the bike looks sharper and lighter (Staintune is a lot lighter than standard exhaust). But I'd have preferred a grommet supplied - it wouldn't increase cost much and would improve the quality of the 'package' (I imagine most purchasers are cursing Staintune within minutes of opening the box!). Staintune - I'd recommend buying one. Paul W (UK) Dakar

Mine came with just the Tail pipe.... Also you might want to go ahead and order a new grommet for the Staintune cause if you don't your going to have quite the PITA getting the one out of the stock exhaust! IMO its worth the extra $10! Scotty FT. W, Tx. #1078.

I've added pics of a modified exhaust setup. Replacing the pipes with a single Staintune left a "hole" on the RHS. I had a custom 'dummy' pipe made, which is used solely for storage. The end cap is secured with a wingnut, and is easily removed. The space allows storage for tools, a coffee flask (mmmmmm!), spare fuel bladder … whatever. A really cool modification which always makes for a conversation piece. The pics are prior to having the 'pipe' polished, which now looks even better and comes closer to matching the Staintune. Thanks for the advice on your website, it's been really useful. A Techlusion TFI box has been ordered on the net and is hopefully winging its way downunder now!. I fitted the Staintune replacing the OEM and Cat converter system a few months back and noticed little power difference. Cutting the snorkel on the air intake to allow more inhale added some noticeable extra power. The so called "fuel nanny" unit today made a significant difference again in two respects. Ross, Brisbane, Australia.

I am gonna recommend the same mods that quite a few of us on the ADV. rider site have made to our F650s! First of all I recommend STAINTUNE simply because it gets rid of the canister on the right side and frees up some space, less weight, SOUNDS GREAT (especially with the baffle OUT), is reasonably priced, looks KICK ASS and install is pretty simple! Next, if you would like a little boost and a better breathing motor, you could and in MY opinion should (unless it rains a lot in HK), chop the snorkel.. This will give you a lot quicker throttle response (easier wheelies & stuff), and a little "throatier" sound! But the verdict is still out as far as what this does to your fuel consumption! Scotty, Advrider.

Is there such a thing as a quiet after-market muffler? Based up my experience, the Staintune with the outlet restrictor left in place is likely the quietest after-market muffler that you can buy. (The Staintune that I installed on my R1150R was quieter than the stock muffler, with the restrictor in place. It sounds better and runs better with the outlet pipe removed, though.). I have a Staintune on my Classic and have seen and heard several Remus pipes on the same bike. My observation would be that the Staintune is quieter, heavier, better built and finished and does not need the carb to be re-jetted to run cleanly. The Remus muffler is lighter, cheaper, not as well finished, louder and may need some re-jetting for the best performance. Frankly, either muffler is fine. I think it mostly depends upon how much you want to pay and what you think of their looks. If you like polished stainless steel and a solid feeling muffler and can afford the cost, get the Staintune. Richard #230

The Staintune normally comes with a restrictor that makes it reasonable. The also have an optional "baffle" that I have never heard but would make it even quieter. These are easy to remove and install when ever you like. Mike #926 just got both inserts, maybe he will reply with his impressions. The restricted Staintune is definitely louder than stock but the sound level varies greatly depending on how your work the throttle. Too subjective to really tell you what you will think. I'd see if you can find someone with one and compare. I don't think you will find any that are as quite as the stock pipe. Brad, N. CA., 2001 F650GS - Inmate #1002.

SCX
1. Stock
2. Sebring
3. Remus
4. Staintune w/ restrictor
All these pipes currently are below 100db.

Power pipe from best to good
1. Staintune
2. Remus
3. Sebring
4. Stock??!! - think not

Exhaust - Sebring and Staintune. The exhaust is one of the heaviest part of the bike. I tried 2 exhaust systems, one from Sebring the other from Staintune. The Sebring performed better for long distance trip. The Staintune is good for offroad riding and it is the lightest of both exhaust system. It revs easily to 7000rpm. The right side is a dummy self fabricated pipe. Go get Staintune...You get the Thump...Thump...Thumper. Check my site where I had a Staintune installed. No other settings required. It is plug and play configuration. Those who have Staintune or plan on Staintune pipe.....the Touratech Rear Rack don't fit in it. You have to modify the rack. Air Filter - K&N Air filter BM-6501. This air filter is worth investing. The filter is washable and it comes with a foam insert. If using Staintune pipe is better without the foam. scx

Staintune muffler fit is very tight on collector pipe. Used 2x4, hit muffler from rear with hammer. Worked perfect. Also used floor jack to put pressure on collector pipe during installation. Good luck with install. y2kcorvette 2002 F650GS

I also bought a slightly used Staintune and figured that since it has been mounted before it shouldn't be that hard to mount it on my bike. Far from that. After the failed heat-treatment, almost pushing it off the center stand (duh!) and subsequent cussing I had it swedged open. Of course it was swedged a little bit too far, but with a second clamp and screw I was able get it on tight. No leaks. 2001 F650 GSA. its_xls

$425 list from CalBMW (aka CBT Imports). I'm lucky, mine is fuel injected and altitude is automatically compensated for. Staintune advertises that you do not have to retune to use the product. I'll add that for my bike there is a noticeable power increase in the low end with the restrictor out. I attribute it to a spread of the torque curve towards the lower RPM range and not so much to the increased total torque. Off road where I tend to run the bike more in the 3-4K RPM range the bike accelerates more quickly. On a bike with a rev limiter your not going to get a large increase in total HP. You need to make more RPM to add a lot of HP right? So the best you're going to do in this situation is increase torque (acceleration) and to spread it over more of the RPM range. No expert on this but it is what I have gathered from others. While I like the punch of running the Staintune without the restrictor I feel like a real noise polluter that way. You can tell by the way people look up at you even in off road only type areas. I only take it out when I'm in areas that are well away from people that would take offence. Maybe a good enough reason to have one is the weight savings. About 7 pounds saved in the case of the FI bike. I put some anti-seize on the restrictor and screw to make sure it comes out after a few thousand miles. A little messy but if you bag or rag it for storage it doesn't matter. Brad, N. CA., 2001 F650GS - Inmate #1002

This is how to fit a Staintune exhaust: Fitting Staintune to my 2001 model of the F650 GS has caused me some trouble. I had a problem with fitting the Staintune to the original exhaust outlet with the Staintune being smaller than the original tube. Anyone trying to insert a Staintune may have serious difficulty in the final 10mm of the insertion. Personally, I tried using a jack, a block of wood with hammer, grease, soap and failed. So I measured the pipes and found out that I needed to expand my Staintune 0.5 mm. Finally, I take it down to an exhaust specialist where they expanded it for 0.8mm and the thing slip on without any effort and found I have no exhaust leaks afterwards. Pulling the rubber grommet out of the original pipe would take a lot effort so I bought another from BMW which cost me very little. Instead of cutting the air snorkle, I fitted a K&N filter and took the restrictor out of the K&N and found my bike runs without problems (no surging, flat spots etc). The Staintune has a great sound as well. I highly recommend using Staintune here. If you are having the same problem, maybe you can consider my solution. I have used my Staintune for a tank of fuel. I have achieved 22km/L around town. I have not been out on the open road yet. I find the bike is a lot easier and smoother to ride. The snorkle I did not cut because the K&N air filter has a removable foam baffle which I removed the baffle. The K&N allows it to breath far easier than the stock paper one. I will put more details as I use the bike later on. Mike

I had to use a pipe expander and propane torch to get mine to fit. I used "Simple Green" and a screw driver to get the grommet out of the original exhaust. I also made a "stasher" for the other side out of black PVC drain pipe from ACE Hardware. A spare rear tube, complete tire repair kit and a few odds and ends fit in it. The parts cost about $28. Anybody that can operate a drill can do it very easily! Mike, where were you going to cut your snorkle, I've thought about doing that? I also recommend the Staintune exhaust. It sounds good and if you leave the baffle in place, it will yellow pretty evenly. I got around 53 mpg while cruising at 85 mph with a total load of about 260 pounds on my last trip from Tucson, AZ to Colton, CA. The bike is stock except for the exhaust. kaptkirk

I have just received and installed the staintune pipe on my twin spark 05 Dakar. Observations are:

- it is a new modeldefined after extensive R&D; pipe is now oval shaped,
- it is beautiful to look at; mirror stainless steel finish,
- a new rubber grommet is now included in the box,
- it was simple to install; the new pipe slipped easily on the bike header pipe with one hand.
- I didn't buy the extra dummy can for $250... it is whole and cannot be opened; you have to go to a metal worker and get this done to use it as extra storage.
- with the silencer in, the 'can' had an annoying whistle.
- with the silencer out, well hey hey, this 'can' unleashes the monster within. I have an XR400 that has the stock bike exhaust de-restricted; the sound level on the Staintune on the BMW is about 75% the level of the XR400. The Dakar now barks on demand; the 'cat' (alytic converter) is gone, and the 'dog' is barking on my throttle lash on my demand. This 'can' is music to my ears. The growl through 1st-3rd gears is bike nirvana. It is not too loud for the neighbours either; I have no problems starting at 7am in the morning and taking it easy on the throttle until beyond housing.

I was dissapointed with the lack of 'twist and go' take off power on the stock twin spark fuel injected Dakar; with the Staintune exhaust, it is now the bike I expected it to be; it now has 'twist and go' throttle for G force excelleration at the traffic lights! It has greater throttle response for emergency excelleration when required, so is safer.

I have a 'twin air' filter on its way, so I will keep you posted if this makes any difference.

I am very happy with the new Staintune model, 10/10 Mr Staintune! (P.S. I am in no way affiliated with the vendor). -Fizz

Next.

Stock Exhaust Modifications
Thumpers, read a mod the other day. It involved taking the restrictor out of the left muffler. Tried looking for the thread, but couldn't find it. Anyways, did the mod the other day. The bike goes great, with some performance increase. Can't hear additional noise with the restrictor gone. Would like to know your opinion on this mod. I was told the big thumper needed some exhaust back pressure. News to me as I thought this was a two stroke hang up. The old thread said to tap a thread into the small 'pea' opening in the end of the exhaust. Then screw a bolt into it, then attach a slide hammer and knock it out. It is held in by a couple of spot welds. Mine didn't go according to plan and it was a bit of a wrestling match. The end of the restrictor came out leaving a perforated tube surrounded with sound baffling. I pulled the baffling out and knocked the tube (which is connected to another disk similar to the one you tap the thread into) into the muffler. I then removed the muffler and withdrew the tube via the connector tube for the other muffler. Once the restrictor is removed, there is nothing in the muffler, except for the cat which is further down the neck of the muffler. Hope this helps. Gonz on Advrider

GS Exhaust - Ripped it Out. Just finished ripping the baffle out of my exhaust can (per Rocket boy's prior post attached below). Wow! The bike sounds good now. I've now got some thump in this thumper! It took me a while to get the nerve to do this on a new bike. I can't see spending the $ on an aftermarket can when we have a good one to start with. It is louder than any aftermarket exhaust I've heard on the GS/Dakar, but I don't think it is too loud. If I decide it is too loud after I spend some time with it, I'll try removing some of the steel wool from the baffle and drill some larger holes in it and press it back in. The bike seems to have better throttle response and more low end. Next step - open the can up and dig the cat out. I want to do this to lower the heat under my left leg. Kevin #1092

I've done the exhaust mod. listed in the FAQ (removing pea hole restrictor) and sounds good (cackles a little at high revs) not sure about performance increase. Also done a form of air snorkel mod. Instead of cutting completely, I opened a slot on the fairing side of the snorkel to allow more air flow. My bike is the 01 model, and it cracks. Pulls the arms straight in top gear up to 6.5 grand (don't like going to red line). Gonz.

I have tried removing the pea-shooter baffle as suggested in FAQS, they must import a tougher variety of exhaust into the UK, because it was a bitch to remove! Tried tapping the pipe but that was not successful as the pipe is made up of two pressed stainless steel halves. The lower end of the pipe is welded securely into the exhaust, deep inside the silencer box. I managed to remove the pipe and baffle material in the end but only through use of brute-force and a large cold chisel. The effect on the performance is noticeable, and it now sound like a proper "thumper" single. Now to remove the cat which seems to get hotter now that the baffle restriction has been removed. Anyone successfully removed or drilled a hole through the cat yet? JC.

After reading the FAQ info about removing the exhaust baffle, I had at it. The FAQ suggested that it was just some sorta press-fit arrangement. Mine was not -- it was spot-welded in via two little tabs which broke off when I cranked on it. It most assuredly WILL NOT go back in now. Has anyone else encountered this? Or did I do something wrong? I also added a Techlusion box, a K&N, and did a snorkelectomy. My oh my, so nice now! (It was such an improvement that I ordered a Techlusion box for my 50R.). DakotaDakar

You did it right. If I remember correctly there were two more welds inside? Take that whole straw thing out and it is done. Nice flow now Huh? I haven't done the K&N thing yet. did you get a chance to do a before and after regarding just adding the filter mod after the baffle was removed? Brad in SB #979.

I removed my muffler and cat several months and three thousand miles ago and installed a Kerker K system (left over from an old k bike I had ten years ago. The move was mainly to give the motor a little sound and possibly to make room to narrow the GIVI bag mounts so that the little 650 GS would not look like a wide glide from behind. So far no change in fuel injection system, no surging and no problems. Saved about 12 pounds and created a bunch of extra room for something. And now it sounds like a MC. Actually now I can't here that annoying sucking sound from the intake organ pipe. Next on my life list is to split the main exhaust into three or four and use even smaller diameter mufflers to see how that works. by David Jul-02

I just removed the stock exhaust baffle. I think the "tone" is fine. I was wondering how this will affect fuel economy. I've been getting up to 72 mpg with 2 up riding in the Sierras. Just wondering if anyone has done fuel economy comparisons with this modification. lpwrockguy.

Just completed the Exhaust mod from the FAQ, wasn't quite as quick or easy as it looked their, worked my arse off to get the baffle out. For the life of me I can't get the can half to slide back on the pipe (junction), never had this problem with my JAP DB's, the flange on this thing is a joke. Well after many an hour of struggle my pipe mod is complete on my 01 Dakar, a few issues. When I twisted the baffle to break it free, it didn't just twist out, it twisted up inside the pipe, many hours of hammering drilling removing the pipe and taking it to work (off hours) I finally got the twisted baffle out. The baffle is held in by a front tab (for lack of a better word, what the pea hole end comes out of) and there's another in the rear, this was the trouble maker, it never did break free, I just drilled the hell out of it. Secondly when I went to put the pipe back on the bike another battle of frustration took place, the flange is a very tight fit and for the life of me I couldn't get it to go back on, again a couple hours of extreme frustration (read yelling, throwing things, expressing my love of German engineering) then it hit me?. Got the Dremel tool out with a small grind stone end, lightly rung the inside end of the flanged portion of the pipe (just enough to take the sharp edge off) and the thing slid on like butter on bread. TW

My baffle came out fairly easy using the 3/8" bolt, etc. as described in the FAQ. Funny thing though... I don't like the sound!. It's kind of "blatty" .. not thumpy. The baffle holder (tube) has a slot opening at the inside end so its not really fully open, and I think that is the problem... Its kind of like a little trumpet. If you have the muffler off maybe you can drill out the inside end of the tube. I removed the fiberglass insulation and put the baffle back and added a small sheet metal screw to the pipe so it won't fall out. On my next road ride I'm gonna pull it out and give it a sound test again. You may try to heat up the muffler pipe and try to fit it on. Sometimes that works. The heated part will expand. The pea-shooter is hooked or spot welded about 6 inched into the pipe where it goes through the key hole at the inside end of the pipe. When I did mine I used the 3/8" tap and tapped the pea shooter and used the bolt and a plate apparatus described in the FAQ. It came out fine. The pea shooter was twisted when it came out because of the torque applied by the removal bolt. Also the spot where it is spot welded was kind of deformed due to the stress. The little bumps that are supposed to hold the baffle cup in place are not adequate to keep the whole thing from falling out so the pea shooter is also fastened at the other end. jim#1022 '01 F650GS Dakar, Aptos, CA.
Another aftermarket exhaust system. Two brothers, the neat thing is their "Stash" version, where the right exhaust is fake and serves as a lockable container. http://www.twobros.com/Exhaust/BMW/F650GS.shtm. I wonder how good it sounds. its_xls

The Stash is a good idea but is it worth the extra $210. I wonder how they will hold up in aluminum. For comparison the Staintune is about 5 pounds as well and is stainless steel. But the aluminum model is $30 less than the Staintune. Nice to have more choices. I might have gone this route had I not already went with the 'Australian pipes of perfection'. :-) Brad, N. CA., 2001 F650GS, Inmate #1002

I looked at the Dyno chart on the 2 bros. site and it is virtually the same as the stock pipe. Therefore, I guess all you get for $500 is a pipe that sound different. I understood that the '01 F650GS and latter models developed 50 HP yet the 2 Bros site indicates that the peak power is 40HP ,80% of the BMW Claim. Can this be the difference between flywheel and rear wheel ? I understood that a chain drive bike was suppose to be a rather efficient way of transferring power. What explains the difference?? I also have a K1200RS and the 2 bros pipe on that bike is suppose to yield 12 additional ponies. I would be interested in spending the $$ if there were some performance difference. Dave # 717

That's 50 HP in theory only. Actual Dyno runs are more realistic and the results can vary. See the Techlusion site for more optimistic Dyno charts. It is very hard to get more HP from this engine with just an exhaust. You'll need to do something about the air intake system and fuel delivery. I would not expect any significant increase in top in performance (rev limiter is a factor too). What you will find is better acceleration/throttle response from a boost in mid range power. All of which make the bike a bit more fun to ride but at a significant cost. I've done all three and I find the results to be noticeable and enjoyable. The last thing I did was the exhaust but it seemed to be the missing link because the other changes were so subtle it was hard to feel the effects until the exhaust was changed (except solving the surge issue of course). Some of that is simply getting more audible feedback from the engine which the stock does not deliver being as quite as it is. Brad, N. CA., 2001 F650GS Inmate #1002

The only reason I see for switching exhaust systems if you want to ditch the CAT and lose some weight. Not that there's anything wrong with that though. Of course, there's always the more personal "sound" issue to think about I guess. The one issue to be aware of is that the Two Bros. may need to be "re-packed" occasionally, but that's not too big of an issue. RogerN_#827

For all you GS650 riders out there I have some good info for any of you in the market for a new pipe. A very good friend of mine works for 2 bros here in California and he has informed me that they are getting ready to release a new pipe for the GS650's. It will come in either Aluminum or Titanium. The real cool thing that I liked about it is. It is what they call a "Stash Pipe". One of the pipes is a dummy pipe meaning it is not hooked up to anything. So essentially the bike only has one exhaust pipe, I think it is the right one but don't quote me on this. So the rider can use it to stash goodies such as a small tool kit etc. He says it sounds great and enhances the power band nicely according to his techs. This is not an advertisement and I am not trying to push the product at all. My friend doesn't even know that I am posting this here. I am just trying to pass the good word to my fellow Advrider. I will try to post pix later as soon as I get it mounted on my Dakar. 2 bros pipe sounds very bitchen to say the least. I rode a Suzuki that had almost the same pipe and it was music to my ears. It comes in titanium and aluminum. The stash pipe is very nicely manufactured. The key to lock it is one of those circular types that you use for vending machines not sure of the exact nomenclature. How do I know all this do you ask? No I don't work for 2 bros. but my best friend lets just say he works for the R&D for the company. The owner of this small company (Santa Ana, Calif) is a Beemer aficionado and commutes regularly with his BMW R bike. I will post pics as soon as I get it mounted on my Dakar. Haj.

I put the two bros. stash on about 1,500 miles ago, it looks good, the storage works good, BUT they hid my signals and it is very very loud. The complaints about the signals came from other riders behind me, maybe ok from an s.u.v .or truck, standing about ten feet from the bike you can see them but as you back away they go away fast. The pipes are longer than OEM. Kerry, '03 F650GS Dakar, Hattiesburg, MS.

http://www.twobrothers.com/Exhaust/BMW/F650GS.shtm Trevor, Bristol, UK, 01 F650GS, CG member #999

Loud Pipes (e.g. D&D)
The only reason to install straight pipes is to produce more noise. It is quite rare for straight pipes to yield superior performance. A better solution would be upgraded carbs from Team Pami or Ron Woods and a truly superior exhaust. A straight pipes approach would be adding weight for no additional performance, introducing an additional area to fail and possibly screwing up the functioning of your exhaust system. To go through the time and expense of adding a duplicate exhaust and a switch for the purpose of riding on a track is ridiculous. Mason #631 (abridged -ed.)

My brother had a 1988 K75S and installed a D&D muffler on his bike. The bike ran like crap when he did so. It made lots of noise, ran poorly below 4000 rpm and was not made as well as your typical tin can. I have used D&D pipes on several of my Japanese bikes in the past and they have all been glass-pack junk. There is nothing really wrong with the stock muffler, but both Remus and Staintune make nice mufflers for that bike. Richard #230

D&D exhaust. JUNK,,,,,compared to Remus or Staintune,,,, mike410(Iowa)

I had one that came from the previous owner on my Ducati e900. IT was a VERY LOUD PIPE. Annoying the neighbours loud. Did I mention that it was LOUD? Chris #1073 in Groton, MA.

I have a D&D on my F650 classic. I installed it this Jan. One thing that should me made very clear and is a reason that many are not happy with D&D: The company has only one major design parameter! That is MAX horsepower. The only other consideration is quiet enough to pass sound testing at a RACE TRACK. They are truly a competition only pipe. As such, generally of what is available in the U.S., a D&D will make more peak HP than any other pipe with the requisite carb jetting or FI remap. A re-map or jet kit is an absolute must to make a D&D work. As for longevity, all of the racer I know have had no problems with them. It should be noted that I race my F650, and it is a track whore only. That is why I chose this very loud pipe - for the power advantage. And, while others may think the loud noise is just that. I think a big single with minimal restriction is simply music. gar - Ky 97F/#673

I really like my Rotax. It has a deep throaty sound that doesn't seem loud to me the driver. I also bought the SuperTrapp Baffle system to decrease the volume and use it as a spark arrester on Forest roads. But, I took it off because I like the Raw sound without it. James.

Well, I've decided to chop my R1150R in on a Dakar w/ABS, it sounds and feels a bit choked though. My dealer tells me the Staintune is the best, but very loud (I don't like the look anyway). They say the Remus is quite quiet and sounds a bit 'farty'. I really want something that sounds grunty, with a bit of a bark and still retains the stock appearance of twins mufflers, don't think we can get Sebring here though. RussellM
Q. I've heard of an exhaust valve that you can install that will make your exhaust sound normal when driving sensibly but when you open it up the pressure from the exhaust opens it up and lets the exhaust out early before the muffler. It's like a 2 way pipe with a valve in the middle. It's to stop the cops pulling you over but when you want the noise it'll be there. I want to know the name of the product and who makes it?

A. It is called an exhaust cut-out. Here's how it works. (Flash#412)
Feedback:
Sounds like the old time exhaust splitters we ran on muscle cars back in the dark ages. Mind you all they did was make noise for us. If someone has redesigned this idea it might make some power for the bike, but I doubt it (ours dumped directly at the valve bypassing ANY of the exhaust/mufflers). I guess that would mean two exhaust systems as well. Might be heavy. Langlois, '97 F650, Arlington, Va.

There used to be a product called a "Snuff or Not" that was installed on just about every 1960's Honda 250 Scrambler ever made. The bike had high pipes routed along the left side of the bike and an easily removable muffler (so the bike could be run in dirt races - yea right). Everyone would yank the muffler off and install the Snuff or Not on the end of each exhaust pipe. It consisted of a steel washer that rotated via a knob on the outside of the pipe. Around town you would turn it so the flat portion of the washer faced the exhaust gasses, which would have to pass through the hole in the washer, thereby increasing backpressure and reducing the sound slightly. On the open highway, you would then turn the washer so its edge would be to the exhaust flow and you would now be running a straight pipe, getting more power and more noise. It sort of worked and was really cheap. Richard #230: 1997 Funduro

It is quite likely that the FI computer program will not be able to compensate for the lack of back pressure and the bike will run poorly. All modern street motorcycles require a certain amount of exhaust back pressure and specific muffler design to produce the most power over the broadest range. Richard #230
What to do with the Space when one Exhaust is removed:
Will I need to modify the Chip if I add an Aftermarket Exhaust?
by Rod CO '02GSA
With regards to FI bikes and effects of changing the intake or exhaust, I've done extensive investigation and testing on the F650GS. The FI system will automatically adjust to exhaust/intake changes to a certain point. I would ensure the manufacturer can provide Dyno test results that show HP/RPM curves are close to the original exhaust set-up (perhaps slightly more HP). If the bike idles normally, doesn't smoke, fuel consumption doesn't change substantially, and the color of the spark plug electrode is normal, then the FI system is adjusting to the new intake/exhaust adequately. A gas analyzer right in the header at the oxygen sensor would tell you the same thing. When you remove the stock right-side catalytic converter and muffler assembly and look down the header-end, you will see how restrictive the catalytic converter really is. Just by removing the cat you will feel an improvement. BMW claims the F650GS is the first single cylinder 650cc bike with a cat, and perhaps it should not have been. Hope this helps calm your hesitation on aftermarket exhaust. I would be very surprised if exhausts on the market did not work well.
From my limited knowledge of mechanics and from speaking to the guys in my dealer the other day, because the 650 has an oxygen sensor in the pipe if this is retained the bike should automatically adjust its self and compensate for the lack of cat. So I don't think you need to get the bikes brain remapped. Well as I'm writing this I'm just about to take the plunge and order a Remus Genesis from MPS £212. Nic, '02 F650GS, UK.

I'm presuming because you mention the oxygen sensor you've got the GS or CS, in which case any changes to the inlet or exhaust are automatically compensated for by the electronics to give the correct fuel/air mix, at any revs and at any altitude :~)) Trevor, Bristol, UK, 01 GS, C.G. member #999

You don't need to reset anything. The electronic fuel-injection system automatically compensates for changes in temperature, altitude, exhaust back pressure, etc from the moment of the first firing after start-up :~)) You don't remove the sensor. It's in the "downpipe". When you change the silencer (exhaust) you only change the part after the downpipe connection, so no resetting required.

Next.