Pipes & Rejetting (Performance Mods

- Classic F650)
compiled, written & edited by Kristian #562; updated by Scott, ID #1244
Please read the Disclaimer before attempting any work in this FAQ.

If you're looking for GS Info, see GS Performance Mods.
If you're looking for Carb/Jet Tuning using Plug Chops, see

Plug Cho

ps in the Spark Plug FAQ
For Specific Performance Settings for various pipes and Jet Kits refer the Exhaust Rejet Spreadsheet and the JetKit FAQ.
For Details of Carb Removal and Dismantling, refer the Carb Cleaning FAQ.
For Air filters refer the Aftermarket Airfilter FAQ
In case you are still interested, I found and weighed the OEM exhaust pipe, muffler, catalyser, and clamp that came off my 97 ST when I installed an Arrow exhaust. The OEM unit and clamp weigh 13.5 pounds (5.3 kg) on my wife's certified bathroom scales. Tedd A.
On the Pre-GS F, the Snorkel is the rubber Air Intake Funnel located on the RHS of the Bike to the rear of the Airbox, in front of the Coolant Reservoir.
You need to take off your RHS Side panel to access it. It looks like this:
<![if !supportEmptyParas]> <![endif]>
There is also an intake modification you can do on the pre-2000 F650GS, by letting more air flow into the Airbox via a couple of holes in the TOP of the Airbox. It only makes sense if you have a free-flowing aftermarket pipe, which the Staintune with a Baffle in is NOT, because thereís not point in letting more air in if you canít get it out the pipe fast enough.
The remnants of holes used on pre-96 F's can be seen by lifting the Seat and at the rear of the Airbox (on top), behind where you'd expect the filter to be are two circular depressions. These are actually plastic (non-removable) plugs leading to two different length vertical tubes (hence the name Organ Pipes) leading into the Filter Chamber. I believe the different lengths were to do with airflow or something but don't really know for sure.† The pipe can also be viewed when removing the filter and looking inside. Here's a '95 Airbox, from Mal #1011. You can plug them like this.
<![if !supportEmptyParas]> <![endif]>
Anyway, with a freer flowing pipe, you can let more AIR into the system by CAREFULLY drilling the plugs out. If you want to drill them out and leave the pipes IN PLACE start smaller than the outer limits of the depression, about 23mm. Otherwise if you drill a BIG hole you will also take out the pipes, not that I think itís a problem, but perhaps they made them that way for noise or airflow requirements.
<![if !supportEmptyParas]> <![endif]>
This will LEAN the whole system out, so I would NOT recommend it without Rejetting. Rejetting can be a PITA so think carefully.! It will also suck your Mileage. If you're happy with it as it is leave it be.!
<![if !supportEmptyParas]> <![endif]>
Hereís a view from the TOP. Organ Pipe Locations. I drilled mine out, but am currently experimenting with blocking them for fine-tuning my jetting.
About your comments, and about the organ pipes in the air box, BMW claimed less noise during the intake of the air by closing the organ pipes. My bike came with them open, and from 1997 the euro bikes came with them closed. Comparing, bike to bike, my bike with another of a friend of mine, I don't appreciate any difference in the intake noise. For me, the main objection can be made to open organ pipes is the care you must take avoiding water entering in the air box, mainly when you are washing the bike. And the advantage comes when you can watch trough them to see the inner part of the air box. By the way, the drain tube of the airbox is located in the opposite side where would be (right side of the bike), because when the bike is on the side stand the water tends to go to the left side and remains in the bottom of the air box. You must incline the bike to the right side to drain the water properly. I think this is one of the main (and fortunately, scanty) mistakes made in the design of the bike. I think this is the main cause the water goes into the carburettors, and by this reason they must be drained sometimes. Fede (Spain)
btw DO NOT Plug them unless you rejet your Carb to the Post '96 settings, which is possible, quite cheap and perhaps a good idea if it rains a lot where you are. Refer the Carb Clean FAQ for differences in Jet Settings pre and Post '95. You MAY thus be able to recondition your carbs, replace the Main Jets (and any other you need to Change) with smaller ones, replace your O-rings and Venturis, maybe also needles and Plug the Organ Pipes (Couple of LARGE TEST Tube Stoppers or Champagne Corks - See FAQ) and get better Gas Mileage, all at the same time. If you don't know what you are doing however, you might make it run like a real dog. Y.M. WILL. V.
by Langlois
Andy's Airbox Trim Job! Rejetted. D&D Exhaust. Needed foam filters.
| | | | |
| --- | --- | --- | --- |
| | | | |
| Oiling the Uni Foam Filters! | Plugged vacuum lines/Foam Filters/open airbox! | Plugged lines again! | Installed airbox |
Q. Which part of the throttle range is affected by what part of the Carb.?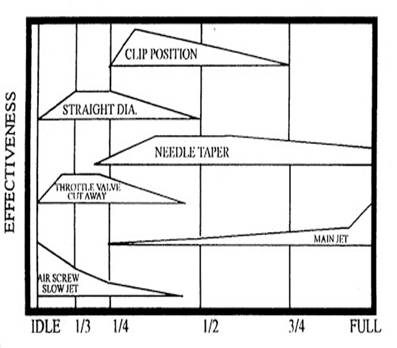 We recommend 2 turns out on the mixture, because we found that to work best on that bike at idle and off idle. The float level needs to be set to the stock setting that is recommended by BMW. We do not alter those settings in the kit. That kit is only for up to the 97 model years. We have not done any testing on the new model years. I am not sure if it will work or not. In some cases it is possible that you need to go back to the stock slide lift springs. We designed this kit using one of your bikes, and the new slide springs improved the throttle response. In order for this kit to work properly, you will need to remove the snorkel and leave the rest of the airbox installed.
Phil
Dynojet Research
1-800-992-4993
www.dynojet.com
www.powercommander.com
www.hyperprousa.com
-----Original Message-----
From: Kristian
Sent: Monday, July 23, 2001 6:42 PM
To: bmwtech@dynojet.com
Subject: BMW F650 Kit
Hi,
I just ordered a Stage 2 jet Kit for my 1996 BMW F650. I read with interest your page on the jetting. I have a Staintune pipe, Organ Pipe Holes drilled out in the top of the Airbox, Stock Filter, Snorkel in Place. Before I install it I have a few questions:
1. I was wondering why you recommend just 2 turns out on the (Stock) Pilot. That's very lean, particularly with a new pipe.
2. Have others needed to adjust float bowl settings with this particular kit. ?Do you have any recommended Float Bowl settings
3. A friend of mine has a 1998 F650. The Dynojet page only lists the Kit for the 93-97 F. Can the same kit be used on his bike or are your kits not applicable.? Is it perhaps the kit was put out in 1997 and you just haven't changed the page.?
4. Another purchaser of your kit (1997F) with a REMUS pipe, said that the Dynojet Springs were too stiff on his bike and caused a stumble in the mid-range 3800-4200 rpm. Has there been any other feedback from users of your jet kit for these bikes.? Has anyone else had to replace the Dynojet springs with the stock springs.?
Kristian
Fine-tuning your Jetting
by Kristian #562
IF you're happy with your Emulsion Tubes and Needles, you could lower the needles one notch to lean it then add a Shim, just a thin small washer that fits the needle, placed under the e-clip, to raise it that half notch. The end-effect is you've dropped the needle a half notch.


Below are a number of (often conflicting) reports of Jetting from various modifiers. Your best bet is to see the Exhaust Rejet Spreadsheet for what exact settings people have used and their results. The opinions below are interesting, if nothing more than to show just how difficult it really is to get it right.
Driving without air filter. There is not much to worry about running w/o filter long enough to troubleshoot jetting. Like Richard said they used to run motorcycles for years with nothing more than gravel strainers on the intakes. There is only one size of particle that does any damage when it gets sucked in and blown out of a 4 cycle engine (two strokes are a whole different story!). I don't know if you have a paper element or not but if you do you should consider a change right away if you do. Paper is not a good filter medium for many reasons, one of which is it swells up when wet with water or oil fumes and doesn't pass any air. It's like riding with choke on. I recommend K&Ns but I don't want to start that debate here again. F650McGyver

If you stay out of dust storms and locust swarms, you should be OK. The British and Italians have ridden their motorcycles around for years without air filters. It wasn't until the 1980's that they discovered them. Richard #230.
BEWARE! I had a lot of trouble pulling the screws that held on the float bowls. I ended up nearly stripping one screw head out, and had to resort to extreme methods. My advice is to apply a little WD-40 to the underside of the screws. If you look, the holes the screws go into go all the way through, and you can lubricate from behind. I used an impact screwdriver's 2 bit to loosen the un-stripped screws, as the tip on those is slightly larger and grippier. I did not use the impact feature of the screwdriver, as I was afraid to break something. The stripped screw required small Vise Grips to clamp to and loosen the screw.

At that point, your carbs are hanging by the inlet manifolds connected to the cylinder heads. You can easily disconnect it. It's nice if you have run the bike dry and drained the float bowls by removing the horizontally mounted brass colored screw on the bottom of the carbs, but you can also just pull out the carbs, flip them over, and drain out the overflow tube into a cup. I placed a small piece of plywood (about 12x8 inches) on the frame to set the carburettor on. Just flip it over, and remove the screws on the bottom of the unit, removing the float bowls. The main jet is exposed. The pilots are screwed into small holes and recessed, but you can still get at them from there. replace and reassemble.
Re-assembly takes place in the reverse order. Be careful to make sure your connection between the airbox and the carburettor is good. It's hard getting the rubber boots around the openings with the clamps in place. The airbox itself is kinda hard to put in from the right side, but you can do it if you pay close attention to the dangling hoses and wires that get in the way.

While you have the airbox out, you can increase the airflow by cutting out the plastic that covers the organ pipes. The covers are toward the back of the airbox on the top. A step bit is easiest to use to drill out the holes. You should also remove the air horn from the right side. Another easy mod suggested to me was to disconnect the two small rubber hoses from the right side of the carburettor and cap them off at the carb. One leads to the airbox. The lead from the airbox can be left to dangle. It only sticks out an inch or so. The other one goes to the gas recycling canister. If you've removed that, then no problemo. You've already capped that hole, but probably left the hose in and covered the far end. You can remove the hose altogether if you have a small cap to place over the exposed end at the carb.

I saw a jet kit at the dealer - I think it used 138 instead of 140. What I wondered was what the new needles were for in the carb. It has a new jet but also a new needle. Steve

You will have to rejet. My mechanic advised me to use 45 pilot and 140 main jets. I'm not sure what the stock pilots are, but the mains are 132.5, and in essence, you're running way too lean.

I would give Sudco International Corp. a call. They seem to be experts with Mikuni carbs. They normally don't sell to the public, but they sold jets to me so I'm sure you could purchase them too. 323-728-5407. Your stock main should be a 132.5 and pilot should be 41.3. I think the jets go in increments of 2.5 so your next main would be a 135 etc. I'd also take a plug reading at full bore after killing the engine. Chances are, you're running way too lean anyway with that pipe so by all means, go big! You'll just have to visit the pump more often!

The specs including: needle height, jet sizes and air box modification were given me by a dealer's part's manager. I had already dispensed with the cannister. I implemented them one by one with the jets done last. First of all, the performance just with the pipe installed was noticeably improved over stock set up. But the other modifications also improved performance even more. Over the next several days, I intend to try out the 142.5 jet. Note that my willingness to do the jet testing process is based on the upward carburettor removal technique which precludes necessity of removing the airbox, fender, pipe, etc. ( mucho time savings) Mileage? I'm down to some forty miles per gallon on the highway with those new improved jets, but an Acerbis tank increases capacity significantly. Also, consider that such highway gas mileage includes a 180 pound person with 80 pounds of gas and baggage. Also, my highway pace on the Mexican autobahn (from whence the 40mpg originates) tends to average 90 mph--not exactly a fuel economizing speed. I'll post the results on fuel efficiency and performance with the 142.5 jet in a few days.

1998 F650 jet kit. I had the same problem with the same setup. From 1.5k to 2.5k revs there was a massive power loss. I returned to stock jets and pipe. Still could not get the bike to run lean. The flat spot moved to 3k to 4k revs. In my case dropping the needles one notch worked. My problem is that the DynoJet jets have worn the Emulsion tubes in a specific area. Evidently because the finish of the DynoJet jet is not as smooth as the OEM jets. J@mes NZ #848
The new AdventurePipe for the BMW F650 Classic sheds 7lbs from the stock system and offers an adjustable sound. AdventurePipe uses the patented SuperTrapp internal disc system that allows easy adjustability of sound level. No re-jetting is required - the system is plug and play. The SuperTrapp silencer also ensures USFS approved spark arrestor compliance. The entire system including mounting hardware is made of stainless steel ensuring a long life. Available from AME www.adventure-motorcycle.com. - Rodnock


Being a baby boomer, I remember too well how bikes sounded in the sixties, when under the petrol tank there was an air cooled, internal combustion engine, and this could not only be felt by the power pulses, but also heard. Alas, the Funduro has no boom, rather the muted sound of an assemblage of hair dryer and vacuum cleaner parts whirring away between my legs - it donít sound like a proper motorbike. I have no desire to set off car alarms or terrorise young children, but I do like to hear that the engine is running. After months of surfing (feels more like treading water) the Internet, I found two exhausts that would fit. The Australian Staintune system looked great and had rave reviews, but a second mortgage was out of the question, and the Italian Arrow system for about a quarter of the price! I donít know if I have had a long forgotten childhood experience, but I never really trust mail order, but the suppliers B+C Express are aptly named, and definitely the exception to the rule. I was delighted to be able to use them again (they have lots of interesting, useful and competitively priced stuff), and the stainless steel can and integral pipe arrived as promised next day. Eagerly the can was removed from the substantial packing, and the size and weight amazed me, being about half that of the original. The finish could best be described as satin rather than highly polished, and the design, shape and construction looked purposeful in a kind of competition off road way - perfect. Fitting it was a breeze - twenty minutes including washing the Swarfega splatters from around the sink, and with a child-like excitement I started the engine. My whirring churning BMW had been transformed into half a Ducati 916! The bike now not only sounds much better - deeper note, crisp yet inoffensive, but pulls stronger in the mid range and looks tons better than with the Bryant designed three bed-roomed semi- detached item that BMW fit. By a coincidence, I noticed in the enclosed catalogue there was a small Dyno chart of the Arrow compared to the standard F650 system, and not surprisingly the chart confirmed my first riding impressions. Significant increase from 2500 revs upwards, with a maximum improvement at about 3500rpm, when 4 bhp over standard is recorded, and topping out at 44 bhp at about 6300rpm. On the road this translates to much more urge in the middle, and a smidge more top end. Noise is generally subdued at small throttle openings and when cruising at motorway speeds, but becomes pleasantly angrier as the throttle is wound open. Itís too early to give accurate fuel figures, but I seem to be using less throttle for a similar rate of progress, so it wouldnít surprise me if the fuel consumption might even improve. Highly recommended to any other F650 owner that wants to put a bit of the boom back in biking. If other riders would like more information about the system, they can contact me. B+C Express can be contacted on 01522 791369, and the system costs £217 including vat and UK delivery. From Adrian Jowett's Website

Maybe I can be of some help...I have Arrow and K&N filter fitted and complimented this with a Dynojet kit (some claim Factory is better but seems to be little in it really). The Dynojet comes with main jets 138 and 134 (138 for aftermarket exhaust 134 for standard) and new profile needle, clips and washers. I initially fitted the 138's etc and then went to 140 jets (standard on early Euro spec bikes!) Needle clip two from top. Bike now literally FLIES... Good luck. PS removed organ pipes from airbox but retained snorkel but can try removing that too.

Q. I'm getting ready to install the Arrow Pipe I've had sitting around for about 3 months and I have a question. Next to the exhaust (lower section where the slip-on section would clamp on) is a hard pipe that looks like it's coming from the right side carb area and leading to the air box area? I'm sure someone knows what this is and I hope it's not something real basic, like something I should already know, but I can't figure out what it is. Hopefully my description is adequate enough. A. That is the air-injection pipe from the valve in the air box that sits downstream from the air filter. You can remove it and plug the pipe at the air box, or anywhere else along the pipe. You can also remove the carb tube between the carb port and the valve and plug it also. In fact, you should be able to remove the pipe, the valve and the vacuum tube and plug the carb port and the holes in the air box. Doing this should reduce any popping and cause the exhaust pipe to run cooler. A. I would agree - remove and block all those pipes/valves. I feel real lucky having an early Euro spec bike with none of this shite! Carbs etc are then basic - idle adjust and pilot screws that's all (also no cat as original). Also have the Arrow and am very pleased with it. Note: watch for it touching the underside LHS corner of the airbox when fitting - if this happens will melt a hole in the corner.

Ok - my five cents worth. My solution to this same problem was to put the snorkel back on...fixed it! Why not sure but seemed to ease the airflow to the carbs. (specs are Arrow Exhaust, DJ kit but with original Euro spec 140 mains, K&N Airfilter, organ pipes/tonsils removed and open at top of box) Worth a try mate. Dominic

Dynojet instructions for a Stage II jet kit with an after market exhaust (mine is an Arrow) put the circlip on the second groove from the top of their needles, install the 138 jets, set the mixture screws at 2 turns out, and remove airbox snorkle. On one of their Dynos this produced about 39 hp @ 6250 rpm and 37 ft-lbs at 5250 rpm. This setup also reduced hp and torque by about 2.5 hp and 4 ft-lb from 3K - 4K rpm. The air/fuel ration was less than 12 from 300 rpm to the redline - way too rich. There was a huge flat spot in the throttle response from 3K - 4K rpm. Lowering needles to last ring and turning the mixture screws in about 1 turn helped get the lower end air/fuel ratio up and cured the flat spot, but still not close to 14.1 (ideal). Last weekend I spent a day installing 134 jets, put the needles back to the second groove from the top, and re-baselining mixture screws to 2 turn out. My seat of the pants Dyno says hp and torque did not change significantly. Another trip to the Dyno is in order. These mods and a 15 tooth sprocket did cure the low speed surging and bucking when going slow in higher gears. I agree with those who say restore the stock carb configuration, but I would leave it alone after that, unless you enjoy the challenge and like to dismantle your bike to change jets and needles. Teddco #1192 GA 97ST.

Arrow's literature descibes this as a Stainless Paris Dakar for a '94 F650 (P/N 72036PD, $306.00). The Arrow distributer for the U.S. thought it would fit up till the end of the classic model years. He was mostly right, some slight modification was necessary to make it fit a '97 F650 and not melt any plastic.

Impressions: Nice looking brushed stainless, good workmanship. The end cap is attached with some screws and I noticed some fibers pushing out from the end so I guess this is a fiberglass filled pipe. A pleasant diffrence from the stock exhaust sonically. Definately a more fundamental popping but not annoying at all. I find the volume sort of levels off around 4-5k rpm. I had a D&D mounted for a few days, that was a loud pipe and the volume never leveled off, it jusy kept increasing with the revs. The pipe is roughly 1/2 the weight of the stock pipe. Performance wise - well, it sounds faster.

(Speaking of sound, he did some before/after recordings. What follows is his write-up, and two sound files. -Scott, ID, #1244). Got my pipe and did the recordings but in a much less than ideal situation. I had hoped to do an open field recording with my min-disc recorder but it appears to have been stolen. Since I was anxious to get the pipe on I recorded it directly to my PC. The mic I would have preferred to use is a condenser but since it requires a bias I couldnít use it with the PC. What I ended up doing is hanging my headset mic out my window into the walkway between buildings The recording of the Arrow exhaust clipped a bit but still the recordings are useful for comparison between the two. - patobravo, #1754

Stock Pipe (98kb MP3)

Arrow Pipe (124kb MP3)


Here's the Arrow exhaust mounted without modification. Notice it is only held in place by the top bracket, the bottom does not align well.


The top bracket mounted flush with the frame.


The bottom bracket (which does not have a captive nut like the stock exhaust) is about 3/8" away from it's mating surface on the frame when the top bracket is mounted flush with the frame.


Also the bottom bracket hole doesn't line up well with the mounting hole in the frame.


The pipe just barely touches the plastic mud flap / license plate hanger doo-dad. It'll melt it.


The solution is a longer bolt and a 3/4" spacer to move the pipe away from the plastic. What is shown is temporary hardware. It'll be replaced with a stainless bolt and an aluminum spacer with a 3/4" o.d. so the weight of the pipe doesn't torque on the bolt and frame so much.


With the spacer the pipe is no longer so close to the plastic.


The spacer also moved the bottom bracket next to the frame so I just drilled a new through hole in the exhaust's bracket. There was enough room on the backside of the bracket for a lock-nut.


Billy digs the new pipe. Daddy digs the new pipe. The neighbors dig the new pipe a lot more than the noisy D&D.

ARROW EXHAUST, USA
6865 SPEEDWAY BLVD, SUITE Q107
89115 LAS VEGAS, NV - USA
INFO@ARROWEXHAUST.COM
(702) 651-6940

I have a '97 with a D&D. Most do not like the D&D because it is loud. I like it though. It seems to provide more power across the board, though I have not dyno'd it to prove this. Mine has been re-jetted, with K&N, and snorkel removed. The D&D is smaller (much) than the stock can and significantly lighter (haven't weighed it either). I think the D&D looks better than the stocker too. Gar, '97 classic, Red

D and D Exhaust install, '97 F650ST (soon to be Dakar/Enduro/dirt bike from heck). Langlois.

| | | |
| --- | --- | --- |
| | | |
| Firstly, wiggle the muffler onto the header pipe, don't forget your anti-seize on the clamp threads and the pipe itself. Snug the clamp, but don't tighten yet. | Raise the muffler up and screw in the two bolts (the ones you took out to remove the stock unit) remember your antiseize.... go back and tighten the clamp we just showed you, then tighten these 2 bolts. | This is where the oh-so-sweet exhaust sounds will come from! |
I have the Laser on a '97 F650 and am very satisfied with the outcome. Nice deep sound, slight increase in hp (had it rejetted) and the best thing of all for me is that it smoothed out the power band quite a bit. My mpg did drop a bit though, but I'm still happy. You may want to look at the exhaust FAQ which includes a spreadsheet with all types of info on all types of exhausts. Alvaro #890
I've finally dialled in the carbs to work great with the REMUS pipe on my '99 F650. Power is smooth and plentiful from just below 3K to red-line. As you indicated to me in the past, it can be a PITA to get it right. In my case it took several K miles and a half dozen attempts. Would probably have been shorter if I had access to a Dyno and hadn't listened to the folks at DynoCrap. Anyway, I wanted to forward the info to you in case anyone else you sell a REMUS pipe asks what has worked. I my case, its the following - Dynojet main jets size 138, stock needles w/ clip at 4th notch from top, Dynojet springs and idle mixture somewhere around 3-1/2 turns. Snorkel was put back onto the airbox and I'm still running the stock air filter element. My biggest problem was the Dynojet needle didn't work because the tip profile was too aggressive making the midrange run too rich and the stiffer stock springs hurt the low end response giving a bit of hesitation when transitioning from power-off to power-on. Hope this info can be of help.

This information was supplied by one of our customers. It may help in the Quest for the perfect bike. (Installed a DynoJet kit about 300 miles after the REMUS can was put on. I swapped in the larger of the two sets of main jets provided. Also changed to the DynoJet needles and springs - basically I followed the instructions provided by DynoJet. No mods were ever undertaken to the air box except for experimentation with the snorkel. Anyway, bike started fine with mixture screws set to what DynoJet recommended. Bike ran okay when lightly loaded, but severe stumble in 4th and 5th gear when accelerating across 4K RPM. I proceeded to fight this by going one step richer on the needles as recommended by DynoJet. Wrong! Bike ran even worse than when I started. It took the better part on 1K miles and at least half a dozen corrections to finally get things in order. Again, if my memory serves me correctly. Final setup: Main jets were left with the larger of the two sets provided by DynoJet. I canned the Dynojet needles because they were the cause of the mid-range stumble. I think I had the clip on the stock needles set at the third slot from the top - I recall it was one step leaner than recommended by the factory manual because of the effect at moderate elevation - still, slight stumble at 4K RPM, but very slight The springs were also changed back to OEM (weaker) because I thought the low-end response was improved. And finally, the mixture screws were set to about 4 to 4-1/2 turns to minimize backfire. I remember being quite happy with how she ran after that. Put about 5-6K miles with no complaints before I traded for the R1150GS - love the extra power, but miss the light-weight nimbleness of the F650. Like I said, if only I could have both.) Hopes this helps those in search of. Best Regards Don www.mredsmoto.com

Got tired of repacking the Woods muffler, and it WAS a bit loud for the street and campgrounds especially so switched to Remus slip-on, had to go to 134 main from 138 and raise the clip (drop needle) to the top slot to get the mid-range back pilot jets are stock air box has full modifications K&N filter Bike starts great when cold, and when warmed up will pull itself from stop at 1800rpm idle pulls great all through rpm range and will blow past redline if ya don't watch it gas mileage is in the mid forties range using gasahol at 90 octane bike has 5,000 miles total and running better. I used a Dynojet kit and I'm using their needles and springs and have no surging from the lighter springs but boy have I got throttle response, the bike is a 99 model Mike #410

What were your symptoms with the Dynojet needles and springs (set at 2nd from the top) and 138 mains? Was the midrange too rich and bog down during WFO between 3-4K RPM's? I have the same kit and experiencing the above symptoms mentioned above. I am going to replace my needle jets as they look oblong from use of the more aggressive Dynojet needles. Response Exactly what it did from 2 to 4 thousand it was rich wouldn't pull hardly at all and black smoke big time didn't have to do a plug chop to tell that the 138 was almost too rich even for the woods pipe and was WAY overboard for the Remus. 134 seems about right. Mike #410

Before you buy new needles and jets have you tried to lower the needles? I'm running 134 with Remus and full DJ kit and KN filter, and found my midrange was too fat, and by dropping the needle there is no more stutter. Full air box mods also, (although I'm not sure about tonsils?). Mike s.#410

Q. I've got a Remus grand prix (aluminum) on my F650 and I'm interested in re-packing it w/ fiberglass. I've removed the rivets but am unable to remove the aluminum sleeve from the muffler. Any tips? anyone know where to get a Remus serviced in the USA? Thanks. A. The REMUS exhaust is welded stainless steel and does not need repacking. I believe they do make an aluminum pipe also! He'd probably know the stainless after drilling it, as the aluminum is much easier. A. The Aluminum is actually stainless steel wrapped in aluminum. There is nothing to repack as Don (the dealer) says. Sorry can you put the rivets back in.

I put a 135 jet on my F650 with a Remus pipe. Works great. Question: Has anyone found a spark arrestor for this pipe? I'm going to be riding on back roads in Montana this summer. Spark arrestors are mandatory on forest service land there (enough of the country has gone up in smoke already).

I bought a Remus and rode about 250 miles with it on. That thing was way too loud. Sold the Remus and bought a Staintune, much better. Craig#325

I've had my beloved '97ST for over a year now & it's always been a thirsty beast. New (for me) it got 32 miles per gallon & now I'm down below 27 on a regular basis. Ouch! What does my local BMW dealer say after thoroughly cleaning the carbs & adjusting everything perfectly two weeks ago? There's nothing wrong with your bike, that kind of gas mileage is normal on some F650s. Hmmm. That was $100 well spent. My van, with the frontal profile of a plywood sheet gets better mileage! So, how about some help out there. Is my dealer right? Is going over 120 miles between fill-ups really possible? Here are some clues to this mystery: Stock jets, Remus pipe, 10,000 miles (3,000 when I bought it), new plugs at 6,000 miles, lost canister, tire pressure 33 and 36 on Metzelers, chain not too tight, brakes not dragging, not currently pulling any farm equipment, new battery, odometer accurate, burning 87 octane California gas, shoe size 11. Mileage doesn't improve much by keeping RPMs low and accelerations easy. The engine runs admirably & puts out awesome power through entire power band except when above 3,000 feet. Above that elevation, the engine stutters terribly, but only between 4-5,000 rpm. Gets worse as altitude goes up. That means my engine may be running too rich, right? Dang am I smart. Unknown.

Vibration and Stock Muff. I went back to stock this spring from a Ron Wood (Now that thing was loud!). I found the vibration lessened and several handling characteristics as well as fuel economy improved. Also despite the hype I have not experienced any noticeable loss of power. One problem have had is the engine running a bit rich because the previous owner also tinkered with the carbs and air-intake when he put on the squid pipe. I have yet to un-do the changes, but I do keep a close eye on my plugs and have to clean them every few hundred kms just to be sure. I'm psyching myself up to tackle the carb job. Sean #1015.

Carb mods & airbox are needed because the Remus is such an aggressive pipe. not the same as "stay-tune". None the less I get 50mpg with my set-up. DWM #365 Albany, NY

I called the Remus distributor in Sweden and he stated that the Remus measures 98dB. According to Staintune website the Staintune measures ~90 or ~100 depending on if the restrictor is inserted or not. I guess this corresponds with you experience. Spakur #1117, Sweden.
Rotax BMW, Direct Link: BMW_F650
All my mods came from Ron Woods. Did the work myself and everything went together and worked the first time. jetting is just a bit on the rich side which is fine by me. the diagram for cutting the airbox was easy to follow and the instructions for the carb work were easy to follow,, I really did not expect it to be right the first time,,, so was really surprised when it ran that good after putting it all back together,,,,Only thing is-- it seemed easy to me but I've been messing with carbs on everything from mini bikes to MotoGuzzi's for thirty years,,,,if you don't know what all those little parts are you may need a little guidance.,..,.,,.mike Note: used the 138 main jets the Dyno needles in the second from top position and the springs from Dyno opened the mix screws to three and a half turns cut off and plugged the stupid air tube from the exhaust to the airbox and cut the airbox and put in the K&N with the Woods pipe bike is loud,,,,but it starts and runs so sweet like it should have from the factory Mike

Q. I have a Ron Woods Pipe on my '99 F650. I was checking all the nuts and bolts for tightness recently and discovered one of the Allen heads at the rear of the cannister was loose. I tried to tighten it but it would just spin around. The threads are not stripped as it will not come out. There is about 1mm of play up and down. It is as though a nut is tight to the bolt but just not tightened down enough. Any ideas on how to fix it? It seems to be behind the packing and I can't get to it. Should I just put a little RTV silicone in around it? Thanks in advance. A. Silicone won't work if you're on the pipe. It will just burn away eventually. The nut inside sounds like it broke loose from its weld and I would ask for a replacement pipe from Woods. Otherwise, probably not much else to do. A very good welder may be able to help out, depending on the material the pipe is made of. Stainless being the most difficult and expensive. A. Tony, Just because the screw doesn't come out doesn't mean it is not stripped. If the screw protrudes beyond the nut, there may be good threads at the very end of the screw. Try grabbing the head of the screw with a pliers or small vise grips and pulling gently at the same time as turning cc. If no luck, then go for broke and pull hard as turning. Your success here depends on whether the root of the screw thread is open or closed at the point where good thread meets stripped thread. Hopefully, you will be able to get a grab on one of the threads at the end. If the nut hat broken loose on the inside, and the screw is in fact ok, none of the above procedures will make the situation any worse, unless you damage the screw head beyond use. This was the case with a fork tube filler screw on my K bike when torqued to an incorrect value as stated in my BMW service manual - a $60 mistake. Good luck! Gary. A. Hi Tony, We run Ron Woods pipes on three of our bikes. All three have had nut failures. You can't weld the aluminum can to the steel header. So we use stainless-steel pop rivets. You have to drill to old nuts and sometimes go to up to a 1/4 shank. But they don't come off. By the way, depending on how loud you want your bike. Removing the flapper in the header while you have to pipe apart improves the HP a few %. It's just noisy. Ramey.

Did you get just the muffler or the head pipes also. I got just the muffler and it was just pushed on over the existing muffler pipe. However, it was tough to get it twisted/pounded into position so that I could affix the two bolts at the frame under the seat. But I haven't yet been able to line up the pipe's third point of fixation just behind the battery. I suppose I should have taken off the head pipes to afford sufficient purchase to pound it into the correct position. the performance increase even without the rejetting was significant and then when I replaced the jets (which are the same specifications as you were given) it was a substantial increase in power. Then when I switched positions of those two carburettor hoses I got not only further noticeable in power, but a decrease in backfiring as well. Be sure to check your hoses as detailed on this board and in the recent issue of sprockets.

Here, so far , is the sequence of events.
March '02 - removed Ron Woods "muffler" replaced with stock. No other mods. Bike runs rich, but otherwise well.
July '02 - inspected carbs for presence of DynoJet kit. There was one, I dropped the needle on that kit to see if it would lean out my mixture. It did, but not enough.
Aug '02 - replaced all DynoJet bits and bobs with stock carb parts. Also replaced K&N air filter with stock. Too early to tell if fuel economy has improved (it wasn't all that bad before) but now that I'm back to stock here's what's happening. Throttle response is better at low RPM (It would tend to bog if I sat at idle too long and then went to take off - you like at traffic lights). Plugs aren't fouling any more. I am now going to restrict the airbox so it's as close as I can get it to stock to see what happens. That's about all guys. I don't know if there's anything there at this point that merits an addition or change to the FAQ. I will say that moving the hose clamps as far back on the rubbers as possible makes all the difference as far as insertion and removal. And clumping cat litter makes a great absorbent for gasoline spills or draining the little hoses. When I bought my used '98 it had a Ron Woods muffler (OK bad choice of words...) It was equipped with a Ron Woods chimney pipe. It had been re-jetted and the snorkel had been ripped out and a whole bunch of holes drilled in the airbox. No other parts of the Woods kit had been installed. Power-wise, there wasn't noticeably more but it did kick in earlier. And it was LOUD. Stupid, ugly, neighbour annoying, Harley rider scaring, loud. I would recommend against the Woods unless you're deliberately aiming for the loudest after-market pipe you can get, are planning to go the full Monty with all the other bits of the Woods HP enhancement package for the F650, or want to strip the bike down and race it on a dirt track! Now that I've restored the bike to stock I've not lost any power, it runs better and I seem to be getting much better gas milage. Sean #1015 Ottawa Canada.

The parts in my kit are stock needles (5 clip settings #5E94), stock main jets (132.5), Dyno stage II jets (138) a set of springs (anyone know how to tell stock springs from DynoJet springs - Refer the Jet Kit FAQ). Two black rubber plugs (Idle Mix Screw covers). Two small/tiny needle jet washers. So this is my plan. Buy a "packing kit/o-rings, pull carbs, change main jets to stock (132.5), change to stock needles four slots down from the top (anyone think I should use a washer on each clip ?), switch to stock springs (again not sure how to tell the difference), check/replace all rubber and double check diaphragm. Set the idle mixture screw to stock setting 3.5 turns out from lightly seated. Double check floats and float heights. Now for the big question, When my lovely wife and I purchased her 97' F650 (which has the jet kit) I was really impressed with the 5000 rpm and up power and throttle response. Shortly after that I bought a 99' F650 without a jet kit but with a 15 tooth sprocket. Her bike has a noticeable amount of power above 5 grand rpm's. It also lurches and bucks in lower RPM's (she is also a noob, but member #A6501188) Is that the trade off = power for drivability ? If that is the case then back to stock and the jet kit can gather dust. Is the factory pro kit any better or is it a lot of playing around and compromise between power vs. drivability ? Both of our bikes have the snorkel yet should we pull those ? XtreemLEE.

When the bike had the Ron Wood pipe on it the DynoJet needles and jets had the carbs running just right (except for that funny bogging problem after a prolonged stop at idle when I had a long light or something). What the Wood/DynoJet combo did do for performance was lower the power band. The bike was very comfy at 2500 RPM, now it likes to be at 3000+ to avoid lagging. I just didn't care for the noise of the thing and its questionable legality in Ontario so I took it off. This changed the whole character of the bike and the carbs had to be changed back to compensate. Sean #1015 Ottawa Canada.

Learnt this morning that my Rotax (sic) (actually Ron Woods ed.) muffler does not work with the Jesse mounts. NewMexEd.

When the bike had the Ron Wood pipe on it the DynoJet needles and jets had the carbs running just right (except for that funny bogging problem after a prolonged stop at idle when I had a long light or something). What the Wood/DynoJet combo did do for performance was lower the power band. The bike was very comfy at 2500 RPM, now it likes to be at 3000+ to avoid lagging. I just didn't care for the noise of the thing and its questionable legality in Ontario so I took it off. This changed the whole character of the bike and the carbs had to be changed back to compensate. Sean #1015 Ottawa Canada

Next.
Staintune Installation
The Staintune slips on over the end of the old header pipe. Just Remove the Rear wheel, Remove the LARGE heat guard off the old muffler, remove the LHS Cover, remove the old Muffler, put the crossover pipe of the Staintune over the old header pipes, bit of wriggling and some graphite may be required, but it does just slip on. tighten Crossover retaining bolt. Put the end can on the new crossover, Allen Key it tight only AFTER you have aligned the two retaining bolts of the end can. Replace Large Heat Guard. Start her up. Apologise to your neighbours if you finished this at 3 a.m. Time to do: 1 Hour MAX. Note some have had REAL problems getting it to fit. ed.
Hereís a picture of the Staintune on my ex-Classic: Staintune End Can, Staintune X-over Pipe. k.
The bike certainly does run stronger with the baffle out, at least at low rpms. In fact, you may find that the front end comes up without trying! You'll lose some high end power though, but I think this is where the bigger jets will come in handy. It's a bit loud, but it's a healthy, throaty sound. As for the backfiring, MAKE SURE that your lines are right at the carb first!! If you're not schooled on this, ask...it's very important. Mine popped a little under deceleration with the baffle out, so I think you'd definitely want to go richer if you planned on running it for any length of time with the baffle out. I think the sizes increase by 2.5, so like maybe 45 would be a good pilot...don't know for sure. For the main, I would take plug readings rather than going by suggestions since altitude and temp play an important role. Anyway, if your baffle is like mine, it'll be kind of tough to pull out. Of course, take the screw out first and then pull, pull, pull! Well, take it easy Michael...hope this helped a bit.

I finally put on my Staintune pipe and I love the sound. The only problem is I seem to have lost some power. The bike doesn't pull like it had in the past. I have the baffle in and have done no Rejetting. Has anyone else had similar problems? Would taking the baffle out help? Has anyone rejetted with a Staintune and gotten more power? Any experience with a Staintune would be appreciated. Steve

What happens is, you're letting more air into your carbs, and too little gas. If you're looking for a performance enhancement, here's what you do. Replace your jets with the above mentioned parts. To do this, first remove your pipes. You will have to remove your upper chain roller to make pulling the pipes a breeze. Then remove the battery, then your airbox to get at the carbs. I have found that the easiest way to pull out the airbox is by knocking it out the right side of the bike. Take your time and pay attention to where everything goes. As I recall, there are three black drain tubes connected to the airbox, two on the left, and one on the right. Also disconnect the airpump lead and the rear brake reservoir. Also, the rubber boots that connect to the carbs need to be loosened. Make sure all the tubes and other things are out of the way. Then just carefully knock the airbox out of the right side of the bike.

I have a Staintune with stock jetting. I have removed the snorkel and the organ pipes as well as opening up the two holes at the top op the organ pipes. I have the baffle in but I have opened up the closed end to be a little less restrictive. My plugs look good and the bike performs extremely well.

I've got a Staintune, stock jetting, organ pipes removed. I thought I would have needed to re-jet, but after I put the pipe on I realized that she ran good 'nuff. I still enjoyed a power increase, but obviously not as great as by re-jetting. I've had this setup for 7k miles now, and my plugs look great, and the bike runs better than new, so re-jet or not, it's really just a question of how fast you want your bike. I don't believe it will be bad for the bike in any way not to rejet. However, if after you put the pipe on you love that louder sound, then it may behoove you to re-jet the mother. Good luck, and ride safe. Dan

I don't know about the jet kit, but that does remind me of one more thing. The stock needle configuration is 2-1/2 or 3 turns out. You will need to set them at 4-1/2 turns out with the new config. If I were you, I would skip the jet kit, and just buy 2 140 Mains and 2 45 Pilots, and turn out the needles to 4-1/2 turns out. Remove the horn and the organ pipe covers, and keep an eye on your plugs. If they're a little black, try removing your baffle. If they're still black, go to 137.5 Mains.

I have been running a Staintune muffler (complete with a stripped mounting bolt) for the past 18,000 miles. I have not made any jetting changes, except to adjust the idle air screws out a total of 4 turns from full in. I feel that the bike produced better top end power (above 6500 rpm) with the stock set-up, but the Staintune seems to provide better mid-range power, with no jetting changes. Sure sounds better than the stock muffler, though. I get about 52 mpg around town and about 55-58 on the highway.

Matt, I think you mean 45 for pilot jets. the stock pilots are 32.7 I think? I did try 45's with my Staintune and found it too rich. I reinstalled the stock pilot jets with the Factory jet kit needles and mains. Know the bike runs great. If I had to do it over again I would install larger main jets 137.5, set the needles at 4 and turn idle screws out 4 turns. I think that would be a good starting place. Craig 325

I'm running 138 Mains and stock pilots and needles with the Staintune, plus organ pipe holes drilled out. Yup Gas Mileage went down too, but the power difference is wicked. Unknown

I have installed a Factory jet kit in my bike. The stock pilot jets are 42.5 the new ones are 45's. My bike has a Staintune on it as well. I think the pilot jets may have been overkill? On my exhaust scope I get the same reading with know with 2.25 turns out on the screws as I did with 4 turns out on the stock pilot jets. As long as you don't need more than 4 turns out to get the correct setting you are ok with stock pilot jets.

My 2000 manual states that the stock pilots are actually 41.3 and when I took them out, that's exactly how they were stamped. I also went to 45's with an aftermarket exhaust and then to 42.5 when I went back to the stock pipe. What Craig is trying to say is true...after about 4 turns, the screw becomes useless because the pilot can't pass the additional fuel anyway, and that's why you would need to go bigger. Personally, I would go on the rich side for both the pilot and the main. You can always lean out the slow circuit with the mixture screw and the rest of the carb with the needle clip (to an extent). It's such a pain to do the job that I doubt you'll want to make a zillion little changes. I don't know why you want to make the changes, but make sure you have no intake or exhaust leaks first as these can produce a lean condition.

It has been awhile since you and I spoke about jetting of the F650. I finally got the bugs worked out of my carbs. The surging I felt at 3800 rpm's was from the Factory Jet Kit slide springs. Once I reinstalled the BMW springs the problem was cured. I guess the springs are too soft allowing the slides to bounce up and down at a steady cruise. So what I have is a Staintune muffler (baffle in) 140 main jets (maybe a little too big?) Factory needles at #2 clip setting from the top #45 pilot jets at 3 turns out.

My bike now has a Staintune, Drilled organ pipes, snorkel removed, K/N filter and Factory jet kit---140 mains, the needles #2 clip setting, 42.5 pilot at 3 turns out. I still think midrange is too rich. The rest of the power band is great. Factory was closed for the holiday's so I think I should be able to get a hold of someone tomorrow and sort this out.

Staintune Slip-on. I have a Staintune & Dynojet stage 2 I would sell you for $200. The noise is too much for me from the Staintune. The performance is OK. J@mes NZ #848

Try the Staintune AND rejetting with the K&N air filter and the Woods timing key. I have this set-up with the baffle removed. Not quite as loud as the Remus, but quite a bit louder than stock. Went from 42 to 46/47 hp at the rear wheel. It will accept throttle in 5th gear below 4000 rpm. I had a tuner with a dynamometer do the tuning for me. By the way, mine is a 1999 F650. Jon #386.

I have a 99F650 with 24000mi. I have recently placed a Staintune exhaust on it. This replaces another earlier one that broke. I have chosen to leave out the baffle for now. The air intake has been opened, and a Ron Woods ignition advance key is in place. At 14,000mi, the Ron Woods jets went bad in the carb and were replaced with factory jets. I have elected to leave out the baffle for now as it runs much stronger in lower rpm's. However, the engine now seems to loose power at about 4500 to 5000 rpm and seems to hesitate. Does someone know a setting for the carb or any other suggestions? I am reluctant to place aftermarket jets in there again. Thanks, Dave.

Is there such a thing as a quiet after-market muffler? Based up my experience, the Staintune with the outlet restrictor left in place is likely the quietest after-market muffler that you can buy. (The Staintune that I installed on my R1150R was quieter than the stock muffler, with the restrictor in place. It sounds better and runs better with the outlet pipe removed, though.). I have a Staintune on my Classic and have seen and heard several Remus pipes on the same bike. My observation would be that the Staintune is quieter, heavier, better built and finished and does not need the carb to be re-jetted to run cleanly. The Remus muffler is lighter, cheaper, not as well finished, louder and may need some re-jetting for the best performance. Frankly, either muffler is fine. I think it mostly depends upon how much you want to pay and what you think of their looks. If you like polished stainless steel and a solid feeling muffler and can afford the cost, get the Staintune. When I installed my Staintune, I felt that top-end power was slightly reduced and the mid-range was improved. The power dropped off rapidly over 6500 rpm - which is OK for me as I don't spin the engine that fast. I like it because it is so much easier to clean than the stock muffler. I tried to remove the restrictor, but I just couldn't get it out of the end of the muffler. (Yes, even after I removed the retaining screw.) I felt that the low-end was improved, but as you know, the Classic does not like to be placed under a load below 3000 rpm, so to some extent any improvement in low-end power is moot. I am convinced that I received an increase in power between 3 and 5,000 rpm, and that is without any jetting changes. My guess is that removing the restrictor will get back the high-speed power, but you might have to re-jet the carbs to keep the bike from running too lean. Also, I heard a Staintune muffler without the baffle and felt that it was too loud for my taste. Richard #230.

So I bought this used Staintune for my Classic. The Staintune has two pieces whereas the stock muffler has only one. The front piece of Staintune is a pipe that goes from the collector back to the first stock muffler mount. The actual muffler slips on there. The stock muffler has slits, a gasket and a clamp. The Staintune is supposed to just slip on. Mine slipped on about 1/8" and stopped. No problem, I heated up the pipe away from the collector with a propane torch until it was good and hot. It then slipped right on. I went around the bike to stick in the bolt and... the pipe wasn't on quite far enough for the holes to line up. Then it went wrong. The pipe would not go on, off or twist. The pipe had lost enough heat to the collector that they became one. I disassembled the entire exhaust system in order to pull it back far enough to get the torch on it again, without melting the airbox, burning hoses or otherwise causing myself additional grief. I heated it up cherry red. No dice. The collector was too hot. The pipe pulled about halfway off and then stuck again, tighter than dick's hatband. Time to call it a night. Tomorrow I'll figger out how to pack the collector in ice while heating the pipe in order to pull it off. What a royal pain in the butt. I ended up taking a Dremel with a cut-off wheel and putting a pair of slits in the pipe about 2 cm long. Spreading them with a screwdriver didn't do squat. Heating it up red hot got it to twist. But I was afraid of crushing it in my bench vise. A friend came by and between the two of us, the bench vise, a propane torch, a B.F. screwdriver and GBFH, we managed to get it apart. I took a file and cleaned up the outside of the collector. Then I took 80 grit ribbon cloth and buffed the snot out of it. I put a "drum" sander on the Dremel and cleared out the innards of the Staintune pipe. After applying a bit of dry graphite powder, I gingerly put it together. It went together and came back apart. After remounting the collector and u-pipe to the bike, I carefully installed the Staintune pipe. It went right on and the hole ALMOST lined up. After dicking around for a while, I decided to use a bolt that was too long just to get the thing in position. Then I mounted the muffler. I smacked it on the butt with a 2x4 and the muffler holes lined up. After replacing the muffler bolts, I revisited the pipe bolt. After a bit more grunting and swearing, the job was done. How does it sound? A little bit louder than stock. Not annoyingly so. Was it worth the work? I don't think so. The seat of my pants says nothing. I'll have to take the bike out side-by-side with my other Funduro to see. But even that won't be a definitive answer since I never did a side-by-side with the stocker before I swapped for the Staintune and my other bike has twice the mileage. Pulled the baffle and went for a ride at lunch. Seat of my pants can't tell any difference at all. But then again, this bike is at 17,500 mi. So mebbe the upcoming service will find things amiss like valve clearances and air filter cleanliness. We shall see. I AM impressed by how easily the baffle comes out and how tiny it is. Fits into the tail section nicely, even wrapped in a rag. Flash 412 (CO).

I'm convinced the pipe was made for the '96 and earlier bikes mine was literally a "Slip-on", although I DID polish the collector first with some fine emery, except I had to push the collector to the left of the bike a bit first and use OIL to make the crossover bit "slip" on. I put the main exhaust pipe bit on the crossover then tightened it all up. No wuckin furries. Kristian #562

The pipe joint near the air box was a very very tight fit. It took two of us to make it go together using some anti-seize. I also shortened one piece by about 1/8 of an inch (using a grinder) but just now I don't remember which one. Also loosened the forward most joint so as not to spoil the seals while pounding and twisting. It was a real bitc*. Yeah, I ended up paying the dealer $42 for the part. After I ordered it and before it arrived, a fellow offered me a whole speedo for $25 plus shipping. Oh well.

I had problems fitting my Staintune muffler on to the exhaust pipe extension. It appeared that there was some solder or a weld inside the exhaust pipe. I found that I had to grind this material out of the inside of the pipe to get the muffler inserted all of the way into the pipe. Maybe that stuff has melted and is stuck to the muffler. Perhaps you could just heat the area of the weld to loosen it. Alternately, try cutting the pipe at two locations, with some sort of cutting tool, near the end to force the sides apart. Then use a hose clamp to hold them together when you reinsert the muffler into the pipe. Many after-market exhaust pipes have a similar split to get one pipe into another. When I installed my Staintune, I felt that top-end power was slightly reduced and the mid-range was improved. The power dropped off rapidly over 6500 rpm - which is OK for me as I don't spin the engine that fast. I like it because it is so much easier to clean than the stock muffler. I tried to remove the restrictor, but I just couldn't get it out of the end of the muffler. (Yes, even after I removed the retaining screw.) Richard #230

Once you figure out how to get them apart again consider letting a muffler shop swedge open the slip on a tiny bit. The only trick is explaining to the muffler guy what you mean by 'tiny bit'. Of course if you split the pipe (put slots in it) you won't be able to use a swedging machine on it. The slots will cause the pipe to split when trying to expand it. But then you may not need to if the slots solve the problem. Brad, N. CA., 2001 F650GS - Inmate #1002

When I installed a Staintune on my classic, I found the crossover pipe to header pipe a tight fit but I was able to get it on without drastic measures even though my headers have Jet Hot coating (no leakage to date, knock on wood). Could be yours being used may have a carbon build-up preventing a good fit. To fit the muffler to the crossover pipe I used a Dremel tool to clean up the welds at the muffler body pipe connection, in order to allow the crossover pipe to go in far enough so all the bolts and crossover pipe were in the right place (again no leakage after 2 years). The only draw back to the Ohlins shock will be discovering how bad the stock front suspension is. Peter Jensen #233, 97 ST VT USA.

I have read the FAQs and looked at the spreadsheets, but I assume there are people who have added this slip-on muffler that haven't submitted their info to the FAQs. My canister fell off and my "cat" blew out of the tail pipe. Because of these things happening I had to richen the carbs a little. I am at 6500 feet in altitude and most of my riding is done at even higher altitudes. If I put a Staintune on am I going to have to change jets or other items? What have people been paying for new Staintune's lately? Colorado Bob.

I paid $650 for my Staintune 5 years ago from Cal BMW. Since you are riding at high elevation, your bike may run a bit rich. If you get a Staintune and your bike seems to be running rich, try pulling the outlet restrictor out of the muffler end. This will make it run leaner (and louder) and perhaps you will not have to mess with the carb jets - which is not the easiest thing to do. Richard#230 17-12-2002.

I think that you will find that no muffler will make a noticeable difference in power when installed on the F650. More noise, yes. Maybe a little more torque and less weight, but you can pretty much forget getting much more peak HP, even with careful jetting. I have a Staintune and lost top-end power, compared with the stock Cat-equipped system, but it seems to pull better in the mid-range, which is where I ride anyway. Compared with the stock muffler, the Staintune saves about 8 pounds, is much easier to clean, only a little louder than stock (with the baffle installed), did not need to be rejetted and fits a little tighter to the bike. I felt like the muffler gave me more mid-range torque and the bike seems to rev more freely, but the power pretty much signs off at 6500 under a load. On a top speed run at around 4500 feet elevation on level ground with the big wide-body BMW hard bags installed, the bike ran right up to 6500 rpm quickly and then just stopped in its tracks at 95 mph. Without the bags, at a lower elevation and bending over, I am sure that I could have hit 100. But the stock muffler did not have such a sharp cut-off of power. In my experience, it is really tough to beat BMW's mufflers for all around performance. Unfortunately, they are very heavy, a bit too quiet and are hard to clean because of all of the heat shielding and beauty covers that they like to install on their bikes. Richard #230
Ron Woods:
I have a Ron Woods Pipe on my '99 F650. I was checking all the nuts and bolts for tightness recently and discovered one of the Allen heads at the rear of the canister was loose. I tried to tighten it but it would just spin around. The threads are not stripped as it will not come out. There is about 1mm of play up and down. It is as though a nut is tight to the bolt but just not tightened down enough. Any ideas on how to fix it? It seems to be behind the packing and I can't get to it. Should I just put a little RVT silicone in around it ? Thanks in advance.

Just because the screw doesnít come out doesn't mean it is not stripped. If the screw protrudes beyond the nut, there may be good threads at the very end of the screw. Try grabbing the head of the screw with a pliers or small vise grips and pulling gently at the same time as turning cc. If no luck, then go for broke and pull hard as turning. Your success here depends on whether the "root" of the screw thread is open or closed at the point where good thread meets stripped thread. Hopefully, you will be able to get a grab on one of the threads at the end. If the nut hat broken loose on the inside, and the screw is in fact ok, none of the above procedures will make the situation any worse, unless you damage the screw head beyond use. This was the case with a fork tube filler screw on my K bike when torqued to an incorrect value as stated in my BMW service manual - a $60 mistake.

We run Ron Woods pipes on three of our bikes. All three have had nut failures. You can't weld the aluminium can to the steel header. So we use stainless-steel pop rivets. You have to drill to old nuts and sometimes go to up to a 1/4 shank. But they don't come off. By the way, depending on how loud you want your bike. Removing the flapper in the header while you have to pipe apart improves the HP a few %. It's just noisy. Ramey
Staintune:
Has anyone out there with a Staintune pipe had problems with the rear exhaust bracket cracking. Upon further inspection I also noticed a crack in the crossover pipe. I contacted the CBT Imports and they told me to send it in under the warranty. It has not been a year and I did not lay the F down either. Maybe it just my pipe that had a manufacturing defect.

Mine is cracked as well and I just saw another at the dealer cracked in the same place.

Now that it's installed, we'll see how many miles you go before you get the infamous "Staintune Cracks" where the mounts are welded to the can. Mine cracked all along and around the welds after about 5K of street riding. Also, if you're running Jesse bags with the relocated turn signals, make sure you don't "flame-on" the left turn signal, or you'll be down at the HD dealer for a Buell signal sooner than you'd planned. Scott S in WA.

My friend said when his cracked he got another one for free. He (a mechanic) said it was because the mount to the frame needed a small amount of spacer installed behind the flange the bolt goes through. By adding the spacer it takes much of the strain off the ďcanĒ where the weld is when the bolt is made tight. Mine has not cracked with some 9000 miles of riding including off road. Will in CA.
I've had the prototype of the Wolf connecting pipe & SuperTrapp muffler on my F650 for a couple of years. It looks good and is a lot lighter than stock. It is quite a bit louder than stock under throttle but reasonably quiet when cruising. The biggest benefit is that it has lowered the usable power band about 500 rpm.

Having had good results in the past using Supertrapps, I was considering putting 'trapps on the Peg, either as a dual set or a 2-1 system. From the info I've seen, the black bodies with a 1 1/4" inlet and a 4 stroke core should do nicely. I'm wondering if anyone out there is running Supertrapps and what their experience has been with them. KL5A

I used them on my 1985 R80. They are OK, but I didn't care for having the exhaust discharge in a 360 degree range around the outlet, as the exhaust coated my swingarm and the bottoms of my saddlebags with carbon. I also didn't like the looks. Richard #230

I am thinking of trying one on my classic as well. I am going to go with the Supertrapp IDS2 quiet series. The IDS2 seems to be the way to go since the exhaust exits the rear of the exhaust instead of the sides. Check out the IDS2 series on there web site they have a racing and quiet series. Doug, 99F, Cleveland GA, #1206.
Aftermarket O2 Monitors
by Tom #981 (Draft)
Air/Fuel monitors: I've done some more research
Seems like all the oxygen sensors are one size, 18mm threads. Need to drill pipe, then insert sensor w/ fitting and use some sort of smaller hole so the sensor screws in the pipe, or ... weld a fitting on the pipe so the sensor can screw into that.

Bosch makes some pretty standard, auto industry sensors, and they give off a voltage from almost 0 (lean) to 1 volt (very rich). the voltage that the a/f mixture is stoichiometrically correct is known, and there are a variety of gauges that you can attach that usually display green around that value, and red or yellow for too rich/lean..... more $ gets you more LEDs, or less LEDs with more accurate readings. Very popular in club racing, and turbo applications: Don't want to run too lean when the boost is on.

A guy w/ an RF900RR w/ a sensor/meter install. Very cool, w/ a flush gauge mount in the fairing. I think I'm going to take out my clock. It's been acting possessed lately, anyway.... should be a perfect fit, 2 1/4".

The gauge might be the intellitronix shown in this link: http://www.jetlink.net/~okayfine/su/airfuel.html

but, the halmeter http://www.racetep.com/halmeter.html is looking good, too.

So, is there a sensor on the GS? if so, does it surge :)? Really, if it does, then you could tap off the sensor lead and run to a gauge, and tell exactly what's going on w/ the mix... might be interesting. you really need to hack into that black box on the GS and tweak it out, you know, like w/ power commander, if it can be done w/ that bike.
Here's what I sourced for the project of adding an O2 sensor/ air/fuel meter on my 97F:
O2 sensor, p/nSUM-G2989 from Summit Racing http://www.summitracing.com/ - their generic O2 sensor (not self heated) $29.95

Air/Fuel Gauge, p/nNRD-M7009 from Summit- 10 LED Nordskog 2-1/4" round meter, chassis ground, 12Volt $29.95

SS Weld-on O2 bung, p/nTR-18 from JGM Automotive Tools (714-895-7001). 316 SS, supposedly high quality, $12.60. Have not received yet, just found the source and ordered yesterday. From the link, per Google search, "There are several sources of bungs, including the NAISSO Superstore, Summit, Jegs or ATR, however some of those are not true stainless in my experience.

For high grade 316 stainless 18x1.5mm threaded weld-on 02 sensor bungs I recommend contacting JGM Automotive Tools (714-895-7001) and ordering p/n TR-18 (cost $12.60 each). " (From some guy doing work on Impala SS stainless exhausts).

So I contacted them (JGM) and they were nice enough and not concerned that I was only buying a $12.60 part. They do a lot of Motec work, FYI.

I've got a friend who is an accomplished TIG welder and he owes me some shop time, so as soon as I get the parts, it's just a matter of scheduling before I get it done.

I'll be doing some baselines once installed, then checking all systems for proper adjustment/working order (valves, ignition, etc.), then replacing emulsion tubes and other carb wear parts before doing some more data acquisition.

Basically, I'm just curious and want to put some numbers to the seat-of-the-pants tuning that has been going on. Maybe even coupled w/ a Dyno run or two.

You might be able to get a better deal on a different O2 sensor, but $30 is pretty good. They need to heat to about 650F (F650?) before they report correctly, so you can spend a little extra and get one that provides heating element, but I think placement somewhere after the collector should do well enough. Leaded gas will ruin the sensor, also, btw. Most report in a voltage from 0-1Volts, and most gauges will report using that range, also. There are more expensive gauges, but this should do the trick. Most useful when just using one circuit, like at WOT, or idle. Transitioning will cause the meter to jump around, but I do not have the exact behavior first hand, yet. Perhaps Cam can chime in on his experience, he said he used one on a car he was tuning.

Final piece of project is figuring out the exact placement of the sensor, both for reliable readings and for aesthetics and lack of protrusion (don't need it poking my knee...).
A/F Gauges:
The gauge size is more like 2 1/16", should fit in the analog clock spot for long enough to do the data logging. Kristian sent me a link at one time to a DIY a/f meter, if you are so mechanically inclined.
Here are also some other A/F, O2 links, although I've got a better list somewhere.
Feedback:
I've been putting air/fuel ratio monitors on my bikes and snowcats for years and I'll tell you that the key for accurate readings is a quality O2 sensor and it's location. It should be no farther than 2 to 3 inches from your exhaust port . When the sensors are used for ECUs or computers, they can be put further away as the lower temps and slower response from that distance can be calibrated in. If you plan on tuning to the edge, you must stay within these perimeters for accuracy or risk damaging your engine. If you're not going to be doing any serious leaning tests or tuning and are just looking for ballpark readings, further away is okay. The advantage to the air/fuel ratio monitors is their quicker response and accuracy over an EGT gage. I use the a/f monitors for testing and calibrating the fuel injected aircraft engines I work on, much better than EGT. FWIW, I have a K&N monitor on my wife's 99' F650 and a Bing's Engineering Fuel Injection monitor on my Dakar. The one on my KLR is four years old with no problems. The four wire sensors I use haven't given any problems, but I can't say about the single wire sensors. The single wire sensors tend to be a little slower in response, so if you use them, let them stabilize on a given throttle setting before accepting the reading. Skip
Some good resources for Jetting and Plug Reading Information - Not F650 Specific
1. FactoryPro
http://www.factorypro.com General NOTE that the Mikuni-Sudco manual actually
http://www.factorypro.com/tech/carbtun.html Tuning CV Carbs recommends tuning the circuit from the Pilot upwards as they say each circuit is additive. I cannot put copies of the information on this site as Sudco has a copyright on this information. It's about a 13 US$ Manual from Sudco.
2. Nightrider
www.nightrider.com (Note: Actually for Harley V-Twin with CV Carbs, but general information is useful)
http://www.nightrider.com/biketech/carb_jet_ranges.htm on Carb Circuit Ranges
http://www.nightrider.com/biketech/carbadjust.htm on adjusting the Carbs
http://www.nightrider.com/biketech/hd_cv_mods.htm on Harley CV Carbs Mods
http://www.nightrider.com/biketech/hdcvcarb1.htm on Harley CV Carbs Mods
http://www.nightrider.com/biketech/hdsparkplugs.htm on Spark Plugs and Spark Plug Reading
http://www.nightrider.com/biketech/spkplghnbook.htm on Reading Spark Plugs, with colours of Plugs
3. Dynojet
http://www.dynojet.com/motorjet.shtml on Carb Circuits in general
4. The Chain Gang
http://www.f650.com on F650 in General - Excellent Message Board :-)
5. Detonation
http://www.factorypipe.com/Technical/Tech_Articles/Deto/deto.html More Detailed information on Fuel Detonation
6. Diagram of Overlapping Carb Circuits - See Diagram under Needles & Jets
http://www.speedandsport.com/jet.html
7. Horsepower Calculator
http://rshelq.home.sprynet.com/calc_hp_dp.htm
8. Altitude Adjustments
http://www.geocities.com/MotorCity/Speedway/2476/basics.htm
http://www.chuckhawks.com/super_glide_sport.htm
http://www.floheadworks.com/Products/keihin_carburetors.htm
http://www.easternillinoisabate.org/tech_talk.htm