Misc. Braking Questions FAQ
compiled & edited by Kristian #562
Please read the Disclaimer before attempting any work in this FAQ.
Problems & Solutions
Aftermarket Brake Parts
Misc. Brake Questions
Other (Separate) Brake FAQs:
Bad master cylinder, caliper or brake fluid?
Problem: I recently bought a 2000 F650 and after about 50 miles, the front brake lever went all the way to the bar. I could pump it up, but after that first occurrence, it frequently, but not always, went to the bar. Took it back to the dealer and they said the master cylinder needs replacing (after the technician originally thought they were OK, because of the intermittent problem). While waiting for the part, I read the brake FAQ and decided to change the fluid in both front and rear brakes, as the brake fluid was the color of coffee ... actually more like espresso!. Now, I've ridden the bike about 10 miles and the brakes seem nice and tight. Is it possible that I really do have a bad master cylinder, or could changing the brake fluid fixed the problem? Also, if the brake lever goes to the bar, how would one know if it's a bad master or front caliper?
Solution: Well, after changing the "espresso" brake fluid to "gin" color, I went out and practiced panic stops from 25 to 45 mph, and brakes are still working fine, so I'm inclined to think it was bad fluid and not a bad master cylinder. Phoenixtoohot


Feedback:
It sounds to me like you had a lot of air in your fluid. My fluid looked just like that the first time I changed it, less than a year after the bike was assembled by the Italians. Maybe they were using espresso. If it was me, I would change out the fluid once more, just to be sure that you got all of the expresso out of the lines. A careful bleed of the brakes will easily get all of the air out of the lines and if the brakes feel fine then, that was your problem and I would worry about the competence of your mechanic. In my limited experience, a bad master cylinder will cause the brake lever to slowly come back to the grip over a period of time, not come back immediately - that indicates air in the line. Richard #230: 1997 Funduro
"Even bad brake fluid wouldn't let the lever come all that way in" BZZZzzzttT! A few small air bubbles in the brake fluid sure will allow the lever to come to the bar. Brake fluid absorbs water from the atmosphere. Brake fluid can reach temperatures higher than the boiling point of water. Steam/water vapor bubbles are more or less the same as air bubbles once they form in your brake line.
"Even bad brake fluid wouldn't let the lever come all that way in" Not true. Had this problem with rear brake after braking a lot. Changed the fluid, solved the problem... If your problem happens after some braking, than I would go for the fluid. gim '97 F650, Waltham, MA.
I once used brake fluid from a tightly closed container that had only been opened once before, some 2-3 months earlier. Soon after, on a trip with some "inspired" riding I suddenly lost the rear brakes, due to vapor lock. When I had the brake fluid checked (I really did not think it could be the fluid, but found no other cause) we found a too high water content. Brake fluid is highly hygroscopic (Absorbs water). haakon#626 (Norway,12-1999- F650GS).
Change your Fluid REGULARLY! Check your Brake Hoses!
Feedback:
Coming back from Santa Cruz today when, after a lot of breaking on rt 9 (beautiful ride with lots of curves in the woods), the pedal went all the way down with no braking at all. It happened progressively, but fast. After the third time after I felt the pedal somewhat different, there was no more braking action. I thought the brake line broke, leaking fluid. NOPE. It was just the temperature. After waiting for half an hour (adjusted chain tension in the meanwhile), the bike was fully back to normal. Is it possible the problem was caused by the fluid ? I believe that it hasn't been changed for a long time (never by me at least :( )...I plan to bleed the brakes anyway, but it would be nice to know if this problem can be caused by old fluid. If this is not the case, then I have to try to brake less the next time :) gim (orange '97ST)
Brake fluid is hygroscopic, it absorbs water from the air. This is one reason you are supposed to change it annually. Water lowers the boiling point of brake fluid. When it boils, there are gas bubbles in the lines. These compress when you apply lever instead of moving the pads. When it cools, they go away. Don't use your brakes so much. And change your brake fluid. Flash #412 (CO)
Had the same problem.... the fluid in the stock bike sux. Flush the system had new Dot4 put in ....never had problem again. scx
Only ever heard of ONE instance. ed.
Instance 1
OK, right to the point here. I have just had the sh*t scared out of me by a brake mount failure that caused a total loss of the front brakes at speed on my 98 F650ST. I went to brake at 30-40mph and there was a CRACK followed by the clunk of my entire front brake caliper assembly rotating out of place on its remaining mounting bolt resulting in no brakes and a floppy brake lever. On examination the lower of the two caliper mounts (where the caliper is bolted to the fork leg) had fractured vertically through the bolt hole, leaving the caliper hanging on via the upper mount and the break pads totally dislodged and hanging loose.

Q1. Has anyone heard of it happening before?
Q2. Is this a known issue?
Q3. Is this something that BMW should know about?
Q4. Is this a weld repair or a new lower fork job?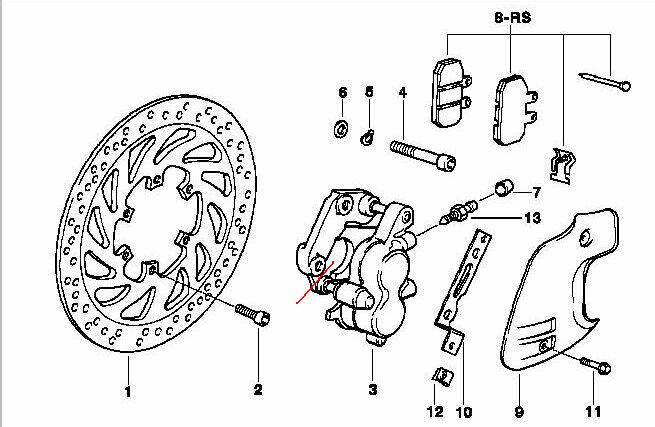 I would advise anyone to take a close look at the brake mountings on the forks and check for cracks just in case. This was really sudden and with no warning. Had it happened at motorway speeds I would not be here to make this post. I have just had all the covers off this and taken a look in the cold light of day. The good news appears to be that the mountings to the fork leg are ok. The bad news is that it is the caliper mounting plate that has failed. This plate connects the caliper to the forks and mounts two pins that allow the caliper to move. The mounting for the lower of these pins has fractured vertically. You can see a diagram above of the brake assembly. The mounting that has fractured is just below the lower of the two bolt holes on fig. 3 (see above). As you can imagine, my BMW dealer is taking a real interest in this and will be looking at this ASAP with a view to kicking it up the BMW ladder if there is no sign of external forces at work. MrWolf, Dave-O'C-98 F650 ST
<Q1. Has anyone heard of it happening before?> Not that I know of.
<Q2. Is this a known issue?> Obviously not.
<Q3. Is this something that BMW should know about?> Absolutely. Based on the history of the bike, I would possibly involve a lawyer as well. Who has maintained the bike? BMW Factory service? You personally? A previous owner who's work no one can verify? If I had to venture a guess, I would suspect someone has radically overtightened that bolt, although I'm not completely ruling out that a completely normal outer fork tube torqued to the proper specs would break.
<Q4. Is this a weld repair or a new lower fork job?> Given your experience, would you ever really trust a repaired bit? I would work on a replacement, preferably on BMWs dime. David #476, '99 F650.
I would not use welding as an option for this repair given the importance and the nature of it. Will in CA
I'd love to have a look at that fracture. My guess is that you'll find an inclusion (looks like a chunk of slag). Marty #436-Chicago-97 F650F
I posted an earlier message this past Tuesday (24-Sep) about a possible rear brake line that was leaking. Well just for the hell of it I bled the rear brake line as per FAQ (many thanks to the contributors). After the job was completed I found that I had drops of liquid under the bike. Shining the light between the rear wheel and the engine while depressing the brake pedal quickly illustrated that there was indeed a leaking brake line. In front of the rear wheel and behind the transmission the rear brake line has some fittings to join two separate pieces of brake line. It is the fitting that is leaking. So off to the dealer for a warranty repair for a 2001 F650GS with 14500km (9000 miles). Perhaps first I will try to see if I can tighten, if it is lose, the fitting. Though it looks very crowded at the fitting. Rodger#1046
Took the MC to the dealer this morning. Dealer has concurred that the rear brake line is leaking. The whole brake line will be replaced under warranty. The parts were ordered today (Monday) and could arrive within a couple of days. Rodger Lucas (#1046) 2001 F650GS 14500 km (non ABS).
Next.
Leaking Front Master Cylinder?
If it leaks, it will quickly corrode metal parts, including allows and strip paint. Clean it up quickly and fix it!

Causes:
Reservoir Overfilled.
Solution. Take out some Fluid with a CLEAN Turkey Baster or Better yet, BLEED some fluid out.
Seal Problem #1: There is a bit of rubber, from one of the punched holes on the diaphragm, that is still attached, but on the inside, so you can't see it. It raises the lip of the seal enough to cause leaking. btw, CHECK for splits or defects in the sealing lip of the Diaphragm first. If there is a defect, that's where it's weeping from, and you will need a new diaphragm. No amount of sanding of the lid will help you if the Diaphragm is split or has an extrusion (manufacturing) defect.
Solution. Undo Screws, Check Diaphragm, Reinstall. Do NOT Overtighten the Screws. If the Seal is good, it will seal just fine. One thing you should always do is to coat the threads of the master cylinder lid screws with anti-seize compound. If there are any screws that are going to corrode on your bike it is going to be these screws. (Richard #230). If all else fails, replace the diaphragm and make sure that the vent grooves in the top of the master cylinder cover are clean.
Seal Problem #2: Rubber diaphragm under the lid was not re-installed or tightened (most likely too tight) correctly, or if there is a problem with the vent holes under the cap.
Solution. Undo Screws, Check Diaphragm, Reinstall. Do NOT Overtighten the Screws. If the Seal is good, it will seal just fine. If all else fails, replace the diaphragm and make sure that the vent grooves in the top of the master cylinder cover are clean.
Feedback:
Brake oil container overflow Hi! I had a short ride around town last night along w/ my buddy. I rode a 2002 F650GS (non ABS) while my friend brought an F650CS w/ ABS (my old bike). After stopping for a short break, I noticed that both our brake oil reservoir (on the right side of the handlebar) had some oil stains. Probably from an overflow. I'm going to have both of our bikes checked tomorrow and I hope the mechanic can solve our problem. Our bikes are still new and we've run only about 500kms each. I got both bikes from the same bike dealer. Just curious, can there be any other reason for the oil overflow aside from maybe the bike dealer put too much brake oil? Has anyone have this same situation? Jagged.
I have a problem with brake fluid weeping out of the front master cylinder. (this is for an '03 CS w/ 7k). Within a couple weeks of having the bike, someone pointed out that fluid was weeping out, and claimed the dealer must have overfilled the reservoir. This was ~1500 miles. I flushed the fluid for both front and rear cylinders, and I haven't had any more weeping until now. I've put about 1500 miles on the bike since early march, but the weeping didn't start until yesterday. Just a drip yesterday, but several drips today. The only thing I can think of is temperature - it warmed up nicely today. But why didn't I have any weeping last season? I changed the fluid at the height of the summer heat. If anything, shouldn't I need to top the fluid up due to brake pad wear? I can remove some fluid easily but I want to make sure I'm not experiencing an underlying problem. (It is leaking From the weep holes. I think it might also be leaking from the front of the cover seal, but I'm not certain that wetness also originated from the weep holes. Since it's coming out the weep holes, I thought it was a fluid-level problem. Thing is it's weeping out the weep holes, so do I really have a leak problem? If there was a problem with the seal I'd expect fluid to leak somewhere else). Thanks for the tips! wicked94pgt BBG#22 F650CS, Natick, MA
My GS wept from Day 1. Problem? There was a bit of rubber, from one of the punched holes on the diaphragm, that was still attached, but on the inside, so you couldn't see it. It raised the lip of the seal enough to cause leaking. Solution 1. Pull the diaphragm out of the cap unit and check it thoroughly. Solution 2. I also got some VERY fine wet and dry and sanded a smidgen off the outer edge of the cover (after removing the rubber diaphragm), so that I was sure the lid wasn't engaging the reservoir top before the seal could seal properly. If you do that, do just a VERY small amount and CLEAN CLEAN CLEAN CLEAN it of all filings before replacement. btw, CHECK for splits or defects in the sealing lip of the Diaphragm first. If there is a defect, that's where it's weeping from, and you will need a new diaphragm. No amount of sanding of the lid will help you if the Diaphragm is split or has an extrusion (manufacturing) defect. (Is rubber extruded?). Kristian#562
Front Master Cylinder Rebuild?
Q. The front brake plunger on my '94 Classic F is sticking. Does this mean that it is shot and really should be replaced or can it be stripped and greased up. I saw on the Motobins website that they only supply the master cylinder and throttle assembly as one unit. Is this correct? Pat#1210
According to the GS Manual this item should be replaced (Front/Rear Master Cylinder Cup) every 40,000kms for Bikes WITH ABS. This Boot can be replaced.
The BMW part #'s:
The Classic Part No. for the Boot is Unknown.
The GS Repair Kit Front Master Cylinder (What is IN it is unknown) is 32 72 7 655 396
The GS Repair Kit Rear Master Cylinder (What is IN it is unknown) is ALSO 32 72 7 655 396. (So it looks like the Piston is the SAME for Both F/R).
Chances are the Classic uses the same as the GS and that SOME other bike uses a Similar Piston. Anyone?
Feedback
Theoretically the master cylinder and caliper can be rebuilt. I tried to buy a rebuild kit for a leaky BMW master cylinder and was told that they don't sell master cylinder rebuild kits, I would have to buy a new master cylinder for some astronomical sum. That was a different BMW than my '99 Classic. So, I'd imagine that there is a rebuild kit for the master cylinder but that no dealer outside of BMWAG has one in stock and they can't be shipped overseas for national security reasons. I think your front brake caliper probably just needs to be cleaned. Shank NYC USA
What about Sticky Pistons/Dragging or "Binding" Brakes
by Andy #982, Mark #403 & Kristian #562
Severity: It can be dangerous, so fix it soon! Here are some examples:
Rear brake catches fire. First I sign is when I went to change gear and the bike starting slowing at rapid rate. BMW surging I thought. About 5 miles later I stopped at the traffic lights and motorist behind start waving at me, this when I discovered that rear brake assembly was on fire, not far from the fuel tank under the seat. Bloody quick dismount from bike and called the fire department. Five minutes late two fire engines arrived! Communications problem? Only real damage seems to be the rear brake assembly and speedo sensor. The bike has only done 14,000 on mixture of dirt and highway (no speed limits in my home state of NT). Has any one had problems of rear brake overheating? I was only doing about 125 KPH at the time of the problem. Iain
I've had problems with the rear brake sticking, thus causing overheating, but thankfully not as serious as what you experienced. It can get pretty hot real quick. Oyvind #1052, Norway
No fire, but really hot. Having the rear brake adjusted with too little slack will do this. You get the brakes hot, the fluid expands a little and the pads are always touching, which makes the fluid hotter, which makes the pads push harder on the disk. Pete
Generally:
The brakes drag (slightly) to stop anything getting between the pad and disk that might cause scoring. Its simpler for the OEM than fitting any other sort of protection to the pad/disk.
If the wheel spins freely for maybe 10 seconds (or less, even a 3-4 good rotations) after a good shove, all is OK despite some slight rubbing (not squealing) noise.
If it is dragging, in other words it gets hot to touch even if you do NOT use the brake, check the fluid level before anything else and see if removing some helps. Stay within the sight glass limits, but you'll find half full to low may be better than full.
If you've played around with your forks/axle lately, you may have put the bike together with a slightly different wheel position. There's a surprising amount of variation in how the forks will come to rest with everything loosened up, and how they will end up when you tighten the triple clamps, axle pinch bolts and fork brace. If you tighten things up with a slightly different angle than you had previously, you can get additional brake drag until the pads "seat" themselves again to the new position. See the Front Wheel Removal FAQ for tips on how to put the forks back properly and the Rear Wheel Removal FAQ for the rear.
For the Rear Check the Brake Plunger moves freely. For the Classic, Undo the The Allen Key Screw (i.e. the Brake Pedal Bolt). Take it off the Axle and Grease the Axle, and the Plunger and connections. Put some Vaseline or Grease in the rubber boot.
Next check Check the Rotor is not Warped. They warp easily if they get too heat for too long or they are dropped when you do a wheel change or any maintenance work e.g. Bearings. Here are some New Rotor sources.
Next idea is to replace the fluid and bleed. Old fluid with water in it can expand under heat before it all goes spongy.
Next idea is to check the Pistons are CLEAN. What often happens is that as the pads wear the pistons extend further and further out of the caliper until you change the pads. Then with new pads you push 'em back in again. But if you didn't clean the piston's at all, all that gunge ends up going back into the seal and can cause the piston's to "stick" somewhat.
Don't forget to ALSO check whether or not the master piston returns completely!
After that its strip down and new seal time at which point you'll want to check the FAQ or maybe see a mechanic. If a seal kit is available, just get a clean place to work and replace every seal in the kit. Clean everything as you go, you are looking in particular for anything that might prevent fluid getting back to the master cylinder. Lift the rear wheel up an check if the brakes are slightly on even if you're not breaking. If they are, this often causes over heating and you have to overhaul your brakes, which isn't very hard. If you find any inside dirt coating the brake cylinder or piston then polish it away using a light rubbing but never polish in and out, go around and around or you may cause leakage through micro scratches. Then use new gaskets/o-rings.
Feedback/Suggestions:
Sticky M/C piston sounds very strange. Brembo makes a special piston Vaseline for that. I'd buy a rebuild kit, pop the old piston out (hammer and ten penny nail are all the tools you'll need), lube up the new one, slather the seals and pop that in (hammer and 11mm socket (or close enough) are the tools you'll need). I still say that if you are getting drag on the front brake, you have mung and debris on your caliper pistons preventing them from seating all the way. Take out the pads, pump the lever a couple of times to get the pistons to stick out a little more than usual. Spray profusely with brake cleaner, get out of there before the fumes go to your head, when the fumes clear, open bleed valve (or take the top off the M/C reservoir) and cram (and I mean CRAM!) the pistons all the way into their bores, use a C-clamp if you have to (I've done it in the past), then put in the new pads, make sure the reflex pins are pushed all the way into their bores as well (and make sure the reflex pins are substantially greased up and not sticking in their bores). Don't forget to to put a lil' grease or Auntie Seize on the backs of the pads to curtail squealing. And THEN, if you still have a bit of brake drag, go for a ride. I put on stainless lines and new Galfer pads this weekend, I had some front brake drag initially but after bedding in the pads a la Method du L'iclair (Flash), no more front brake drag. Shank
Further to my recent postings about my front brakes (sticking plunger binding discs etc) I have the following update: After replacing the pads (the old discs still had life left in them) and bleeding that God 'awful brown gritty stuff from the lines and replacing it with nice clear brake fluid my pads were binding on the discs. I took the whole thing apart again but to no avail. Fearing the worst for my master cylinder and calipers I took it to the shop. They stripped them down as best they could, cleaned the caliper pistons copaslipped the back of the pads and again bled the system. This still didn't fix it, so last night I put the old pads back in and lo and behold problem gone. One of my colleagues at work ('91 K100) suggested that the pistons had corroded on the outside (the bike had been laid up for some time before I bought it) so since the new pads meant pushing the pistons home they simply jammed in the bore. Logical? Pat #1210.
Logical? Possibly. But sticking pistons is what I suggested upon your first post. And I still stand by that statement. Take the pistons out, ScotchBrite' em real good and (please read carefully) lube the slide pins of the caliper, these can also contribute to sticky brakes when new pads are put in. Ok, so replacing the new pads with old has temporarily fixed the problem. What are ya gonna do when the old pads have no more meat left on'em? Shank.
Bound rear brake. After removing my rear wheel (Classic '97) and replacing it. I checked the brake whilst on the centre stand by pressing it down checking it had come on and then checking that it had released. Riding to work this morning all went to pot :( After using the break a few times it started to bind. it just is not releasing, luckily I only had 500m to go after they bound (was really lucky with the lights) and was able to go really slow after that. There was no pressing the pedal when the wheel was off. That is a silly thing to do. All I did was the wheel off, change tyre, wheel on procedure that I have done loads of times before. Normally it is all hunky dory. Even this time, the wheel went on first attempt. It is straight, that was checked and rechecked. I know I can release the brake at the pedal end with the bolts. But is this just going to mask a problem or is it the correct fix? So, my bike is outside work, the rear break is pretty much locked, questions are: 1, What do I do to unlock it? 2, Why did it happen?.
What xls said, check you didn't lose the L or R Spacers when you put the wheel back on AND check the brake caliper mount on the swingarm is nice and loose but in position on that little lug before you go tightening up the main axle nut. Good point Chris, James I put a dab of Copaslip (a sort of copper impregnated "dry" grease on those pins to help it along. (Don't get near PADS.!). Try that first, then remove the wheel and recheck. Check Alignment at same time, sometimes goes on skew when torquing main nut, unless you have third hand to push k.
Make sure the pads are not stuck on the retaining pins as well. You should be able to move them slightly independent of the pins. I also just thought that if your rotors are worn and the pads are supposed to fit between the lips at each edge perhaps a pad is riding on a lip. The goal should be to have the pads riding on the pins and against the rotor in the same way as before you pulled the wheel. Chris in Santa Cruz, CA #782 - 30-Jul-02
Bound rear brake - Answer. Ok, I have found the cause. After checking the wheel/axel end all seemed OK. I went to the brake pedal end, detached the brake pedal from the brake plunger and moved it up and down. It was sticking, definitely not rising by itself. So, I worked the pedal up and down a little, It is now not perfect but it is better. A clean / grease up of the area is in order. : J@mes NZ #848.
*Sigh* We've gone over this before, I'm SURE it's in the FAQ somewhere, but for those of you city folks just too damn busy to read the FAQ, read on and, please, if you would be so very kind........BLOODY PAY ATTENTION!!!
Take the pads out.
Remove the caliper from the fork slider.
Pump the brake lever to get the pistons out far enough to see a clean spot on them, BUT NOT TOO FAR!
Spray profusely with brake cleaner, use two cans if you have to.
Take whatever brake fluid remains in the reservoir out, use a turkey baster, eye dropper...whatever or simply use the Flash method and turn the bike over to get it out.
CRAM the pistons ALLLLLLLL the way into their bores. (now here's the REALLY important part, please pay attention)
Remove the piston assembly from the back assembly. Yes, they do come apart.
Go ahead, give a good try, they'll come apart. Nope, you won't break anything.
Clean the mung, bung and grunge off the slide pins. Grease them profusely. Use lots of grease. No, MORE than that. That's it, grease it up good. While you're at it, fill the lil' rubber booty thingies with grease.
Now put the slide pins back into their lil' rubber booty thingies. Yes, cram'em in there. No, you're not going to break anything Yes, you are putting the caliper back together.
CRAM those slide pins in there. So what if some grease comes out, wipe it off. No, you aren't going to hurt anything. Sheesh. REALLY cram'em in there. Ok, pull'em out a bit, make sure there's some resistance. Now cram'em back in there really good. NO, REALLY cram them in there. Keep cramming. I don't think they're all the way in yet. (Don't ya just hate it when ya hear that?)
Ok, when you see the lil' hat part of the lil' rubber booty thingies pulsing with each cram, they might be close to being all the way in there.
Try squeezing the lil' hat part to poot out the rest of the air trapped in there. Now cram'em in some more. Oh come on, put some testosteronized muscle into it, CRAM'EM!! Sheesh, how can someone so limp-wristed ride a bike? I said, CRAM'EM IN THERE LIKE A MAN, DAMMIT!!!! Very nice, now stop yer crying.
Put a light coat of grease on the part of the pistons which face the pad.
No, you won't hurt anything. Yes, grease on the pad surface or the rotor is bad but you are not putting grease there. Put a light coating on the backs of the pads. Just a LIGHT coating!
Ok, now grease the leaf springs, LIGHTLY.
Grease the pin that holds the pads in a bit. LIGHTLY. Just a nice light coating, helps the pads slide on the pins, reduces corrosion ("rust" for you simpletons).
Now put the pads in the caliper. CAREFULLY, you don't want the pad surface touching any of the surfaces you just lightly greased.
Ok, drain a little gas from the tank, put the gas on a rag and wipe off the pad surface and try again. Good, now it's all back together.
Put the caliper onto the rotor.
Torque the caliper to the fork slider. Yes, a whole 50Nm. No, I don't know the foot-pounds. Foot-pounds are STOOPIT, get a torque wrench that reads Newton-meters. Sheesh. Come on, Torquemada was Spanish, he don't know nuffin'bout no footy-pounds.
Yes, it's spozed to make that sound when you torque it properly. NO, don't touch the brake lever yet.
Put some brake fluid, FRESH brake fluid in the reservoir. NOT TOO MUCH!! You really don't wanna fill it up all the way. Pump the brakes up, slowly.
Yes, if you pump it quickly with the reservoir cap off it will shoot out brake fluid onto your tank just like that. Best to pump slowly, with the cap on and a nice clean WET towel on your tank. Yep, that's it.
Ok, now you feel some resistance in the brake lever? Good. Take the reservoir cap off, fill with brake fluid to JUST BELOW the top of the sight glass.
Push the rubber bladder thingy in the reservoir cap back into it's non-expanded shape.
Put the reservoir cap back on. Screw it down.
Pump the brakes up. Release the lever. Spin the wheel. It should spin freely with only the slightest drag if any. Now, wasn't that easy? You're welcome. Now give me my fifty bucks you twit and get outta my way. Shank (eloquent as always, ed)
Contrary to what Andy says, my front tire has never spun for 15 seconds before being dragged to a stop by the front brakes, not even when new. I MIGHT get a few full rotations out of it on a good day. If you've played around with your forks/axle lately, you may have put the bike together with a slightly different wheel position. I've done this several times while trying to get the front wheel lined up properly. there's a surprising amount of variation in how the forks will come to rest with everything loosened up, and how they will end up when you tighten the triple clamps, axle pinch bolts and fork brace. and if you tighten things up with a slightly different angle than you had previously, you can get additional brake drag until the pads "seat" themselves again to the new position. The last time I straightened my forks in the clamps, after riding for a long time with them just the slightest bit askew, my brakes dragged horribly for a day or two, and eventually everything was fine again. it may not seem to make much sense, but the tolerance between the pads and rotor is virtually nil and my experience playing with the fork position has been consistent with it's temporary effect on the brakes. As they say, YMMV. Mark #403
Rear Brake riding the disc. Yes, it's happened to me, twice. Each time I replaced rear brake pads on my '99 Classic. There were two things that were wrong:

Problem #1: The slide pins were sliding as intended.
Reason: Not greased properly at the factory (natch, Italian bike).
Solution: Pull apart caliper, sand off rust on slide pins, slather with copious amounts of BMW #10 (which I find superior in resisting water and oxidation).

Problem#2: Caliper piston did not want to return to "home" position all the way into it's bore.
Reason: Lots and lots of dirt, sand, mung, pigeon excrement, and various other detritus indigenous to NYC stuck to exposed sides of piston not allowing it to recess fully into it's bore.
Solution: Take pads out, pump pedal SLOWLY and SLIGHTLY to expose piston a little more than usual. Spray profusely with lots and lots of highly toxic ozone-depleting brake cleaner spray. Let it dry. Then cram pistons back into the bore. Make sure that brake fluid reservoir is NOT overfilled at this point. Which could also be a reason why the piston would not want to recess fully into it's bore.

A slight slather of BMW #10 (or axle grease or Auntie Sieze's salve) on the backs of the pads (the part that DOESN'T touch the brake disc) can keep the squealing pigs of braking from singing their song. Good luck. Shank NYC.
I've had problems with my rear brake sticking, resulting in severe heat up, brake pad wear and a potential fire hazard. It turns out that dirt has gotten under the rubber boot of the rear master cylinder and stops the master piston(?) from returning completely. It's a warranty repair, including changing the worn pads, since there is no periodic maintenance prescribed for the master cylinder according to my dealer. Hmm, being too impatient to wait for my appointment at the dealer, having a slow day at work, and with a good riding opportunity coming up this weekend, I decided to have a look at the master cylinder myself. I won't have the brake fixed by Friday if I don't do it myself, and I won't do the trip without a functioning rear brake, so I really don't care that much if I loose some Kroner worth of warranty parts. After disconnecting and removing the master cylinder, I tried to blow out the piston with compressed air. No Luck. I then used a thin dowel (2.5 mm) through the brake pipe connection at the top and carefully tapped out the piston. The piston slides in a nylon liner, and it seems this liner has become slightly disfigured and pinches the piston so it couldn't slide all the way back. I applied some Brembo mounting fluid from the repair set for the rear master cylinder, (which consists of a small gasket and a sachet of mounting fluid, and is of course grossly overpriced), and reassembled the cylinder. Working the piston up and down inside the cylinder, I was able to take enough nylon off to make the piston move freely again. I have no idea why this has happened, but I suspect there may be some corrosion of the aluminum behind the nylon, due to road salt perhaps. Another option is that the cylinder has been damaged in a fall when off-roading. This seems less likely, since I always fall down on my left hand side (no kidding (well, there was this one time...)). Sorry, no pics. I don't have a Digital camera (yet). Perhaps the most important lesson to be learned is to also check the master cylinder in addition to caliper and piston if you ever experience sticky brakes. Removing the rubber boot at the bottom of the master cylinder and looking up, you'll see a white nylon sleeve and a black piston which slides inside it, held in place by a locking ring. The piston should slide all the way down to the locking ring when the brake is released, if not the brake fluid will not be able to return from the caliper and the brakes will stick. As the sticky brake heats up, the brake fluid expands and increases the pressure and thus the braking action. I reckon whoever it was that reported their rear brake on fire a week ago (?) must have had the same problem with the master piston not returning completely. Oyvind #1052, Norway.
Next.
Other reasons for Brakes heating up
Problem: Caliper torture. I already have a warped rotor, I confirmed I have a minor hub warp (.05-.06mm) problem, and I don't want to tighten the rotor any more than I have to, as I have had previous problems with rotors warping due to overtightening. I'm trying to shim the mounting points (actually, just 1 or maybe 2 spots) on the hub as flat as possible, before I tighten the rotor to it, and the rotor starts going thru heating and cooling cycles. I'm tempted to go for Loctite 243 (for removal without heat) and maybe 10Nm. But I did measure, and it looks like the longer GS will fit the Classic, and if I ever have to do this again I will order the longer bolts. I've been looking at those seating clearances also. They might be affected if the spacer were the wrong thickness (unlikely), if the wheel bearings weren't fully seated (mine are fully seated, crushing/holding the wheel bearing spacer in place, OR if the rotor mounts cut into the wheel hub are machined too deeply, causing the rotor to be seated farther inboard, which is what I'm think may be my problem, but is much harder to check without disassembly. If that was the case, I could make the axle spacer on that side a few mm thinner to shift the rotor outboard. As it is, for my caliper to fully release off the inboard side of the rotor, the caliper has to slide inboard EVERY SINGLE BIT that is available, including compressing/crushing the slide pin guide bellows. When the bellows expands/pushes ever so slightly (we're talking about less than a millimeter), as is it's rubber nature, the caliper binds that tiny bit.....actually the front caliper releases even less, and binds more, but has never even gotten warm to the touch, despite the rotor getting hot when used hard. If the rear caliper weren't so consistently too hot to touch, to the point where I worry about the rubber seals, I'd ignore it. The brakes have always worked perfectly, except for the heat. And without actually dissembling the caliper (which I won't do unless I have spare seal rings) I've tried all my tricks - I've flushed the caliper 4-5 times, expanded out the pistons and cleaned/sprayed them, removed the slide rubbers, cleaned them and tried 3 different hi temp caliper greases (synthetic and non synthetic) on them, crushed them shut and bled out the excess air and grease from the sliders, used older thinner pads which give me an additional mm of clearance, used new OEM pads with new clip and pin hardware, checked the release freeplay on the master cylinder, and retracted the pads, filled the master cylinder halfway, sealed it, and then pumped the pads down, creating a minor vacuum in the m/c. I've serviced plenty of disk brakes, but I'm at a loss on this one..... maybe a stupid question - I'm not used to Brembos. I've been reinstalling my cleaned greased slide rubber bushing by forcing it into the caliper hole, and then installing the base plate slide pin, then bleeding the bellows as I crush the caliper. You aren't supposed to place the slide rubber on the pin and THEN force the rubber thru the caliper hole are you? Seems hard to do without lubing the outside of the rubber to go thru the caliper hole, like you'd tear the pin thru the rubber. I dunno - no hurry, but clever ideas are welcome. Otherwise, I just freakin love my bike! HsN
Solution: None.
Brakes work for about 50 applications and then it grabs the disk.
Problem: I got a 2001 F650GS, as far as I am concerned it is a lemon. Any way, was riding to work yesterday, stopped at the light and I can smell this sharp burning odour. looked at my rear brake and my calliper has smoke coming out of it. I did notice earlier that the bike is kind of sluggish, but did not think much of it at the time, riding in city traffic and all... My rear calliper seized I thought, so I took the screwdriver out of the bike kit and to my surprise I was able to spread the shoes with little effort, that goes for the calliper itself, it was free to move. I do have excessive travel on my brake pedal, brakes work for about 50 applications and then it does the same thing (grabs the disk), ABS work. One thing I noticed that when I apply and release brake I can see the piston move back and forth about 1/16".There is no way it should move that much, at the time when brakes will not release the brake pedal feels solid, like it was from new. Any thoughts? I think it might be the master cylinder, or some kind of check valve in ABS system. Pooshkin '01 F650GS, Winnipeg, Canada.

Solution: Just about a month later, I finally got all new rear braking system:), dealer had no clue what to do, did not care about what I had to say. I got new disc, caliper, shoes, master cylinder, they had to take parts off a brand new bike. It was getting pretty strange what it was doing, the bike was applying rear brake by itself. Pooshkin '01 F650GS, Winnipeg, Canada.
Feedback:
Brake fluid is hygroscopic, absorbs water from the air. Consider changing your brake fluid and then bleeding the system if necessary. Flash #412
Wonder if you have water (steam) or air in the system (soft pedal) that expands significantly as the fluid gets hotter due to use. At some point, the brake starts dragging, creates heat which expands the fluid, creating more brake pressure, more drag, more heat, etc... I think I'd try a brake bleed using fresh brake fluid first (but BMW "claims" you need their special vacuum brake bleeder to do this properly). Lots cheaper than ripping into BMW's "black boxes." Marty #436-Chicago-97 F650F
It's almost certainly a problem with your master cylinder, AND it's a warranty item. There's a white plastic sleeve inside the master cylinder. I had corrosion between the cast metal body and the plastic sleeve. This made the diameter of the plastic cylinder slightly smaller, preventing the piston from retreating completely when released. Thus, the fluid can't return to the reservoir, causing the problems you've described. It was fixed under warranty, and the mech filled the rubber boot with grease. This has do far prevented any more corrosion from occurring. Oyvind #1052, '01 F650GS Dakar, Bergen, Norway.
Brake Calliper Retaining Bolt Warning
IMPORTANT: If you ever remove the Front Brake Calliper for any work, Steering Head Bearings, Fork replacement, whatever, make sure the Bolt threads are clean and there are absolutely NO bits of Aluminium or any other dirt or swarf jammed in the threads. If there is, use a fine screwdriver and a wire brush to clean them thoroughly. In addition check there are no bits of Aluminium in the threads of the Calliper itself. Test that it can be wound all the way in BY HAND before tightening. If it jams going in by hand, take it out and check it and clean it again until you CAN screw it in BY HAND.

The reasons should be apparent, however any small amount of Aluminium in the thread will start the bolt jamming. If you tighten it further with a socket or spanner, it can't screw in any more and starts ripping threads out. Then with more Aluminium now jammed in the threads, as you back it out it rips even more Aluminium out. You do not want this to happen. Really Bad Karma. Do not exceed the specified torque.
Why Does my Brake Pedal Pulse ?

3 Reasons:
Loose Brake Pedal Axle.
Worn Roller. See The Chain Roller FAQ
ABS Activation
Loose Brake Pedal Axle (Most Common)
If your chain is too loose, particularly if your brake pedal bolt is too loose (because the lower chain roller is on the same bolt) you can feel the chain bouncing off the roller via the pedal. Take a look at the bolt and the chain slack. Costs nothing to correct if it is the problem and wastes virtually no time to check if it isn't. The Allen Key Screw to do up: (i.e. the Brake Pedal Bolt). Flash#412
Missing lower chain roller.
My chain is rubbing against the chain guard attached to the brake pedal which is resulting in a pulsating feeling in the pedal. The chain is giving the recommended 20mm and I just lubed and tightened the screw for the pedal and chain guard. If I tighten the screw too tight, which appears to be the answer, the pedal won't return far enough to disengage the brake light.
ABS Activation
ABS activation may cause the brake pedal or lever to pulse, this is normal, but will only occur under harsh braking on low grip surfaces. Peoples first ABS stop can be worrying. There have been a number of incidents with Landrovers in the late 80's when people felt the ABS pulse and stopped pushing the pedal. The wheels don't lock if you do this, but its generally unhealthy. Andy #982
See the Cable FAQ

Sources of Aftermarket Brake Calipers, Rotors, Brake Lines
Floating rotors are not "attached" to the rotor carrier. There are "half holes" in the rotor and the carrier and there are rivets that keep the rotor positioned in the carrier. They have a slight amount of wiggle room. The REASON is so that when they get hot, they can expand without warping because nothing is NAILED down. They are free axially only. Draw two concentric circles. On the inner circle, draw a set of six or eight tiny circles, spaced equidistantly. Now, cut out the tiny circles. Then cut on the inner circle. The piece from the outer to the inner, with the tiny circles, is what the actual ROTOR part of a floating rotor looks like. Now loosely rivet it to the inner circle at the tiny circles and figure out how to mount the inner circle to your hub and you have a floating rotor assembly. Get it? Floating calipers are free to move across the thickness dimension of the rotors, to adjust their position as the pads wear. The two "floats" are orthogonal and therefore can be used in concert or individually, as you like. Flash #412
Our front Brakes are 30/32 mm Two Pot Brembos and the rear is a single pot 34mm Brembo.
The Caliper No's are F 22.5553, R 22.5546.
OEM F650 Classic Part#:
Front:
Disc Part # 34 21 2 345 323
Brake Caliper # 34 11 2 345 319
Rear:
Disc Part # 34 21 2 345 314
Brake Caliper # 34 21 2 345 312

OEM F650 GS/Dakar Part#
Front
Disc Part # 34 11 2 345 824
Brake Caliper # 34 11 2 345 854
Rear
Disc Part # 34 21 2 345 314
Brake Caliper # 34 11 2 345 856
Frenotec has OEM Brembo Parts, but doesn't specifically list the BMW F650. It does say "New cast caliper with 4 individual pads. Provides better braking pressure and feel than older style calipers. Will upgrade most Ducati, Aprilia, Moto Guzzi systems". If you find one that fits, please let us know , ed!

Aftermarket Brake Parts Sources:
The Aprilia Pegaso, being almost the same bike as the F650 Classic, has Rotors that could be used as replacements.
Brakes - Braking: www.braking.com
I have my fingers crossed that Dennis Kirk will be able to get me a BRAKING rotor for about $125. (I think that's BRAKING part # front rotor AP13FL and rear rotor BW05RI). Haven't found a price from a Brembo dealer yet, if you happen to know any that are retail friendly. http://www.braking.com/Eng/DISCHI.HTM. Todd#389
Apparently the Ducati Monster has the same Brembo Brakes as the F650.
Brakes - EBC: www.ebcbrakes.com
When setting up an extra set of wheels for our 01 GSA, I ordered the EBC rotors and sent them back after finding that the rear (?) wasn't compatible with the ABS sensor plate. They also looked like they belonged on a mini-bike, as far as finish was concerned. I ended up using Braking rotors, front was a floater, for the carbed model with no problems. Did you need to do any adaptation to get the Braking rotor to work with ABS? Not at all, bolted right on. No problems and looks better than the OEM's, and still cheaper too. I bought through Dennis Kirk. Iceman.
www.accwhse.com has EBC rotors for the f650 for $200 front, $130, rear. according to the website, these are floating rotors. the number below is for the front. the rear can be found by looking up "profiles" on the accwhse.com website and looking for the BMW F650. (60506) $199.95 EBC Rotor Left #MD650LS Mark #403.
Despite the BMW fiche part numbers being different, the EBC catalog specifically lists their rotors as fitting across the F650 line, meaning the EBC front fits all years Funduro/ST/GS/CS front, EBC rear rotor fits all years Funduro/ST/GS/CS rear. Not sure about the calipers. It might mean the Classic/GS rotors might be different, but interchangeable? I'm about to break down and order a Braking rear rotor as a replacement, the cheapest alternative I've been able to find. Never used the brand before, but I can't see waiting 8 weeks for a Galfer (which is competitively $, but backordered). HsN
Brakes - Galfer: www.galferusa.com
by Todd#389
Q. Can one use a floating rotor (which Galfer offers as an option ) WITH a floating caliper (like we have on the F650)? I always thought it was either/or, but I ain't owned any fancy bikes.
In my quest for what's available to replace my slightly warped rear rotor, I emailed Galfer USA (below) to ask what they have available for replacement F650 rotors, and got a reply from their agent, Cyclebrakes, with some part numbers (not available on their website) that might be useful in the FAQ's. The stuff isn't cheap, tho the Galfer floating front rotor sounds interesting, competitively priced the same $176 as an OEM rear rotor from CalBMW. I have my fingers crossed that Dennis Kirk will be able to get me a BRAKING rotor for about $125. (I think that's BRAKING part # Front rotor AP13FL and Rear Rotor BW05RI). Haven't found a price from a Brembo dealer yet, if you happen to know any that are retail friendly. Hey, since the Motorworks and Motobins websites list rear rotors for 60-80 UKPounds (cast iron and OEM), considering the weight, I guess shipping could justify much of the $40 difference compared to a US price for an OEM rotor? btw, the www.cyclebrakes.com website lists some interesting items I haven't seen offered elsewhere, including thumb-brakes and Galfer brake fluid. I hope some of this is interesting/useful, helpful comments welcomed.

Reply from Cyclebrakes below:

Hi Todd,

We were forwarded your inquiry from Galfer as we handle their retail inquiries and orders. We also carry EBC so between the two manufacturers, we have stuff for your bike in stock. Ready to ship is a Galfer Front Rotor with Free Black, carbon-semi-metallic pad (or upgrade), Galfer or EBC rear pads and EBC Rear Rotor (pad not included).

Galfer carries a front rotor, #DF663, in stock, $175.99 includes Free Black pads, #FD172 on current sale. You may upgrade to Kevlar or Sintered HH pads for only $20 per caliper. It is a FLOATING rotor which means better performance and less chance for warping. #DF703 not in stock, will have to request from Europe which is 6-8 weeks if they have it ready to ship, $159.99, also includes Free Black pad, #FD165. Again, you may upgrade to Kevlar or Sintered HH pads for only $20 per caliper. EBC front rotor, #MD650, not in stock, $155.99 ETA 1 week, may not be floating (haven't seen a picture) Rear #MD651, $155.99 in stock. If you want EBC pads then they are front, #FA209 and rear, #FA208 both available in sintered HH, $36.99 per caliper. EBC rotors do not include Free Pads.

We also have Galfer steel-braided brake lines: FK003D166 front and rear, $53 for front and add rear only $40 with free color choice on plastic outer sheath: red, blue, yellow, smoke, black or clear.

To complete your order we will need: ORDER INFORMATION: Bike Info and parts desired. Name & Phone Number, Credit Card Number (Visa/MC), Ship-to address, Billing address (where CC statements are sent) if different from shipping, address, We make every attempt to ship same day and we're located in southern, California. This quote is good for two weeks.

Thanks for your request,
Take care,
Melissa
Phone: 805-452-5957
Fax: 805-653-5016, Attn: Cycle Brakes
sales@cyclebrakes.com
www.cyclebrakes.com
Brakes - Harrison: http://www.billet.co.uk/
Direct Links to Harrison's F650 Specific Pages
"Thanks for your mail Kristian. Apols for the delayed reply. The caliper that we make specifically for the F650 (front only) is the #235. It has 54mm spacing on the mounts. As far as we know the fitment is the same for the "Classic" f650 and the newer F650GS, but would like to have a confirmation of any differences if any of your riders are knowledgeable on the subject. Our caliper is direct fit, and designed to work with the factory disc.

We will be updating the website shortly, but the fitment is currently posted on the 'new products' page.

Prices are (GBP£ excluding courier and VAT if applicable):

Billet Original facia design:
6-Piston Polished £239 each
6-Piston Clear or black anodised £259 each

'2k1' or New 'Signature' facia design:
6-Piston polished £271 each
6-Piston Clear or black anodised £289 each

Robert"
Money spent on braided hoses and aftermarket pads will give the most improvement for money spent. If you like spending money Harrison billet now has a 6 piston caliper (about $450) and there is a 320mm front rotor available. Not sure if these parts fit the newer GS series but they do fit the original 94-2000 classics. Peter Jensen #233
Brakes - MAP Engineering: www.map-engineeering.com
MAP Engineering makes an oversize front rotor for the older 650 that I swear will fit the Dakar. But MAP remains un-convinced. At least that was there story when I wanted to buy one last summer. Jinx
Motorworks can supply Italian disks or cast iron ones. If you want performance over looks go to the iron. Remember you'll need new pads too, its false economy not to change as a set. Aprillia dealers can probably supply too. Andy Leeds UK #982
This link will lead you to a Japanese company that seems to make replacements for everything under the (rising) sun. if nothing else, this link has dimensions for everything as well. http://www.nagesti.com/ng/ingles/index.htm Mtbiero (cugino Pegaso)
Brakes - Spiegler:
www.spiegler.de
A high-end German manufacturer of brake parts, 8piston callipers, rotors, some handlebar/foot-peg items that we all dream about, with some US dealers. Even for the F650. Downloadable catalogs w/prices.

www.spiegler.de/gb/index.html
Feedback on Aftermarket Brake Parts
While the BRAKING rotor is not actually installed yet, it's fit and finish seem good. Compared to OEM it has slightly smaller "feet" meeting the hub, and machined completely flat. Double sealed tamper resistant factory packaging. But I thought it was interesting that there are easily TWICE as many ventilating holes in the BRAKING rotor as compared to the OEM rotor. That might be interesting. HsN
Despite the BMW fiche part numbers being different, the EBC catalog specifically lists their rotors as fitting across the F650 line, meaning the EBC front fits all years Funduro/ST/GS/CS front, EBC rear rotor fits all years Funduro/ST/GS/CS rear. Not sure about the calipers - takes me forever to download the .pdf to view the applications.
It might mean the Classic/GS rotors might be different, but interchangeable? http://www.ebcbrakes.com/.
Next.
AM - Rotor Bolt Sizes & Torques
Q. The Classic Factory Manual says to use Loctite 270 and 12Nm on the rotor bolts. I never actually looked at that before, assuming that the 270 was actually the Loctite 262 (red, maximum strength, and often requires heat). Not so - Loctite 270 is a PERMANENT maximum strength green threadlocker that ALWAYS requires heat for removal. Like for setting studs. My rotor bolts were certainly not set with 270 as they came off so easily you could have used a folding pocket wrench set. So I looked in the GS .pdf manual (old edition), and there it says to use good old basic Loctite 243 and 9Nm, as opposed to the 12Nm for the Classic. What gives? Especially since the rear rotor on the Classic and the GS are identical part numbers, certainly fastened by similar size bolts, why new lower torque's? I think that green Loctite 270 is overkill for this application, and it certainly wasn't used on mine. Except that BMW specifies otherwise, Loctite 262 is my goop of choice, as an upgrade from 243, BUT lowly 243 is specified in the GS .pdf. Any comments on the change from 12Nm to 9Nm? All obscure trivia, I know, but maybe worth sharing with other aficionados? So, any enlightened choices between 12Nm and 9 Nm on the bolts? I'm thinking of 9Nm and Loctite 262, to lessen warping and yet obtain better threadlock. HsN.

Thanks very much for the confirmation (Below). I find it interesting that they changed both the specs (Loctite and Torque) DOWN. HsN
A.
I checked the new GS manual and it says to use LocTite 243 both front and rear, with 9.0 Nm.
The bolts for the GS-GS/ Dakar are M6x20 and for the Classic M6x16.
I checked some torque tables I have and here is what found regarding M6 bolts

| | | | |
| --- | --- | --- | --- |
| Bolt Quality (Strength Rating) | 8.8 (Low Tension-Standard Hardware Store Bolts). | 10.9 (Medium Tensile Strength - Medium-Stress Applications) | 12.9 (High Tensile Strength - Special Applications) |
| Molybdenum lubricated: | 8.9 Nm | 12.5Nm | 15.0 Nm |
| Clean and dry: | 10.5 Nm | 15.0 Nm | 17.5 Nm |

The reason for the lubed/ dry differences is to compensate for the friction / torsional stress so that the "clamping" force is equal.
You said you have socket head on yours - on my GS there is Allen screws with short head. Re: my torque table, almost all Allen screws is 12.9 quality. but due to the often-sharp corner under the head they are best torque as 10.9 screws. All short head Allen screws MUST be handled as 10.9 or less, despite the fact that the material usually are heat treated to 12.9 tensile strength. I would think 9Nm is to be used on the later models, not because of the bolt quality, but rather because of the "weak" point here: the aluminum hub. It is all too easy to strip threads in aluminum, if the latter have inferior or "standard/ inexpensive" quality. The reason the low head Allen screws must be less torqued is due to a design compromise. Because of the low head, the bottom of the "hole" must be so deep that the material remaining is thinner than on the normal Allen screws. Haakon #626, Norway.
AM-Brake Lines (or Are Steel Braided Brake Hoses Better than the OEM Rubber ones?)
This subject is like discussing OIL. There are 1001 differing opinions. Like the OIL discussion, a cross section of these opinions is presented here. You choose which camp you fall in.

Note: BMW already (and only) installs steel brake lines on the F650 bikes that come with ABS and then ONLY the front.
I asked my BMW shop about steel lines at my 6000 mile service and he talked me out of them. Said they look cool, but don't offer any benefit on our bikes. FYI
Steel brake lines make a difference. Anyone who says they don't has never experienced the difference. In some cases it is dramatic. When I put steel brake lines on my 2002 the difference was amazing.
On the F650 you can see the stock line expanding as you increase pressure. If you practice stops from 60 MPH using maximum braking and then practice again using steel lines (especially the front) you would have to notice a difference. Just my opinion.
An SS-line on the rear is a total waste, IMHO. On the front... like POWER BRAKES when compared to rubber hoses. YMMV.
SS lines still not needed! Either end...Anybody can stop the bike as stock with maximum efficiency. Only the most performance minded see any good in these, as I'm one of those guys, but still don't think they are needed. They do have an effect, however, I agree. You'd better be good at your braking skills if you need the extra performance.
SS Lines greatly reduce the effort needed to brake with one finger while descending a hill standing up on the pegs (to lower the centre of gravity!) This, IMHO, is worth the cost. The fact that they last 5 times as long is just a bonus.
Anyone who says SST lines don't make any difference has never tried them. they make the brakes have a much more linear feel in terms of pressure applied to the lever equating to braking applied to the rotor. The stock lines expand more as you brake harder.
SST lines are not needed on any bike, so that's a moot point. but they do make a huge difference in how the brakes feel. The SST line made a bigger difference to him than adding the 320mm MAP rotor.
Get the SST line, get some good pads, like Galfer greens, change your fluid and bleed your lines and you will never have anything to complain about regarding the f650's braking capabilities. My ring finger and pinkie haven't touched the brake lever since I made those changes.
I agree again, that they make a difference, but are not required, because feel to one rider is not the same for another. I've ridden both types of lines and prefer the rubber hose and they last a long time. Can't remember ever having changed a brake hose (stock one). My braking ability is not diminished one bit because the lack of SS lines. They are very nice and a plus for some, but not all If you can lock the front wheel, I say that's all the feel you better have. The stock lines will do that fairly easily. Just don't do it. Some like a lighter feel on the brakes and its accomplished with SS lines.
Galfer

Brake Lines:

The number on the box was FK003D166- don't know if that's the part number or not. I got it from http://www.map-engineering.com/index.htm for my '99; it was around $45 plus shipping last winter.
For you guys asking about brake bleeding: For the cost of one garage fluid change/bleed you can buy an excellent vacuum bleeder or Speedbleeders (and probably stainless lines as well) and do your own in 10 minutes. On our F's it's totally simple requiring no wheel removal or anything. An SS-line on the rear is a total waste, IMHO. On the front... like POWER BRAKES when compared to rubber hoses. Flash #412
I've installed both Speedbleeders front and rear and a steel braided front brake line on my f650ST 97. The problem is that to install the brake line you have to empty the system and then the speed bleeder won't work because there will no pressure. So you have to fill up the system with the old bleeder on, using a vacuum pump (speed bleeders don't work with a vacuum pump), then install the speed bleeder and process as described in the instructions. That goes only for the first time because you have no reason to empty the system afterwards. The rear, where I kept the OEM brake line was a piece of cake. We did it on Tom #773 bike and mine and doing it yourself depends on your level of self-confidence (I am in the process of building it...). I guess the whole thing should not take more than 30 minutes at the shop so we're not talking about a lot of money and if you don't feel to confident let a mechanic do it. My 2 cents. Jean #636
What you could do is install your new SS-line and do the initial line-fill using the stock bleed screw. After you've got fluid in the line, THEN install the Speedbleeder for the final purge. Flash #412.
I had the unfortunate experience of the most severe sphincter-sucking-up-seat-vinyl stop in the life of my F650. I believe that if it hadn't been for the new stainless line and the Galfers, I would've gone up that SUVs tailpipe. And that would've made my day quite difficult. Stainless ROCKS!! New brake fluid is good. Galfers are AWESOME! Shank NYC USA
Money spent on braided hoses and aftermarket pads will give the most improvement for money spent. If you like spending money Harrison billet now has a 6 piston caliper (about $450) and there is a 320mm front rotor available. Not sure if these parts fit the newer GS series but they do fit the original 94-2000 classics. Peter Jensen #233
Front - The biggest improvement was adding a braided steel line. The Dakar, with it's 210mm fork travel, has a very long hose. Lot's of flex. With a multi-day bleed job, it was much better. Rear - I think a lot of the problem comes from wheel alignment. I have become fanatical about alignment since it appears to have a big effect on rear brake performance. Even a little cocking of the rear rotor will cause about half the efficiency to go away. I have heard good things about after-market pads, but will wear out the stockers first. (Cheap that I am). I am sure the stock pads were supplied by the low bidder. With braided lines up front, and maybe some EBC pads front and rear, I think the brakes would be okay. And probably as much as you would ever want off road. Jinx
I've put on a braided line and bled it which has made a difference but nowhere near the result that I ultimately desire-I have to confess that I haven't had a look at the wheel alignment issue that was suggested - so there might be some gains to be had without spending anything but time. I have only put a braided line on the front because the Brembo dealer was scratching his head over the routing of the rear brake line-it looks pretty complex (or so he said), I will be looking at it tonight (just as soon as I put the fuel nanny on - but that's another thread). Ziegfried
The old brake line on the Dakar was a little too stressed to me due to the handlebar risers... just a little too tight for comfort. I replaced it this evening with a Touratech stainless steel version. The difference, like others have said, is night and day. Makes me want to beef up the front springs now. Gerry #951 (Phoenix AZ).
So I read about how it's a good idea to swap out the brakelines for the steel versions, and then realized that the front brake line on my bike is already steel braid. Do they normally come this way stock or did I just get lucky? I bought the bike brand new from a dealer. '03 black GS, Colorado
I believe that BMW only installs steel brake lines on the bikes that come with ABS. Apparently they believe that BMW riders are not skilled enough to be able to handle the improved feel of a firm brake line. In my experience, No. Your hands are much more sensitive to feel than your foot, with the clod-hopper attached. In any case, with weight transfer when braking hard, the rear brake doesn't really need the same feel as the front. The rubber hoses are OK, but they flex a bit when used and tend to put a little extra give into the brake feel. Steel brake lines are noticeable better, but you won't notice the difference at the rear brake. Richard #230
The front is but have you checked out the rear? My '01 model still has rubber hose from the rear master cylinder to the rear caliper. I think Touratech makes a steel line for the rear. That said, lots of people don't care that much about the feel of the rear brake. Brad, N. CA., 2001 F650GS - Inmate #1002
Next.
Contact Area & Front Wheel vs. Rear Wheel
Q. So, because I'm very curious (its good I'm not a cat), I did some research on MC Dynamics and believe I can summarize what I have read so far. Please correct me if I am wrong.

Given an unlimited coefficient of friction at the front tire contact patch and given that the COM (center of mass) of the rider/MC system is higher than the center of the front wheel, the MC will eventually tilt forward after shifting 100% of the mass to the front wheel. For optimal braking the COM should be as low and as far back as possible. I'll give a link for the source of this info below.

So, assuming that the COM of the bike is a constant (ignoring brake dive for the moment), then the rider's addition to the calculation for COM comes at the pegs, handlebars, knees/thighs, and bottom. Clearly, if we could get 100% of our mass while braking at 1g on the footpegs (lower than the center of the wheels) that would be great (its impossible of course). So, the best we can hope to do with COM is limited by how far back we can sit on the bike and still operate the brake lever while trying to keep as much force off the handlebars as possible (get yourselves a thighmaster). You need to sit as far back as possible to counteract as much as possible the effect of the force put on the handlebars (trying to tilt the bike over). The more weight you can keep on the rear tire the more you can use its coefficient of friction in addition to the front. Hopefully, I've gotten most of this right...here's the link I mentioned: http://www.dinamoto.mecc.unipd.it/ Chris in Santa Cruz, CA #782 - 19-Mar-02

A. The basic answer is Yes!

Weight transfer needs to be balanced against what a brake can absorb in terms of energy which is a combination of down force, tyre contact area and the brakes ability to generate heat and then get rid of it. Brake balance changes weight transfer during the stop.

If things are uneven, you get events such as ABS activation of a lifted wheel that will change weight transfer again and upset the whole vehicle calculation.

Instrumentation consists of wheel speed sensors (like ABS), vehicle speed (via radar) and pressure transducers in the brake lines. Everything is plotted against time, so you can get vehicle deceleration, wheel angular deceleration etc. Temperature transducers are useful to sort vehicles that don't work as the disk or drum temperature pretty much tells you how much work a brake is doing. This calculation is pure energy, so must be basically true, especially if both axles have the same airflow etc. Kinetic energy becomes heat, first law of thermo dynamics applies.

Temperature kit is cheap if anyone wants to play. All you need is a couple of rubbing thermocouples and a voltmeter with two channels and you can pretty much measure your own brake split for a given ride or manoeuvre." Andy Leeds UK #982
My guess is that stopping distance will be longer...more mass to stop. The good news is that both tires should have more traction to stop (more weight on them), and with the rearward bias (of passenger), the rear brake will become much more effective. Expect to get cracked in the back of your helmet with your passenger's helmet (depending on height & seat configurations). You may even get pushed onto the gas tank, so be well braced!!! Just be sure your passenger buys into this "exercise". Marty #436-Chicago-97 F650F
http://www.wabco-auto.com/Intl/en/inform/index.htm If you click on Index and then enter training on the blue bit on the left, it will take you to a big document about trailer ABS. The first couple of pages have some of the theory, but obviously it then descends into product specific stuff about trucks and trailers. Have a read of this if you like while try a couple of other sites to see what is about. Andy Leeds UK #982
http://www.autosite.com/garage/encyclop/tocdoc14.asp. I'm glad this site is still there. It cover a fair bit of info on hydraulic brakes. Andy Leeds UK #982