F650 GS Aftermarket Fuel Tank FAQ
compiled & edited by Kristian #562
Please read the Disclaimer before attempting any work in this FAQ.
Last Updated: 6 January 2007, Winter #1935
For other related FAQs:
---
Introduction
by David H. Park #711, December '01
The Touratech tank made by Elkamet (world leader in this area) is the only option currently available for the GS/Dakar series.
I have both the 39L for my touring F650 and the full Rallye bike. The 39L version is basically the same except that the shape and mounting points are different due to using the standard rear frame of the F650 and not the racing subframe.
After several hard crashes during practice I did manage to break the left front tank of the Rallye bike. This happened on the inside of the tank on a leading edge as it fell over and hit a big rock. Touratech worked on new mounting and bracing which is now standard and should help - but note I was testing my new bike and was dropping it quite a bit.
I really don't think that there is any other solution out there except for mounting some extra tanks to a pannier set (okay for world travel but not practical for everyday).
I know that the tanks are expensive but the design and production costs are substantial. Unfortunate for you as in NZ and AUS distances can be very large between petrol stations.
I've used fuel cans from PFTE plastic made by Nalgene (1L) which I carry in a Gregory pack easily attached to the back of the bike or my person. These are impact resistant and easy to rearrange in your travel luggage, but impractical for everyday use.
I've also just gotten in a gas can from Aloop Off-road ( http://www.aloop.com/usquad/)
You can see the can on their site. It's the first modern version of the venerable Jerry Can which in metal I find too heavy and prone to breaking on impact. This version is also PFTE plastic and unlike most 'plastic' gas ca ns is sealable and good for longer term storage.
The other big drawback to external storage is that heat can build up pressure in the cans. Gas is volatile and is better stored within a pressurized system such as the integral tank provides.
---
Touratech Tank
by David H. Park #711 on Advrider

One of the reasons I bought a Dakar is the tremendous aftermarket support from Touratech. I had a pretty strong picture in my mind about what I wanted in a motorcycle, and the combination of Dakar/Touratech gave me most of the pieces required.
Report on DHP's Website: F650GS-Fuel Tanks.
Worst mileage has been close to 50 MPG. Best is close to 60 Mpg. Average is in the high 50's. Of course, I am about to toss a 14T CS sprocket on (stock is 16T), so it will be interesting to see the difference.
The US tank (stock) is 15.3 liter. The German tank (stock) is 17.0 liter. The difference is the space in the USA tank used by the charcoal canister.
The TT tanks are each 11 liter per side, so the kit addition results in either 37.3 liter with the USA tank, or 39 liter with the German tank (10.3 US Gallons).
All three tanks (both side tanks and stock tank) are inter-connected with the TT 39 liter kit. I typically run mine with about 8 Gallons, and the reserve light comes on at about 400 miles (1.06 Gallon reserve). Those last two Gallons sit pretty high. But this is the nice thing about big tanks. You don't have to fill them up.
The 39L version has the same quick disconnect clips so that if you break one tank you can run from the others. This also allows you to only fill up center tank is you want to run with less fuel (weight) for city driving.
I believe that the cost for the setup is $1500 USD. They are just now becoming available from Touratech. The set should include the dual headlight setup which is very nice and useful for adventure touring.
You will need the TT (or other brand) bar risers when you install the TT39 kit. The tanks are wider than the stock panels so the bars need to be raised a bit to clear at full-lock. Fortunately, they are also more comfortable that way.
I went with the (stock) 17 liter German tank when I did the TT39 conversion because I thought the plumbing with the TT kit was neater, and Tom gave me a good price since I was the Guinea Pig for the install.
I bough the TT 39 kit after I got Volvo'd last summer. With the cost of replacing all the stock parts, the upgrade was about half-price. I also spent all of $65 painting them. And yes, it shows. But I have never understood $$$$$ paint jobs on semi-dirt bikes.
As far as the installation, I thought it was really straight forward, even though at that time the only instructions were printed in German! Tom has since posted the English instructions on his website. Some minor Fiberglass trimming was required, and you have to drill the bottom of the stock tank. No big deal. http://www.touratech-usa.com/tt39_instl/index.htm
The tanks are tough Polyamide (Nylon) construction. Yes, you can punch a hole in them (DHP has), but you have to work at it. DHP rides much faster than I do, so he falls a lot faster than I do! For trail riding I think they would be pretty tough. Also, being in three sections, puncturing one of the side tanks still leaves the other two serviceable. I am very happy with the results. The handling is not really affected, as the additional fuel is pretty close to the bikes Center of Gravity. Nice feature of Fuel Injected bikes is that you can carry the fuel low.
What about the charcoal filter in the American tank?
The charcoal canister is emissions related. The charcoal filter it contains is in the vent loop. The thinking is that when you fill the tank it keeps all those nasty gas fumes that occupied the "empty" part of the tank from floating free. Except the fuel nozzle doesn't cover the fuel filler opening while pumping so it does exactly fuck-all. It connects via an electronic solenoid and then back into the engines intake tract. This solenoid has to be plugged. I used a a cap screw, some gas resistant gasket sealer, and two little hose clamps. I am using the German tank. As a result, there is nothing for this solenoid to do (no charcoal canister to pipe to). But I left the solenoid on the bike because: I can change it back to stock If I ever decide to do that. I don't like loose electrical connections. I have no idea what type of signal BMW's electronic "brain" is sending this unit, or how it might respond if there was nothing to receive that signal. So I disabled the mechanical side (by plugging the old connection from solenoid to canister), and left the electronics alone.

Am I correct in thinking that the German tank does not need to be drilled because of the absence of a filter?
No, the German tank still needs to be drilled. A common banjo connection splits into two hoses (with Q.D. fittings) that then connect to the forward tanks. So the forward tanks feed the Standard tank, which has the fuel pick-up for the F.I. system.
When you say "last 2 gallons ride high" does that mean they're in the side tanks? (I'm trying to figure out how the whole system works)
The last few gallons sit at the very top of the forward tanks. In fact, the stock tank is completely "submerged" by the height of the fuel level in the forward tanks when they are completely full. This had me wondering about sealing but: The stock filler cap is leak proof, and the stock tank vent has a a little nylon float with a needle valve that effectively closes when the fuel level reaches it. Besides, I have the rear tank vented common to the front tanks, and then vent all in a big loop up above the instrument panel.
Would you recommend or not recommend doing this on the 650 model? I'm going to do mostly street riding, at least for now.
Ah, the $1600 question. I am very pleased with the set-up. It's nice to be able to go out exploring without any worries about range. You also get a much better seat in the bargain, and the tanks act like a little fairing. It is certainly not a required mod for the Dakar, as it it a great bike with the standard set-up. But if you can afford it, you should be as pleased as I am.
I just finished reading about the 650RR bikes (on the Touratech site) that have 4 tanks. 13 gallons?! & 700 mile range. Any idea if adding them would be possible without all the changes involved in the RR kit?
Probably not without least adding the Rallye subframe. The rear tank on the Rallye bike fits on the rear subframe which is different than the stock bike. The stock bike's tank is also changed and the Rallye bike uses a central tank which is different. So in short the answer is NO, you can't get THAT much fuel on the standard bike even past the TT39 bike. The TT39 has ALL of the fuel that you would ever need/want. The Rallye bike is really heavy with all of that fuel and you're wrong about the range being that long. You're racing it not lugging it. The exhaust on the Rallye bike is 'normal' just to the left of the tank/subframe. Again the middle tank on the Rallye bike is NOT the stock tank. (pictures on my site). Do you actually know how much the stock tank weighs? A ton compared to the replacement Rallye tanks.

Also note that if you're building a travel/adventure bike you're likely carrying luggage and stuff. Gas is only one part of the weight equation. You can do fuel tanks all around for Dakar type bikes because you need to but when travelling there is no way you want this size/weight and then luggage/stuff. Be reasonable! Besides you need water much more so than fuel and this weighs a ton as well (and is a PITA to haul).
What about the 51L TT Rallye Bike.
Sure the TT Rallye has a 51L tank setup which optimally can give you very long range but when you race you get less. Just try getting that range when you slog though sand and other tough stuff burning gas but really going nowhere. The exhaust is 'normal'. It's a custom titanium exhaust made by Touratech for the Rallye bike. The stock exhaust is a POS and really isn't a true 1-2 exhaust. It's more look than form where the right cannister is emissions related (cat converter).

It doesn't matter what it weighs exactly it does weigh more than the replacement tanks. The Rallye subframe means only the rear fuel tank and a must change for the central fuel tank. It's an all or nothing change no other combos available. And the Rallye tanks are not the TT39 setup.
I haven't heard anyone NOT recommend putting the TT39 setup on the regular bike? Is that not advisable?
No technical reason you can't fit the TT39 kit to a standard GS.
I have heard of all kinds of problems, from cooling to the side stand giving up and the bike crashing with some real damage. I don't recomend you really change much, specially if you value the warranty in your 05 GS, and you should. Just get some gas container and figure a way to make it safe to transport. My GS does 200+ miles to a tank, very few bikes do such distance, not even the new R1200GS which does about 150/175 and you are pushing it from then. FIUF650
I think what you're looking for is the touratech 39L tank kit. It's pricey, almost 2k, butgives you 39 liters total. There are some downsides, mostly harder access for service. I have not heard of the cooling issues that FIUF650 mentioned. FIUF650 does make a good point though - is it easier to just find a place to strap a few jerrycans or other fuel containers on the bike? dinskeep
Fitting problems
TT39 tank kit. I just received my set of the TT39 tank kit from Touratech and I have some trouble in fitting the small glass fibre pieces that goes under the turn signals. They just don't seem to fit even after I tried to trim them. Have anybody else had similar experiences with the TT39 kit or does any one have other suggestions on how to fit the glass fibre parts ? dbt

The red parts are what needs to be trimmed. Complete instructions and some more pictures here. Complete Instructions Pelle, Sweden, '02 GSDA.
---
Other Tank Alternatives
Rokon Filled Tires
A friend of mine has a Rokon (see link below). He fills one tire with water and the other with fuel. This thing is incredible but really really slow. He and his wife have taken it up camel's hump in VT in the middle of the winter. Maybe we can solve our fuel woe's by making a tire like this? Maybe not not sure how fuel sloshing around in a tire at 80 would be. Rokon. Don - Rochester, NY.
Misc. Fuel/Jerry Cans
I've used fuel cans from PFTE plastic made by Nalgene (1L) which I carry in a Gregory pack easily attached to the back of the bike or my person. These are impact resistant and easy to rearrange in your travel luggage, but impractical for everyday use. I've also just gotten in a gas can from Aloop Offroad. Aloop. You can see the can on their site. It's the first modern version of the venerable Jerry Can which in metal I find too heavy and prone to breaking on impact. This version is also PFTE plastic and unlike most 'plastic' gas ca ns is sealable and good for longer term storage. PS - The other big drawback to external storage is that heat can build up pressure in the cans. Gas is volatile and is better stored within a pressurized system such as the integral tank provides. David H. Park #711.
Al Jesse used to sell a mount that bolted to the back of his bags. Don't see it on his site anymore, but might be worth a call. My recollection was 1/2 or 1 gallon (US) plastic gas can per rack. Had to find your own cans to fit, I think. Marty #436-Chicago-97 F650F.
Another thought...when I rode to Alaska I used a set of tank panniers (RKA, but Aerostich ones should work as well). Used metal fuel bottles rated for backpacking stoves. One 1.5-liter bottle in each pannier, could have fitted two bottles in each pannier, if I had wished (other uses for the extra space, though). K7LRO, Phx AZ.
British Pacific in CA sells 5L NATO cans that might to the trick if you need more volume. I've got the large version for off-roading and it makes you wonder why the J##p crowd would use those cheap-a$ red steel cans that they tend to favor. Those d*mn things are dangerous. See JerryCans Gerry, #951.
Kolpin (ATV) Fuel Packs
I have no idea of the quality of these items, but they look interesting. The 3.28 gallon ATV Fuel (or water) Packs seem a bit large (no actual dimensions listed), but the 1.5 gallon Snowmobile Fuel Packs (at less than $100 a pair) seem like one might fit well in a saddlebag or on a luggage rack. Best photo's:
Both Water & Fuel Packs, or fuel pack, water pack: The maker: www.fuelpack.com. Also at www.cabelas.com, search "fuel pack". t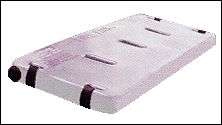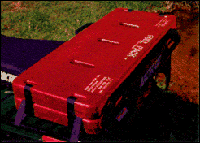 SW-Motech Petrol "Pannier"
The Petrol carrier is great, I ordered the right hand side that is a metal add-on to the quick lock rack to hold a 10 litre plastic fuel can. What a great idea; Australia plastic fuel cans fit it... got another 240k additional range. Rack + 10 ltr fuel carrier postage U.S. to Australia was $94 U.S. (ouch) and took 10 days. Fizz
MSR (and other) Fuel Bottles
What about an MSR 33ounce Fuel Bottle? Doing the math... a 33 ounce bottle is about a 1/4 of a gallon. If you get 60 mpg, the bottle could get you 15 miles further down the road... The bottle seems like it would be safe, but I do not know for sure... and do not want to find out the hard way. NameBrand #1629
Wolverine has toured with one of those in her kit on her Duc 750SS for years. It comes in QUITE handy sometimes when a headwind alters your predicted fuel range. Fifteen miles, or even five miles may not sound like much until you find yourself taking the time to WALK that far. Flash 412 (CO)
Bill, I don't want to be a smart alex, but that is exactly what they are designed and sold for; to carry fuel. Someone said leave a volume for expansion. I'm not sure about the MSR bottles but they probably are designed to be filled completely especially since MSR stands for Mountain Safety Research. Sigg bottles are similar and are designed to "blow out" the bottom under extreme inside pressure; 'blow out' means make the bottom convex to increase the internal space. I have one that has blown out the bottom. Be careful when opening an 'expanded bottle'. Ike647
I have used the MSR fuel bottles in plastic for years backpacking. The durability can't be beat. I had one drop down a mountainside for maybe 300 feet, spinning and smashing into rocks and trees as it went...not a drop was spilled and the bottle is still in use. MSR also makes fuel bottles in steel for their Whisperlite stoves. The weight might be prohibitive, but pretty much anything by MSR is going to be top quality and extra durable. MSR has also been very good about exchanging problem products in the past. Michael
Collapsable Fuel Packs
Turtlepac
For my trip next year I contacted an Australian company called Turtlepac - who make fuel "bags" of various sizes. You can find out more of their products on this website: http://www.turtlepac.com. I just got a reply on if they have a product suitable for off-road / motorbikes. Here is the reply:
Thank you for your interest in Turtle-Pac Petrol
Tanks. We developed a new jerry can tank but it is not on the web site yet. Was developed primarily for Ultra Lights but works on bikes as well. It is rectangular 680 mm x 550 mm but 45 mm all around is seam so do not fill up. It is endless how you can fold and tie to bike or trikes. That means can fit them on front of bike as well. Cost is A$ 360-00 plus mailing about $ 12-00 within Australia. Twelve liters we do not make as half the volume of 20 is not half the size or cost. Just be too expensive. Attached are a few photos of the jerry can. To order one phone us on 07 55981959 or Email.

Bests Regards.
Laszlo Torok
Director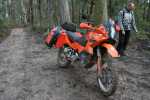 Of course it is expensive (at over AUS$300 / 20L bag), but here are some other things to consider:
There are suppliers around the world
Once used you can collapse it out of the way
They appear fairly tough
Conforms to AS/NZS 9001/2000 (quality management standard); HF welded maint. free seams; No glue; UV resistant. My ownly concern at this stage is how will it handly a fully loaded F650 landing on it? I mean I am not going to be using them at high speed tarmac parts of the trip - they will be used on the slower dirt trips.
MSR Dromedry Bags?
I'd use one of these for fuel without hesitation. I have a 10l and a 2l bag for water. Bombproof bags. Might want to put an o-ring in the cap for good measure. Packs up into nothing. NothingClever #1441
Custom 3Gallon Tank
The tank appears to be a Tour Tank
There was some interest in the tank shown under the Karoo tire thread started by creola. Here is my installation usng the same tank. The tank holds 3.5 gallons and I fill it with 3 gallons to leave room for expansion.
The tank is set forward so the original mounting plate can be used for a BMW top box and to keep the weight toward the center of the bike. In my case I use the space behind the tank to secure a waterproof dry bag.
The mounting plate is 1/4 inch aluminum. It is attached to the bike using the 4 bolts holding the plastic top box mounting plate. Aluminum spacers where used to raise the plate off the passenger seat, leaving enough room to allow for a center mounted drain below the tank as well as a fuel filter and tubing to get to the shutoff valve mounted on the side of the plate.
I tapped into the fuel return line on my fuel injected bike, using a T-fitting for the gas line from the aux tank. When the low fuel light comes on I open the valve and it feeds by gravity to the main tank.
There is no other support for the tank, other than the four mounting bolts. No problems in 45K of use. That does include some nasty dirt stuff and one major get off. Initially I was going to install support at the front of the plate, but after installing it, found there was no need.
99 bucks for the tank, 50 bucks for the drilled and shaped plate and probably 15 bucks for fittings and hose.
The four bolts must be removed to take the seat off the bike and you lose the little compartment at the rear of the passenger seat. The fuel line has a quick disconnect to allow easy removal of the tank. Twofingers #1717
---
Misc Feedback
by Nick #1085, November '02
Can I carry fuel in my Panniers?
Now having received these nice new panniers can I put them to some other use other than hauling tools and standard luggage? What about Fuel?
After numerous discussions with folks to get many opinions, I decided on the following using the following criteria and considerations:
While I can carry fuel weight has to be a priority so using a 5 gallon can or plastic jug is not an option. Too heavy.
Storing the fuel internally to the pannier as well is not something that I was keen on either.
The carrier had to be steel
The total amount of additional fuel that I want to carry is to be of sufficient quantity to get myself out of a jam, possibly enough for about 10 miles for my needs, your needs may vary. But be light enough to carry when traveling with a loaded pannier
So based on that, I settled on the following storage can in the 5L size. http://britishpacific.com/offroad/jerryCans.html. The can is of sufficient size to carry just enough fuel for my considerations and of excellent manufacture for my needs.
Considering this can I played around with some mounting schemes that may work. All in all in lieu of making a bracket for the can to mount on the side, which I believe can be done and elegantly for that matter. I settled at this time on just filling the can and strapping to the top of the 41L case. The dimensions are such that it fits fairly well with little or no play at all once secured. This works for me for what I want but as stated YMMV.
Fuel Can + Aftermarket Exhaust?
Trying to work out if there is a fuel can / jerry can that fits in the RHS space left when you replace your OEM exhaust with something like an Adventure pipe or Staintune? If you find a jerry can that fits this spot, please let us know and send some pictures.
Feedback
It was not the same can you describe but, I saw this type of carry this summer in Iceland. It was a German on a KTM with Touratech panniers. He used it for Engine oil, 1 can on each pannier (tot of 2). I don't remember how he mounted it, but it was somehow strapped to the pannier. Looked like a nice idea at that time. - Spakur #1117
Ural do a nice 5 litre can with a carrier, Probably a bit big though. - Andy Leeds UK #982
Somebody came up with the scheme to carry extra fuel in an MSR Dromedary bag! Read the article here http://www.horizonsunlimited.com/ubb/Forum9/HTML/000010.html - Bernard Cape Town, South Africa
Check this out as well... http://www.jcwhitney.com/product.jhtml?CATID=14936 -Sojourner
I've researched the same issue of trying to attach a jerry can to the 41L Touratech panniers. The first problem is the size of the can. The 2.5 gal (aka 10L) can is quite big and will be taller than the 41L pannier. It is also slightly wider and about 5 inches deep. Then there is the whole weight issue. A steel can is heavy and with fuel it'll be heavier (oil is even heavier), so it becomes an issue because it places a lot of strain on the mounting brackets of the panniers. I think the rack should hold, but the brackets might not if the pannier is loaded. Anyhow, I'm thinking of attaching a jerry can myself and deal with the weight issue later. My other problem is buying a UN spec jerry can, which I can't find here in Canada. The reason for this is that I want the can to withstand impacts from crashing as they would absorb an impact first before the pannier, unless you mount them on the back. The attachment to the panniers can be made by bolting brackets to the panniers and then using straps. At least one strap across height and width. Probably better to use two across height and one across width. - Nelson Oliveira Toronto, Canada
While I don't think that mounting a full Jerry Can to the bike via the panniers is a good idea (gas weighs a lot). If you're looking for something of this variety a while back I experimented with just about everything out there. I bought one of everything and came across this neat product: http://www.aloop.com/usquad/ - DHP #711