Manuals & Books FAQ
compiled & edited by Kristian #562
Please read the Disclaimer before attempting any work in this FAQ.
October '01
FRENCH MANUAL DETAILS & REVIEW
Flash #412
May-01

Revue Moto Technique No.96 Janvier/Fevrier 1995 published by E.T.A.I. 96 rue de Paris, 92100 Boulogne Billancourt FRANCE. The sales department is at Librarie TRAME, 62 bd Jean-Jaures 92100 Boulogne Billancourt FRANCE. There is some small print that says E.T.A.I. 11/94 and CIP 961 on or near the spine. I recall that they cost about FFr 100-120, depending on where you get them.

This is a paperback book series that comes out every other month. Each issue covers several bikes. Issue 96 includes Yamaha DT125R '93-'95, DT125RE '89-'95 and TDR125 '93-'95 as well as BMW F650 '94-'95.

Since there were essentially no changes between '94 and '00 or between the Funduro and the ST other than styling and some minor stuff, the manual is comprehensive, if you can find one and if you can deal with French.

Not only does it have the requisite tear down, but features some very interesting photographs and drawings. There is a photo of women building motors in the Rotax engine assembly plant and a few of the bikes being assembled in the Aprilia plant. Three are also some styling exercise pencil sketches.

They tear the motor completely apart, as is demonstrated by some photos which are clearly NOT from the factory manual. There is an original schematic (which has several errors in it). There is a maintenance chart which refers you to a page where each item is detailed in the manner of FORMER BMW manuals. Some BMW parts layouts are included. There is a mechanical drawing detailing how to make the crank-holder bolt and another of the alternator puller set. (Note: BMW gets about seventy cents U.S. for the bolt and less than US$20 for the puller set. These are the only F650-unique tools required to maintain this machine.) It has some good trouble-shooting tips for the electrics. Unlike the Official BMW manual, this is easy to use with things like torque specs in-line with the text telling you to do whatever it is.

In short, Moto Revue is top-notch, right up there (maybe even above) Haynes. I keep it handy even though I now have the BMW manual, too.

Shortly after posing this, Jean #636 noted that this manual is no longer in print. C'est la vie!
There is, however, a lower cost alternative to the US$110 BMW workshop manual. Get the micro-fiche version of the same manual for about $30 or so. You can print pages as you need them in most public or university libraries. Many large corporations also have microfiche reader/printers. If you're lucky enough to have that as a perk, go for it.
GERMAN MANUAL Reparaturanleitung BMW F650 (1993-2000)
Publisher: Bucheli Verlag (ISBN 3-7168-1898-4), in German. Available from www.amazon.de. Approx. 23 Euros @ July '02. (Used from EURO 18,24).

Such a beast exists, indeed, alas only in German (eat your hearts out, you non-speakers of God's own language!). Here is the data: Reparaturanleitung, BMW F650 ab Baujahr 1993; published by Bucheli Verlag, Zug, Schweiz. Band 5188. Available in Germany: Motorbuch-Verlag . D-70032 Stuttgart Olgastrasse 86 . Postfach 10 37 43. I have a copy; it is excellent, both text and pictures and electrical diagram. If you can read Krautish: get it. Werner #547
GERMAN MANUAL Reparaturanleitung BMW F650GS (2000- )
Publisher: Bucheli Verlag (ISBN 3-7168-2020-2), in German. 80 Seiten. Available from www.amazon.de Approx. 23 Euros @ July '02.

GERMAN MANUAL Hans König (1993-2000)
Publisher: Editions Schneider Text (ISBN 2-911870-02-6), in German.
König, Hans: BMW F 650 /ST 650. Alle Varianten der Einzylinder- Reihe seit 1993. Technik, Wartung, Reparatur. 27 Seiten Extrateil: Tuning, Zubehör, Tips zum Gebrauchtkauf, Modellgeschichte. ( Edition Schneider Text). 128 S. DM 24.80.
Available from: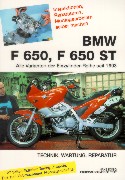 ENGLISH Clymer BMW: F650: 1994-2000
Publisher: Clymer Publications; ISBN: 0892878029; (June 2001), in English. www.clymer.com., www.repairmanual.com
List Price @ July '02 US$30 from Clymer, US$21 from Amazon.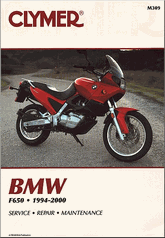 See also the Clymer Typos FAQ for Corrections !
It is OK. Better than the $105 BMW manual - just kind of boring. I prefer Haynes manuals for their photos of actual bikes and some discussion of modifications. Clymer manuals seem to have been edited by lawyers, to me. I haven't heard a wisp of a rumour that Haynes is working on a similar manual. The Clymer manual does not cover FI bikes, only the ones from 1994 to 2000. Richard #230

I've had great experience with the Clymer. Using it and the FAQs from here, removing the swingarm in order to remove the original chain and sprockets was a snap. I also have a Clymer for my '95 'zuki and it's also a good book. Timboleo
FLASH'S BOOK
by Claude #312
19-Dec-00

Given that we see Flash on the list every day he is not touring the world for his job, and also the good stuff on his web site, I ordered his book to see what a lot of his writing would be like. The answer is it was very good.

As Mole really said, "Nothing is half so much worth doing as simply messing around with motorcycles," and Flash has done a lot of it in some very interesting ways. Side cars, old BMWs, F650 in France, buying and selling parts in huge quantities, etc, etc. Things we all wish we had the time to do.

Anyway, get his book; its a good read. Order it from his web site and save a buck or two. He even spelled my name correctly when he autographed it.
http://www.greatanswers.com/vintagebmw/books.htm
Gerry, #951
December '01
Sometimes, our riding is limited by weather, work, family or other excellent reasons. Why not pick up a good book and relax?

A recent note to the board at www.f650.com brought forth several good suggestions for armchair adventurers.
Two of the suggestions were those authored by the Chain Gang's own Werner Bausenhart.
The prices, except for Werner's, are quoted from Amazon.
Categories are as follows:
If you've read anything interesting, drop me a line and we'll get it added to the list.
Cheers, Gerry, #951, K7LRO@msn.com
Riding Techniques:
| | | |
| --- | --- | --- |
| Title | Author | Recent Price |
| Proficient Motorcycling | David L. Hough | $17.46 |
| Street Strategies | David L. Hough | $13.96 |
| A Twist of the Wrist II: The Basics of High-Performance Motorcycle Riding | Keith Code | $13.96 |
| Pro Motocross and Off-Road Motorcycle Riding Techniques, New Ed. (CyclePro) | Donnie Bales, Gary Semics | $17.47 |
Repair:
| | | |
| --- | --- | --- |
| Title | Author | Recent Price |
| Motorcycles : Fundamentals, Service, and Repair | Bruce A. Johns | $48.00 |
| German Handbook on the F650 (in German) | publisher Bucheli Verlag | |
| Motorcycle Workshop Practice Manual | Haynes | $16-$17 |
| Motorcycle Fuel Systems Techbook | Haynes | $16-$17 |
| Chilton's Motorcycle Handbook (350 pages) | | |
Adventures and Planning Rides:
Title
Author
Recent Price

Adventure Motorcycling Handbook

Chris Scott

$13.96

Motorcycle Journeys Through Baja

Clement Salvadori

$13.96

Motorcycle Diaries : A Journey Around South America

Ann Wright

(Translator),

Ernesto Che Guevara

$12.00

Jupiter's Travels : Four Years Around the World on a Triumph<![if !supportNestedAnchors]><![endif]>

Ted Simon (Paperback)

$19.95

8 Around the Americas on a Motorcycle

Werner Bausenhart**

$20.00

Into the Den of the Bear and the Lair of the Dragon on a Motorcycle

Werner Bausenhart**

$20.00

** Werner is a Chain Gang member and these can be ordered from him via bauswe@istar.ca OR www.whitehorsepress.com
General Books about Motorcycles and Life:
Title
Author
Recent Price

Zen and the Art of Motorcycle Maintenance: An Inquiry into Values

Robert M. Pirsig

$7.99

Gathering Speed - Tales of Motorcycles and Life

David A. Braun
aka Flash
$20-$25



** Flash is a Chain Gang member and his book can be ordered via http://www.deathstar.org/~flash/
This item crops up on eBay from tine to time and is clearly not the same manual that we have. It's got some pretty pictures too (first try on picture linking; hope it works). Mason #631
Somewhere in one of the as yet unpacked boxes from my last move, I have a copy of that manual. IMHO, it's not worth anywhere near the current bid. Several pages on how to uncrate the bike on arrival at the dealership, some very basic info on engineering and specs, lots of marketing fluff. I got a copy from my dealer and promptly shelved it. Harl #380

I have one too. About as useful as tits on a boar hog. Shank NYC USA

SAME HERE SAVE YOUR MONEY James.
Pegasus Manuals that Could be used?
My first suggestion is to order a copy of "Proficient Motorcycling: The Ultimate Guide to Riding Well" by David Hough. It's published by Motorcycle Consumer News and it contains a lot of practical advice. Another suggestion is to pick some aspect of proficient motorcycling like "throttle control" and practice it until it's second nature. Then move on to something new like "late apexing" and practice that. Learn the fundamentals and don't rush things. Have fun! Lynn

Next.
BMW OEM Printed Manuals & CD-ROMS
Aha, you're thinking, here it is! Well, sorry it's not. If you want this site to continue working, the FAQs to continue, then please understand we cannot violate BMW copyright.
The BMW Manual on CD or in Print is expensive. Is it any good? See the Opinions below. Maybe you can find it on the Internet somewhere. Please don't post it to the Messageboard if you do find it.
Classic: Printed Manual Only, or Microfiches ( www.motorworks.co.uk )

GS: The early edition of the manual for the GS is 28 Mb. The new one was 48 Mb and covered the GS Dakar only, not the GS. The differences is not many, only front and rear forks, but the oil quantities and other small info was just for the Dakar! The "part" number for the CS ( there might be updates/ modified ones) was, March 2002: 01 790 142 217 (01-11-2001 edition)

GS/GS Dakar. The part number for the GS/ GS Dakar, ( maybe updated later) was, March 2002: 01 790 027 923 (no date given) The GS one just came in one edition and was filled with a lot of errors. I guess it was replaced by the GS/GSD edition. The part numbers given is for the manual on CD, multi lingual. (I know the printed editions cost nearly twice the price of the CDs and they are overpriced as it is. BE WARNED: the "Electrical diagrams" are NOT included on the "older" CDs. ( I do not know if they are included on the modified editions, but do not believe they are). You have to get that printed book separately and pay for it. Haakon#626 (Norway,12-1999- F650GS). Haakon#626. Electrical Diagrams (reworked) are here: GS Documentation

I just got off the phone with my local dealer and I am now curious to see what others have been quoted for prices regarding the Repair Manual CD...I was quoted $130 for the CD, and $20 more for shipping if I wanted it tomorrow (that is if it is available in the States or not). What's the deal with BMW hording the CD Manual...I have heard that they are discouraging owners from doing their own repairs but this is absurd...they should be giving these away with each purchase in the first place because the 'manuals' that they give are a joke. Omniconn - Georgia '03 F650GS, Georgia.

They charge similar prices for the Classic's paper manual. I paid $115 for my manual in 1997. A year later the price had dropped to around $105, but I don't think it ever went lower. They really don't want you to have a manual, but if you insist, you get screwed. BMW is just trying to teach you a lesson about servicing your bike. They are going to get your money, one way or the other. Richard #230

The FAQs are all ORIGINAL WORK. I would HOPE that BMWMOA and BMWNA would join the Chain Gang in sending a letter to the CEO of BMW (and perhaps a few of the major stockholders) explaining that suing the customer base WILL not be good for business in the long run. Hopefully, the fools involved in such a decision would quickly lose their jobs and find employment more suitable to their type of "vision," in the fast food industry, preferably at the drive-up window. I would imagine that 60 Minutes or Dateline or one of those teevee "news" shows would LOVE to carry such a story, about how stupid BMW is to sue their customers for freely sharing information that allows owners to keep BMW products running themselves instead of paying $60-75/hr to the dealers (who too often it seems do not even know how much oil to put in the bikes). Yeah, I can see it now, BMW pushing the button that lets ALL of the dirty laundry out of the bag and drops it into the lap of the unsuspecting yuppified American teevee audience. BMW could publicly and permanently trash 80 years worth of (no-longer-deserved) reputation in one swell foop. A veritable public relations FIASCO. I'm not saying it won't happen. I AM saying that I sure am glad my Rotax-engined bike was built in Italy by Aprilia. Flash 412 (CO)

BTW Our cost was about $103 with free shipping but that is still a lot. Unknown.

As for the manual, don't know how much the GS CD is, but I got my <'99 fiche from MotoBins for $35. David #476, '99 F650, Las Vegas, NV.

I brought one off E-Bay on CD for $45.00 Is it pirate? Well, me mates, I really don't care. It works for me and I'm entitled to the information one-way or the other. The VMAX group actually has one (the VMAX manual) on line so I got that one free. I brought my K1200lt manual (on CD) from England for 1/2 the US price. It's a licensed copy. Dam me as a Harley rider if I'm going to pay, and pay, and pay. I'll do my own routine maintenance and if I can get a manual cheap, I'm doing it. Tim, Chain Gang #1325, '03 F650GS, '01 VMAX, '00 K1200lt, Ft. Lauderdale/Miami, Florida.

I bought the CD from my dealer. leowen. '03 F650GSA Dakar, Inland Northwest, USA.

I got my CD manual from Oz Land- I thought it was a real reasonable deal! @ about A$50! much much less that what you paid for! I believe they do international market! Look for Sam Tucker- A real helpful mate! http://www.bmwsouthbank.com.au.reichew, Ray @ Singapore '00 F650GS, Singapore.

I am thinking of buying the workshop manual for my '97 F650. Which do you think is the best, and where can I buy it online? Renato Braz

I have the official BMW Manual and the Clymer. I think the Clymer is better. Try www.clymer.com. Traverse City John

Another good source for Clymer Manuals is www.Wyomingben.com. They sell Clymer shop manuals for all of the BMW models as well as other bikes. They will often have their manuals on EBay, however that may only save you a buck or two. I got my F650 manual from Wyomingben for $16.75 plus $4.00 shipping. These are brand new manuals still in the original shrink wrap. Farflenoogie

Next.